Ohhh Grammy's..
A few compelling performances mixed with a fair share of confusing ones.
Did you watch? Favorite moment? Best dressed? Well it was an easy pick for me this time…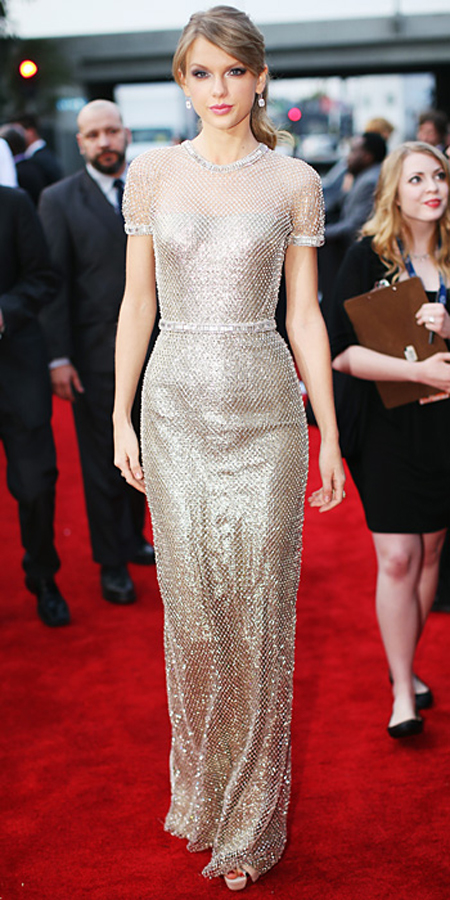 {image source}
Taylor Swift has my vote hands down for best dressed of the night. Whether you like her or not, there is no denying that this girl is a rockstar. Beyond the dress she is always radiant (granted the makeup artist and hairstylist definately contribute), but as we all know, confidence is a woman's best feature, and she has plenty of it. I mean, did you see the way she whipped her hair back and forth on that piano bench? Both her arrival and performance dresses were elegant, flattering, and unique, which is a triple threat hard to come by at the grammys which tends to settle for the less is more method which I find incredibly disappointing. (I wasn't a big fan of all the peek-a-boo cut outs and naked mirage dresses that seemed to be such a trend.) There is a more attractive way to show off your frame than revealing it all don't you think friends? So hats off to T. Swift's stylist for knowing just the right designers to compliment her natural beauty.
So my challenge for this post was to take a look from my own closet and share a Red Carpet Inspired Daytime Look. I immediately went for the shimmery number in the back of my closet to channel T.Swift…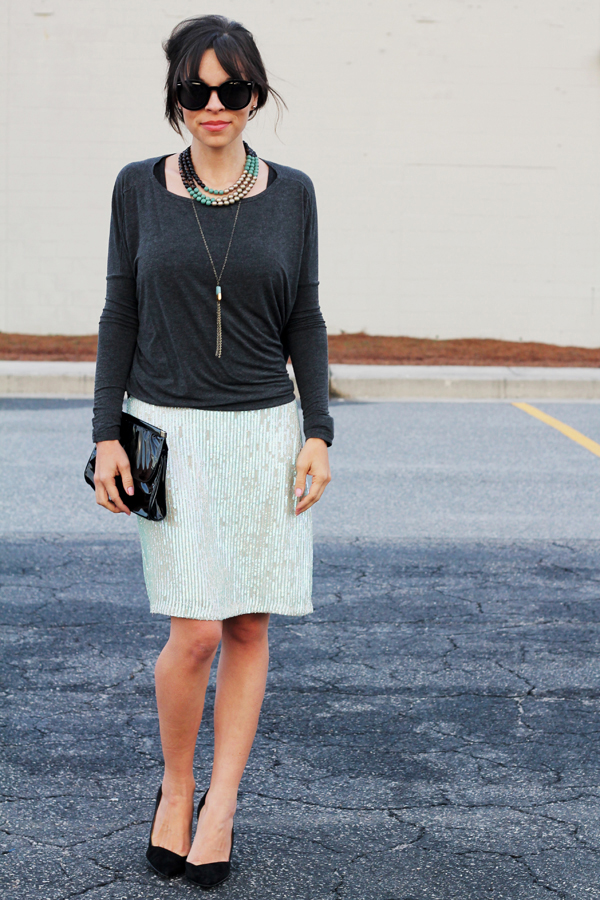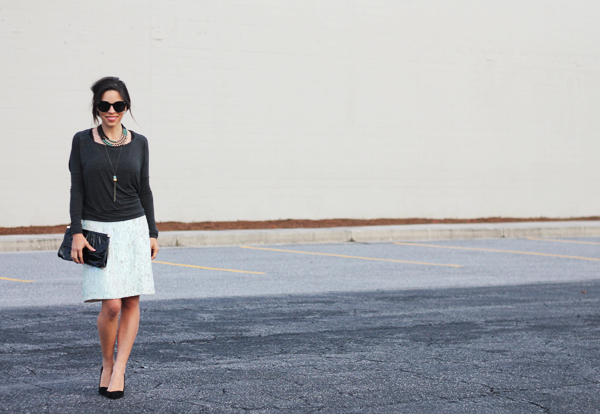 Top: Kiki La Rue, Skirt: Banana Republic via Twice, Shoes: Zara (similar), Clutch: Vintage (similar), Necklace: c/o Dear Margot, c/o Threadbare Supply Co.
I paired this skirt with one of my favorite piko tops. I wear this top with jeans on a weekly basis, but casual can easily meet glam if you throw on a pair of heels and a statement necklace;) You don't have to wear the designer dress to get red carpet ready…just wear a piece that can translate glam into your every day life.
So lets hear it. Thoughts on your favorite Grammy looks?
x, Anna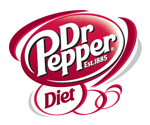 With a delicious One of a Kind taste and zero calories, Diet Dr Pepper is as unique as you are. Diet Dr Pepper celebrates originality. To check out more one of a kind stories, visit us at: www.youtube.com/drpeppervideos.
Disclosure: Compensation was provided by Diet Dr Pepper via Glam Media. The opinions expressed here are those of the author and are not indicative of the opinions or positions of Diet Dr Pepper.