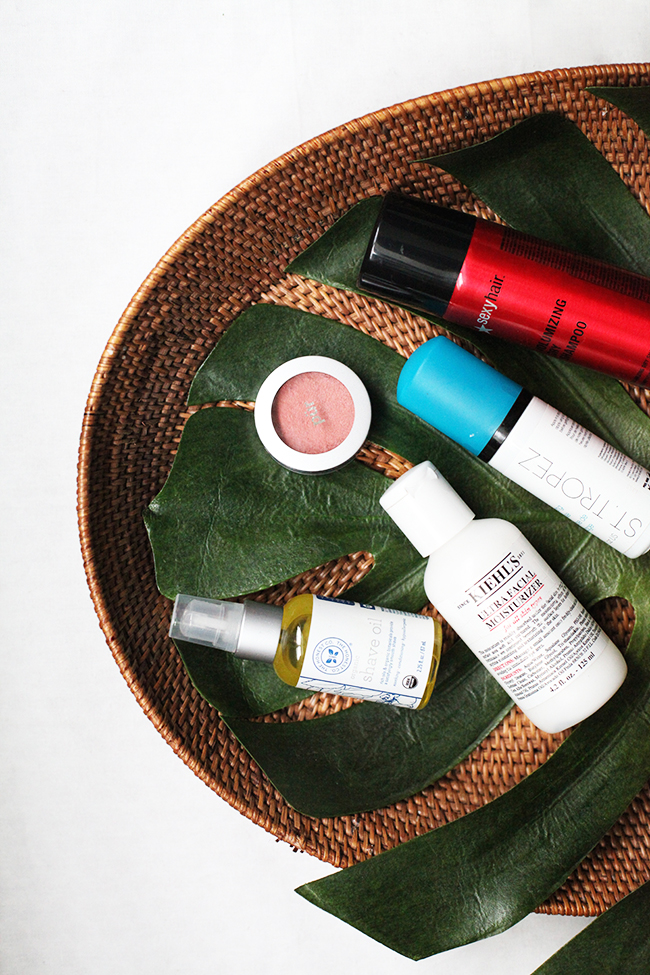 I have written before about my 5 minute makeup routine, and my simple skin care lineup. I don't have much time for self care, so if I find a miracle worker that has been effective for me, you can guaruntee I am going to share it with the ladies in my life!
Here are 5 on the go beauty game changers that have rocked my routine lately!
St. Tropez Bronzing Mousse – Since spring was stubbornly holding out on us this year, I had some serious pale plague going on from winter. Fair skin is one thing, but medium skin tone with a pale face ends up inducing questions like, "are you feeling okay?" "Are you getting enough sleep?" So I dove into the self-tanning reviews and went with St. Tropez self bronzing mousse. I was half expecting to wake up with orange fingers and a splotchy face. Shockingly, it was overnight insta glow. After it worked really well on my face I did the whole body and just avoided elbows and ankles, and really loved the natural looking result. I immediately texted my sisters and told them to pick up a bottle for the upcoming wedding, because we don't keep such good secrets to ourselves.
Big & Sexy Volumizing Dry Shampoo – I thought I had it good with my former dry shampoo, but when I ran out and couldn't find my usual brand anywhere, I took a gamble and bought the Big & Sexy (because you know, who doesn't love a bold slogan and fire engine red exterior?;)). This dry shampoo not only extinguishes greasy hair, it adds VOLUME, and smells fantastic. I would say my hair looks best on day 3 of this spray (after some research, I avoid washing it every day).
Pur Minerals Cream Blush – I was working on a post for eHow on finding the right blush color for your skin tone (coming soon!), and it forced me to re-evaluate my own blush options. All of mine were 5 years old because I hate spending money on makeup. After some time at the makeup counter and playing around with a few brands and finishes, this blush by far earned my vote for best of all the rest. I apply with a brush, and blend with fingers if needed. It gives just enough color for a sun kissed glow.
Kiehls Ultra Facial Moisturizer – Still my favorite after months of use. An intense moisture feel, with no scents or added chemicals. I use this at night for my face – one of the few things I can remember to do after brushing my teeth. It has kept my skin in good shape through the winter. It also has an spf 30, which is a must in a moisturizer for me.
Honest Co. Organic Shave Oil – I had some credit to use at Honest company, and thought I'd try their newish organic shave oil. I wasn't expecting it to be anything but an alternate to shave cream, but holy WOW. This stuff cleared up my eczema (which was seemingly mission impossible), as well as left my legs the softest they have ever been. No joke. The scent is kind of therapeutic and addictive, so now I use it on my arms as well as a body moisturizer/healer.
So that's the scoop friends. What are some of your recent favorites? I am always up for a good rec!
x, Anna