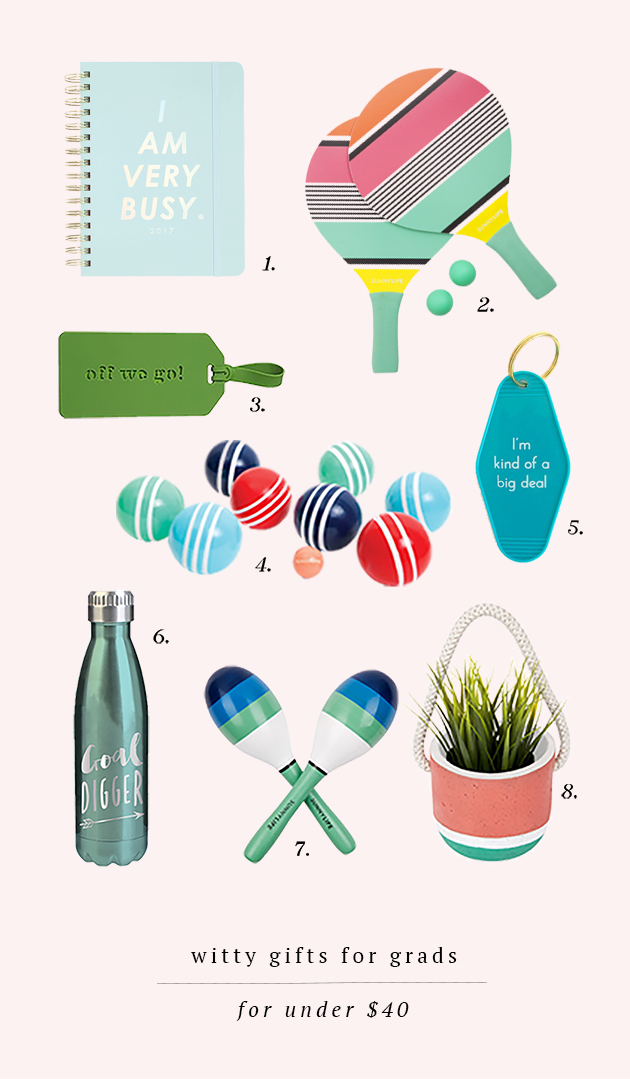 I am always completely stumped with grad gifts. The ones I remember receiving were the ones that had some thought behind them. I think it's fun to give a little something along with that cash that makes it personal, changes up the norm, and maybe even makes them laugh. So here's a round of items for the high school or college graduate that you can pair with cash and grab with a tagline below! Good news: they are all in the $9-$40 range:
1. Agenda – Wanted to give you this agenda so that you can always feel accomplished by writing things down and crossing them off the list. Congrats on the next chapter of life grad!
2. Ping pong paddle set – Congrats graduate! If things get tense between the new roommate, just take it to the tables.
3. Luggage Tag – Oh the places you'll go, the things you'll see, …… and the amount of times you will wish you went for the backpack over the cute and cumbersome luggage. Happy Travels grad!
4. Keychain – Congrats graduate! In case you forget how awesome you are, you just successfully walked across a stage in a flowy black gown and wide geometric hat without tripping. Kudos.
5. Bocce Ball Set – When you find yourself in awkward situations just bust out this bocce set. Throwing heavy objects always lifts the mood. Wishing you the best on your next adventure!
6. Water Bottle – In case anyone forgets you are taking this next step in life very seriously. Cheers to chasing those goals!
7. Maracas – Life may not always bring you a party, but here's a pair of maracas so you can bring the party to life. Happy graduation day!
8. Indoor plant – You thought you were about to experience freedom, but I am giving you a love fern to keep alive to make sure you don't forget what responsibility feels like. We love you graduate!
Graphic by The January Jane for IHOD