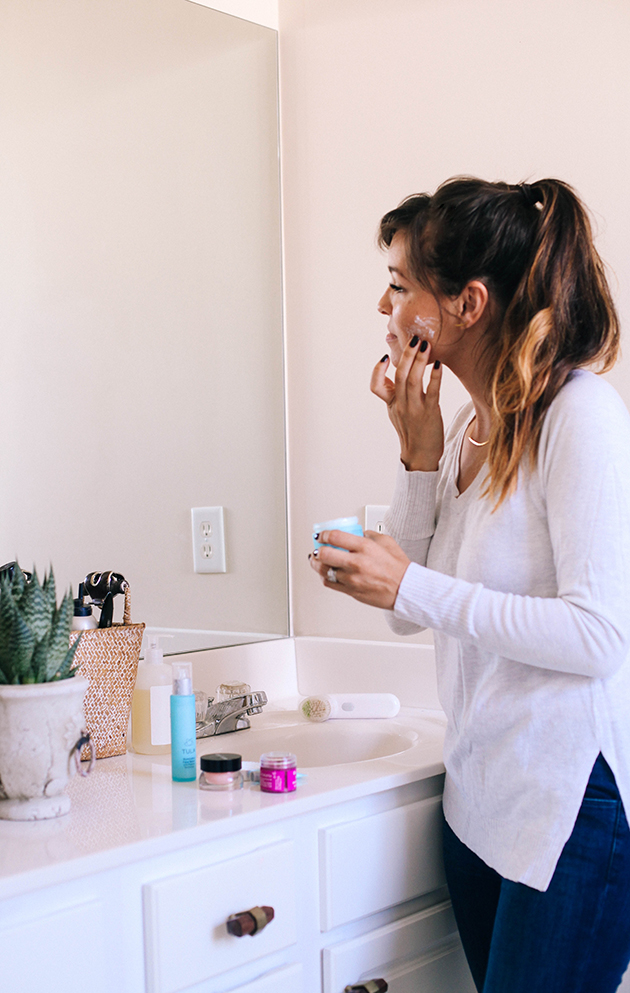 Well truthfully I have never been more tired than as of late. I've been burning the candle at both ends with making lunches, building mud castles, and changing newborn blowouts by day and working on the blog by night. You can imagine the level of puff on the eyes….comparable to a jar of marshmallow fluff. Thankfully I have found some rescue agents for my tired skin that saves the day and brings my skin into rest mode. This is not a sponsored post (Tula did send some products for me to try out, and I wasn't expecting to fall in love with them!), so be assured that these products are ones that I use regularly. I only spend 5 minutes on my skin in the morning and at night, so promise these are quick.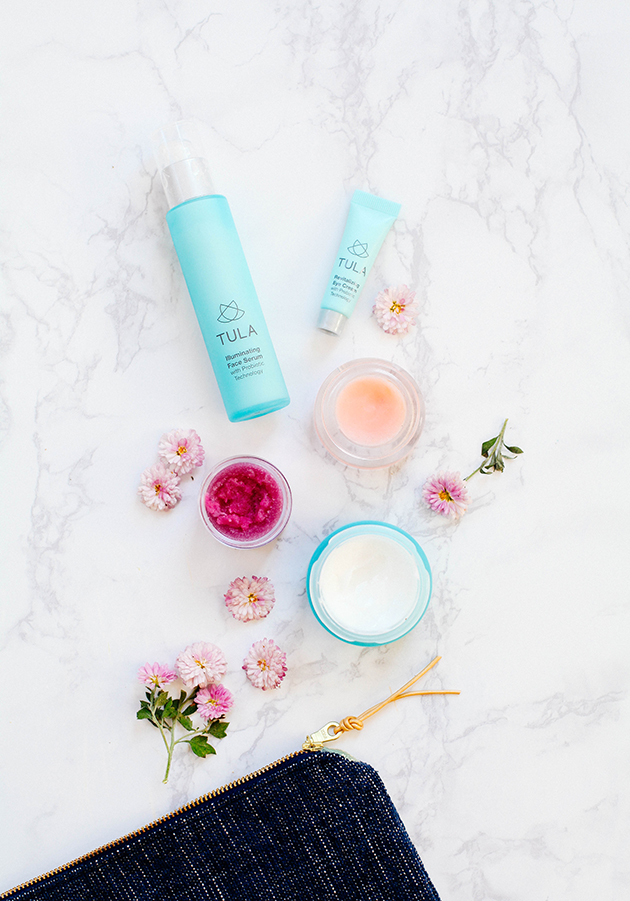 Tula Hydrating Day and Night Cream – I recently fell in love with the whole Tula line based off the way my skin feels the entire day after use. Most likely because it is a probiotic multivitamin cream. This is my wake up and go hydrating cream (I am a moisturizer junkie), that not only feels like it wakes me up, but leaves my skin moist throughout the day, which is a surprising result since my skin teeters on the perpetual dessert dry side.
Tula Revitalizing Eye Cream – Holy puff relief. I have probably tried twenty eye creams and I always felt like they left oily or sticky residue on the thin layers of under eye skin. This is the first eye lotion that proved to hydrate the skin and also help with the cases of morning puffiness and dark circle. It feels immediately cooling and soothing and the probiotics also help with fine lines. Hallelujah!
Bobbi Brown Soothing Balm – This is what I put on a few dry patches on my face that need extra moisture relief. It is designed to repair damaged or dry skin, and sometimes I will even use it on my cheeks for that dewy glow effect. This is on the pricey side but I have had it for months, and still have plenty left.
The Lip Scrub by Sarah Happ – I had the pleasure of meeting Sarah Happ who is such a fun and smart gal, and she explained to me how most lip balms and chapsticks have an addictive ingredients that do nothing to retain moisture in your lips. She developed an entire line that are infused with oils designed to hydrate and retain moisture. I have perpetual dry lips, and this has solely solved my problem. I rub on the scrub (it tastes edible!), and wipe off in a minute. Next on my list to try are her lip glosses.
Tula Illuminating Face Serum – After becoming more aware of clean ingredients to put on your skin, I was all aboard for this probiotic illuminating serum that not only brightens the appearance of dull skin (hello hand raised), but evens skin tone and diminishes appearance of dark spots.
Waterproof clutch – My friend designs these scathingly brilliant waterproof lined clutches that I use to store products (especially for travel). Had to tell you all about them! There are small versions as well.
Any other hydrating rescue agents I should now about?
Happy almost weekend,
A