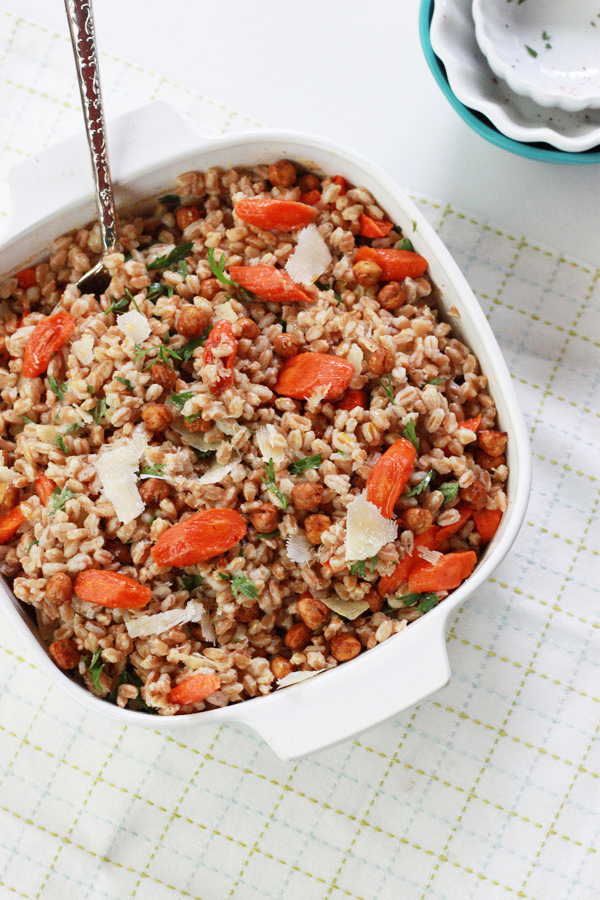 Farro, Roasted Carrot and Crispy Chickpea Salad
Grain salads are a culinary gift that keeps on giving. They're easy to throw together, last forever, and can be eaten cold or at room temperature. This Farro, Roasted Carrot, and Crispy Chickpea salad is one of my favorites and perfect for an easy Easter brunch side or a make ahead lunch for work. It also makes a great vegetarian main dish!
Farro is an ancient grain that is beginning to grow in popularity. Originating in the Meditiarrean, farro is actually three varieties from the wheat family and well loved in Italy (it makes an extra creamy and rich risotto). Farro medio that is pearled or semi-pearled, meaning part of the outer hull has been removed, is what you'll typically find in your mega-market. Farro is similar to barley in texture but have wonderfully nutty favor and bite.
The ingredient list for this Farro, Roasted Carrot and Crispy Chickpea Salad may seem long, but only take about 20 minutes of hand on prep time – the oven does all the work for you. You can also easy swap one of the components for something similar – feta cheese is excellent in place of the Parmesan and you can easily swap thyme for parsley.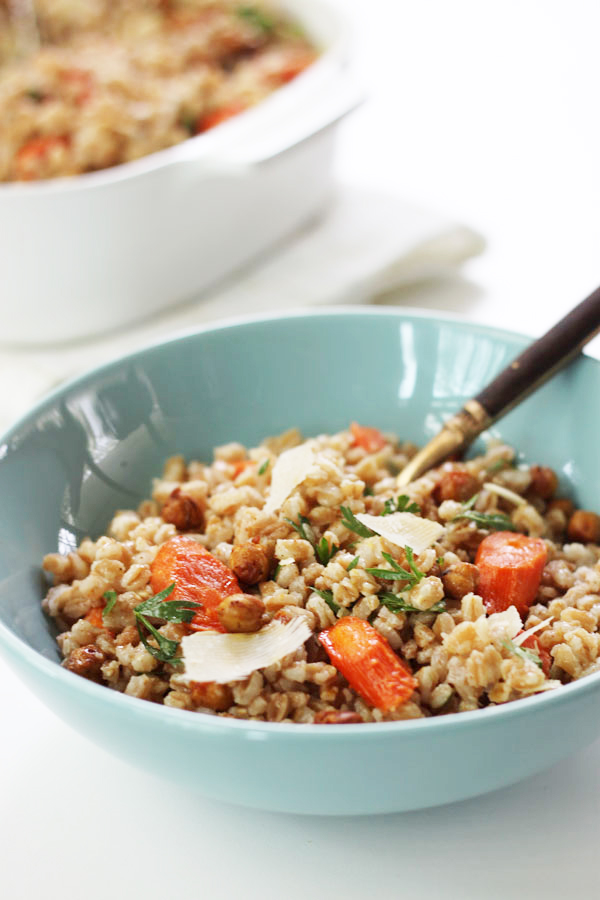 Farro Roasted Carrot and Chickpea Salad
2014-04-15 02:27:30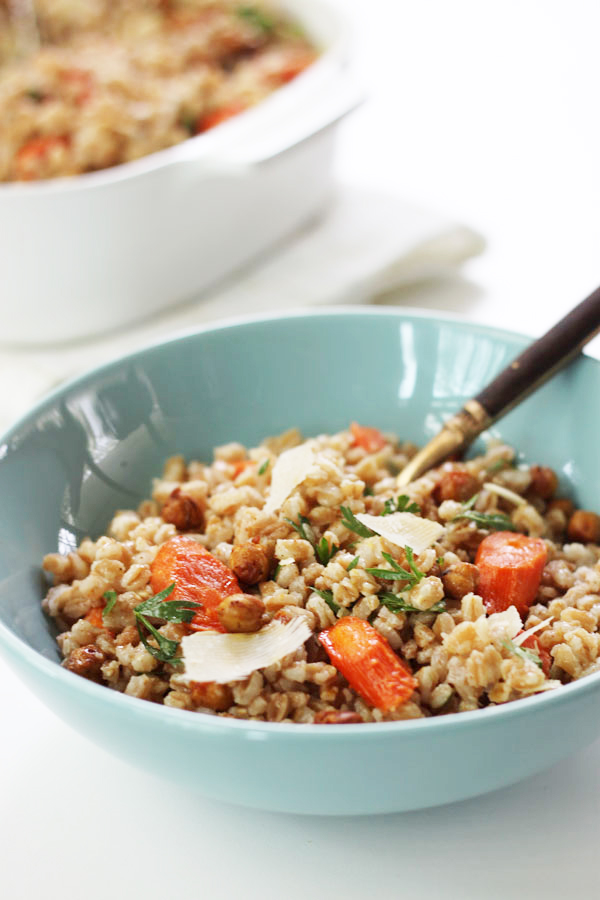 Serves 8
For the Farro
1 ½ cups farro
1 tablespoon unsalted butter or olive oil
1 teaspoon kosher salt
3 cups boiling water
For the Crispy Chickpeas
1 (15 ounce can) chickpeas, drained
1 teaspoon kosher salt
1 teaspoon smoked paprika
½ teaspoon ground cumin
½ teaspoon onion powder
1/4 teaspoon garlic powder
For the Roasted Carrots
1 pound carrots, peeled and cut on a bias
1 tablespoon olive oil
1 teaspoon kosher salt
For Assembling
1/2 cup olive oil
¼ cup lemon juice
2 tablespoons maple syrup
1 teaspoon Dijon mustard
½ teaspoon kosher salt
½ cup shaved Parmesan cheese
¼ cup chopped fresh parsley
How-to
Heat the oven to 375 degrees F.
Combine the farro, butter, and salt in a 2-quart glass-baking dish. Add the boiling water, cover (with the dish's lid or aluminum foil) and bake for 30 minutes. Remove from the oven and rest covered for 10 minutes. Remove the lid and fluff the faro with a fork. Set aside to cool.
Spread the chickpeas out paper towels or a clean kitchen towel and pat dry. Set on a baking sheet and sprinkle with the salt, paprika, cumin, onion and garlic powders. Bake the chickpeas for 30 to 40 minutes or until dry and crispy.
Toss the carrots with the olive oil and salt and roast for 25 to 30 minutes or until golden.
To finish the salad: Combine the olive oil, lemon juice, maple syrup, Dijon, and salt in a small lidded jar. Cover and shake to combine. Pour this dressing over the farro and toss coat. Add the crispy chickpeas, carrots, Parmesan cheese, and parsley and stir to combine well. This salad is best at room temperature but can be stored in the fridge for up to 5 days.
Notes
Fair warning – the crispy chickpeas are highly delicious and additive for snacking! You might want to make some extra.
In Honor Of Design http://inhonorofdesign.com/
Meghan Splawn is a professional recipe developer, wife, and mama. Meghan's blog, Stir and Scribble, is full of clever cooking and useful kitchen tips. She's a fan of candy, classic cocktails, and fuss-free family dinners.
Find more of Meghan here: twitter | pinterest |instagram.
P.S. More Easter Dinner ideas.