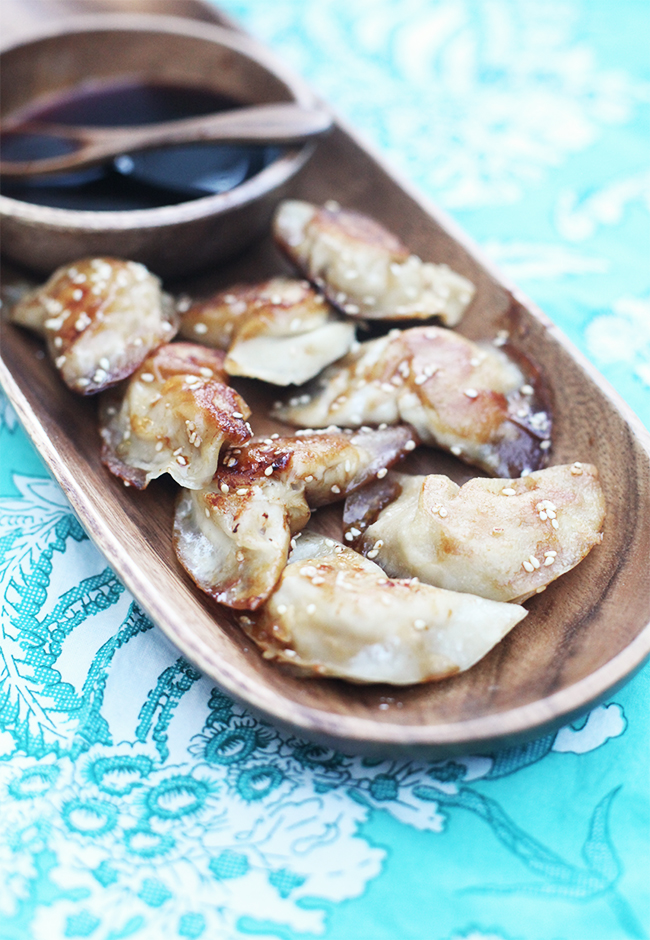 I could live off of appetizers and finger foods. I totally admit they are usually my motivation for attending parties:D:D With Supersbowl Sunday now in view, I thought I'd share an easy appetizer you can take with you to your watch party! Gabe and I tag teamed the stuff and fry part and it took a total of 15 minutes. Pretty easy.
What I love about potstickers is that they have plenty of room to experiment with. After the test round, this is the winning sesame chicken potstickers recipe that got the winning vote. Take this to your game day party with a few chopsticks;) But be careful, they are as addictive as candy. Recipe below!
P.S. Looking for more superbowl party recipes? Creamy White Chicken Chili, 50 Stars BBQ chicken, Twice Baked Potatoes, and White Bean Hummus

Sesame Chicken Potstickers
2015-01-30 14:37:32

Ingredients
3/4 lb. Italian seasoned ground chicken
1 Tbls. Sesame seeds
2 Tbls. Teriyaki Sauce
2 Tbls. Soy Sauce
1 Tbls. Hoison Sauce (optional
1 tsp. Salt
1 tsp. Sugar
1 pkg Round Wraps
Olive oil
Instructions
Mix meat, sauces, and seasonings in a bowl.
Add 1-2 tsp to the center of each wrap.
Using a small bowl of water, dampen the inside outer edge of the wrap with water (using your finger).
Fold the round wrap in half and pinch the edges together and draw the two ends towards each other so it looks like a fortune cookie. (Also optional)
Continue to fell the round wraps until all the meat is used up.
Heat a non stick skillet and add a few tablespoons of olive oil.
Fill your pan with the stuffed potstickers, and fry 3-4 min. on each side.
In the last 1-2 minutes add a dash of teriyaki sauce on each potsticker and sprinkle with additional sesame seeds.
Remove from skillet. Refill the pan with the rest of the potstickers and repeat.
Notes
If you can't find seasoned ground chicken, you can buy basic ground chicken add your own sweet Italian seasonings!
In Honor Of Design http://inhonorofdesign.com/