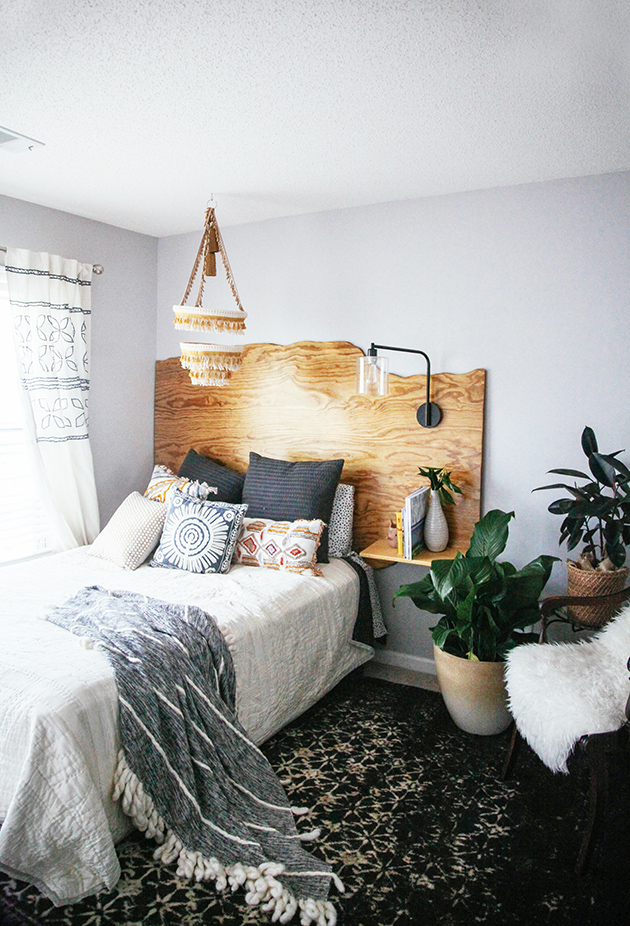 As you all know, we have been renting this little home for the past few years now while we figure out where to settle. I decided not to put making a home on hold, and make the most out of the home we had. I have been taking it room by room and refreshing the spaces from scratch!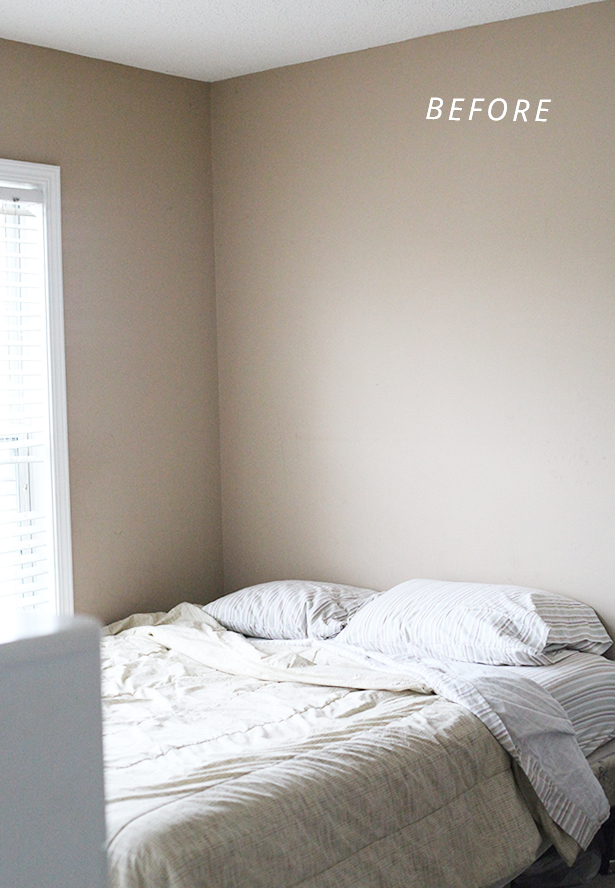 Our guest room had many holes in the wall from re-arranged and half hearted attempts at artwork and decor which I started, but never finished. So when you see this before pic, it is probably more accurate to call it a guest room overhaul! I knew I wanted our guest room to feel comfortable, inviting, and on the bohemian side. Thankfully, Anthropologie has that edge to it, and it seemed like a pretty good idea to me to team up again for a room refresh;)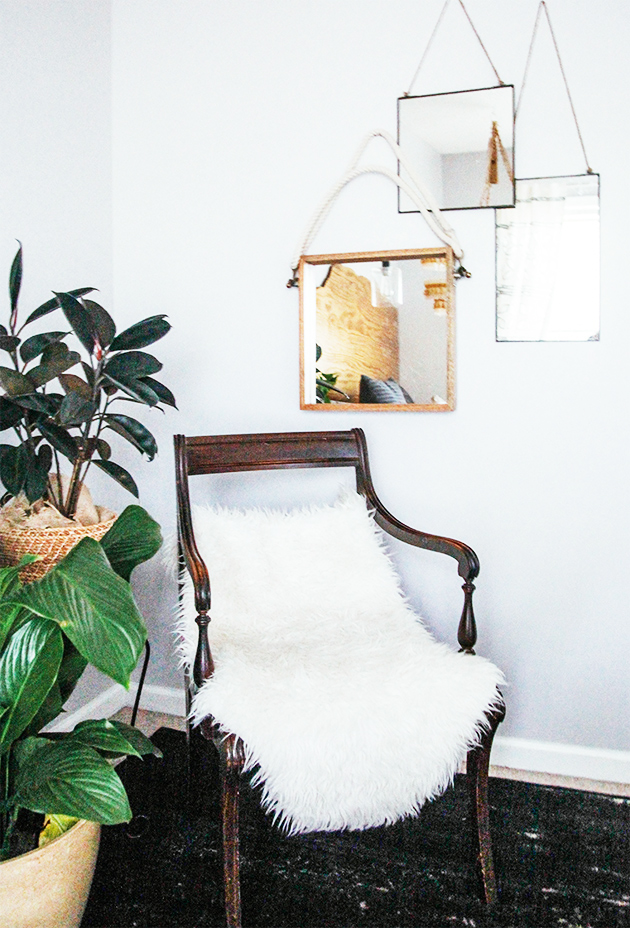 Wall color
The wall color was the first thing I chose for the room. The previous paint color was a pretty dull brown, and I was hoping for a fresher neutral with a subtle hue. We went with a light grey (Valspar's White Pepper in eggshell finish), and it had the slight blue undertone I was looking for. When the room is small with one main window, it is tough to pull off a dark wall color. I would have loved to try a dark charcoal, but decided I'd keep it light on the walls and go for the dark color in the rug. I really like the result of the grey since it provided a good base to work with varying colors.
The Rug + Quilt
I chose the rug and the quilted coverlet simultaneously to compliment each other. I was smitten for Loloi Rugs, and found exactly the bold pattern I was searching for, but in a more unique design than I had anticipated to find. (I wrote more on choosing the right rug for a room here.) Since there was some pattern in this design I kept the quilt simple. It is a reversible coverlet, and had the tones I was looking for. Not to mention it is incredibly silky soft.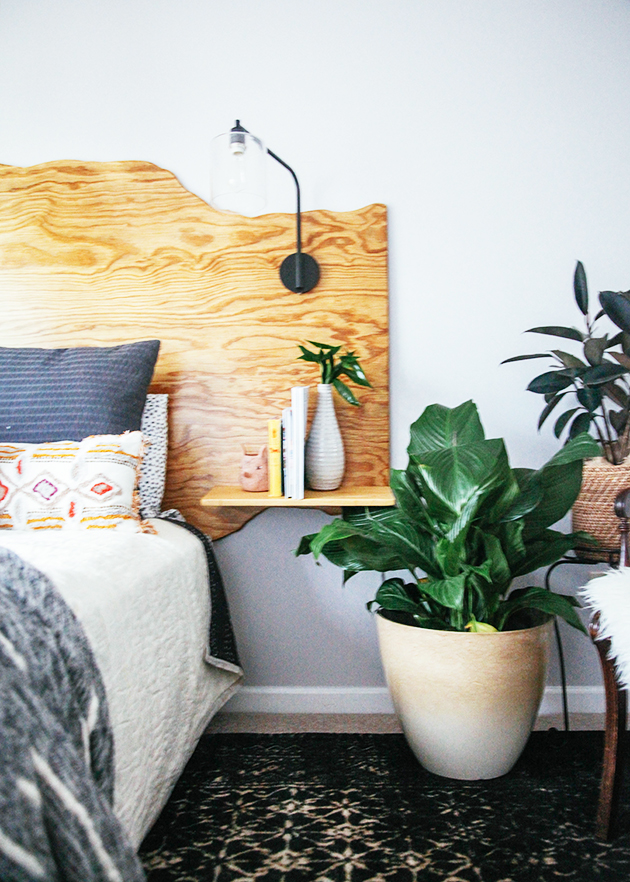 The Headboard
Gabe has been stalking lumber yards in the area for a good live cut piece for a headboard for months, but it seems they are extremely hard to find in the size we were hoping for. They are also extremely HEAVY, which created a hanging problem. I remembered my friend Kristin of The Hunted Interior created a genius live cut headboard tutorial made out of plywood so we based this design using her suggestions. I drew the edge on the plywood and we used a jigsaw to cut it out. We designed the headboard so one side could hold a sconce light as well as a shelf underneath it in place of a bedside table. Gabe used a biscuit jointer to attach the shelf, and drilled out a 2 inch hole underneath the sconce base to string the cord through. We used a light oak stain and semi-gloss varnish to finish it. Tip: put a minimum of two coats of the varnish on, and use tack paper to get all the dust off. We both had fun with this project, and hopefully will get to work on another together soon.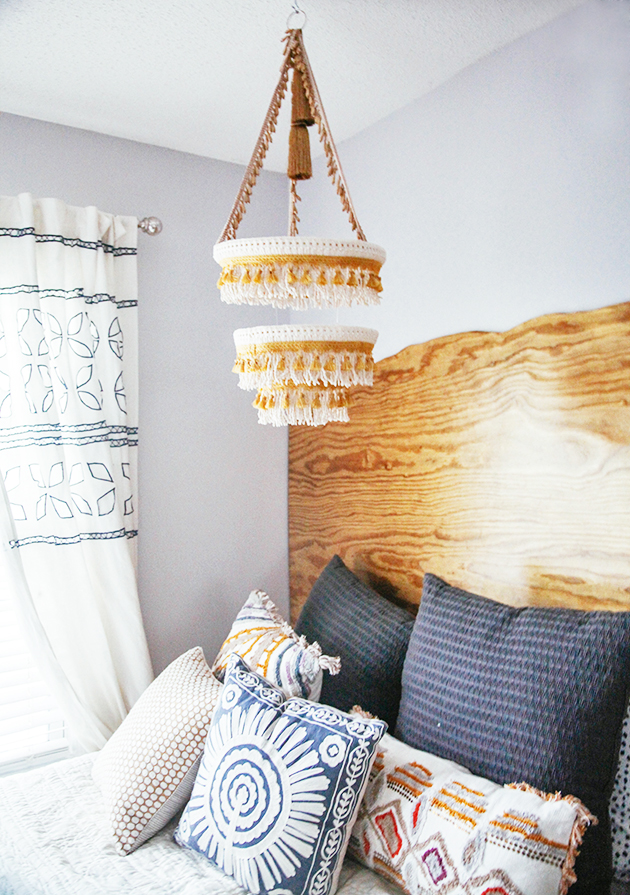 The textiles
Choosing pillows and curtains are next to impossible before you have your main pieces figured out. I have made so many pillow purchases and returns before realizing it is just better to wait till everything else is in place first! Since I wanted to keep most of the textiles in a neutral base, I went with the ivory cut out curtains and pushkar pillows that had some interesting texture and tones in them that worked together well. I am not into being too matchy-matchy, and love a looser organic vibe, so these are probably my favorite pieces in the room! I can't wait to try the linen sheets, since those have such a soft and comfortable material. A blanket or throw is also a great way to pull colors together and add texture to a space. I used this through to pull out more of the charcoal and ivories in the room.
The Bohemian Chandelier
I couldn't find a bohemian chandelier/hanging piece online or at any markets in my price range, so I got fed up and made one! I will share the EASY tutorial tomorrow! *UPDATE: Tutorial here!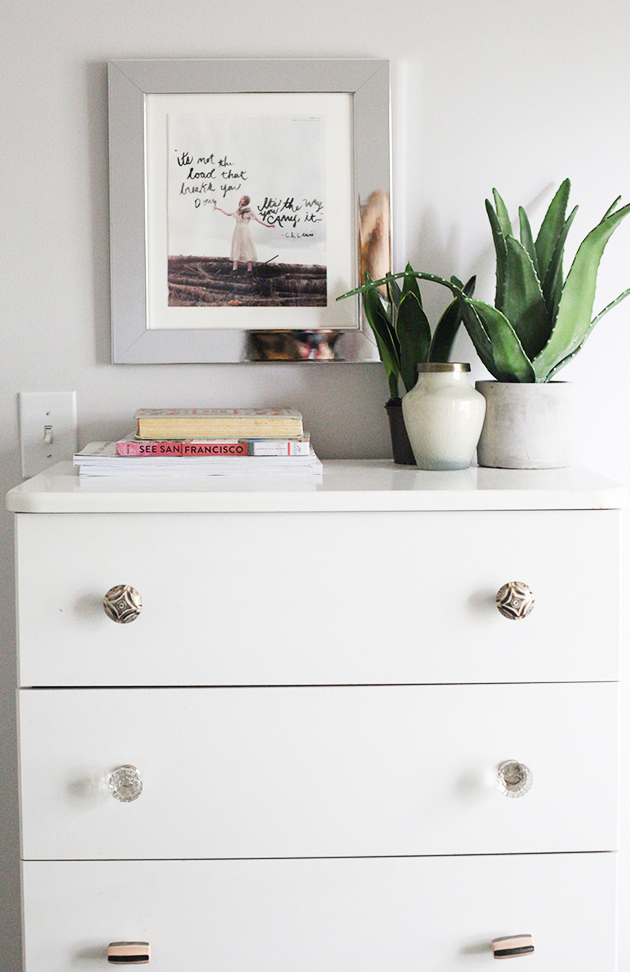 The details
The fun part is finding the quirky details that really bring a room together. I bought a bunch of different solid and patterned knobs and pulls to re-vamp a simple white dresser. For the shelf, I found the animal face vase here, and the bottle neck vase here. It's nice to have some magazine options for guests so these two vases were good bookends for keeping them in place.
The giant plant and planter I picked up at Lowes. I realize it is a risk for me to keep anything green alive in my home, but I find it so much more energizing to have real plants if possible. I mixed faux and real for the dresser top though. No one needs to know;) The admiral hanging mirrors I found at Anthro and the larger wooden one I found at HomeGoods. Mirrors can be a nice alternative to artwork to play around with!
Whew! Did I miss anything? I told Gabe I might leave our master bedroom and move in here…almost serious. We use this room as a guest room when family or friends come to visit, We are still figuring out room situations for when the new baby comes.
Happy almost weekend!
*Anthropologie so kindly sent the bedding, pillows, and curtains for this post. The rest is purchased and created by IHOD. So happy to have been able to work with one of my very favorite companies for this project. You can see the last bedroom we teamed up on here!
Items featured:


*Photos by Chelsey Heidorn Photography