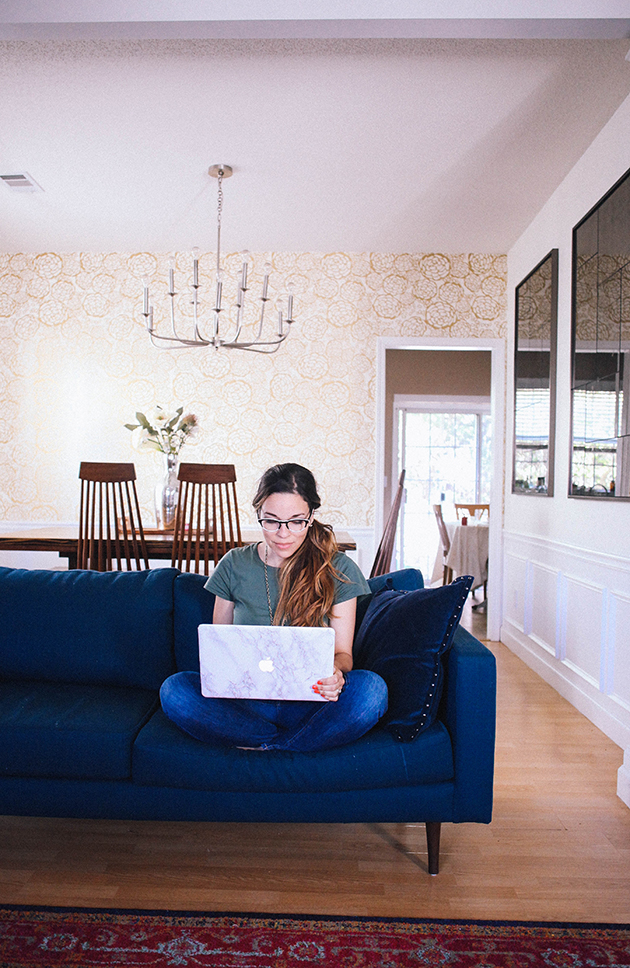 Over the past few months I have received several emails asking what our daily schedule looks like with running a business with multiple little ones. I wish I could tell you the secret to a perfectly balanced life, but that my friends is a question I will probably chase my whole life. With four little ones I have had to get really disciplined with time management.
There certainly are more productive weeks than others depending on the calendar and everyone's health. I can tell you first hand though that this is a week where I am making dinner on the fly, hunting for houses instead of cleaning my own, and getting blog posts up at 5pm because everyone is boycotting nap time. However, here is what a typical day at home looks like around here as well as the days I dedicate to content building!
SCHEDULE A
6:30 AM – Crew 1 wakes up – Gabe gets Gabriel (6 yrs) and Veronica (4 yrs) ready for school and out the door, and I get up and dressed to get a head start on the day.
7 :15 AM – School crew heads out the door. I feed Rocco (8 mo.) and put him back to sleep. This is when I try to squeeze in a cup of coffee and quiet time before Max (2 yrs) wakes up. It sometimes gives me a chance to answer emails, put up the post of the day, and prep to share on social media.
7:45 – When Max arises he is ready for LIFE! We have breakfast together.
8:15 – Between him and Rocco, my hands are usually tied in the morning so I just set aside those hours for them. We spend a good deal of time outdoors in the spring and summer. The morning hours are also when I will clean or do laundry which is the ongoing need of a busy household.
10:00 – Meal time for Rocco + snack time for Max. Afterwards, I will put the baby down for a nap (he only sleeps for 30 minutes at a time), and I have some one on one time with Max.
10:30 – Errands or outdoor time.
12: 00 – Lunch, clean up, put boys down for a nap.
12:30 – This is when I get to work on either writing blog content, shooting photos if needed, conference calls with a brand, emails, or researching a topic. This is the first year that blogging is the only creative work I am dedicating time to. This has allowed me to focus more on content I love which has been a fun challenge! I was able to hire my first employee as well who helps me manage my email inbox, SEO, and editing. She is a life saver! I am often tempted to do a million other things during this time….like nap myself. I have to be really disciplined to turn off my phone and make the hour or two count.
2:30 – Get the boys ready and leave for carpool pick up.
3:00- Snack + Homework with Gabriel
3:30 – Outdoor time or quiet time. We encourage the kids to entertain themselves with books, paints, backyard exploring, or building legos. This is when I will do any dinner prep, answer any urgent emails, feed Rocco (again;)), etc. It's really the only way to distract them from being at my feet or getting into squabbles.
5:00 – 5:30 – Gabe gets home from work and we sit down to dinner.
6:00 – Dinner clean up, pick up around the house, and going over the next day's needs. Family walk or music and down time depending on the day.
7:30 – Bedtime routine: Family reading, prayers, teeth brushing, lay out uniforms, baths etc.
8:00 – I will work an additional hour covering emails or deadlines if needed.
9:00- Gabe and I set aside time to chillax. Usually Netflix. Usually staying up later than we should….
It's a whole bunch of tag teaming that sometimes involves a good deal of creative compromise. I am thankful Gabe and I can approach life with the perspective that there aren't he/she designated tasks we have to stick to, but more let's do what it takes to help each other out. That might mean I take out the trash and he covers the dinner routine, but we both make the effort to make sure the other is standing on two feet by the end of the day. The weekends is when I usually run the majority of errands, meal plan, and catch up on any other major projects.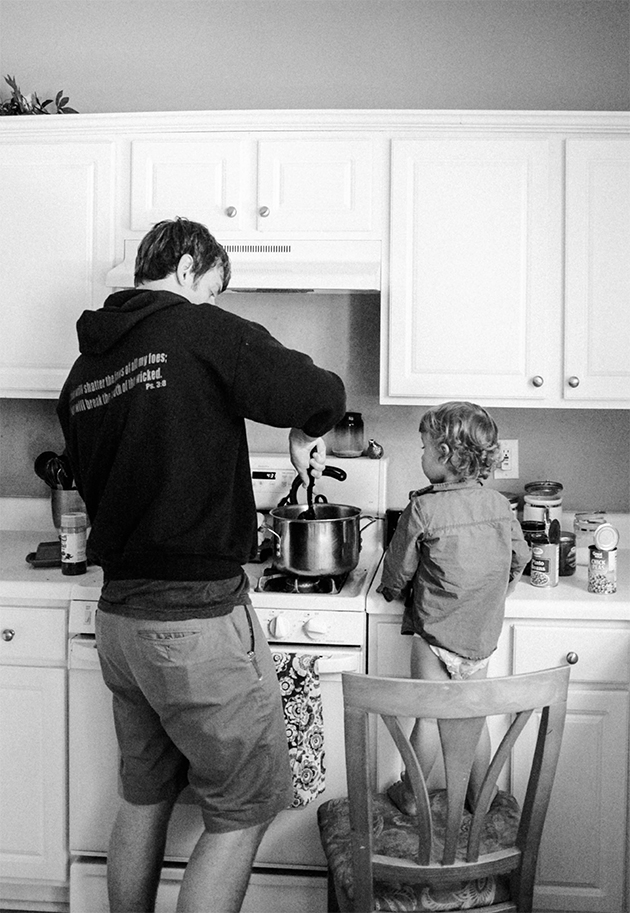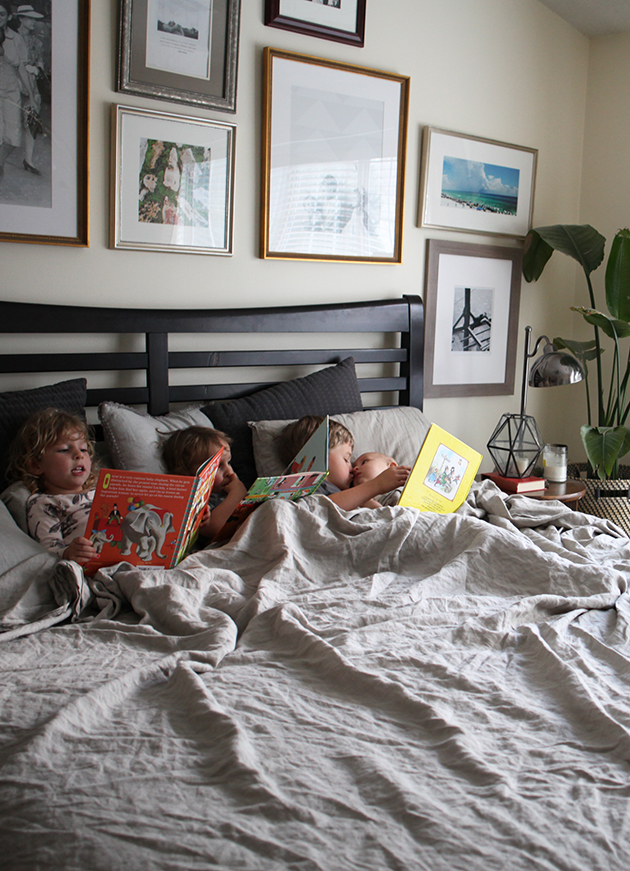 SCHEDULE B
I finally hired a regular babysitter once a week this year and it had me wondering how I ever did it without her. She is wonderful and the kids are kicking me out the door when she arrives. These are the days that really allow me the chance to get a good deal of content done at one time. I with either plug away for a few hours at a coffee shop, shoot three different posts in one day with my photographer, or maybe even go to the store all by myself! She comes at 9AM, and at 2PM we resume with Schedule A!
*Side note: I had a reader ask me "How do I get so much done?" Well in all honesty, it may only appear like so since I will stack content in one day, and post it over the course of a week. I may have a day where I capture a bunch of photos and then leave my camera aside for the week. I spread that content over the course of an allotted time, so it doesn't feel like I am working every day. It allows me time to breath and enjoy my little ones without always having the pressure to capture moments. Gabe also shoots content photography on weekends and sometimes helps with home project posts.
Our schedule tends to shift every 6 months as we adjust our sails to each new phase of life. Little ones give you the opportunity to not take life too seriously, to make the most of what is in front of you, and to be flexible with your definition of a successful day. If I can make it to the end of the day feeling like I gave the best of my energy to them, rather than stressing about what didn't get done, then I consider it a success. Did I leave anything out? Let me know if you have any q's in the comments below and I will be sure to answer.
What are some things that help you get through a day smoothly? I love hearing various schedules from mothers who stay at home, working mothers, stay at home dads, etc. It's an art form to figure out what is best for your family isn't it? 🙂