I've been reading through all of your feedback from the survey we posted (thank you!), and was surprised to see so many requests for more posts on marriage. I haven't done many recently because I feel so inadequate to write on marriage when I feel like I am still learning so much even 8 years in.
Life has felt very heavy lately as you already know from this recent post and a recent loss. However, my marriage continues to uphold me on the most difficult days. We make mistakes often and still have to apologize frequently, but thankfully at the end of the day we are each other's resting place.
Here is one tip from each of us for the sake of acknowledging Valentine's Day (wink) about how we try to keep each other a priority no matter how rough and tough life can become.
Anna: As life gets busier, it will get more difficult to make time for each other. Be stubbornly persistent about holding onto it! I realize connecting with Gabe for even just ten minutes a day can undo a day's worth of mishaps. We started to make this resolution of time together into small habits. All it takes is a good ten minute cup of coffee before the kids get up or a re-cap of the days events before bed (and going to bed at the same time!) If we are lucky, a two hour date over sushi on the weekends. My personal favorite? Dancing it out.
Gabe: I am often times mentally and emotionally fried after returning home from work, and as such need a re-set before walking through the front door. After greeting each of the little faces, I make a bee-line for my wife for a good squeeze. Only then do I feel that I can breathe and let go of the work stress. That simple 5 minute habit is something I need to both experience and give before carrying on with the evening.
Side note: We wrote these both separately and by reading them I bet you can guess what our love languages are! ha!
We wish you all at least a good dose of valentine's day sweets today!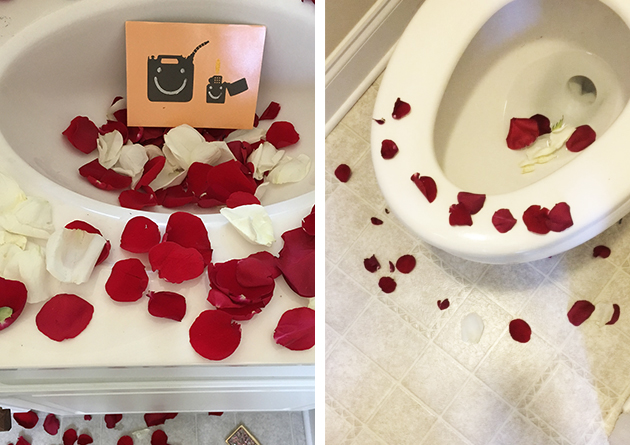 P.S. I was up a billion times last night on shift for sick kids, and I woke up thankful to have survived the night. When I walked into the bathroom I found a sink full of roses with a handwritten note. (I'm thinking, "Shoot. All I have going for me is ingredients to make him a cake.") I went over to the toilet still half awake to also find the above.
Humor in a marriage goes a long way.