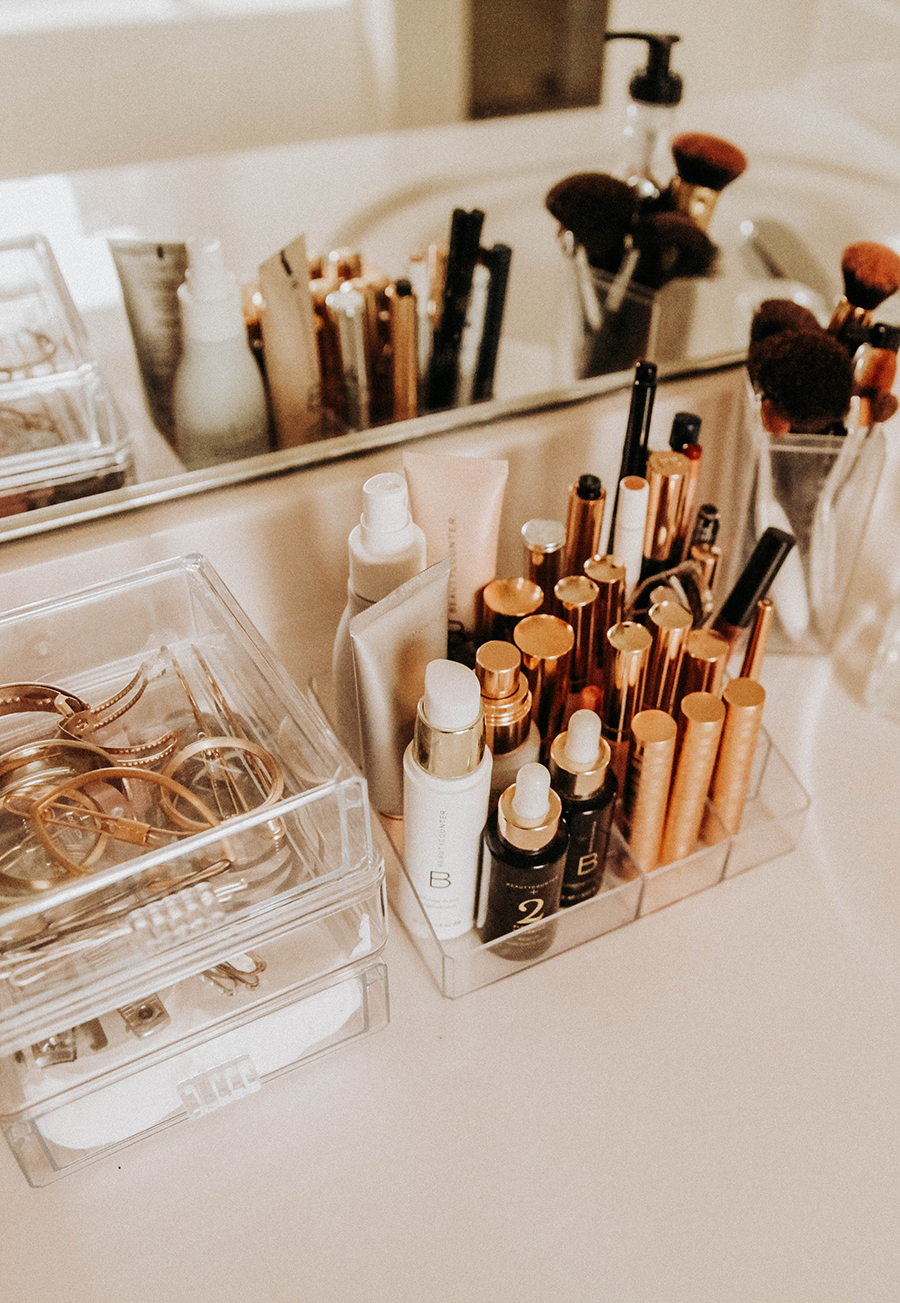 I realized recently that with the whirlwind of the past year that I had learned to function with clutter all around me. It's part of raising little ones who move faster than I do. However, I know not every space in our home has to be this way. When the kitchen or my bedroom is clean and clear I can feel the tension release from my shoulders and mind. I am much more likely to relax in a clean environment than not just because of the way I am wired. So after avoiding my dresser tops and bathroom space for months I finally spent the few hours to declutter and re-organize since this was on top of my caring for the mind goal. Here are a few things that help…
Decluttering Step 1 – Toss it.
If you are like me and hate to waste anything, you tend to hold onto things past their expiration date. After I made the switch to clean beauty and body care items, I knew I didn't have an excuse to hold onto all of the random half used products I hadn't used in months. It felt so good to toss out everything and minimize to what I actually use every day.
Step 2 – Everything has a place.
These acrylic storage caddies were a game changer for our bathroom and dresser tops. I previously had my makeup thrown in a bag or drawer so I was always digging around. This storage caddy holds more than meets the eye, and offers a great solution for decluttering your drawers. I used the stackable drawers for hair items, cotton pads, etc. Brushes go in the taller container. Everything has a place now which saves so much time and frees up those mental cobwebs! It also helped me to get rid of excess, and things I didn't need.
Target, Dollar Tree, Amazon, and Hobby Lobby all had options for storage containers. Most of my beauty products are from Beautycounter.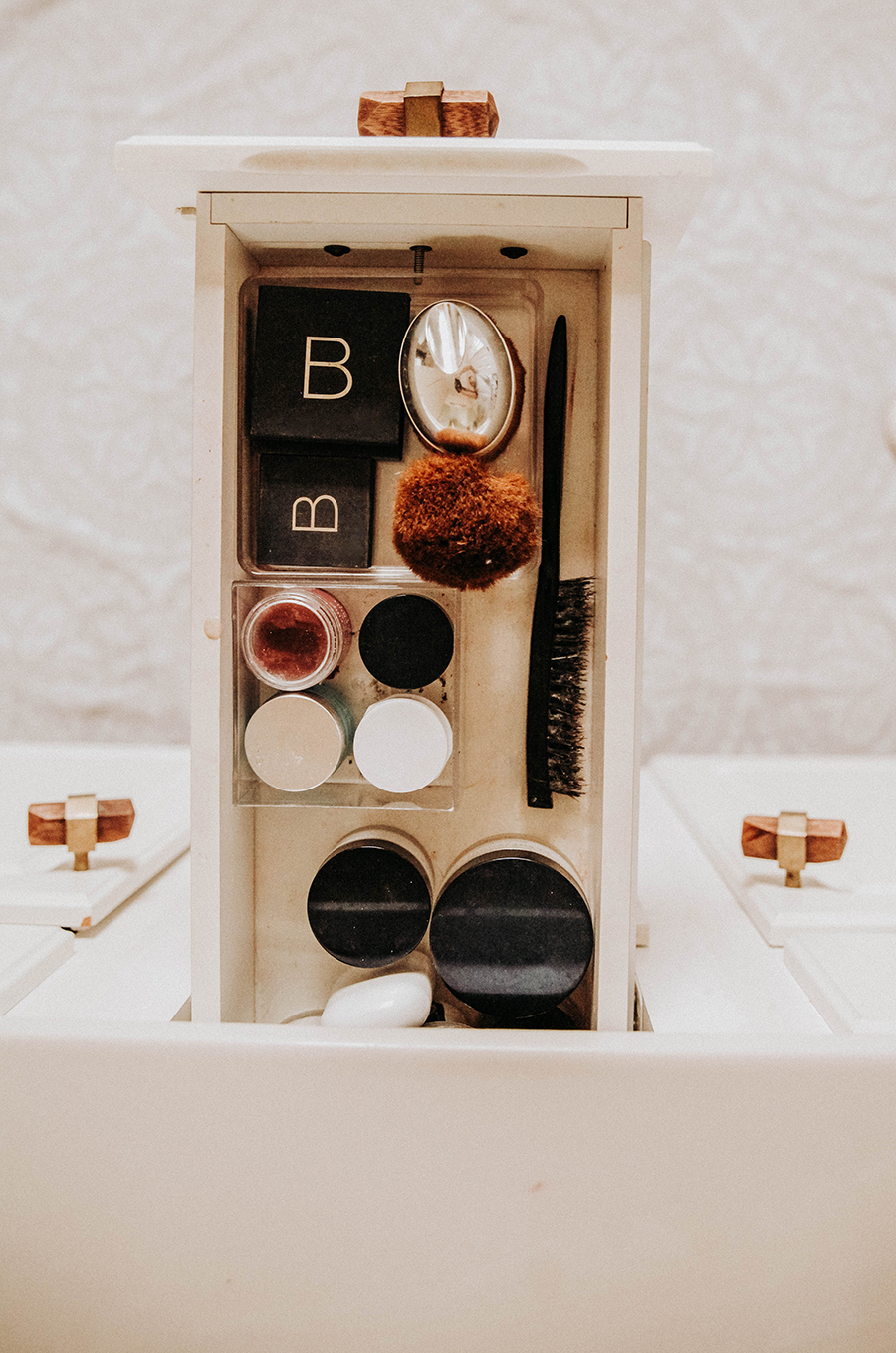 I used more shallow storage containers for the drawers to hold compacts and smaller products. I just took the lids off.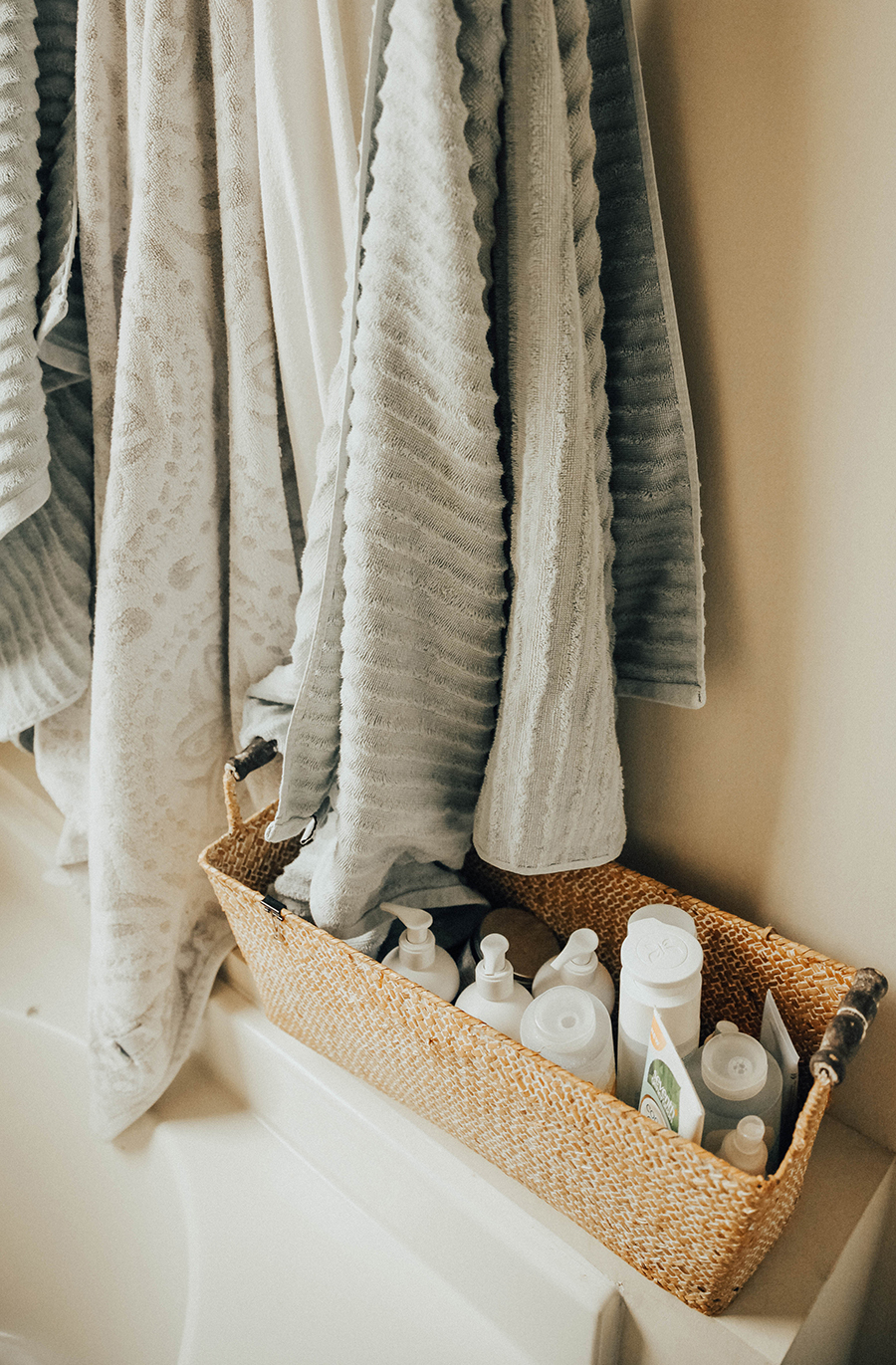 Bath products:
I found this basket at Home Goods a while back that worked really well for the tub ledge. This is where I keep all of the bath + baby care items for the kids!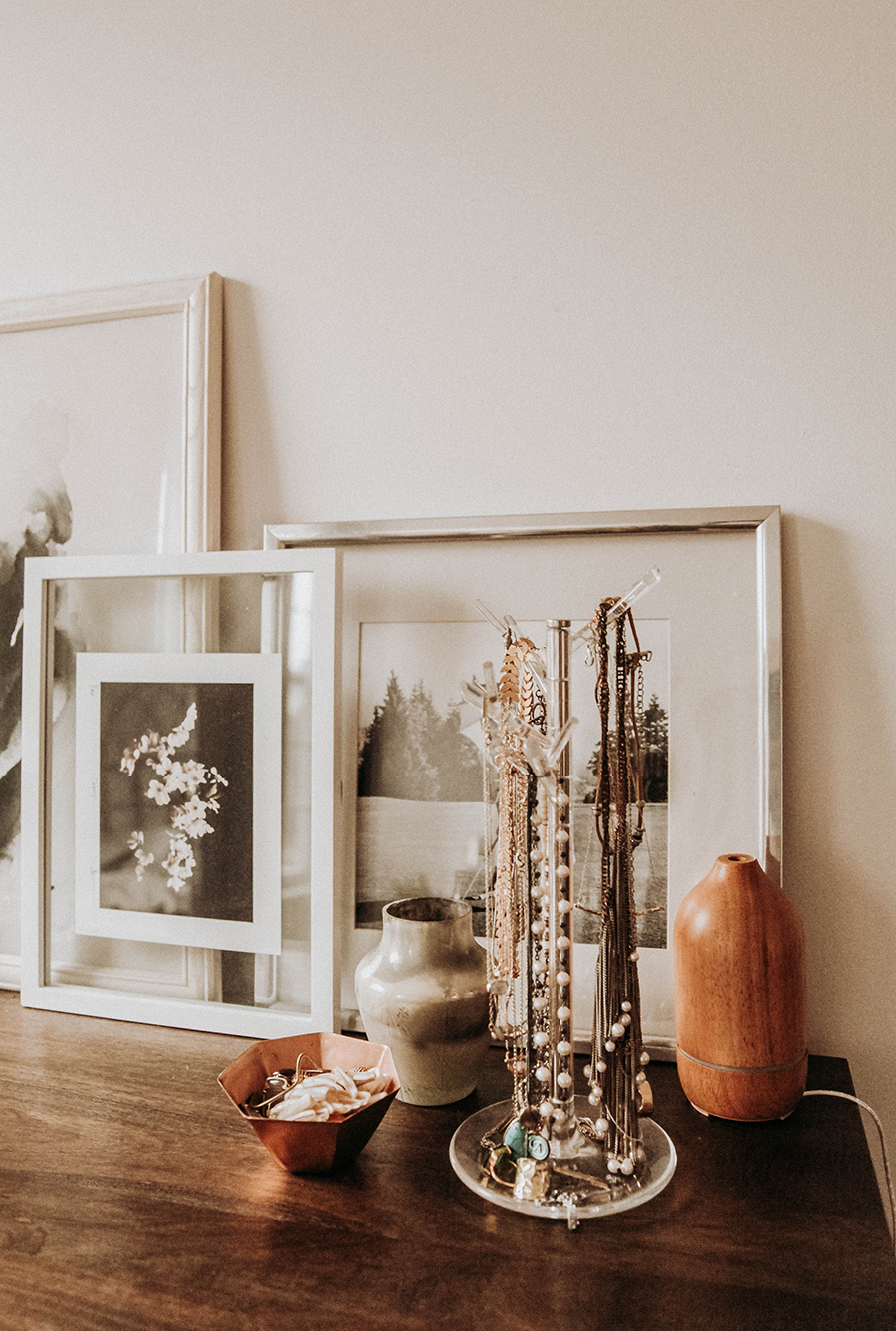 Dresser top organization:
My dresser was a full on christmas leftover salad a few days ago. It took a few hours to clear this up! It becomes the catch all at the end of a day. To keep the goal for everything has a place, I used a few simple things.
Do any of you remember my statement necklace phase? Muah ha ha ha! I don't know what has happened to me, but I don't wear much jewelry anymore. It must be because I am always in the middle of a home project or wrestling babies. I love simple necklaces though, and this jewelry stand has been wonderful for keeping them detangled! My larger earrings and baubles went in the copper dish.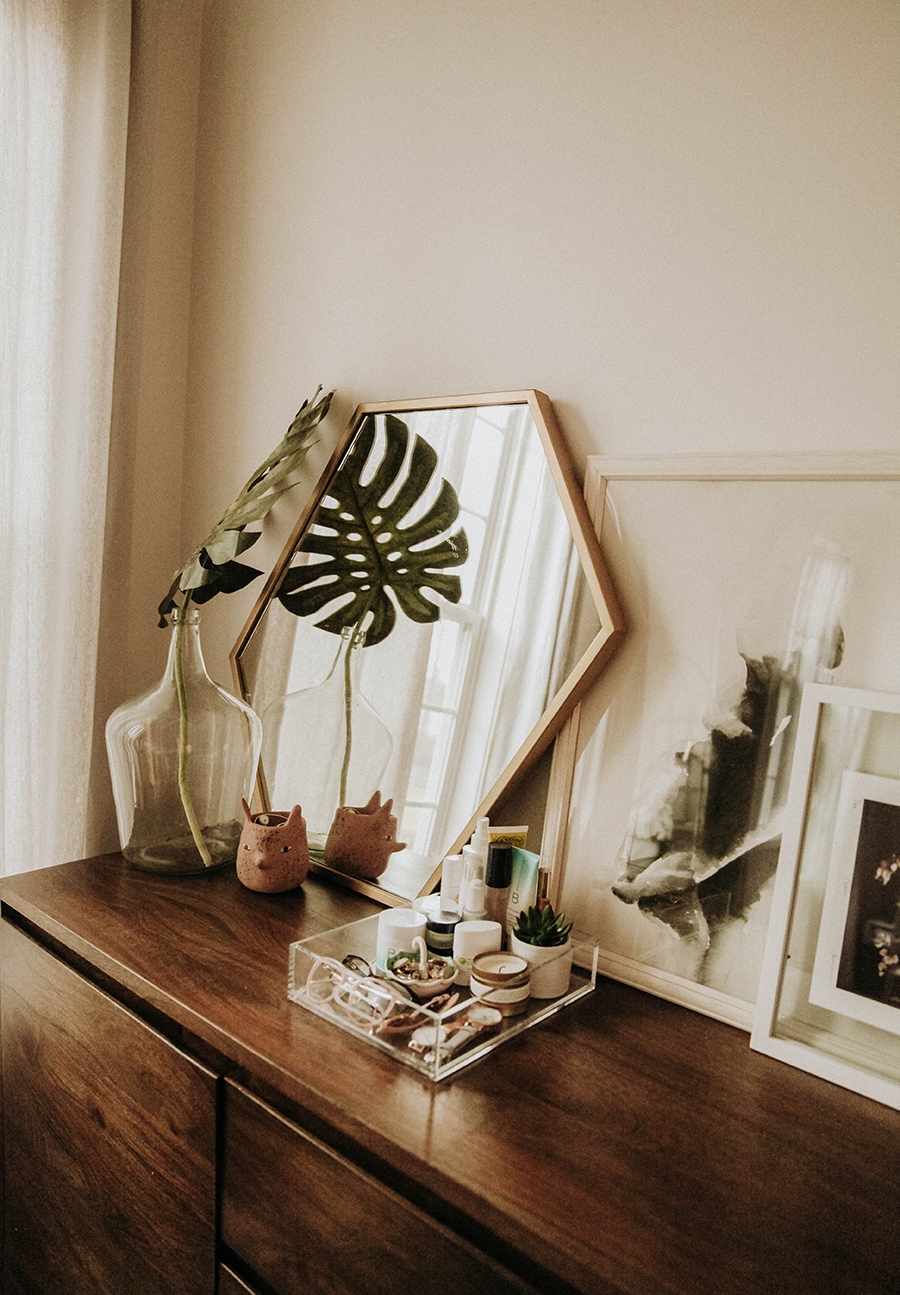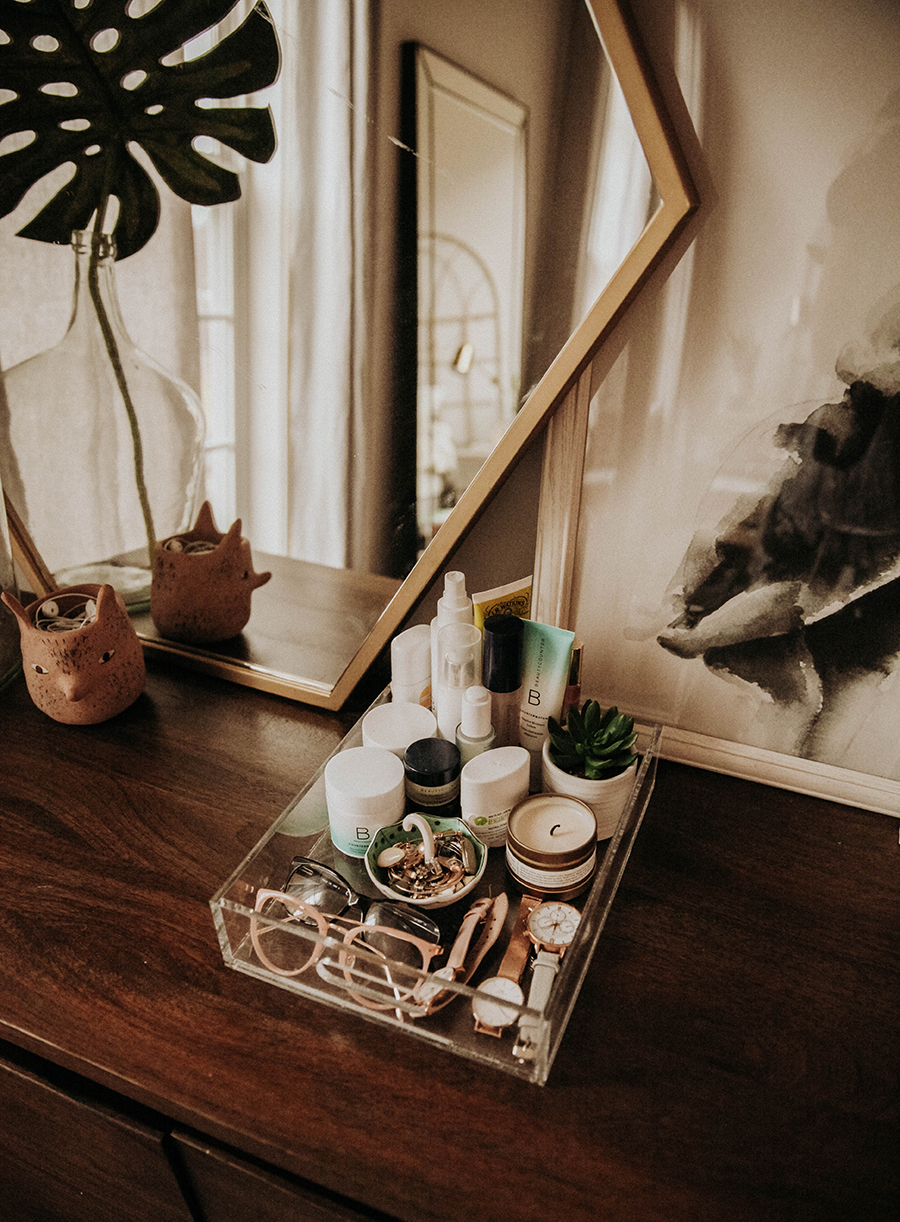 Lastly, I used one large acrylic tray for a few other skin care items, watches, and glasses. This keeps the dresser top from becoming a catch all!
Isn't it funny how the things that make us feel lighter, happier, and more free are often the things we avoid? This is something I have been thinking about in both big and small areas of my life. More on that soon;)