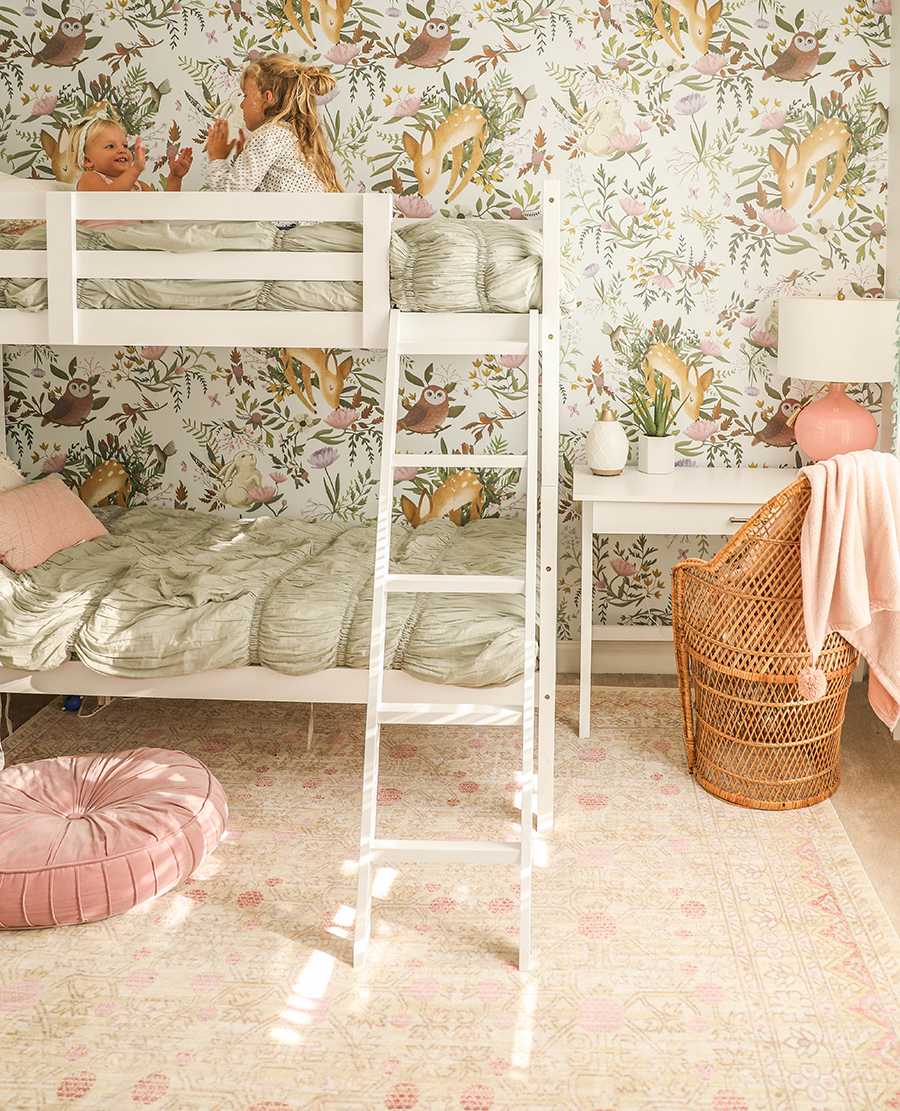 These two sisters think it is a perpetual sleepover party sharing a room together. It has been so fun to see them spend time here together. It seems that whenever I put some effort into a space in our home, that is where everyone wants to hang out! I just about finished up the design of this shared girls room, and all it is missing are the bamboo blinds! All the photos below…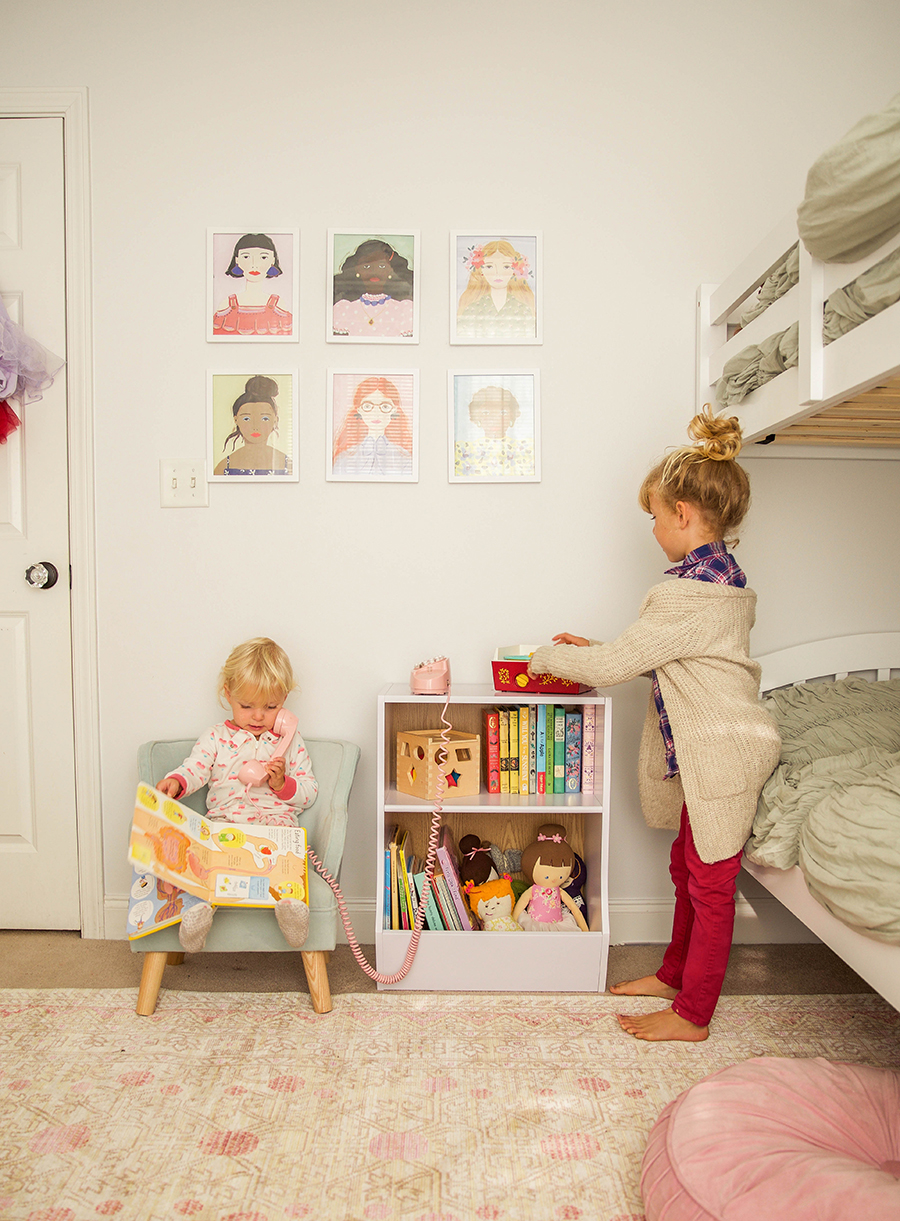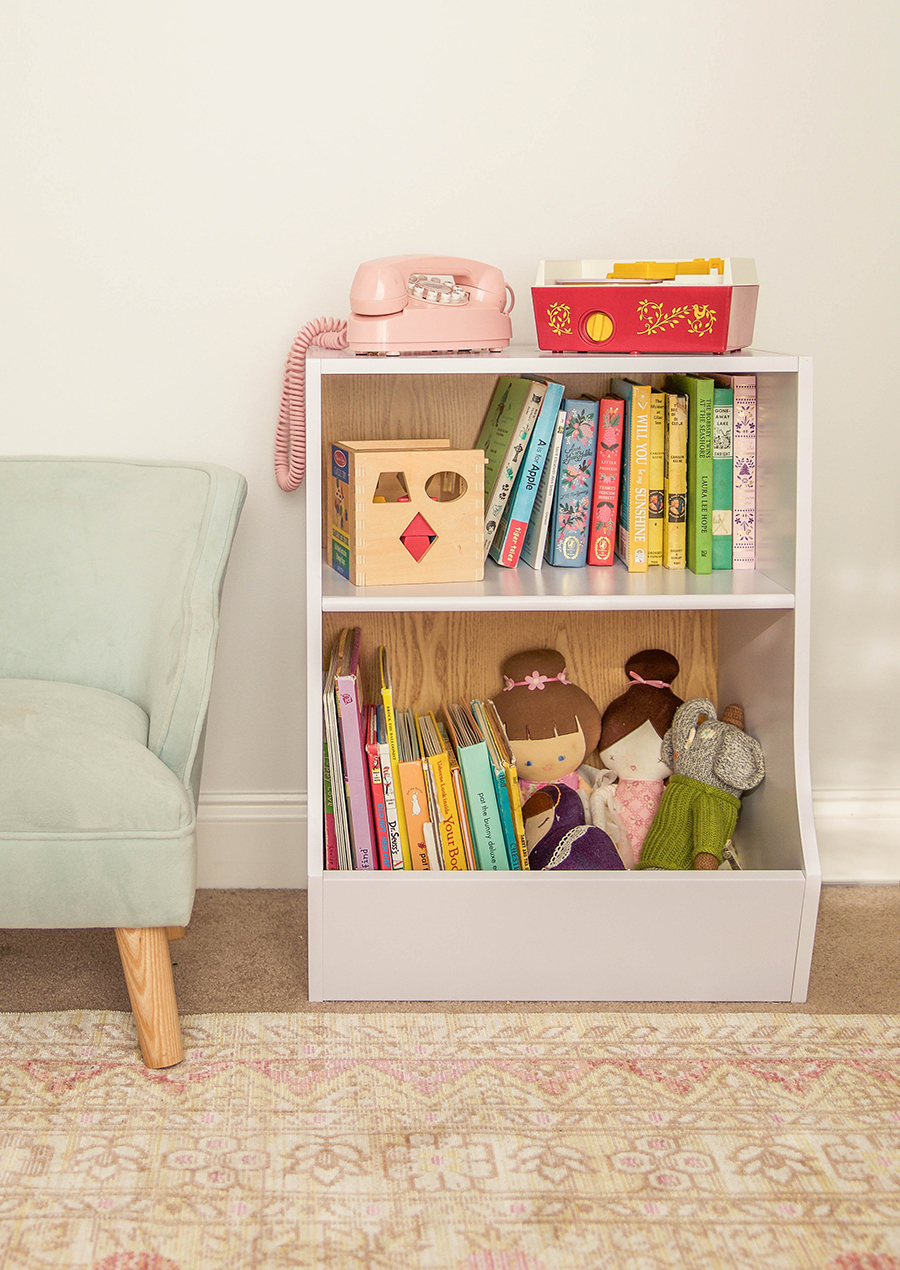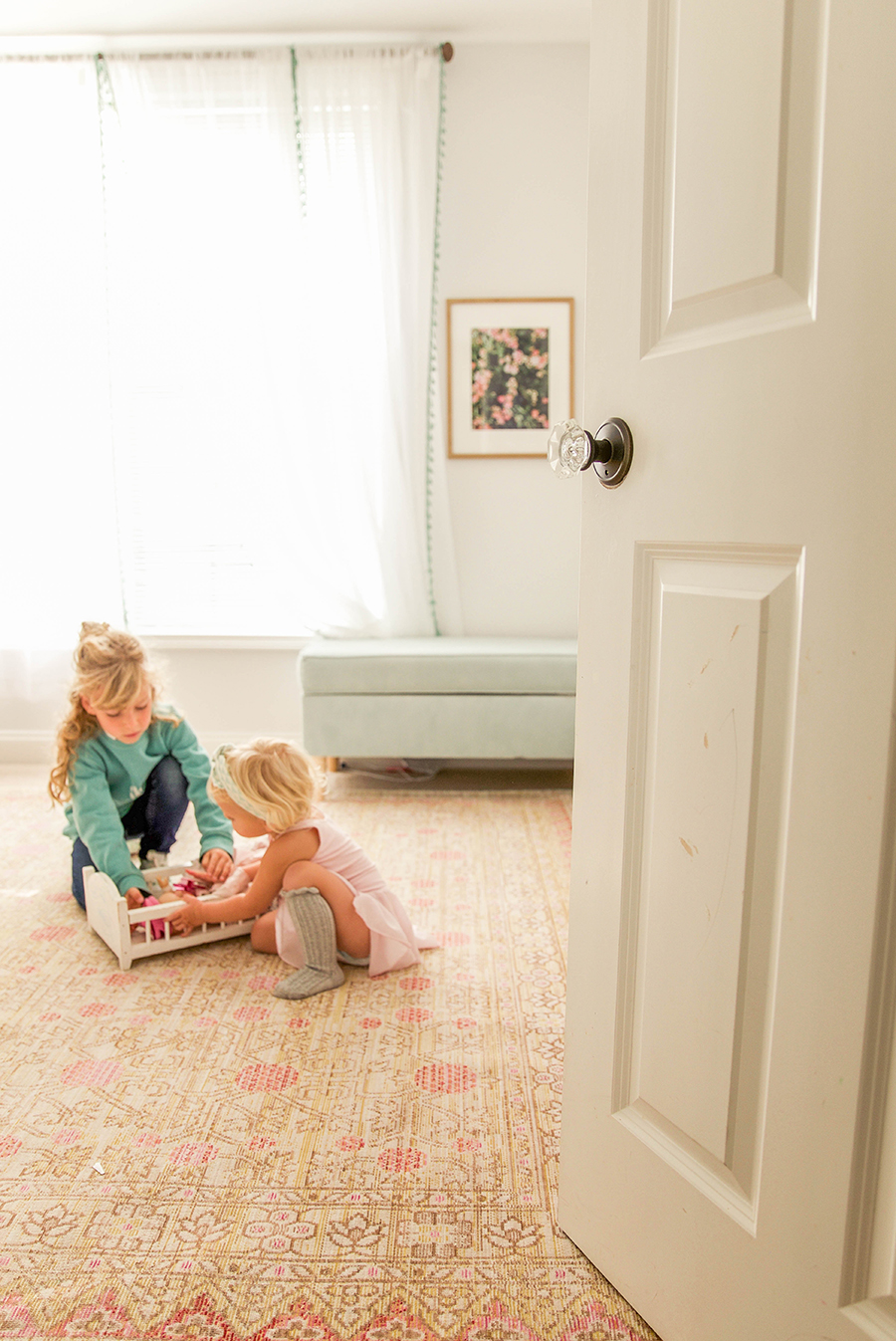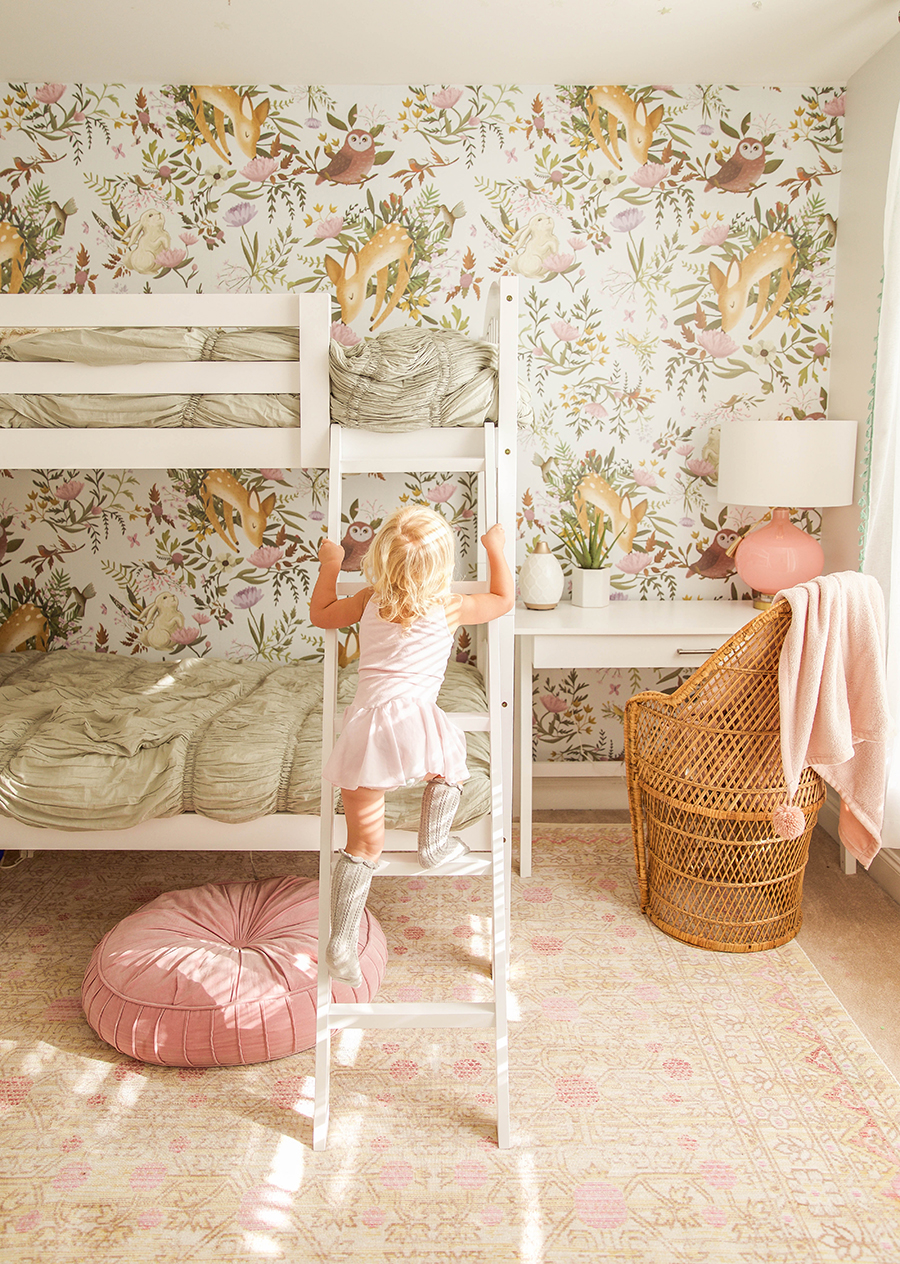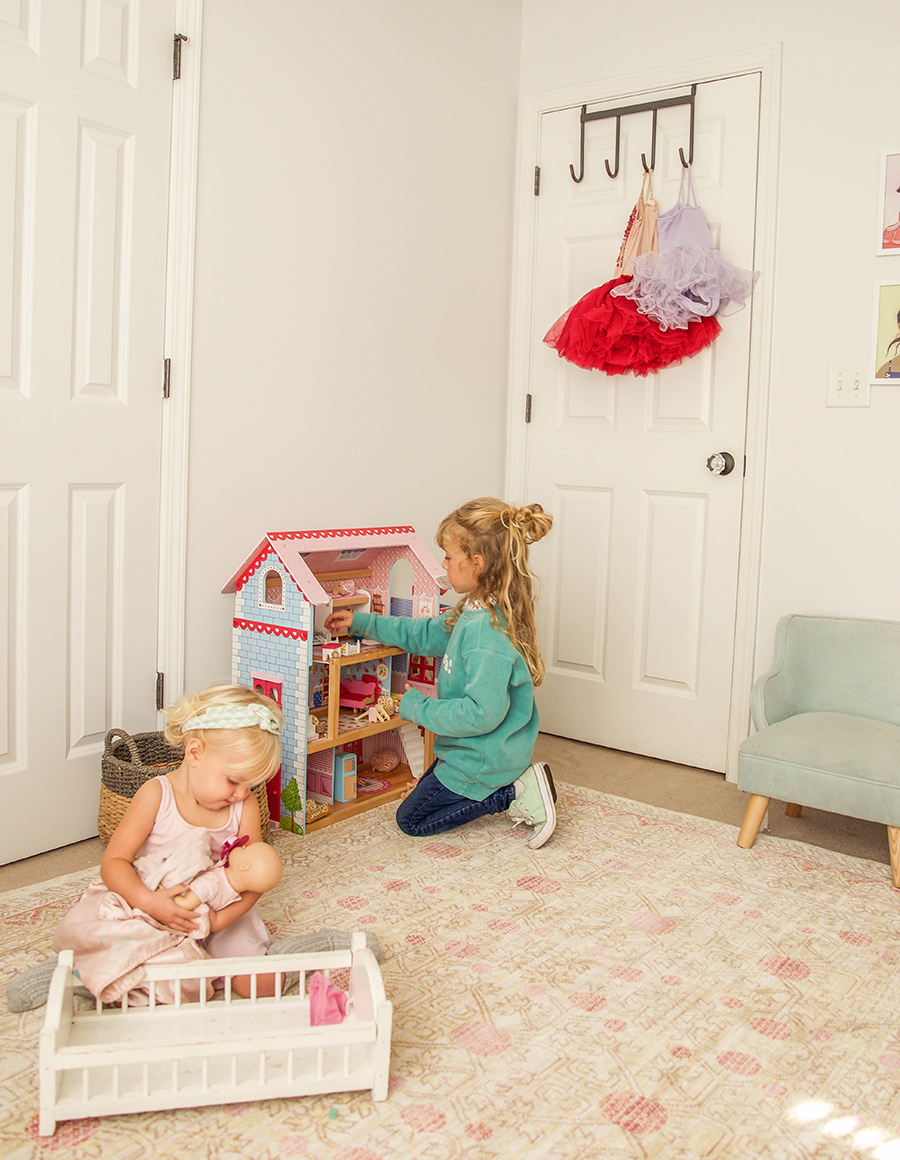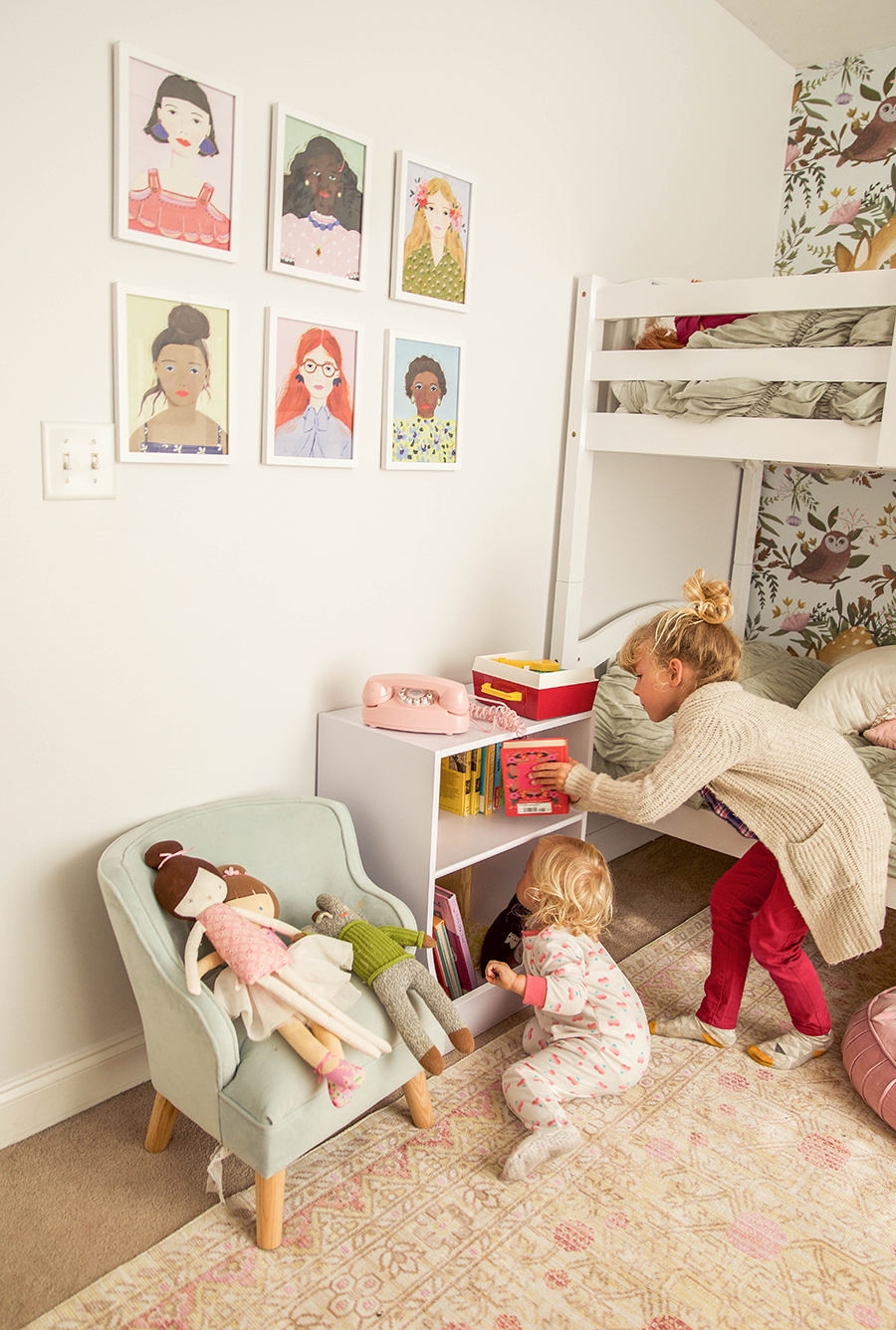 This is a pretty small bedroom, so I think one of the biggest changes in this space is how much bigger it feels since painting the walls from a nice shade of pepto bismal pink to a light silvery blue hue, adding bunk beds, and keeping the furniture minimal. Using the Oh Deer wallpaper across the whole room would have been too busy for a small space, but one wall gave it plenty of whimsical detail. (See the former color + wallpaper how-to in this post.)
The wallpaper determined the tones for the rest of the room, and the rug was the base for pulling all of the tones together. This bookshelf ended up being the perfect siz. We had a small width to work with, and it fit between the bed and the door frame with a little extra room for a little reading chair. We only keep dress ups, books, and the dollhouse for toys in the room or otherwise Azelie would never want to go to bed!
I look forward to seeing Veronica and Zel grow up together, and seeing them share a room has been a fun glimpse into their friendship.
---

Sources:

Rug – Coming to IHOD Shop this week!
Sign up to be notified
.
Bunk beds
– Amazon
Ruffle Comforters
– Urban Outfitters
Quilted velvet pillow
– Target
Cream fringe pillow
– Target
Round floor pillow
– Target
White bookshelf
– Target
Record player
– Fisher price
White desk
-Target
Wicker chair – Thrifted
Pink pom blanket
– Target
Pink lamp
– Cupcakes and Cashmere
Perry kids storage bench
– Lulu and Georgia
Addison kids chair
– Lulu and Georgia
Sheer tassel curtains
– Target
Oh Deer removable wallpaper
– Anewall Decor c/o
Dollhouse
– Amazon (They use the Calico Critters inside)
Illustration portraits by Katy Smail + Frames
Rosebud floral print download
– IHOD Shop +
Wooden frame
Paint: 'Silver Frost' by Sherwin Williams