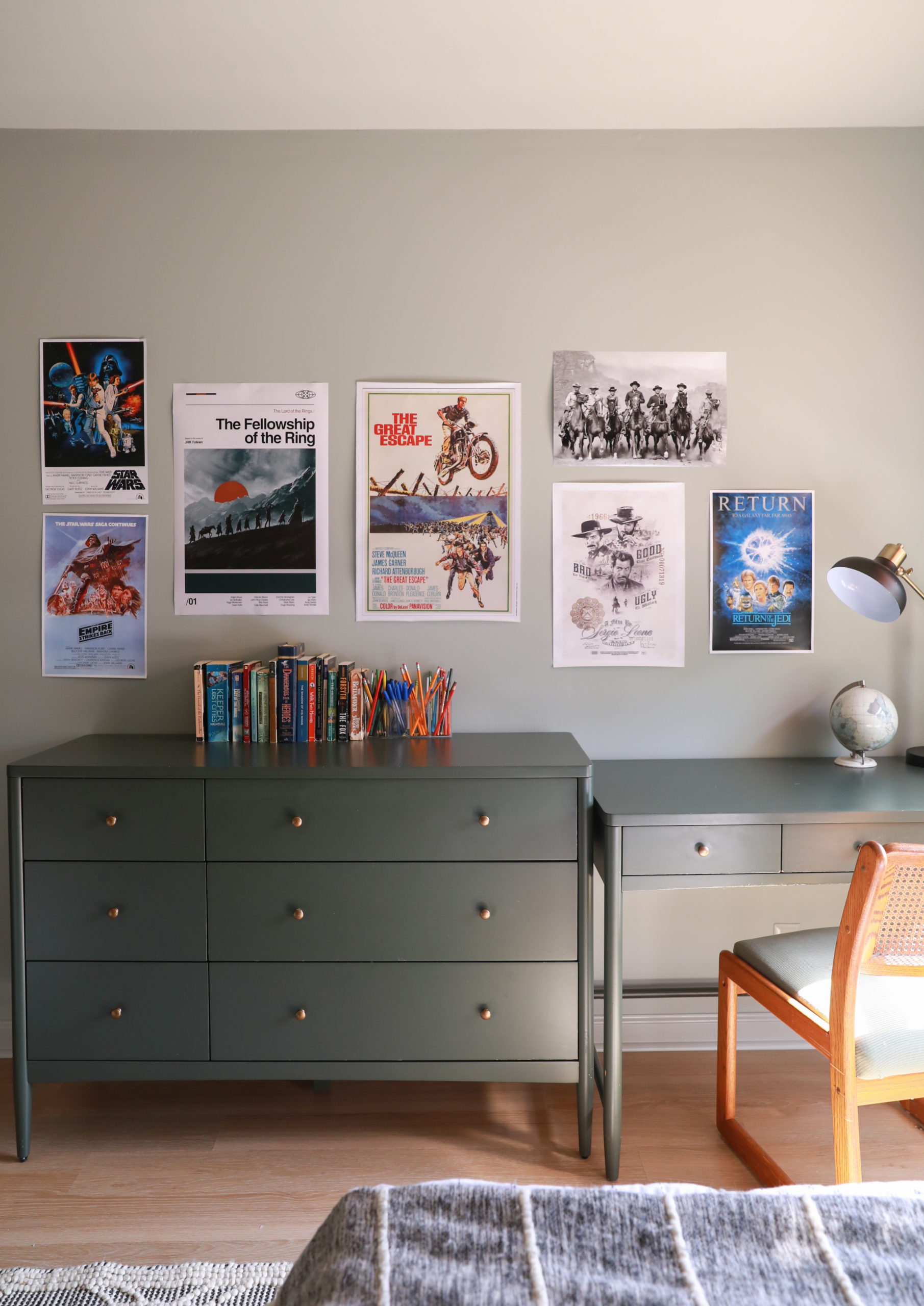 Gabriel is our oldest son — and an old soul at heart. He is so good-hearted and easygoing. He has never asked for much — including anything to do with his room. Maybe this is the reason why I was so excited to work on this space for him.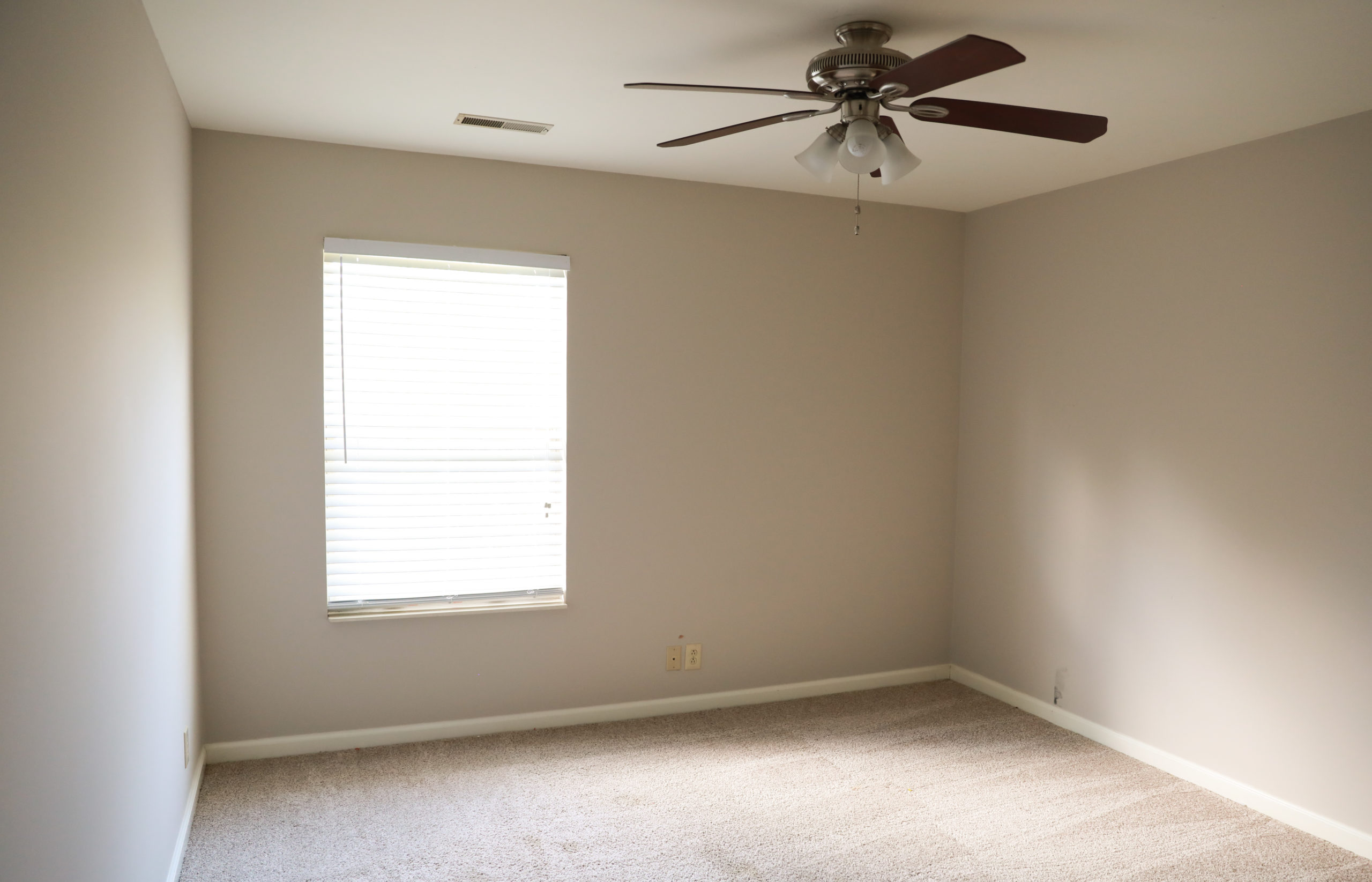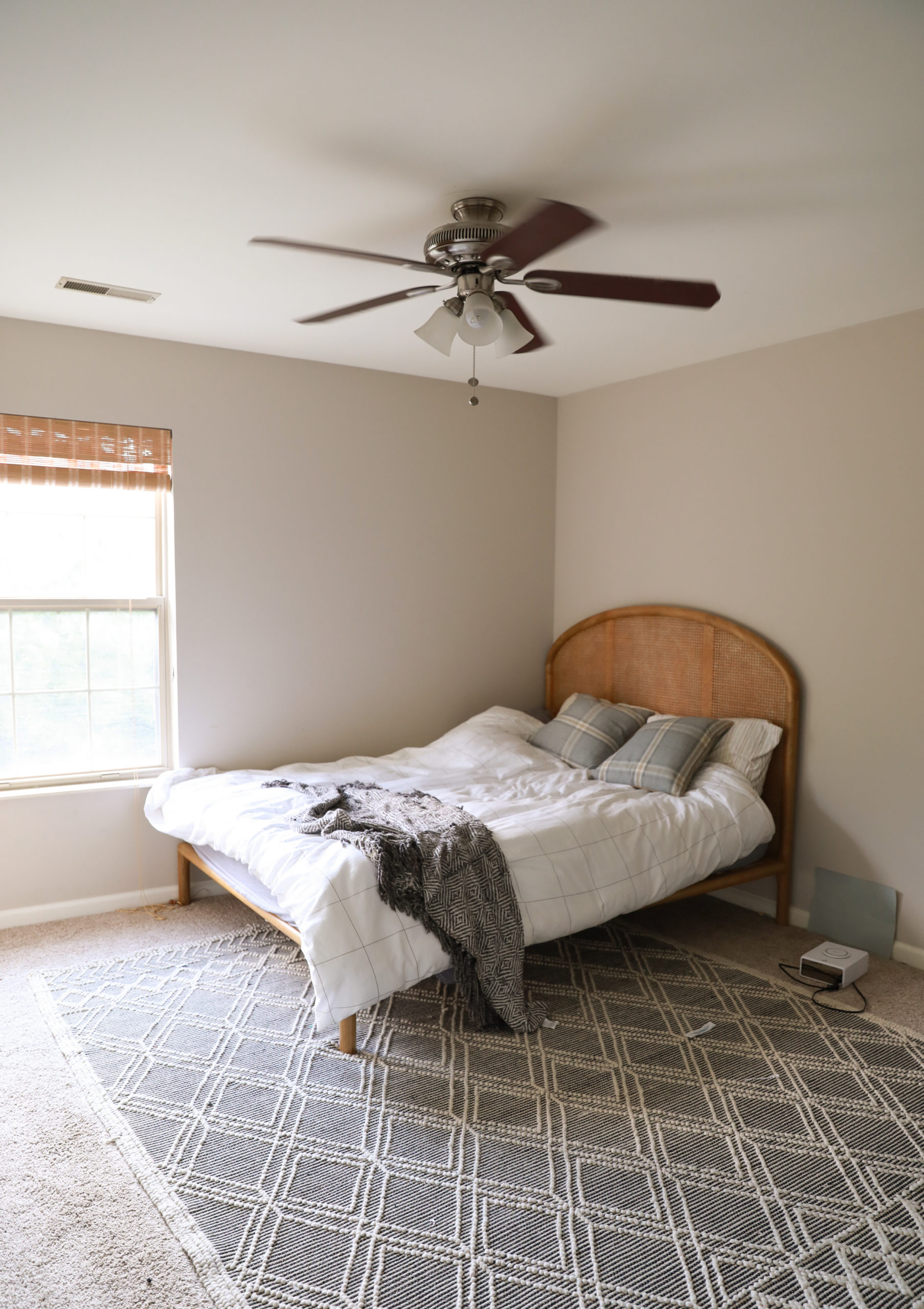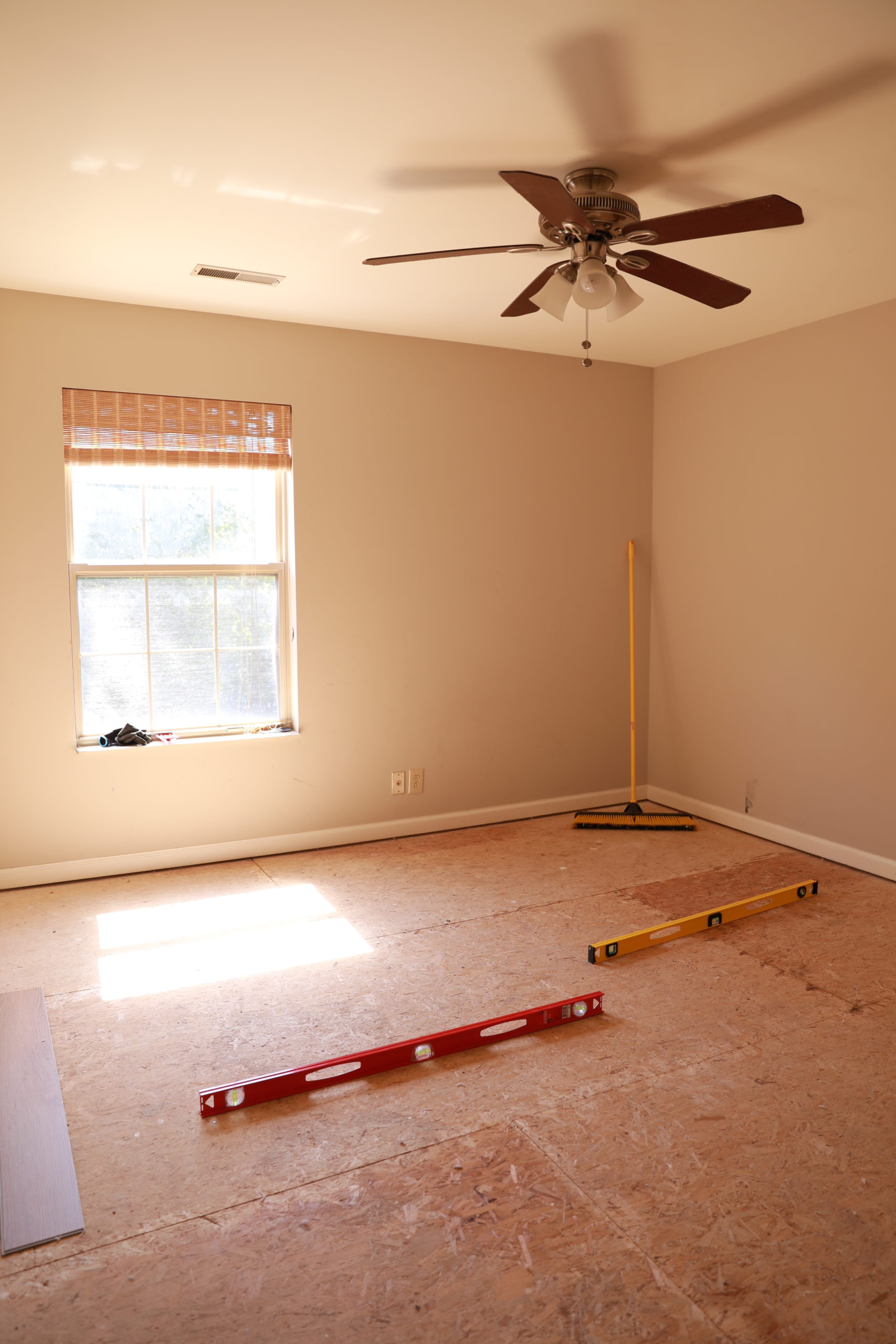 We worked with the same furniture pieces but moved everything out for new flooring and paint. We ripped up the old original carpet and decided to paint everything first.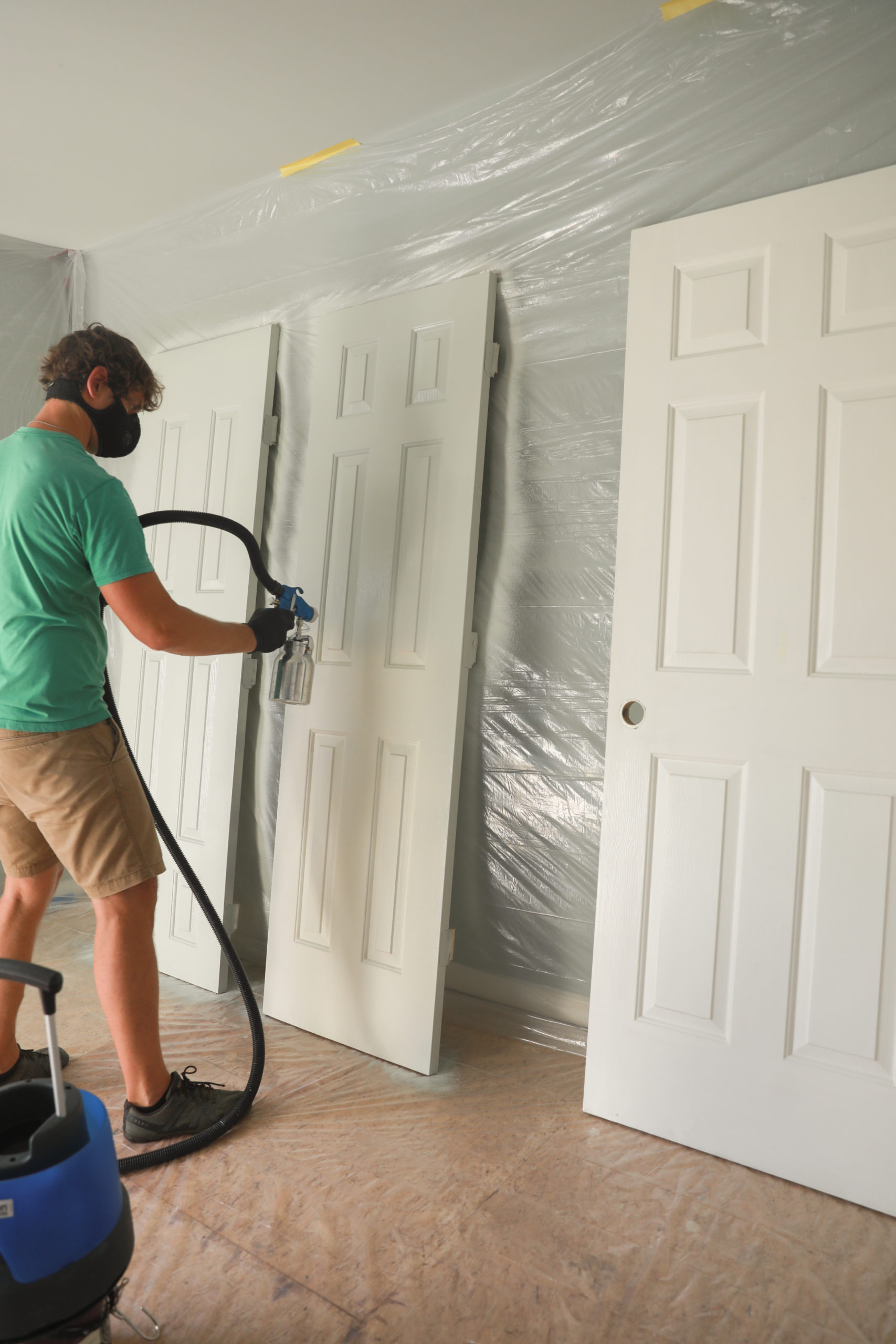 In an unusual turn of events for me, I decided on the first sample I tried! Quite the opposite of my kitchen cabinet experience. Farrow & Ball Light Blue: It is the perfect blue-grey with a slight hint of green. We wanted to test and compare F&B with other paints we have tried, and this was a good opportunity to go for it!
Paint finishes used:
Walls – Farrow & Ball Light Blue – Emulsion finish
Trim and doors – Farrow & Ball Light Blue – Semi-gloss finish
Ceiling – Farrow & Ball color-matched at Benjamin Moore with 50% reduced saturation – Ultra Flat finish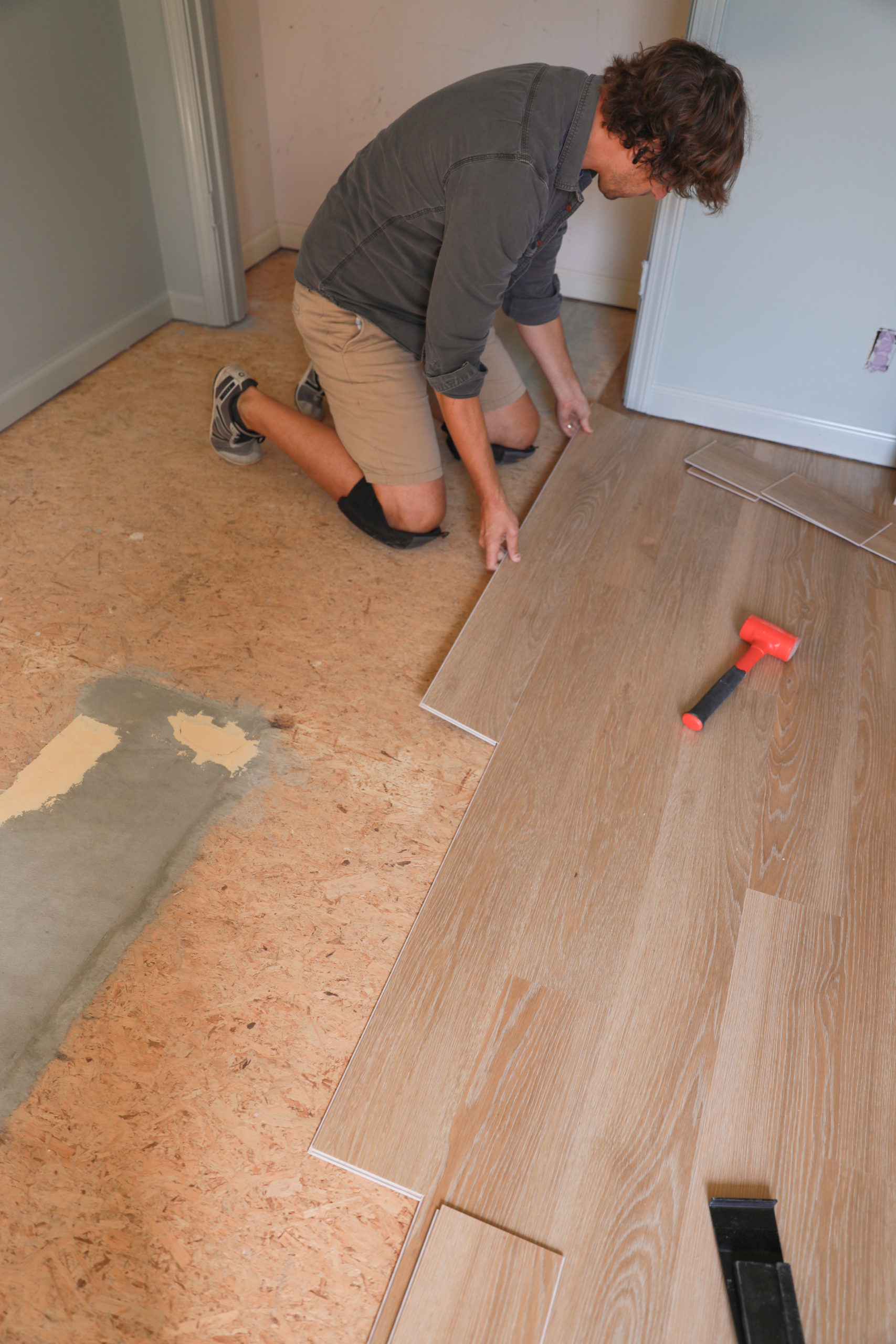 We chose to use DuraDecor LVP flooring — rigid core in Golden Glow. (We have a whole blog post on this coming up soon!) It is easy to install, it's made of a family-friendly waterproof material, and it's a more cost-effective option than hardwoods. Highly recommend the 5.2 mm thicker wear layer option!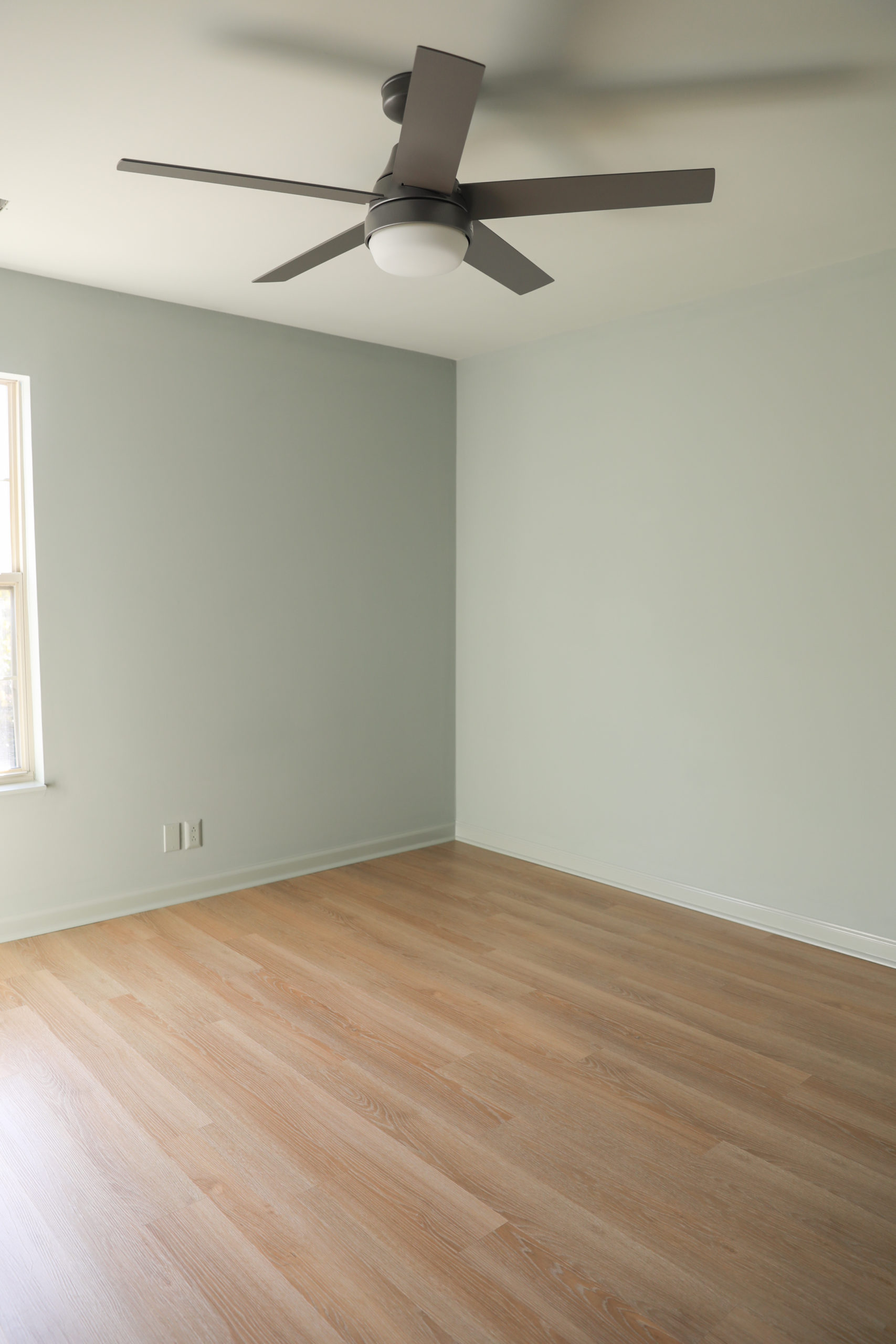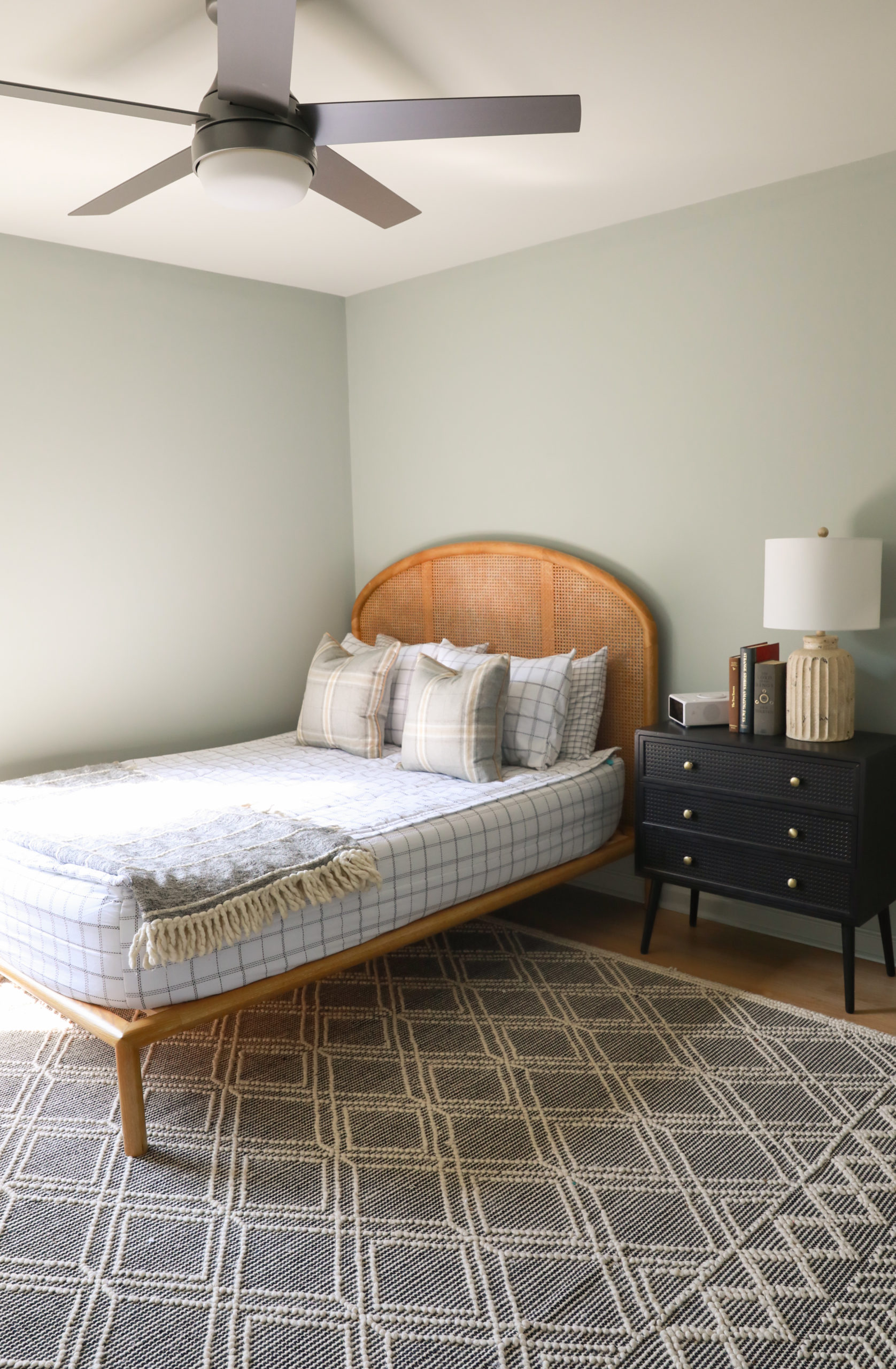 I have loved using Beddy's on the boys' bunks, and they offered to send the Aiden comforter and sham set over for Gaber's room and a discount code for our IHOD friends. He was pretty pumped about it, considering he only needs to zip it up to make the bed now. It's the Aiden style in cotton lining. They are very simple to wash and put back on the bed, too. You can use code "ANNA" for 20% off sitewide!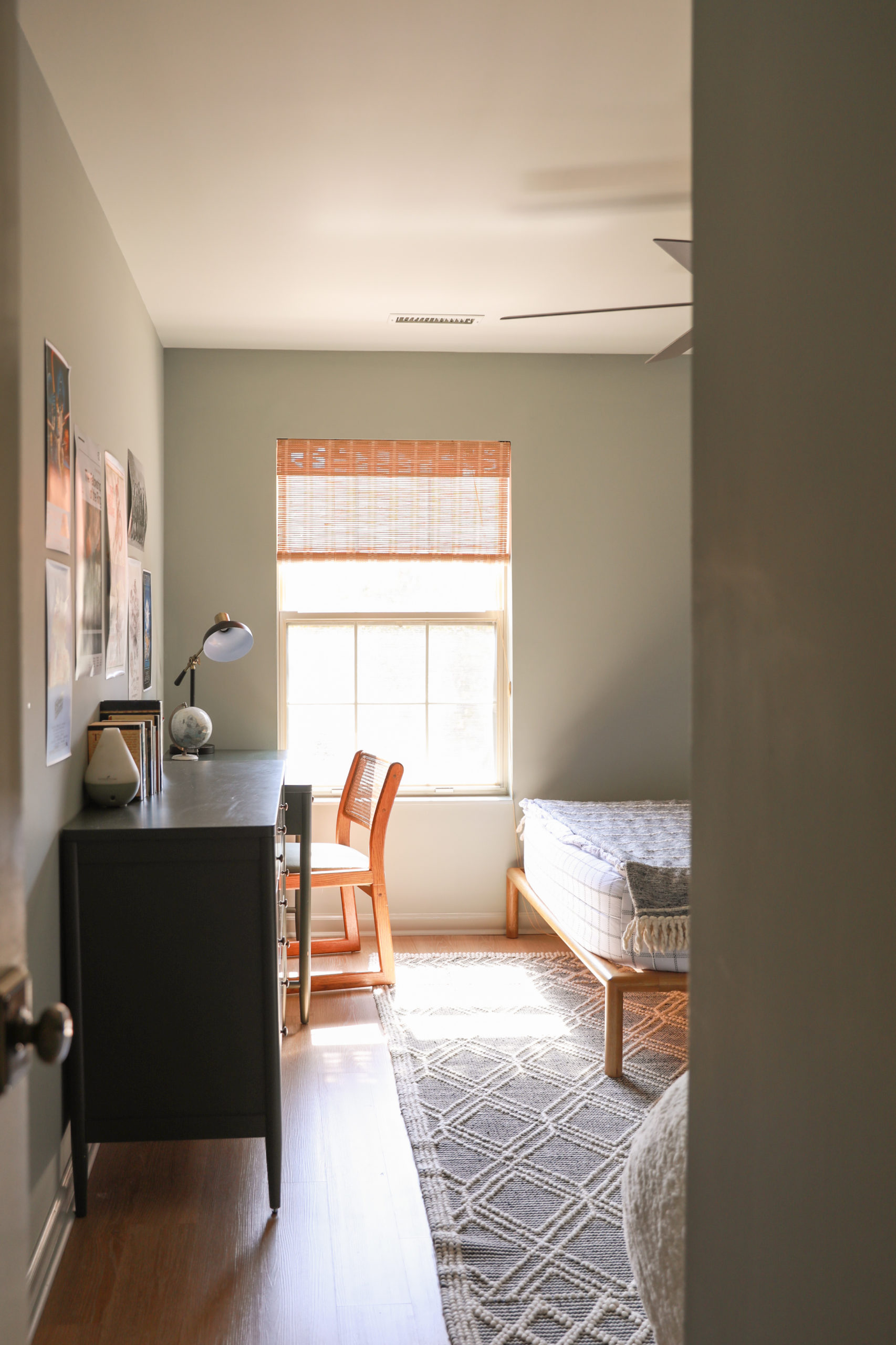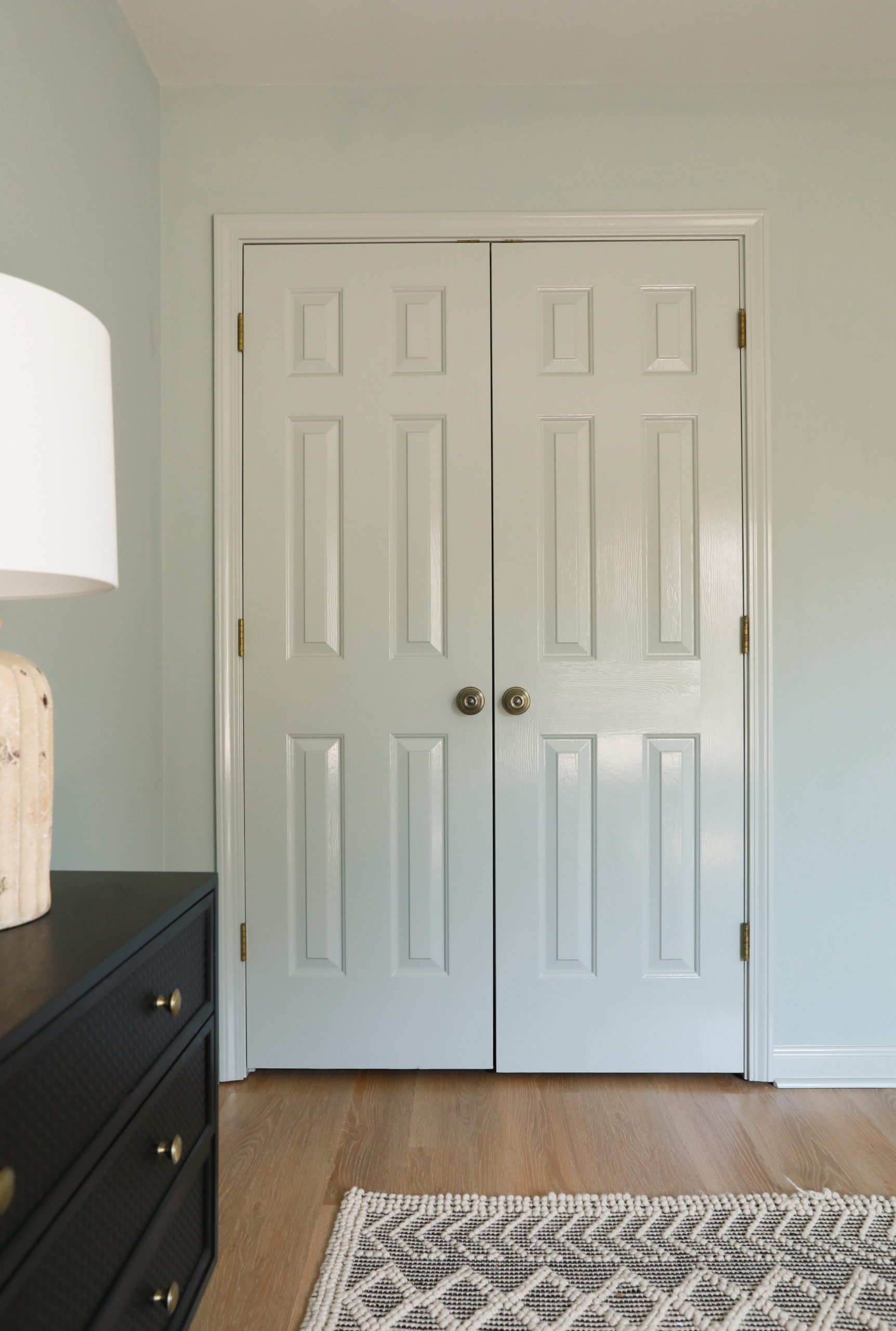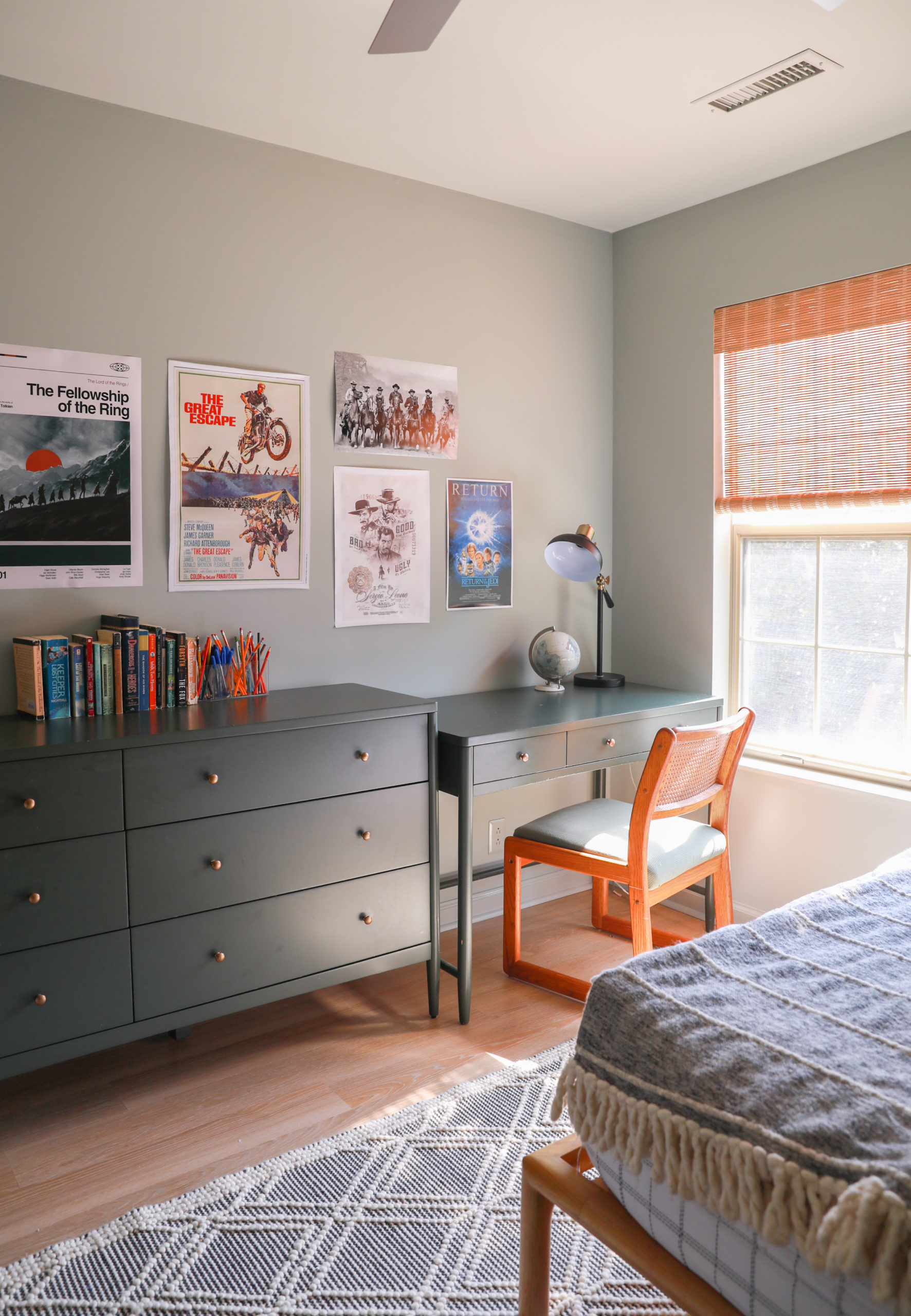 The warmth and light the floor and paint reflect now is incredible! Gabriel loves movies, and I wanted to surprise him with a wall of posters from some of his favorites. This is the start, and he has room to add more down the road!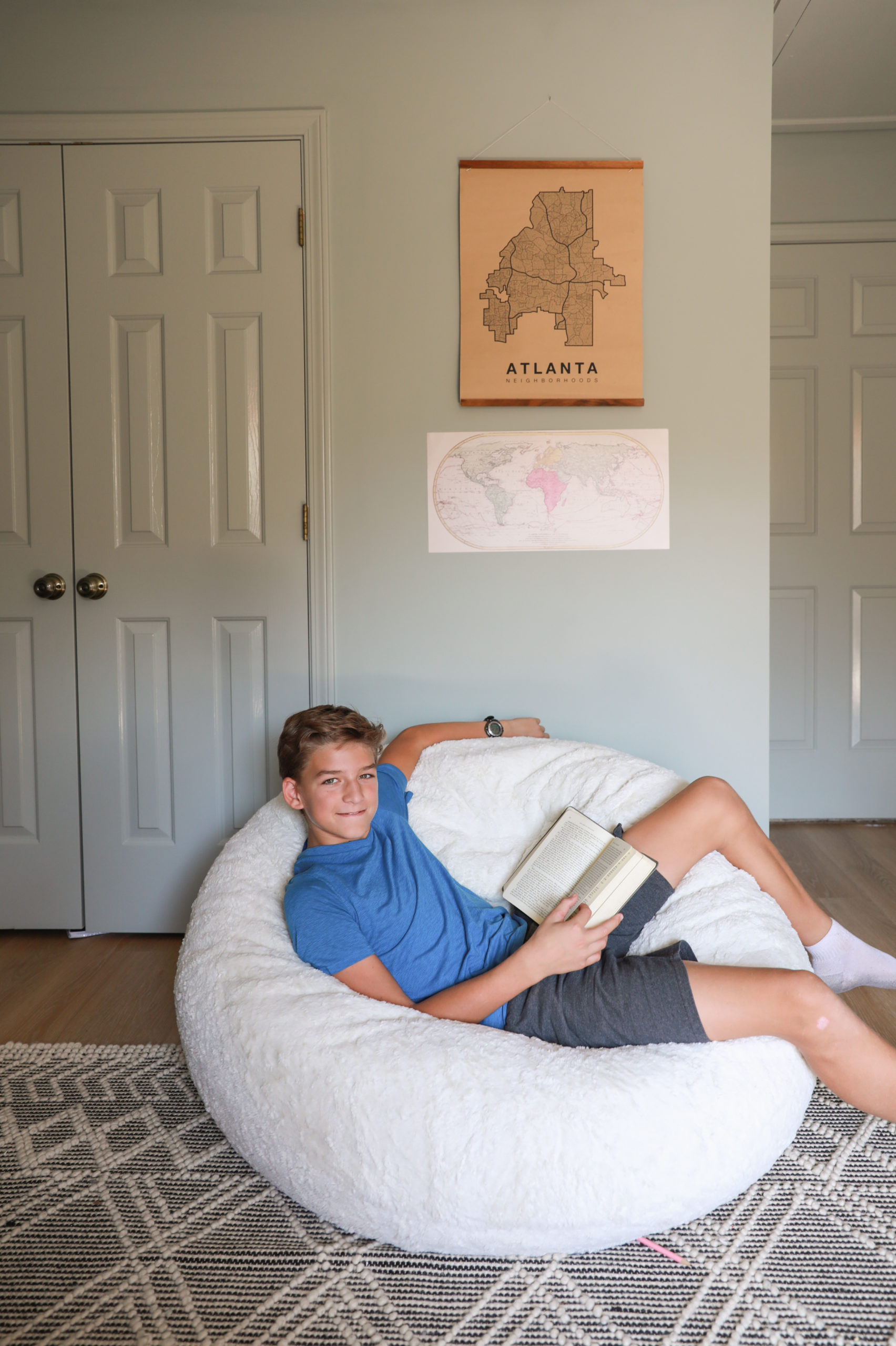 We got this furry bean bag chair (as seen on Shark Tank) during the prime day sale, and he has been hanging out here every day since. I love the size and that it doesn't lose shape! The cover is removable and washable, and the inside converts to a bean bed! (For reference, this is the full size.)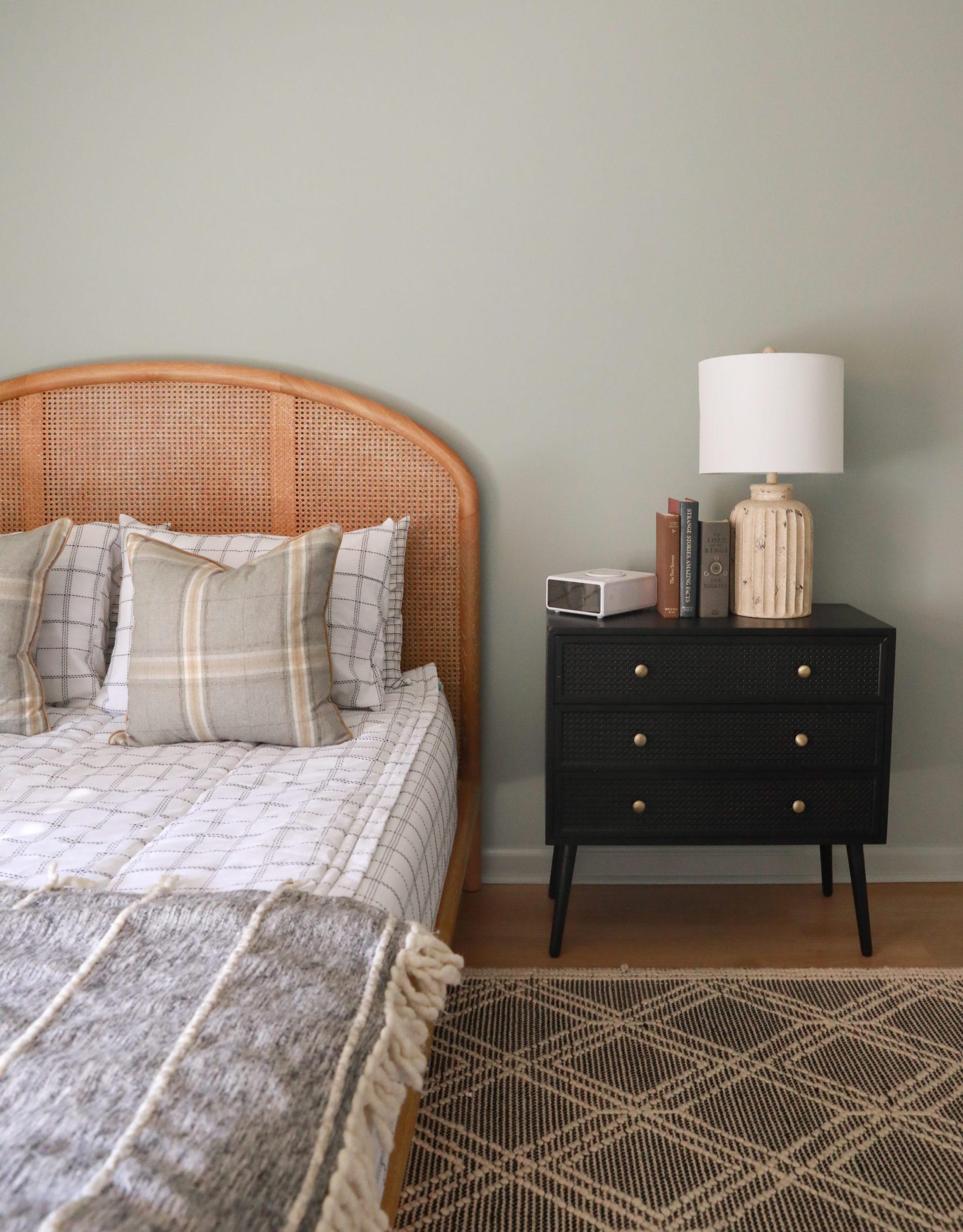 This was such a fun project to work on, and I am looking forward to replacing the rest of the old carpet in our upstairs soon, after seeing what a difference this has made. Gaber is so thankful and happy with his room — which, of course, is the best part.
Room Sources:
Paint
LVP flooring
Rug – I used a 6′ x 9′
Bed (old from CB2 – similar here or here)
Ceiling fan
Woven blinds
Beddy's comforter and shams – Aiden style (gifted) – Use code ANNA for 20% off!
Foam pillows
Plaid throw pillows
Nightstand – sold out, but similar here or here
Lamp
Alarm clock/CD player
Dresser
Desk
Chair – FB marketplace
Desk lamp
Convertible bean bag chair (Full size)
Paintable outlet plates
Doorknob
Closet knobs

Posters:
Star Wars Trio
Fellowship of the Ring
The Great Escape
The Good, the Bad and the Ugly
Magnificent 7
Vintage map
Atlanta map