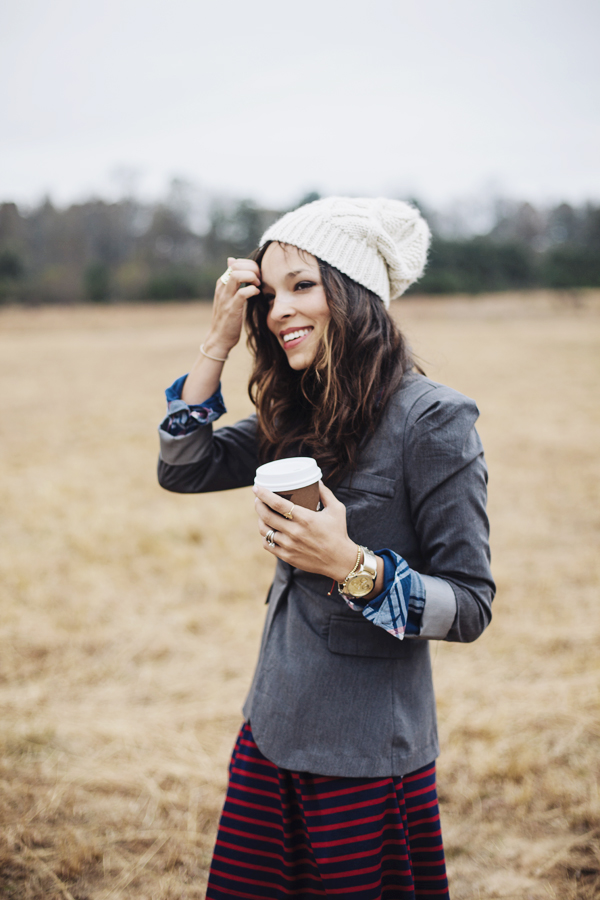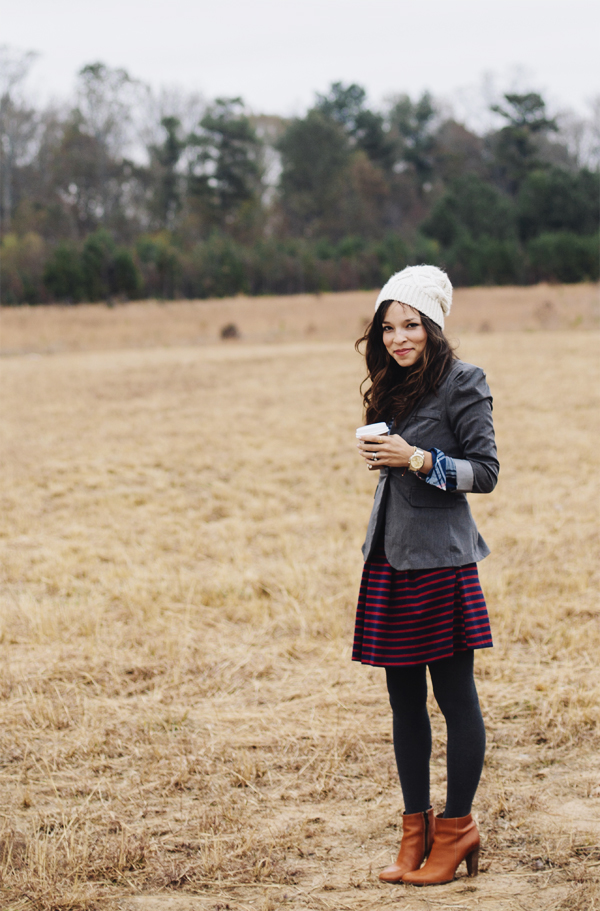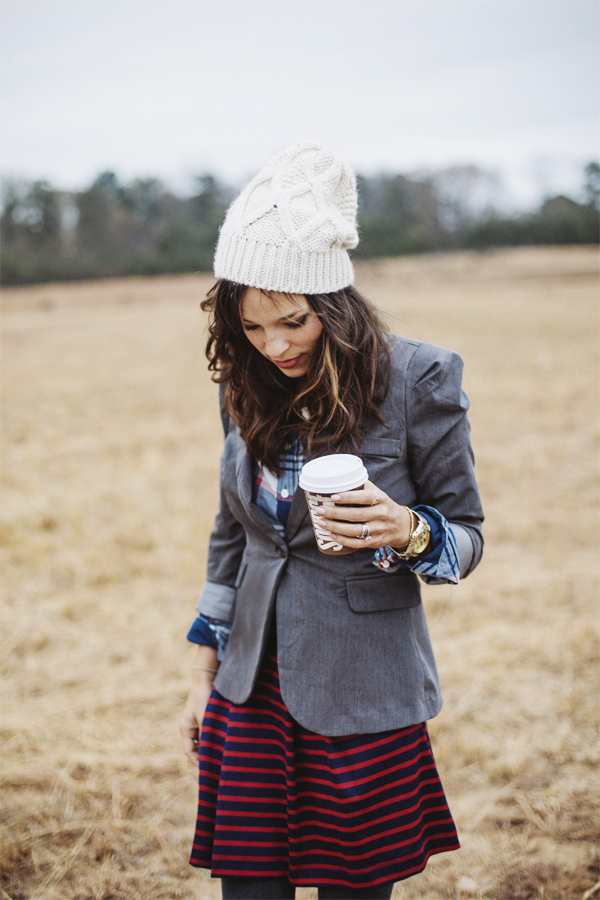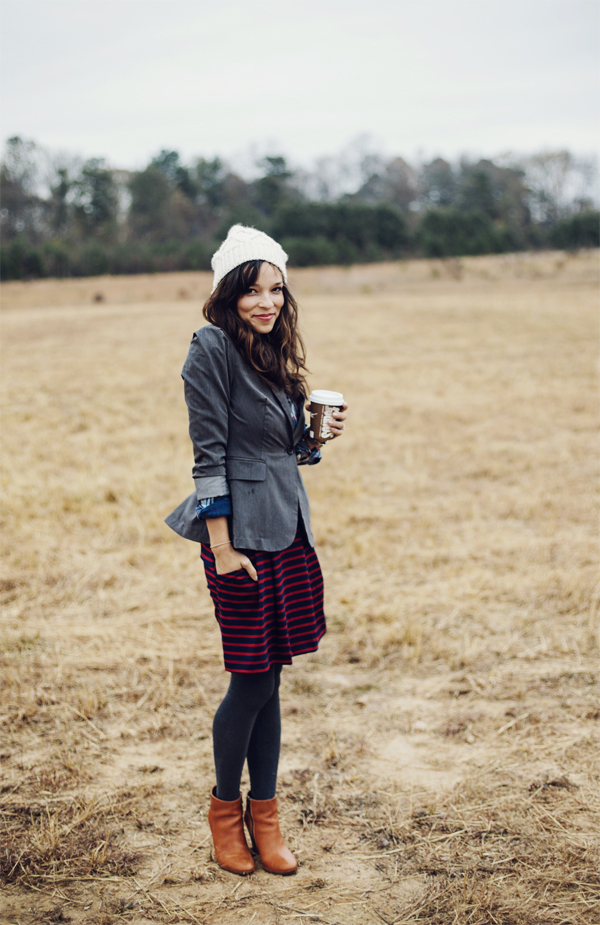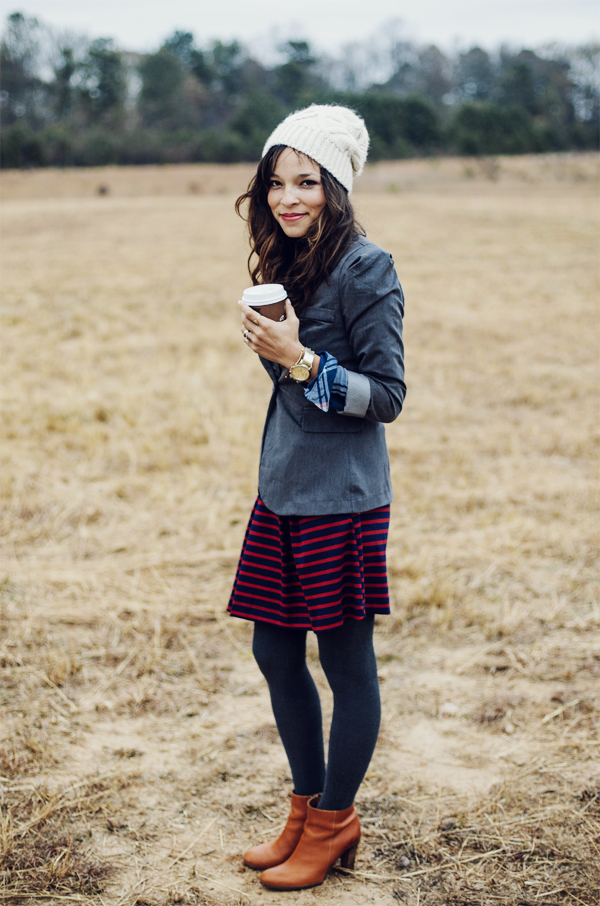 Jacket: c/o Love Shopping Miami // Plaid Shirt: AE via Twice // Skirt: c/o Love Shopping Miami
Beanie: Target // Boots: J. Crew (Sample sale but similar) // Watch: Aldo
As you instagram friends know, I like to have virtual coffee chats once in a while, so taking it here again on the blog. Join in on your own blog if you like! I would love to read!
1). Current shows Gabe and I are stalking on Netflix: ONCE and Revolution. After whining about having to wait for Downton to Return, you all came through for me with many ways to acquire these episodes beforehand. I feel horribly guilty (maybe I don't but I should) for watching them early, but with convenience of early peeking at my fingertips, what's a girl to do? 😉
2). We have successfully held off on Christmas music until now, but once I found this record player and then a stack of old school Christmas records, I caved. Don't tell my sisters I broke out long standing family rule! If it keeps us all happy with high spirits (especially Veronica), than I have no qualms. The rug is being cut as a result;) Gabe already put lights on the house so that when we get back from our upcoming trip he can come home and plug them right in. What a goose.
3). I should be whipping out Christmas and Thanksgiving DIY's right about now as most successful bloggers are doing, but I am afraid my brain cannot be cable jumped at the moment, and there are no creative thoughts that are producing. I am taking the cue to take it easy and focus on making my children's advent and Christmas a memorable one. I was frantically putting together the IHOD Holiday Guide last year, and though I will miss doing it, I am more than a little relieved to have no looming deadlines. And on that note, this.
4). After mentioning in this post I would probably need to hire an inbox assistant soon, I received some incredible resumes and decided to jump start this thing a little early. My type frantic fingers won't know what to with their new found freedom! I will be sure to report how it's going.
5). I may have tips for successful family photos down, but someone want to help me out with how to pack for a family a five for a week? Because there has to be a better way than packing two outfits for each child + laundry detergent to save room;)
6.) I am taking the pledge NOT to shop on Thanksgiving.
*All photos by the lovely Chelsey Heidorn
—
"The beauty of a woman is not in the clothes she wears, the figure that she carries, or the way she combs her hair. The beauty of a woman is seen in her eyes, because that is the doorway to her heart, the place where love resides. True beauty in a woman is reflected in her soul. It's the caring that she lovingly gives, the passion that she shows & the beauty of a woman only grows with passing years."
~ Audrey Hepburn