My talented friend Meghan is taking over again today sharing a recipe I whole heartedly approve of;) She comes up with the best things!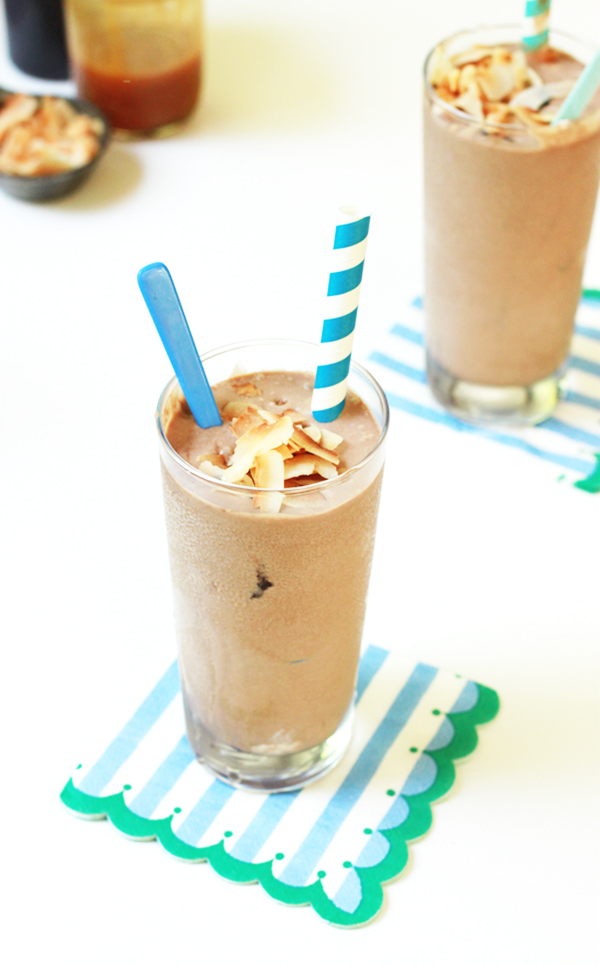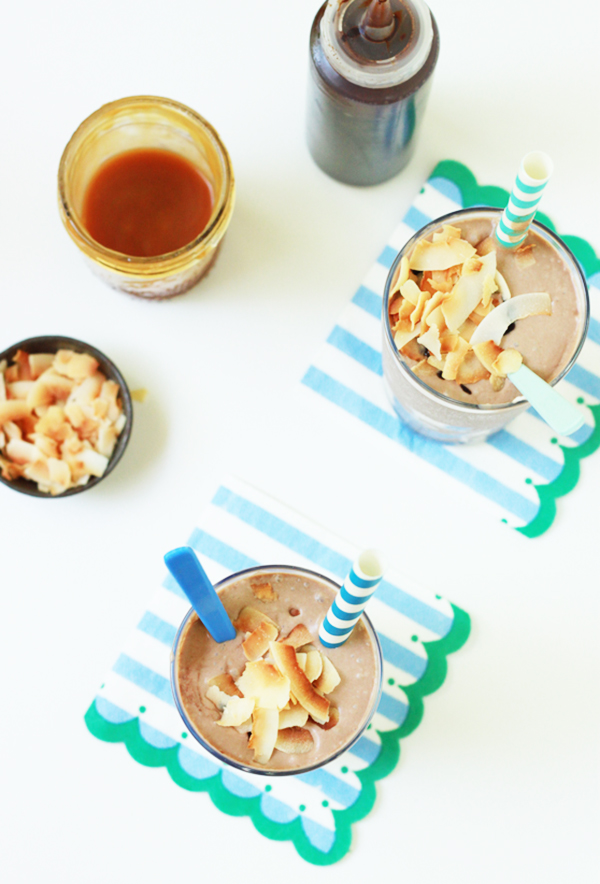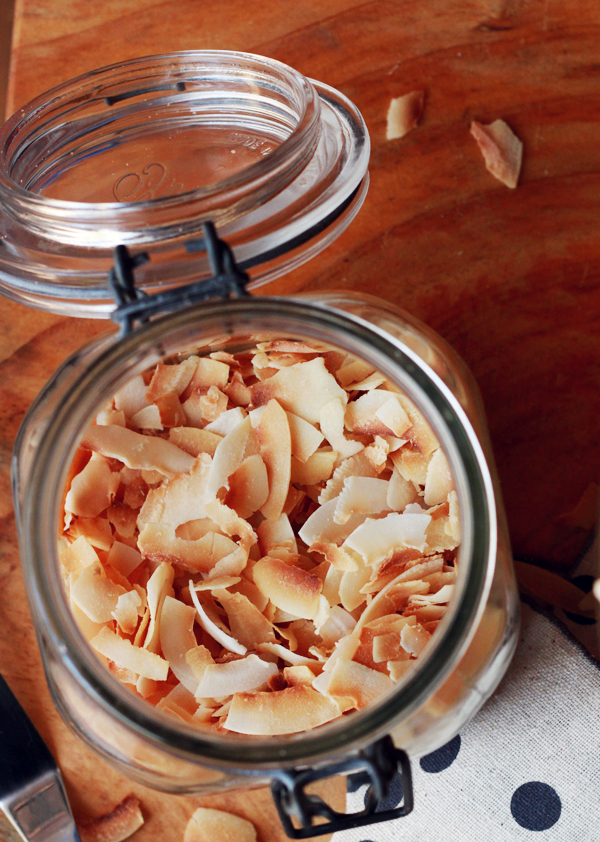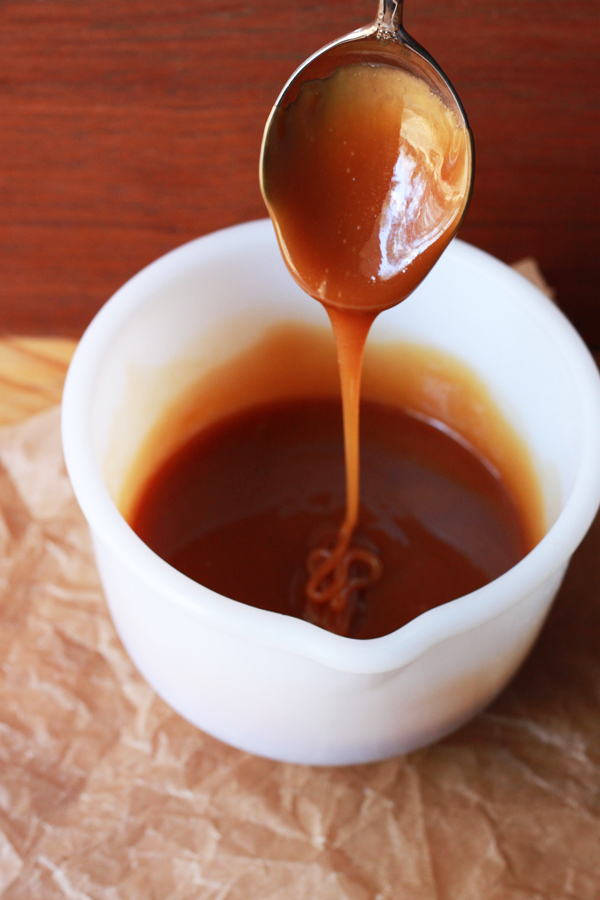 This Chocolate Coconut Caramel Shake is several months of obsession in the making. I first caught the idea of a Samoa flavored shake over coffee with girlfriends one night and I could not stop thinking about it. I had to have one. So I went the usual shake making route of buying chocolate ice cream and caramel sauce and throwing them in a blender with some toasted coconut. Good gracious, it was delicious. The biggest problem was I wanted one everyday.
So I devised a plan to make a 'healthier' version of the original shake without ice cream. Yes, a shake without ice cream! It turns out coconut milk and ice come together in the blender and become a ridiculously smooth and creamy shake. I went a little over the top and made my own Coconut Caramel and Chocolate Syrup but I promise that this shake is just as delicious with good-old store bought caramel and chocolate sauce too.
Bonus – if you make the sauces yourself this shake is also dairy free and vegan!
Chocolate Coconut Caramel Shake
Makes 2 servings
1 cup ice
1 (16 ounce can) coconut milk, full or low-fat
½ cup Coconut Caramel
½ cup Chocolate Syrup
¼ Toasted Coconut Flakes, plus more for garnishing
Combine the ice, coconut milk, Coconut Caramel, Chocolate Syrup, and coconut flake in a blender and puree until smooth. Serve immediately.
Coconut Caramel
Makes 2 cups caramel sauce
2 cups granulated sugar
1 cup water
1 tablespoon corn syrup
1 cup full fat coconut milk, at room temperature
1 teaspoon vanilla extract
½ teaspoon kosher salt
Combine the sugar, water, and, corn syrup in a heavy-bottomed 2-quart saucepan. Attach a candy thermometer and cook over medium heat, without stirring, until the mixture turns golden amber and reaches 320 degrees F.
Immediately remove from the heat and add the coconut milk, vanilla extract and salt and stir carefully. Return to medium heat and cook until the mixture reaches 230 degrees F. Pour the caramel into a heat-proof bowl and cool for 20 minutes before using.
Chocolate Syrup
Makes 2 cups
1 cup unsweetened cocoa powder
1 cup granulated sugar
1/2 teaspoon kosher salt
1 cup cold water
1 tablespoon vanilla extract
Whisk together the cocoa powder, sugar, and salt until lump free in a medium saucepan. Add the water and whisk over medium heat until boiling, stirring constantly.
Continue boiling until mixture thickens, about 4 to 5 minutes. The mixture will still be thin, but will thicken as it cools. Remove from heat and stir in the vanilla extract. Cool at least 30 minutes before using. Store in an airtight container in the refrigerator.
Toasted Coconut Flakes
Makes 12 ounces toasted coconut
1 12-ounce bag unsweetened coconut flakes
Heat the oven to 350 degrees F. Spread the coconut into an even layer on a baking sheet and bake for 5 minutes. Stir the coconut and bake an additional 2 to 3 minutes or until golden. Remove from the oven and cool completely on the baking sheet. Store in an airtight container.
Meghan Splawn is a professional recipe developer, wife, and mama. Meghan's blog, Stir and Scribble, is full of clever cooking and useful kitchen tips. She's a fan of candy, classic cocktails, and fuss-free family dinners.