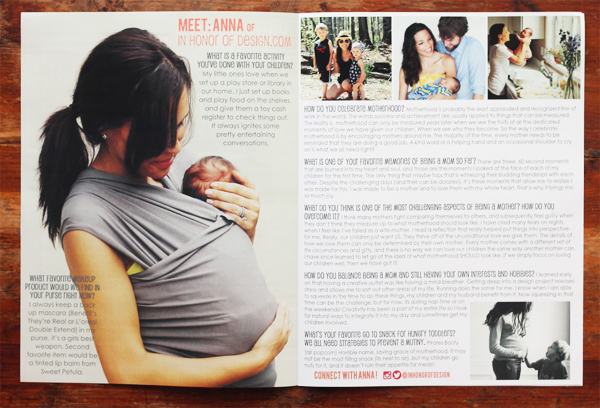 Natalie has been a friend of mine since high school. She was one of my sister's best friends and we ended up going to the same college as well! She is full of energy and creativity and I always knew she would do something spectacular with her life.
She now runs the wildly popular blog, TheBusy Budgeting Mama and this month she launched her new business Happy Mommy Box, which sold out in 45 minutes flat. Yeah. I was lucky to get to see inside one to share with you all the goodies that only those quick enough at the keyboard got to take advantage of!
The amount you get actually is worth over double than what you pay for which is impressive!
$30 Gift card to canvaspop.com
Print and card from Nap Time Diaries
Necklace from Caroline G. Shop
Earrings from Molly Suzanne
Wall decal from Walls Need Love
Finger puppet set for the little ones from IKEA
Magazine with blogger interviews, recipes, party ideas, etc. – I was a little shocked to be asked to be the first feature and very thankful to be a part of it!
Love how it included something for the kids. Can't wait to give it to Veronica:)
It is such a genius concept – uplift mothers by spoiling them with goodies and providing uplifting content right to their front door.
Go ahead and check it out, and sign up one of your favorite mamas!