Couldn't be happier to have my talented friend Meghan (from here in Atlanta!) as a guest today. She comes up with THE coolest ideas in the kitchen…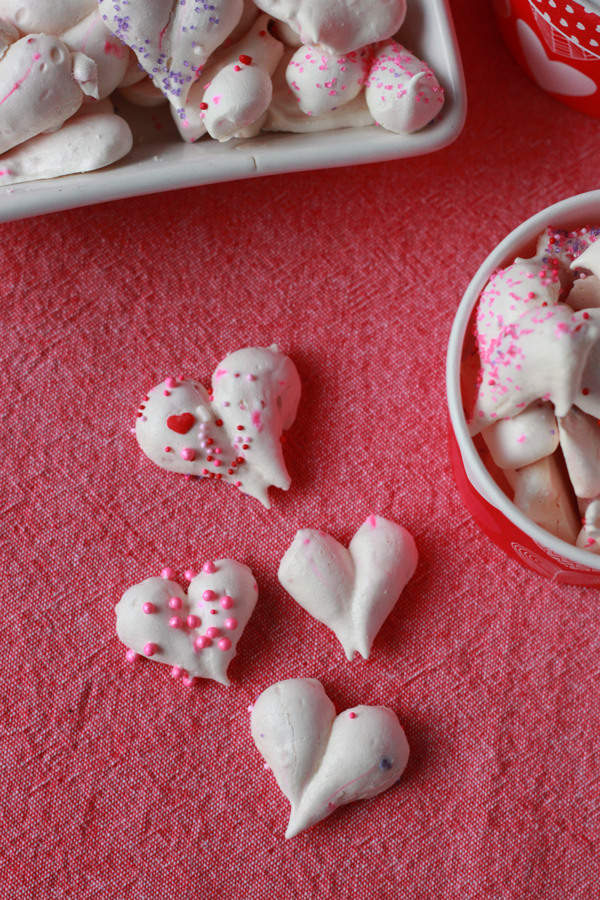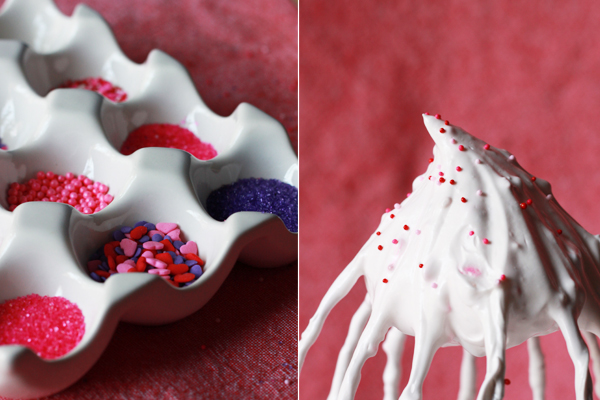 Confetti Meringue Heart Cookies
Valentine's Day always seems to sneak up right after we've recovered from all our holiday indulging. And I'm always such a sucker for the boxes of chocolates and the crazy sweet conversation hearts. To combat my terrible sweet tooth I'm baking up these Confetti Meringue Heart Cookies. Bonus – they are low in fat, sugar and look darling packaged as a teacher's gift or classroom Valentine's Day treat.
There are two tricks for getting wonderfully fluffy meringue – room temperature egg whites and cream of tartar. A little pinch of cream of tartar helps denature the egg white's protein allowing even more air to be beaten into the meringue. Out of cream of tartar? Just make sure your eggs are at room temperature and your mixing bowl and whisk are clean and dry.
I designed these cookies to taste like a "funfetti cake"; The secret ingredient to their cake-like flavor is the almond extract. Feel free to skip the almond extract if you don't have some in your pantry – these cookies are just as delicious without it.
Confetti Meringue Heart Cookies
Yield: 6 dozen 1 inch cookies
Ingredients:
3 large egg whites, at room temperature
¾ cup granulated sugar
¼ teaspoon kosher salt
1/8 teaspoon cream of tartar, optional
1 teaspoon vanilla extract
¼ teaspoon almond extract, optional
¼ cup sprinkles or jimmies, plus extra for topping
How to:
Heat the oven to 200 degrees F. Bring a pot of water to a simmer over medium high heat. Line two baking sheets with parchment paper and set aside.
Combine the egg whites and sugar in the bowl of a stand-mixer (or a heat proof bowl if using a hand mixer). Set the bowl over the pot of simmering water, and whisk until sugar dissolves and mixture is warm, about 3 minutes. Add the salt and cream of tartar.
Whip the egg white mixture with the mixer on medium-high speed until stiff, glossy peaks form and meringue is mostly cooled, about 7 minutes. Add vanilla extract and almond extract, if using and stir to combine. Gently fold in the sprinkles.
Fill a pastry bag fitted with a 1/2-inch round tip with meringue or use a gallon sized zip-top bag and snip a ½ inch off at one corner.
Pipe the meringue into the heart shape: Think of the heart as a letter "V" – pipe a small round as the left side of the heart and pull straight down to create tear drop shape. Repeat for the right side of the "V"/ heart and drag the bottom of the drop down into the left side so they connect. It takes a little bit of practice!
TIP: You can make yourself a template by drawing out a few hearts on a piece of paper. Slide the paper under the parchment paper and pipe the meringue on top of it!
Meringues do not spread as they bake, so place the hearts about a ¼ inch apart so you can fit as many on each baking sheet as possible. Sprinkle with additional sprinkles as desired.
Bake meringues until crisp on the outside but still soft inside, about 1 hour. Let cool completely on a wire rack. Store in an airtight container in a cool dark place for up to a week.
Meghan Splawn is a professional recipe developer, wife, and mama. Meghan's blog, Stir and Scribble, is full of clever cooking and useful kitchen tips. She's a fan of candy, classic cocktails, and fuss-free family dinners.
Find more of Meghan here: twitter | pinterest |instagram.
Sprinkles, Treat Cups, and Tablecloth all came from our local Target, Washi Tape was an incredible dollar store find – its actually tiny heart print!