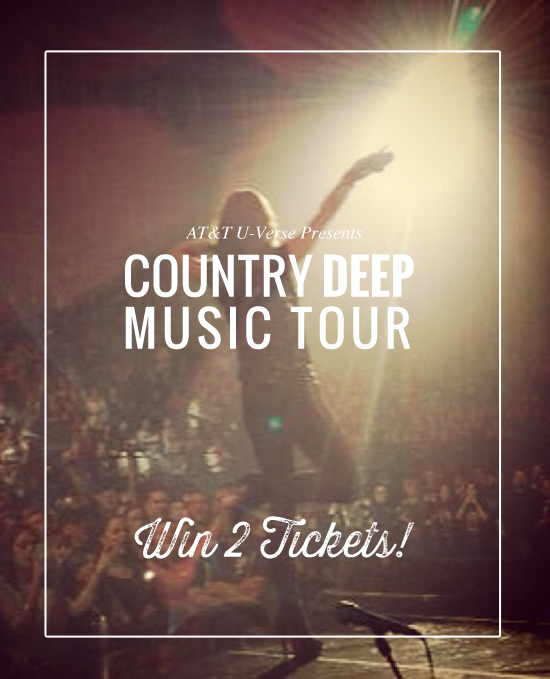 (Photo via Jana Kramer, type by IHOD)
Ever since our Nashville sister weekend, I have been hooked on country music. (I was the last of my sisters to jump on board, and they are as shocked as I am;)) Even Gabe is tuning in to country more than he ever used to. We have discovered some fun artists in the process. One of those is Jana Kramer, which is why this announcement is so fun…
AT&T U-verse, a service that brings country music to its viewers' screens daily through the Country Deep App, announced in February that they're presenting the Country Deep Tour! Have you all heard about this??
Well, cool news is, the tour is coming to the Atlanta area! Here's the deets:
Where: 120 Tavern in Marietta
When: Saturday, March 22nd, 8 p.m. (You can buy tickets here.)
Who: Headlining rising star Jana Kramer, featuring Canaan Smith and Austin Webb.
In association with AT&T U-verse and the Country Deep Tour, Gabe and I will be hitting up the concert as well as hanging out with Jana and her team, so I can bring a little piece of the experience back to you! (Eeek!!!) Who else wants to come to the concert?! We are GIVING AWAY TWO TICKETS today here on IHOD! We will draw a winner this Thursday PM!
TO ENTER:
1) Leave a comment below letting us know you want to win (and maybe who you'd bring;))!
2) For an additional entry, share on any social media platform (use #ATTCountryDeepTour) and comment below with the link to the share. (Pinterest, instagram, twitter, or facebook!)
Can't wait to see who wins these! So looking forward to this concert and getting my country music fix. There is nothing quite like a live country music concert. Stay tuned for the re-cap post and interview with Jana!
x, Anna
This post was made possible through my association with AT&T Country Deep. The prize was provided by AT&T, but AT&T is not a sponsor, administrator, or involved in any other way with this giveaway. All opinions expressed in the post are my own and not those of AT&T.