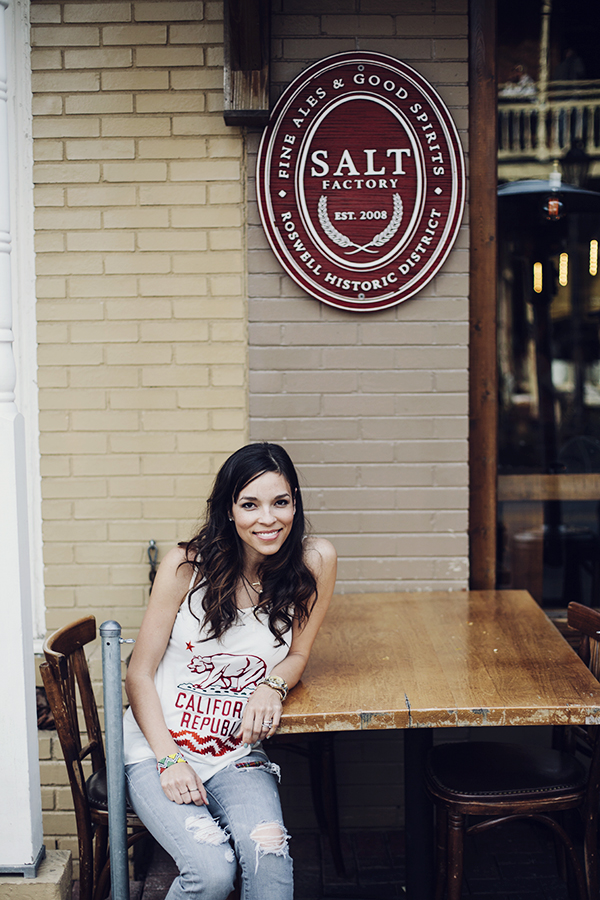 No matter how many health documentaries I watch or articles I read, I can't every quit french fries and a good burger. I almost always order it over numerous other menu choices. Chelsey told me about Salt Pub Factory and that I might like the look and feel of this place. Well, it won on all fronts. Really cool vibe and the food has you dreaming about it for days.
Apparently Salt Pub Factory is right across from another favorite spot and I never even noticed till the last visit. It's hard to spot unless you are looking for that red sign. We grabbed the corner booth in the back where you get the view of the whole pub:) Beautiful wood tables, modern light fixtures, wine walls make for an urban touch with a good ole' pub type of experience. It's a place that makes you want to stay a while.
I ordered The Steakhouse and it actually went beyond my already high expectations. Gabe looked at me with shock over the fact that I actually consumed the entire plate in one sitting since I usually leave at least some for him. Gabe's meal was equally delicious (because I had to try that too of course), and he savored every sip of the beer on tap. A good brew on tap is a must to get Gabe's stamp of approval. He agrees we are going back for our next date.
I think we will become loyal visitors to this friendly joint. Such good people and a very fun atmosphere.
There are actually two locations (and I here one has outdoor Bocce Ball!) in Roswell and Alpharetta:
952 Canton Street
Roswell, GA
102 S. Main St.
Alpharetta, GA 30009
If you check out any of the IHOD Local Notes spots, let me know how you like them!
*Outfit details here. A huge thank you to Chelsey Heidorn who is always up for an adventure and snapping the photos for us!