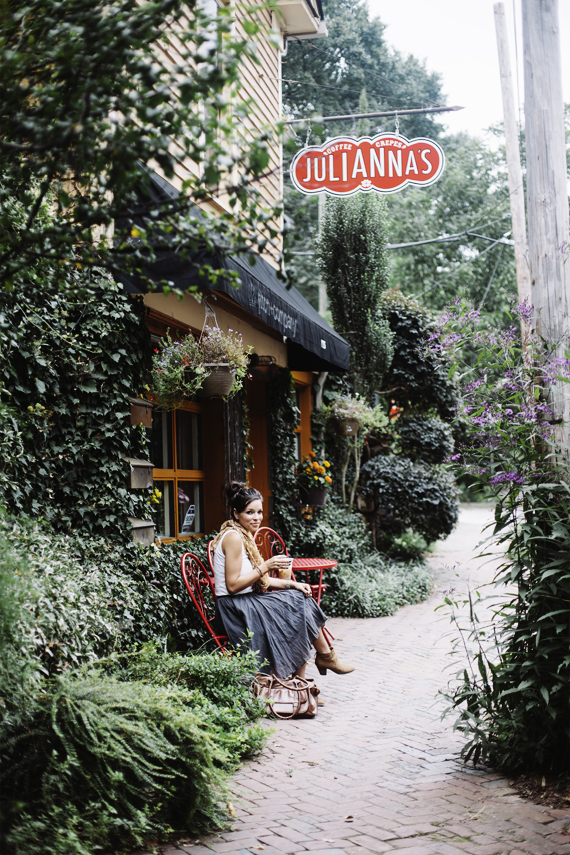 With Easter break and spring break hitting the area, I know like our family, many of you will be looking for ways to spend time with each other. These are (in my humble opinion) some of the best brunch spots in Atlanta:
Ponce City Market – New to the east side, Ponce City Market was a giant warehouse completely re-done to host a numerous amount of shops and eateries that reminds me so much of Chelsea Market, NYC. You can eat outside or indoors, with ample space for big parties and lots of exploring to do. A wide variety of brunch foods to love.
Julianna's Crepes – (Pictured above.) You feel like you step into a movie scene at Julianna's. It is a located on a quieter street, but there is a steady stream of regulars who have discovered the mouthwatering crepe spot. Remember this post?
Callie's Hot Little Biscuits – A perfect pick up on the go spot for arguably the best biscuits in town. They just opened! Pick up a few and take it to a local park for a morning picnic.
West Egg Cafe – Chicken and Waffles. Need I say more? Also conveniently located next to Westside Provisions District where you can find a bunch of fun shops, Jeni's Ice Cream, and the new coffee.
Sun in My Belly – A really cool atmosphere with indoor and outdoor seating, as well as a killer brunch menu you won't soon forget.
Superica – In the mood for Tex-Mex? This is your brunch spot. Located next to one of my favorite shops on the east side, and a delicious spread for a mid morning feast.
If you are outside the perimeter and up for a drive north:
BB's Bagel's – Bronx style bagels right in the suburbs. It is small joint, but worthy of a mention, because their bagels and cream cheese spreads are the best in the area. Take them to go or eat in their airstream sized diner.
Drem Waffles + Coffee – Nutella and Banana, Egg and Bacon, Yogurt parfait….loads of options for the waffle fanatic. This is tucked in an unsuspecting corner of Suwanee, GA.
I hope you get to hit up some of these gems! Any to add to the list? Doughnut shops deserve their own post. Happy Tuesday!
P.S. Best coffee shops in Atlanta.
Photo by Chelsey Heidorn