I first met Courtney of Honeycomb Studio when she attended my very first Brand Market Workshop in November. When I saw her work, I knew I had to have a first hand look to share her talent with you. As soon as you walk into the studio you feel the creative vibe, and you know you have walked into an artist's territory. Lucky for us, Courtney so kindly opened the door to her studio to give Kimberly (who took all these beautiful photos!) and I a behind the scenes look at her process, her pieces, and what she loves most about the life of a ceramicist. I was enamored with the small details of her designs that left them with a flawless finish. Rows of beautiful and delicate pieces that I could easily fill my home with;) I will let you get to know her…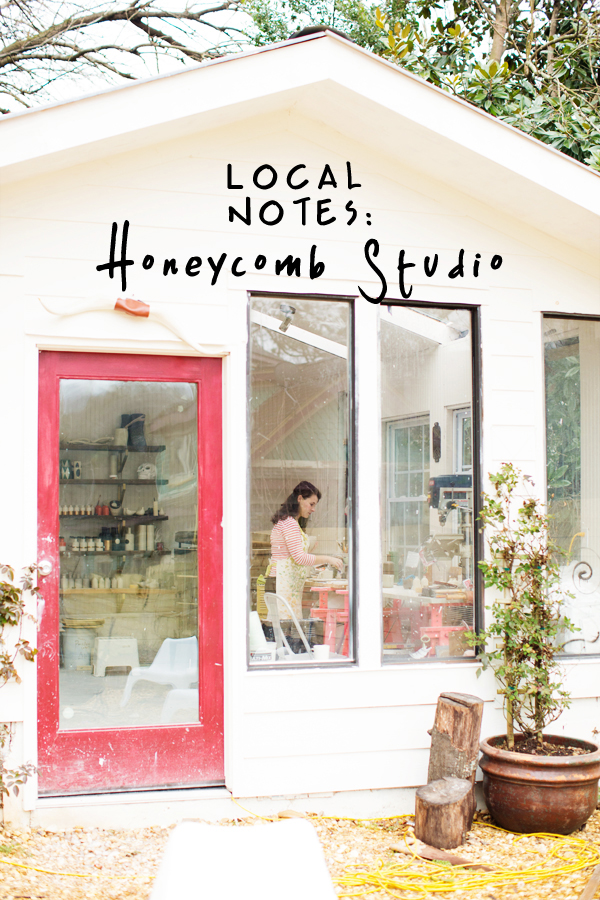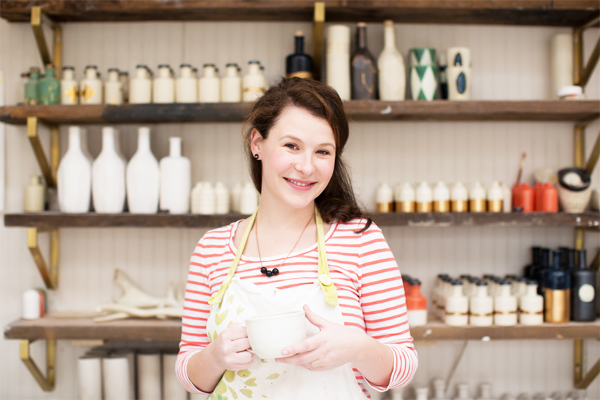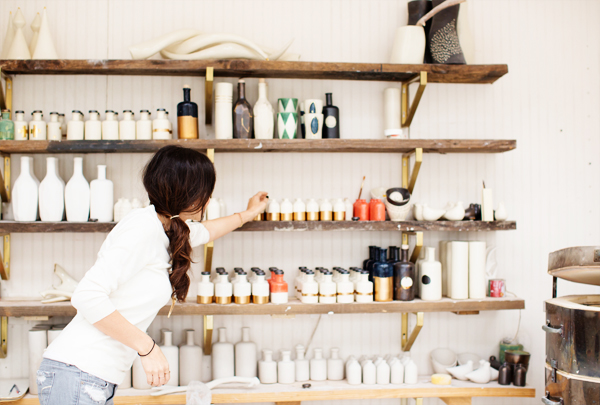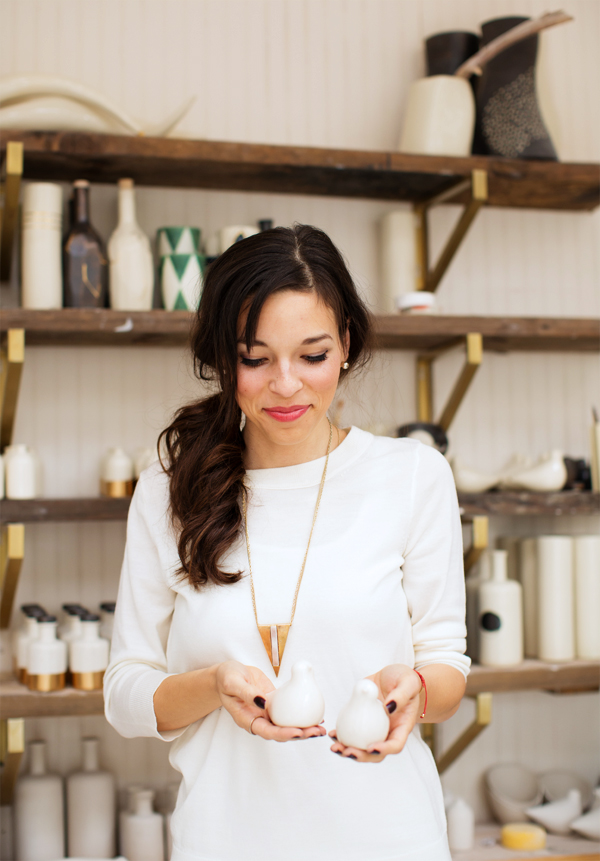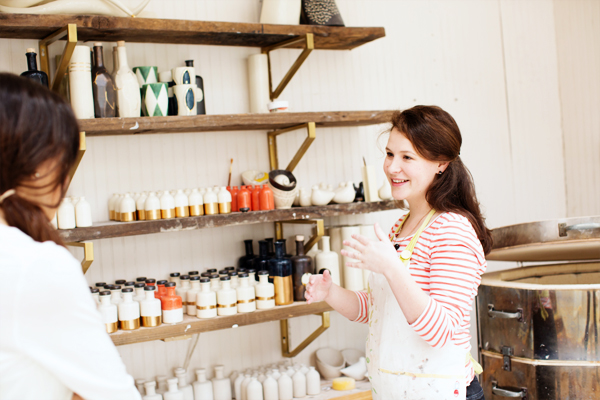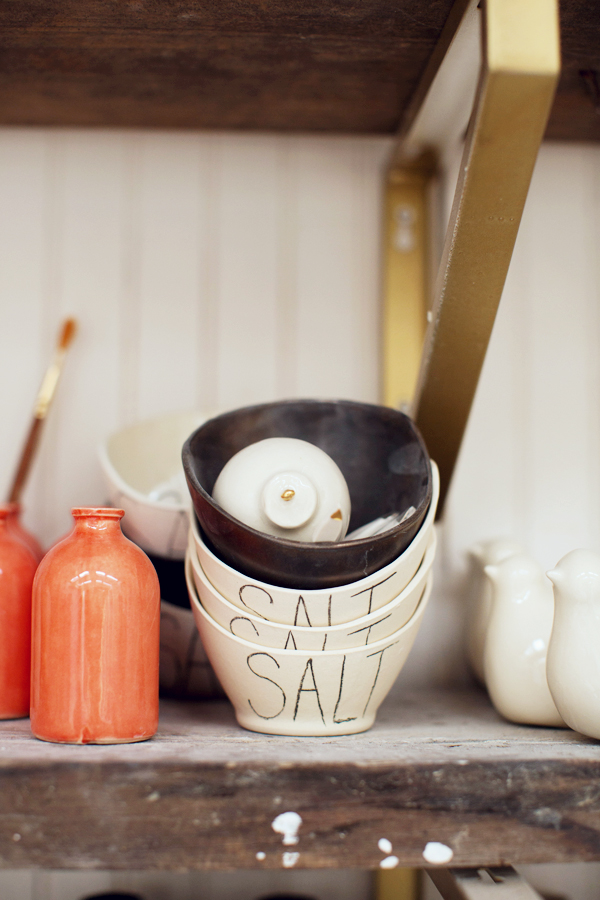 When did you first start Honeycomb Studio full time?
Honeycomb Studio was born in the summer of 2012 when I left my job in non-profit fundraising and charged head first into the world of the working artist. I spent the first 3 months renovating a disgusting old garage in my backyard into my dream studio and then, in late October, fired my first kiln.
What is your day to day schedule like to run the studio?
I wake up around 7:30/8 and, with the first of MANY cups of tea, check emails and print shipping labels for outgoing orders. I head back to my studio around 9 am and begin the process of opening the kiln that I may have fired the day before (hope everything survived!) and starting in on the tasks for the day. Sometimes that task is production, sometimes it's glazing, sometimes it's mold making. Because pottery is such a physical discipline, I also try to make it to pilates or the gym around lunch time 3 or 4 times a week.
The afternoon is when the real work gets done. One of my studio assistants usually comes in around 2pm and we work our fingers to the bone and lose all sense of time until 6pm, when they go home. I usually stay in studio until 7ish, which is when I try to wrap everything up and head inside for a glass of wine and dinner with my husband. After dinner, I check emails again, and look in on my website to see if I have any new orders or any inventory that needs updating.
Do you currently have your products in any storefronts? If so, which cities?
Yes! Honeycomb Studio's ceramics is currently for sale at about 25 select boutiques around the world, and we're adding more stockists every month. In addition to the shops listed on our website, we'll also soon be found in shops in Nashville, Brooklyn, Toronto, Mexico City and Perth, Australia. If you are local here in Atlanta, you can head to Steve Mckenzie's on the Westside, West Elm in Atlantic Station, and Young Blood Boutique in Poncey Highland to see pieces in person!
What do love most about being able to do your craft for a living?
Honeycomb Studio is a labor of love. It is, undoubtedly, the hardest that I have ever worked but it's hard to explain the power of seeing something you love grow. Of course, I love my days out in the studio with my hands in clay and having the power to realize new designs, but being able to put my work out into the world and have people respond to it is incredibly gratifying. The process of owning a business, has also stretched me in new ways and made me realize new strengths (and weaknesses) that I'd never known.
Big goals for Honeycomb Studio in the future? Can you give us any hints at upcoming products? 😉
Oh yeah, I've got all kinds of goals! First and foremost, keep growing, keep connecting with my customers, and keep innovating. I have lots of new forms in mind, as well as a planned foray into lighting. I'm also kind of outgrowing my cute little studio, so I'd also like to start looking for a larger studio space – perhaps with some sort of retail component where we could host fun community events, like a Porcelain and Prosecco night. We'll see what the future has in store!
So grateful to Courtney for allowing us to spend the morning with her. She is as genuine and sweet as they come. So happy to support her work and can't wait to see her achieve all those up and coming goals! Porcelein and Prosecco night? I am there!
Keep up with Honeycomb Studio: Shop | Instagram | Facebook
GIVEAWAY: Courtney also wanted to give a Copper Bud Vase to one of you readers! All you have to do is visit her shop and leave a comment letting us your favorite piece to enter!
*All photos by the talented Kimberly Murray Photography