My sister Jana is in town visiting, which means day trips and exploring whenever we get the chance. She appreciates finding new places as much as I do which makes it all the more exciting. We headed down to Westside Provisions and had the best afternoon.
Calypso St. Barth so kindly invited me to check out their space there which has was a sight to behold. A bunch of natural light, modern fixtures, and of course racks of beautiful clothes and accessories. Their spring collection is a perfect mix of silks and soft cotton pieces in both classic colors, and fun prints. This navy dress had me wanting to head to the nearest coast as fast as I could pack my bags. The whole atmosphere of the afternoon was such a nice experience. (And the gals who work there are so kind!) If you are in the area, stop in and see for yourself!
Also, online and in stores, they are offering a fun shopping incentive for you to check out with code: GCSPRING2014FB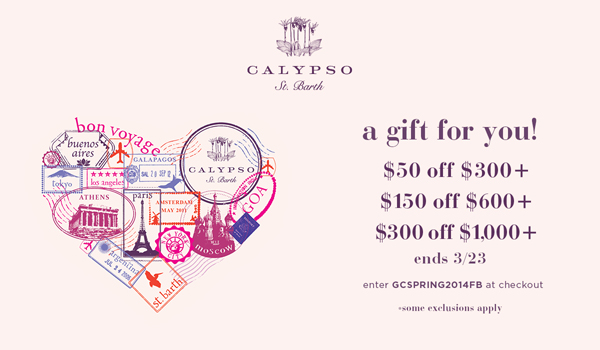 By the way, where are you traveling this year? Gabe and I are hoping to plan an anniversary trip and would love some leads on good places to go!
x, Anna
Outfit one: Denim // Top // Sandals
Navy Dress: c/o Calypso St. Barth