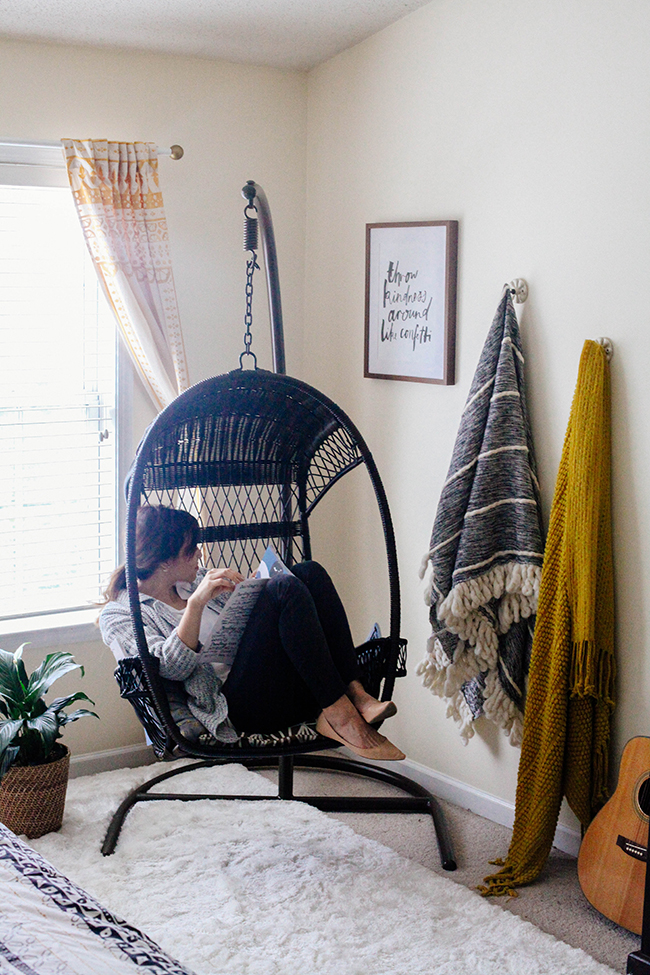 We had just the right spot in our room for a reading nook, and the stack of books on my end table was begging to be read. I really wanted to create a corner in the home that invited us to get cozy, rest, and pick up a favorite read:) We had this hanging chair in our backyard over the summer and since it is not being used for winter we thought we would bring it outside and make sure it was feeling loved.
A few cozy blankets, greenery, and comfortable pillows was all it took to create the space. I keep finding a cute little rugrat or two in this corner, and I don't blame them:) You can guess where you will find me every evening from now until warmer nights when the back porch calls.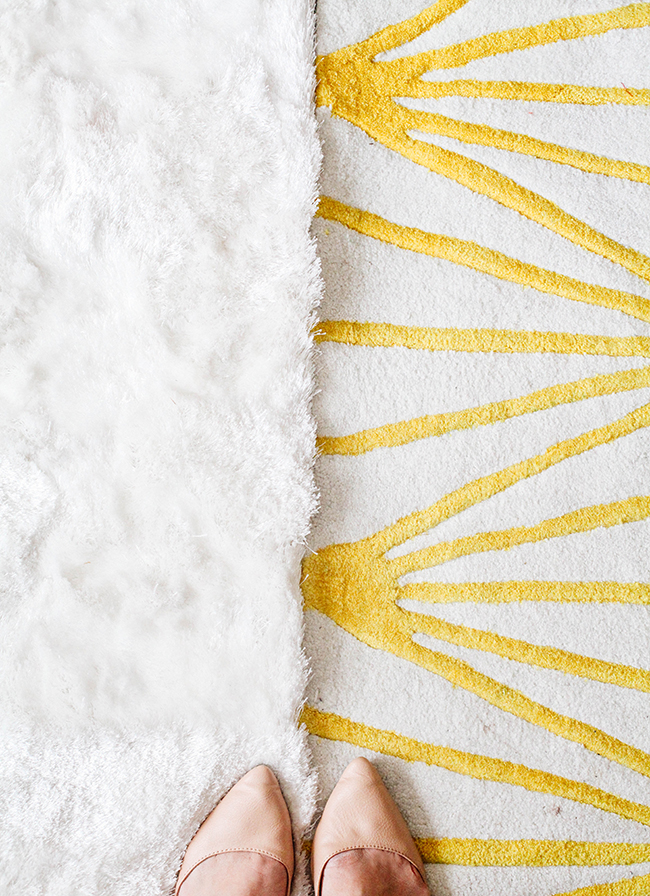 For the rugs in this room, I aimed for a little pattern to compliment the bedding as well as the plush and soft option for face plant in when needed;) My talented friend Katy actually designed these which I later found out! I couldn't be more proud to have them in my home. You can see the rest of her line at Home Brands.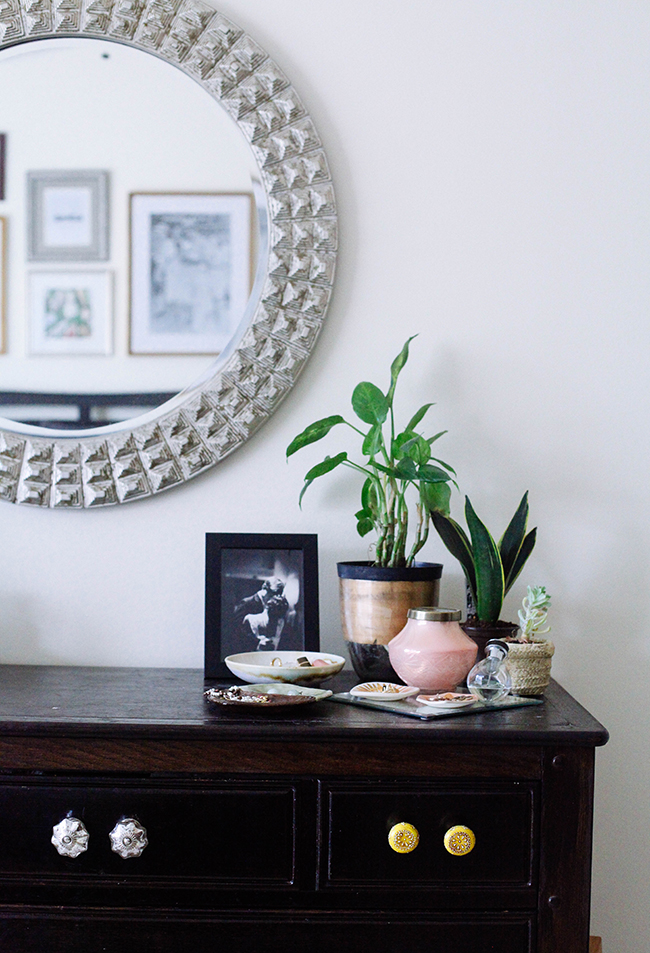 I conquered the dreaded task of decluttering my dresser top. It lasted a whole 24 hours before mismatched socks, yesterday's mail, and such have found its way back to the dresser. I tried. This is a $10 dresser I up-cycled from craigslist. I sanded it down, re-stained it a dark mocha, and added mocha steel pulls. Knobs and pulls can be pricey so you can always use decorative ones on just the top drawer. I used the anthropologie pulls on top and some inexpensive ones from Lowe's for the rest!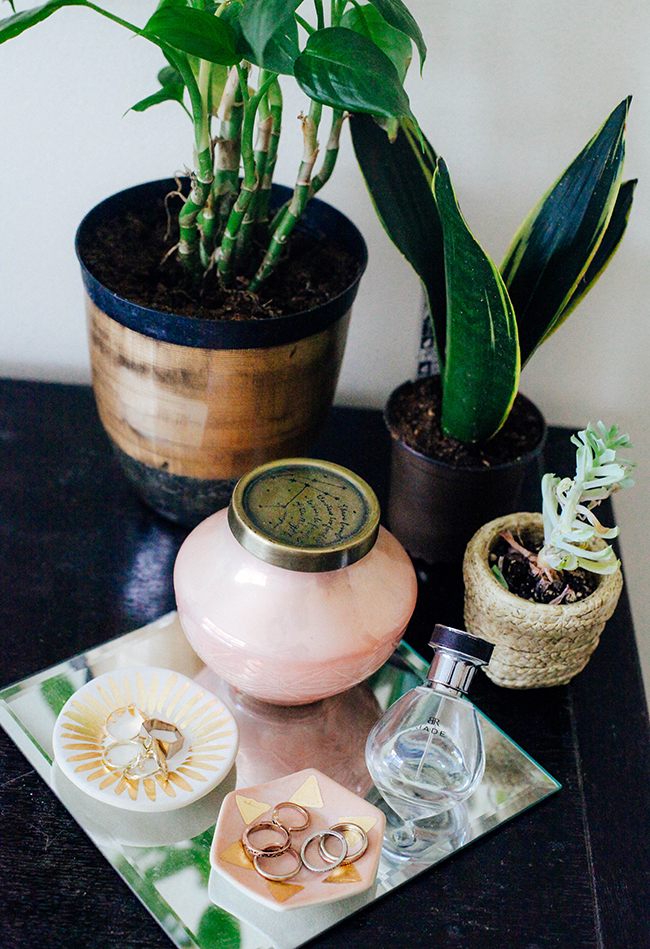 What has helped tremendously in organizing the dresser top is bowls and dishes for jewelry, and larger trays for cosmetic or beauty products. Pictured are ring dishes I bought from Object Enthusiast, candles from Anthropologie, and a mirror tray from Target.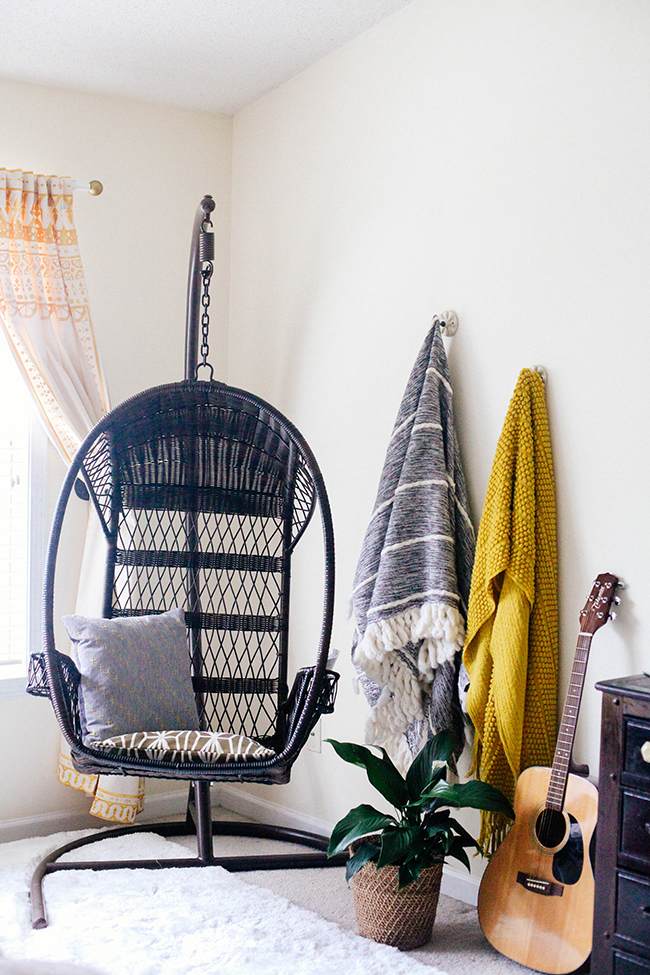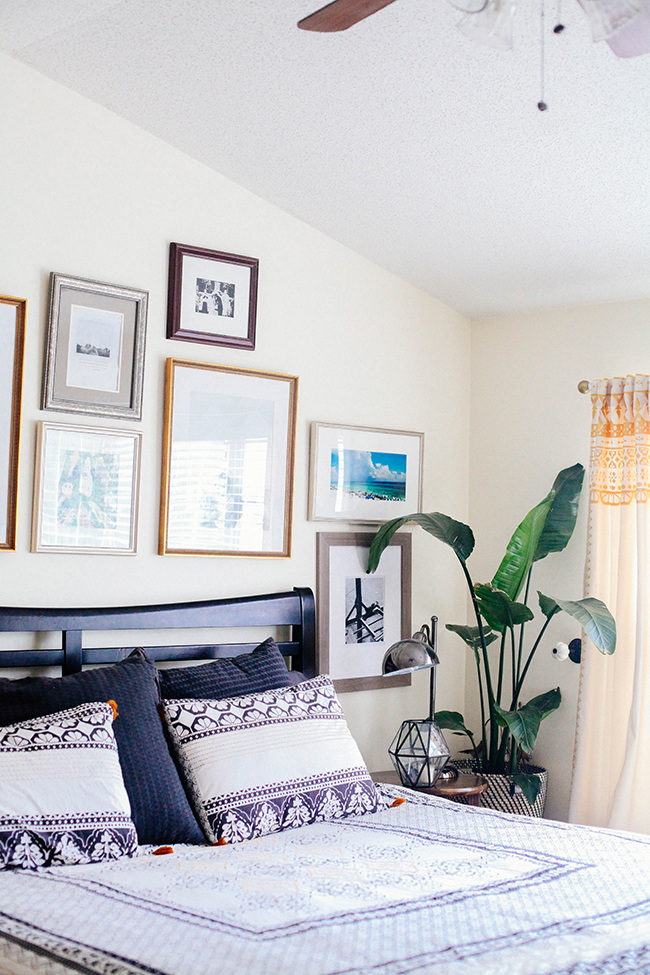 What is your favorite corner of your home? Creating just a corner you love can make such a big difference in finding a little solace and peace in your day! I wish I would have done this sooner. Room renovations require a lot of saving up financially, planning, and decision making which are things I am often the worst at! I think a good amount of times we believe we have to have our home in perfect order right when we move in. This isn't possible for the majority of America! It has taken us three years to even get a few rooms together. And even then it is thanks to the help of some wonderful companies. I feel so grateful even for these few rooms though! Family truly makes your house a home, and the details are just the extras that enhance that time together.
x, Anna
P.S. Part 1 of this room reveal here, and how I did the gallery wall here.
Sources: Curtains: Anthropologie c/o // Swingasan hanging chair: Pier 1 // Throws: Anthropologie (currently half off!) and Crate and Barrel // Plant basket (Waste basket from Target! ) Rugs: Momeni Bliss and Lustre Shag by Home Brands USA c/o
Dresser details: Knobs: Anthropologie // Candles Anthropologie // Mirror: Kenroy Home // Ring Dishes: The Object Enthusiast