For this week's Bump Style Breakdown I teamed up with my gal pals Jessica Garvin and Leanne Barlow to show three ways we are styling distressed denim. I tend to lean away from white pieces while pregnant for several reasons. Hmm…let me count the ways….
a) I seem to spill and stain and ruin any white clothing item due to my enhanced clumsiness and lack of self control.
b) White denim tends to be extra suffocating in the heat, and who needs extra heat when your pregnant temps are already through the roof?
c) We all know white isn't the most flattering on added poundage.
But let's just throw hay to the wind for a quick minute, and wear whatever the heck you want for the day. That was this day….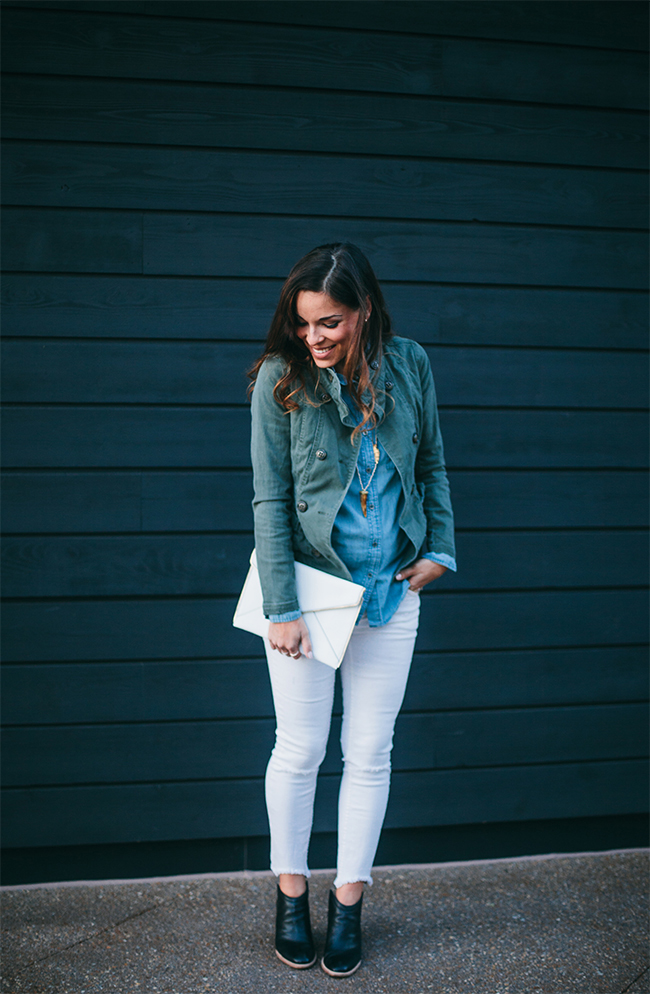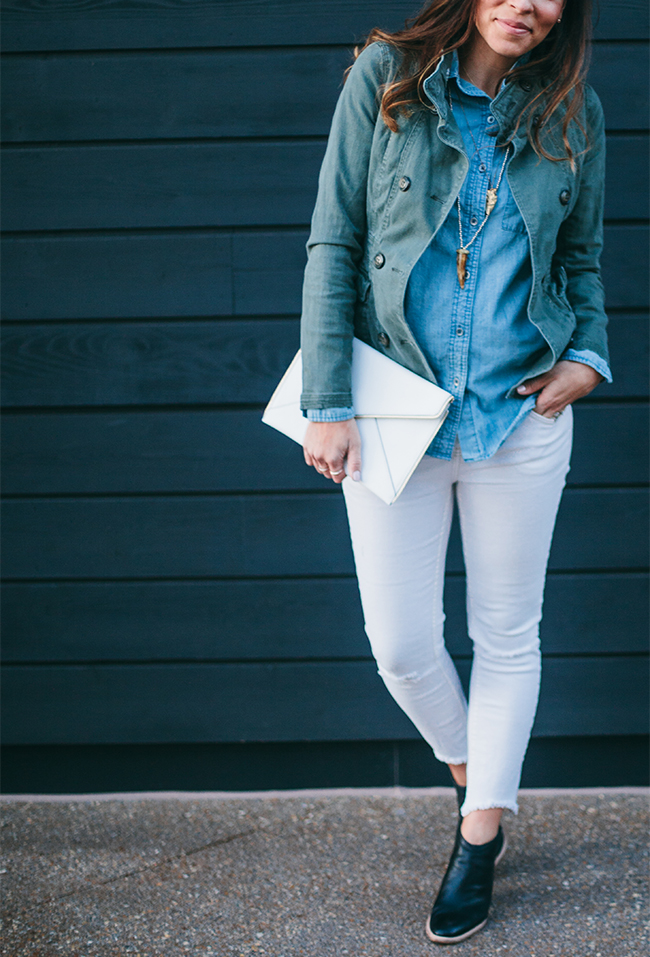 White denim – This particular pair of Free People white stretch denim is cropped and frayed. They aren't maternity, but they were a size up from my normal size and are super comfortable. The waist tends to run a little bigger in this style so it worked out well for my second trimester;) They are out of stock online, but this pair is one of my favorite denim styles. And here is a good investment pair option.
Denim or chambray button down – I love the way blue and white pair up, and this loose denim button down is super light and comfortable. It is a staple I wear before and after pregnancy too. There are so many good options out there right now, but a few options here and here.
Utility Jacket – Army green really pulls in a color palate. It is a neutral tone so it works well when you are trying to pair different color combinations. I foudn this jacket at the thrift store, and it renewed my faith in second hand shopping. A perfect fit for $7? Sorry can't beat it. However this jacket (25% off today) or this one is one you might have forever.
Ankle booties – The word transitional is highly overused right now, but for lack of vocabulary skills at 11:22pm at night when I am writing this, we will fly with it. Moving on…these transitional booties, open back boots, clogs…whatever you want to call them have been my favorite option for spring. I am not quite ready to reveal my un-manicured feet, and am completely over socks. These are a comfortable in between seasons option. I used some shopbop credit for these but they are almost sold out. You can also find them here.
White Clutch – I love a good large and in charge clutch to hold everything if I am out for a date with Gabe. It says…"I am free of sippy cups"…don't you think? 😉 I got this on sale from the Shopbop event (%25 off right now).
Now that I have gabbed your ear off, I set you free to go check out the outfit genius of Little Baby Garvin and Elle Apparel Blog.
Photos by Chelsey Heidorn
SHOP THE POST: