Gabe and I are by no means vegetarians, but with the rise in meat prices, we are looking for ways to cut back on dinners with meat. I brought in the help of my talented friend Lauren of Love Lola to share one of her recipes!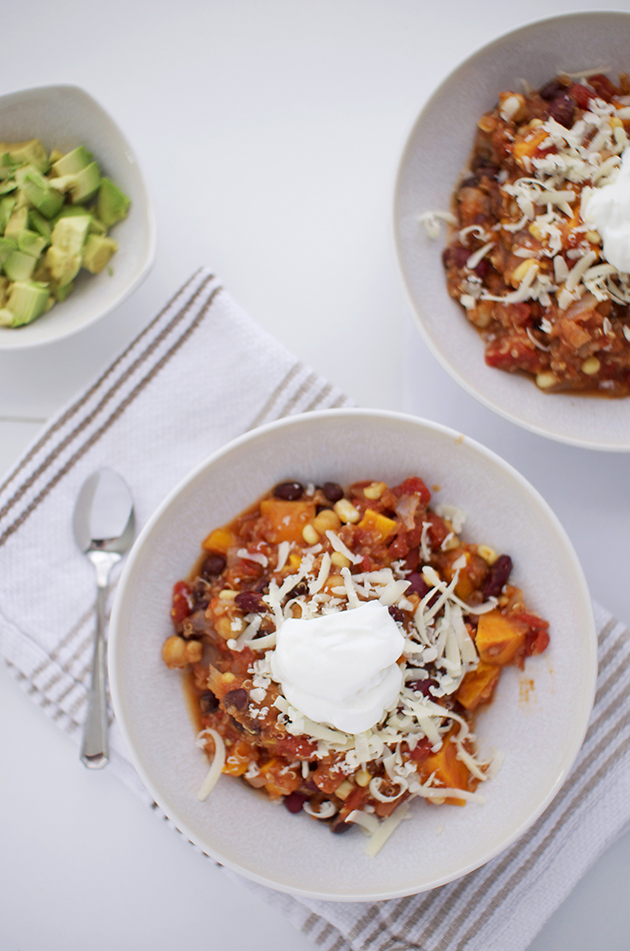 This recipe for vegetarian chili is my absolute favorite meal to make as the air outside begins to cool. Because it uses a lot of canned beans, it's super easy and quick to prepare. Not to mention it could feed an army! Since there are only two of us in my house at the moment, I love to make this dish for dinner parties, or freeze the leftovers and heat them up when we need a quick weeknight dinner.
I love how this recipe proves that a plant-based diet can be full of the nutrients you need, while also leaving you full and satisfied. Between the protein and the fiber found in the beans and quinoa, there's no chance you'll leave the dinner table still hungry. Who knew a meal without meat could accomplish that!? 😉
Vegetarian Chili Recipe
Serves 8-10
4 cloves garlic, minced
3 tbsp. extra virgin olive oil
1 yellow onion, diced
1 bell pepper, diced
1 avocado, diced
2 medium sweet potatoes, peeled and cut into chunks
1 can low-sodium black beans, drained and rinsed
1 can garbanzo beans, drained and rinsed
1 can red kidney beans, drained and rinsed
1 cup corn, frozen
1/2 cup quinoa (dried)
1 28-oz. can diced tomatoes
1 15-oz. can diced tomatoes and green chiles
4 oz. tomato paste
3 cups low sodium vegetable stock
2 cups water
1 tbsp. cumin
2 tsp. paprika
1 tsp. chili powder
1/2 tsp. cayenne
sharp white cheddar cheese, shredded, to garnish
salt and pepper, to taste
sour cream
To start, heat 2 tbsp. olive oil in a dutch oven on medium low heat. Add the garlic and cook until browned. Add in the onions and continue to cook for about ten minutes, until onions are soft and translucent.
Next, add the bell pepper, sweet potato, and the rest of the olive oil and cook for another 10 minutes, stirring constantly so as not to burn. Once the sweet potatoes begin to soften, add in the beans, corn, diced tomatoes, tomatoes and green chiles, tomato paste, and spices. Stir everything together and immediately add the vegetable stock and water.
Bring the soup to a boil and add the dried quinoa. Let the liquid return to a boil before reducing to a simmer and cooking, covered, for about 30 minutes. Stir occasionally as the soup cooks.
To serve, top with shredded cheese, sour cream, and diced avocado. And of course, don't forget the cornbread! Enjoy!
Lauren Foster is a registered dietitian, blogger, and soon-to-be mama living in Greenville, SC. She is the voice behind the food and lifestyle blog, Love Lola, where she shares how healthy food doesn't have to sacrifice flavor, and health is more that what we eat, but is a state of mind.
Find more of Lauren here: Blog | Instagram | Pinterest | Facebook