I'm breaking my own no Christmas decor before Thanksgiving rule to share a peek at this year's Martha Stewart Living at The Home Depot Holiday decor. It was really fun to team up and scheme up a white and gold themed space that would feel welcoming for all who come and go through our house in December. We spend a lot of time in these rooms with family and friends. It's no secret my husband Gabe dreams of Christmas all year so he was more than willing to help lend a hand. My poor children are a little confused although their excited squeals over the christmas tree had us really looking forward to December 25th.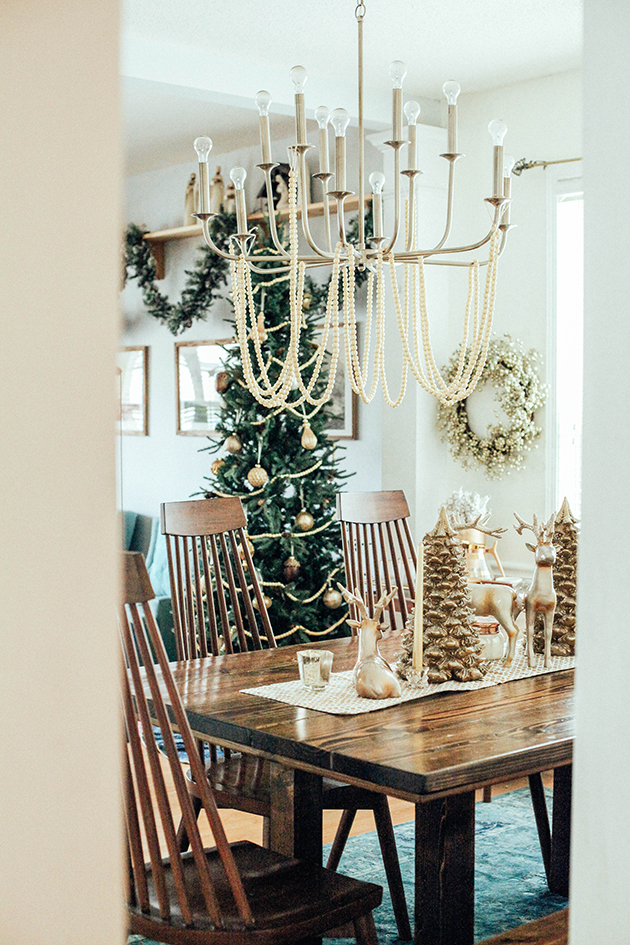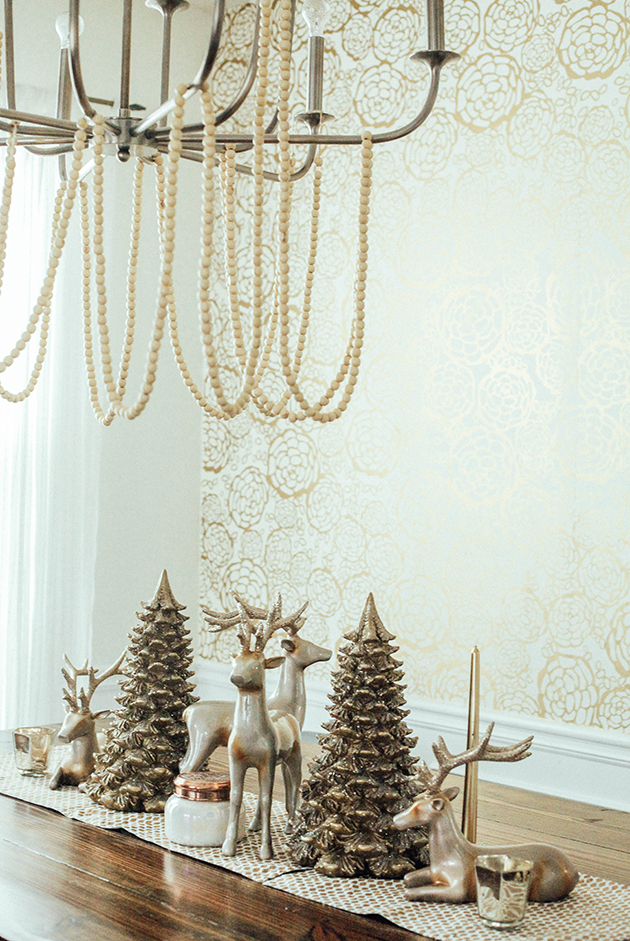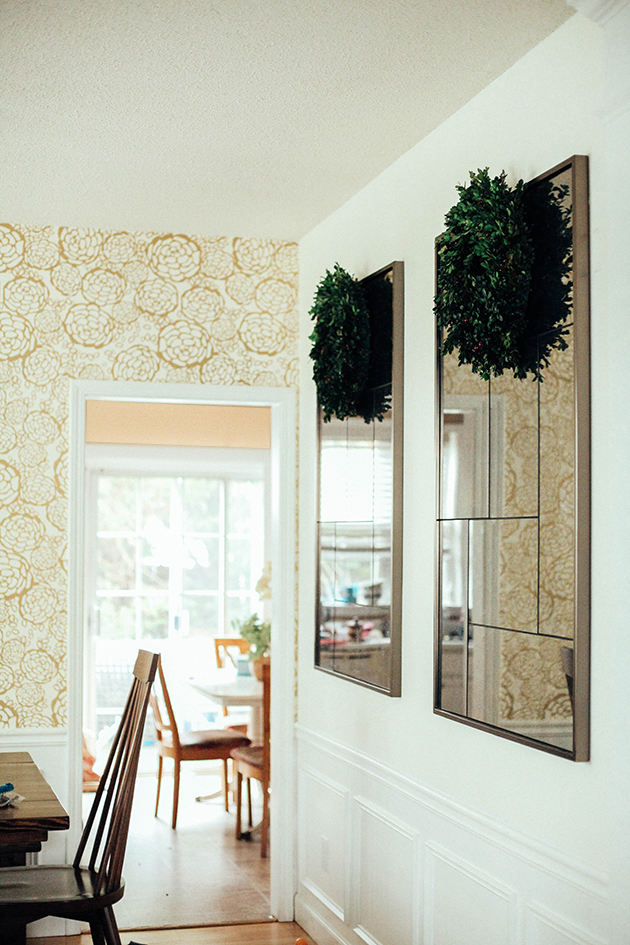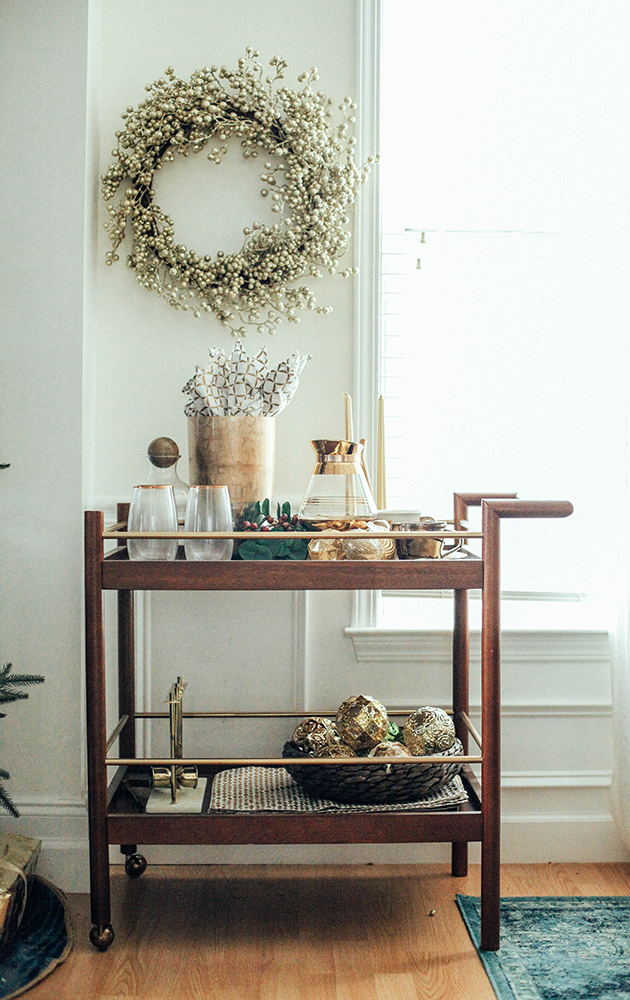 Here's a breakdown of how we decorated:

-I loved how the faux boxwood and berry wreaths looked so fresh. I hung those above our double mirrors in the dining room, and the winter wonder wreath above the bar cart. (The removable hooks work great for these if you don't want to worry about additional nail holes in your wall.
–These ornaments are stunning in person (they are larger than standard size). I put a bunch in a bowl for the bar cart as well as a vintage coffee pot, mugs, gold rimmed glasses, cantor, candlesticks, and a vase full of easy to grab napkins. A little something for everyone.
-For the tree, we found some wooden beaded strands to loop around the tree, the gold and champagne ornaments from this set, and a deep blue tree skirt. I can't wait to curl up on the couch with the lit tree and garland at night to read a good advent book or two. Here's hoping!
-Since Gabe added shelves in the living room this year we wanted to bring a little Sparkling Pine garland in to loop across the shelves and underneath a nativity set. (We like to put a nativity set in almost every room!) The two 9 ft. strands worked really well for the 12 ft. wall, and we used nails in the wood board to secure. Makes for a fun winter wonderland effect.
-For the dining room table we used three placemats as the runner and added the golden reindeer (who my children have already named Dasher, Dancer, Prancer, and Rudolph), golden trees, votives, and a few gold candlesticks.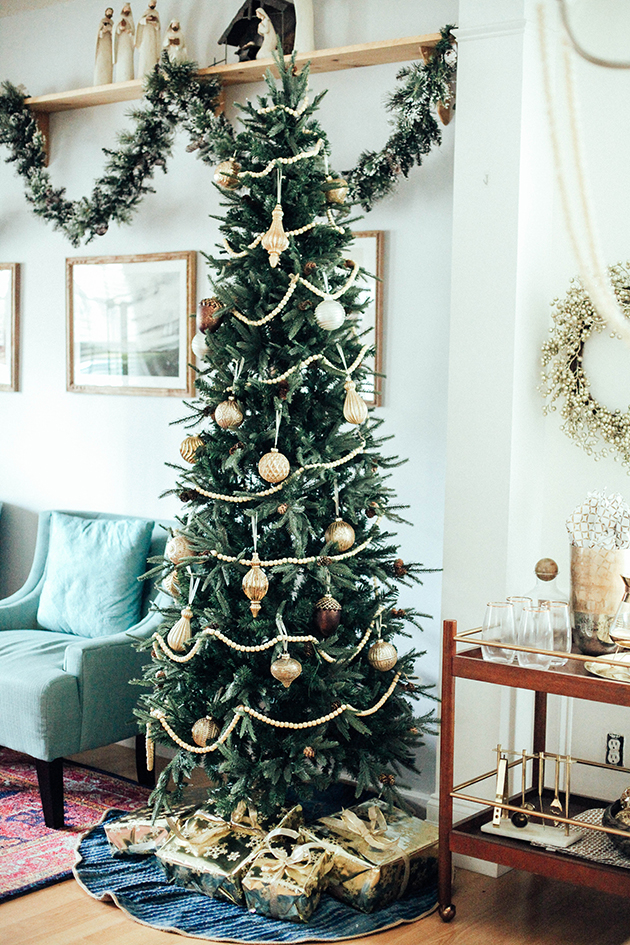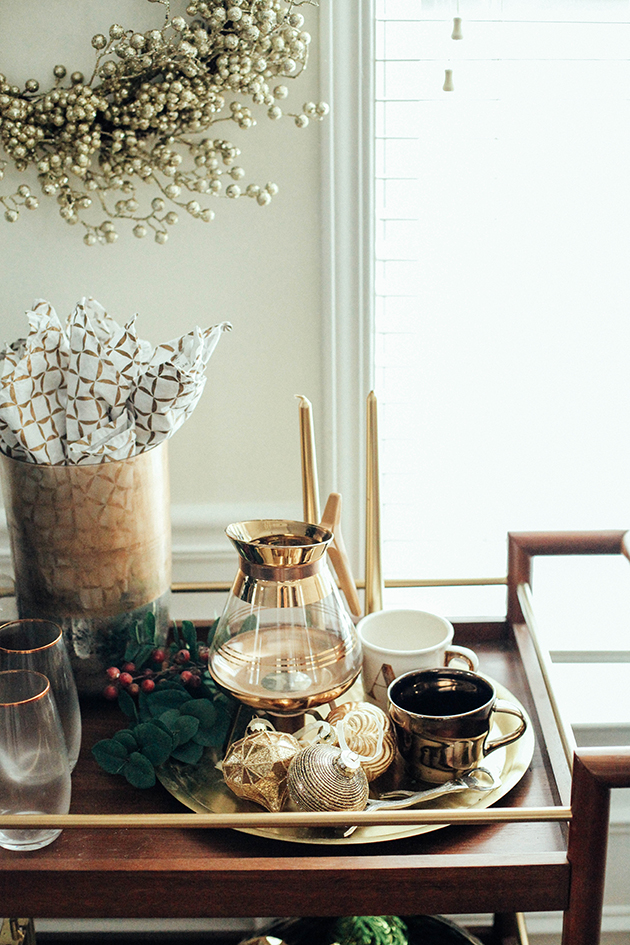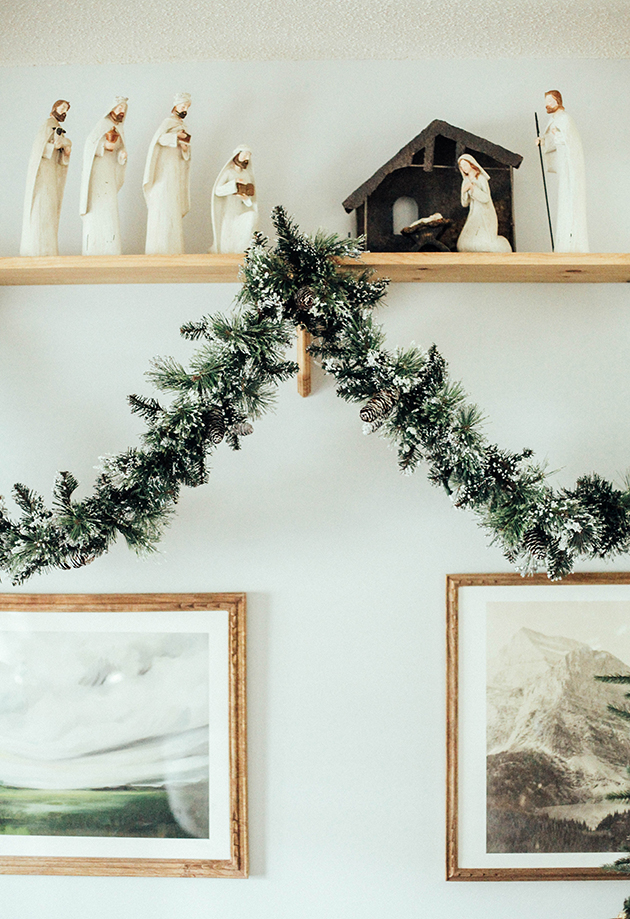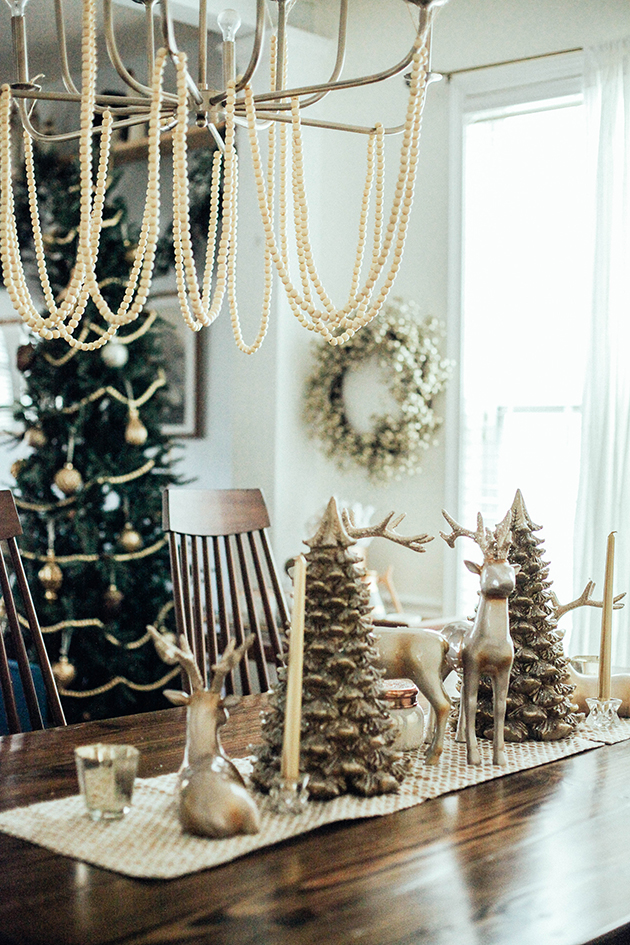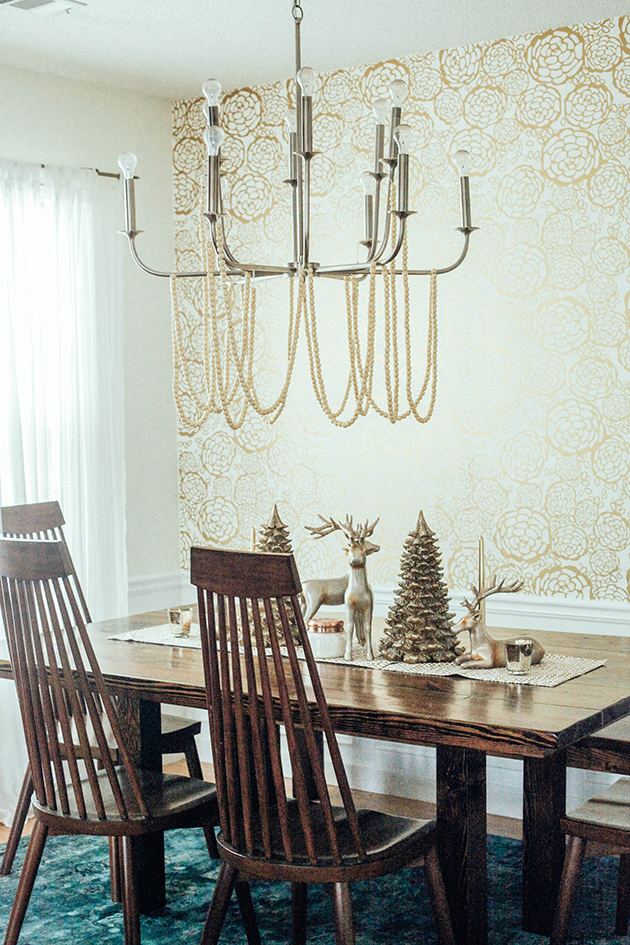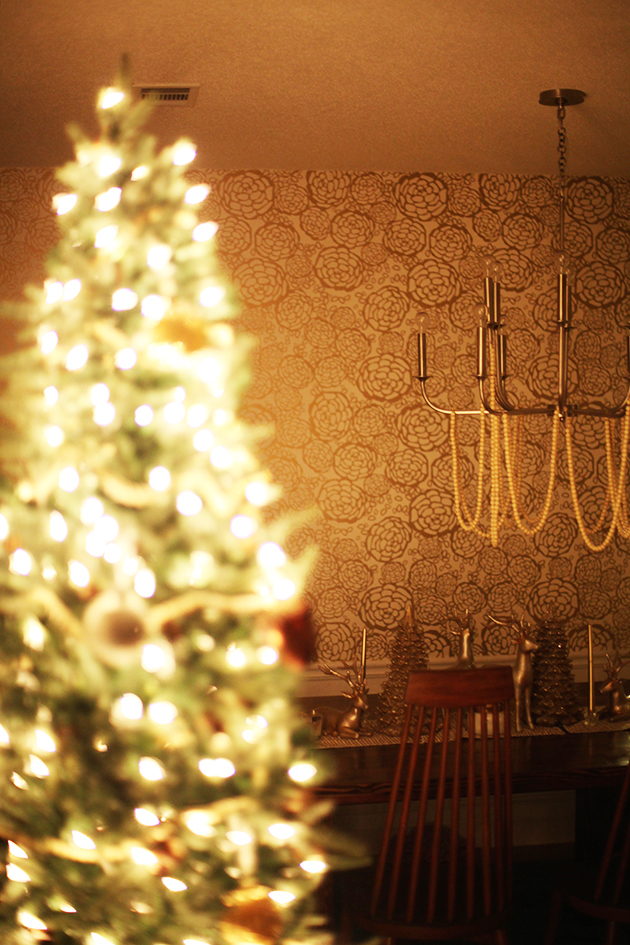 It should be noted our family room tree is usually a wonderfully tacky mix of sentimental ornaments and tacky bulbs and I really love it that way. It was fun to actually have a somewhat co-ordinated tree for this project. Do you all have a tradition around your Christmas tree? We love to decorate it together close to Christmas with the traditions of cocoa, Bing Crosby, and a fire going strong in the fireplace.
Here's to a peaceful season ahead!
*This post is in partnership with Martha Stewart Living Omnimedia, and all opinions are my own.