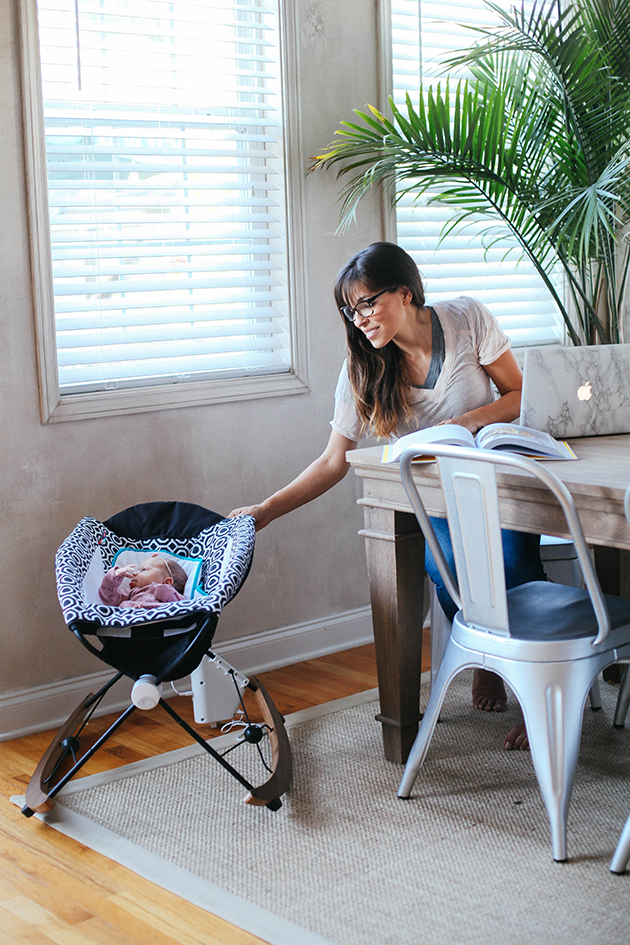 I thought I had the experienced mom thing down for a while there as I started to finally feel comfortable with multitasking and juggling little ones. Homework + bath time + dinner all at once? I got it! Packing lunches + doing Veronica's hair + making coffee for Gabe? I can do all the things! Insert proud second. Well as I have come to realize…..it usually just takes one tough day to dethrone our pride and realize we are human after all and need help more than often to make our everyday lives run somewhat smoothly. I love to talk about help factors that have worked for our family in making motherhood a tad easier. Or maybe the things that give us that 15 extra minutes to take a phone call or get dinner going. So today I am talking about the new Jonathan Adler Crafted by Fisher-Price products. They have been so helpful in this help-a-mama-out department, and also have given my little ones the opportunity for more QT time with their new sister.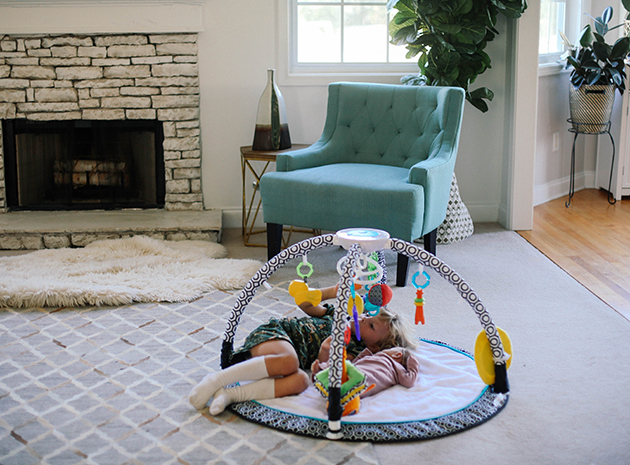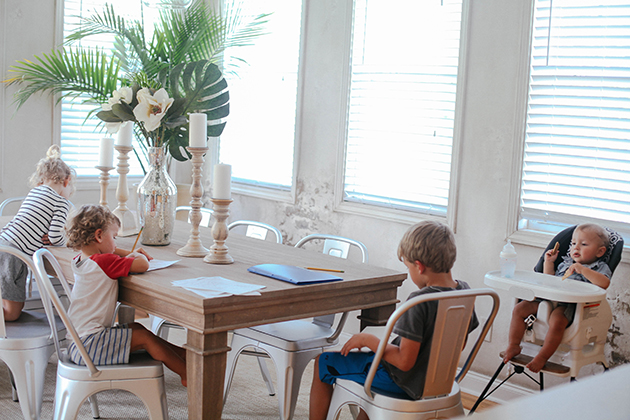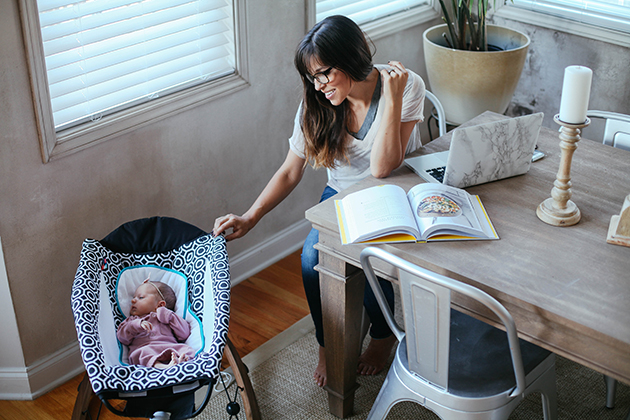 With the arrival of our sweet peach Azelie only 13 months after our plump plum Rocco, I felt like I had to completely re-learn what balance and juggling meant, as well as how to ask for help from family and friends. I also started looking for a few items that would lend me an extra hand with these babies when I needed it. I have to say I was a little smitten with the design forward style of the the Jonathan Adler collection, but also was sucked in by how functional they were for my children.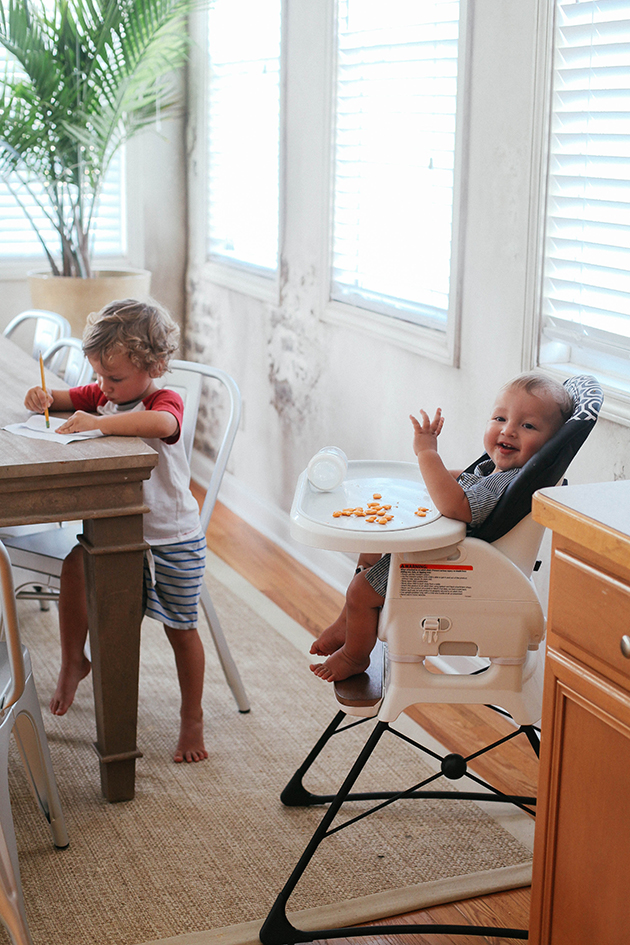 The deluxe highchair is a 2 in 1 design that allows you to remove the legs to convert to a booster seat. It also has a 3 position height adjust as well as a wipeable seat cover (my favorite aspect). It's the perfect height for Rocco to have social time with his siblings as they entertain him during snack and meal time. It is a comfortable fit for him, so you can guess where Rocco's favorite spot in the house currently is;) The removeable tray and easy to clean seat cover keep messes at a minimum, and this is where I need the most help!
The deluxe rock n play sleeper has been a dream with Azelie. It has a music and sounds feature as well as a rocking feature that you can control through your smartphone! It has been so soothing for her through her nap times and mayyyyybe soothing for me to watch and listen too;) She always attracts quite the crowd as she snoozes away in this comfortable lap of luxury. I love the black and white pattern that was a creative developmental touch to this already modern design. And best part? It collapses for easy storage! I am all about portability.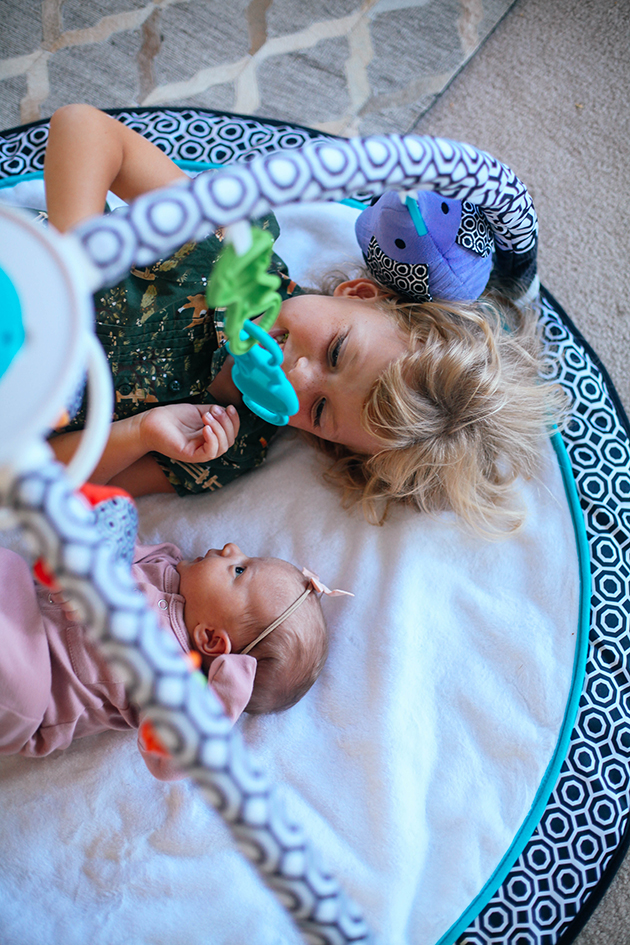 Lastly, I was in sore need of a new sensory gym, and this is one of the better ones I have seen. It contains plush, rattle, and teething accessories that are beneficial for the different phases of your baby, as well as a music and lights feature. I can't get over the plush material which is perhaps most attractive to Azelie's older siblings right now! I look forward to seeing her interact with this sensory gym and all the one on one time it will draw with her brothers and sister.
The Jonathan Adler Crafted by Fisher-Price Collection is currently available for purchase exclusively at Buy Buy Baby! I am crushing on the nursery furniture coming out this fall! As these babes grow I can't wait to see their relationships grow with them. I feel like I am still learning so much as a mother, and have no problem highlighting how far I am from having it all figured out. So cheers to each of you in this whirlwind adventure with me, and hopefully this post can lend you a hand!
*This post is sponsored by Fisher-Price. All opinions are my own.