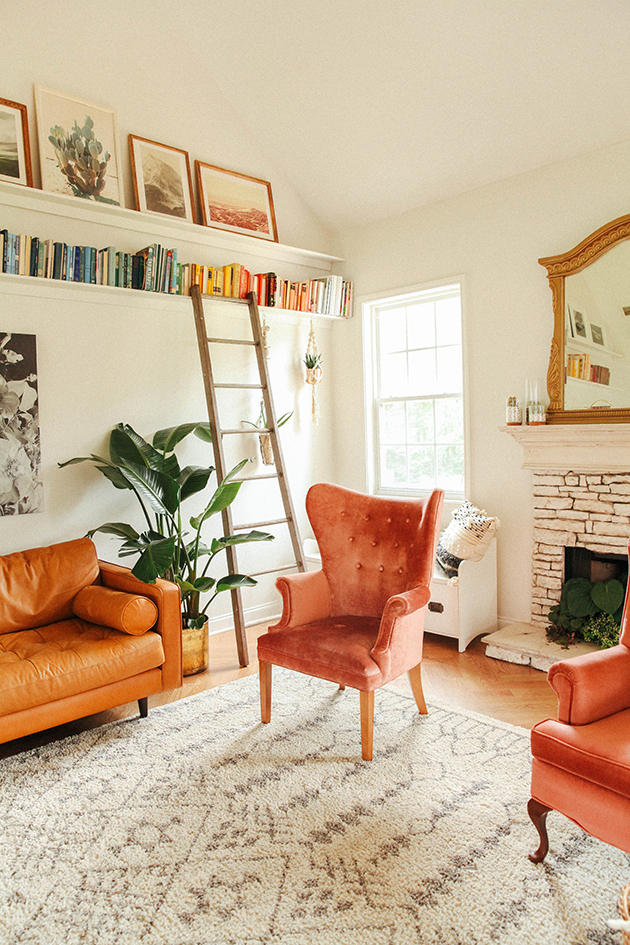 Our home isn't large by any means, but it is all that we need. The open layout is what we loved most about this home, and the natural light that pours in makes it feel much more spacious than it actually is! Since we spend most of our time in the dining and living room areas, I couldn't wait to make this space feel like home. It's been a year in the making so I hope you enjoy the before and after photos of this living room makeover!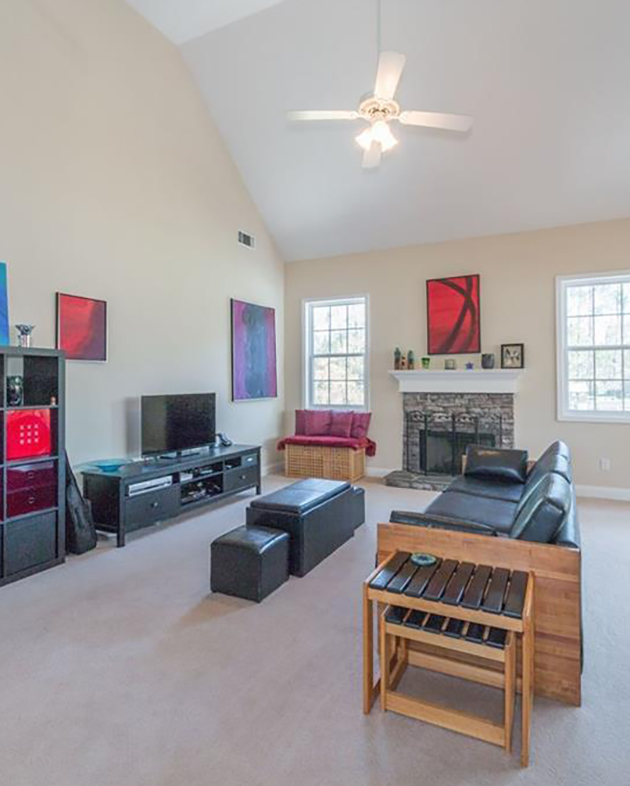 (a picture of the living room before we moved in)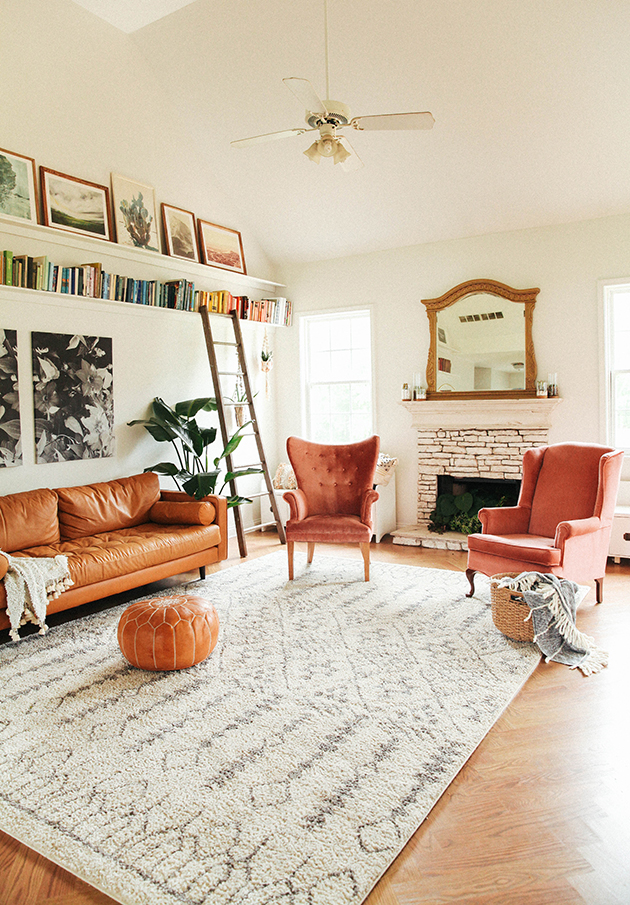 (after)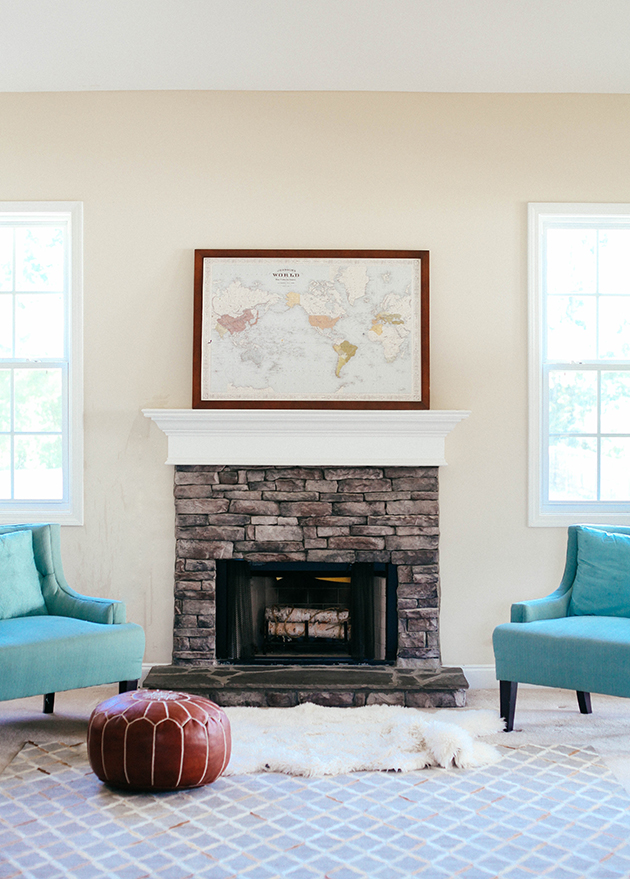 fireplace before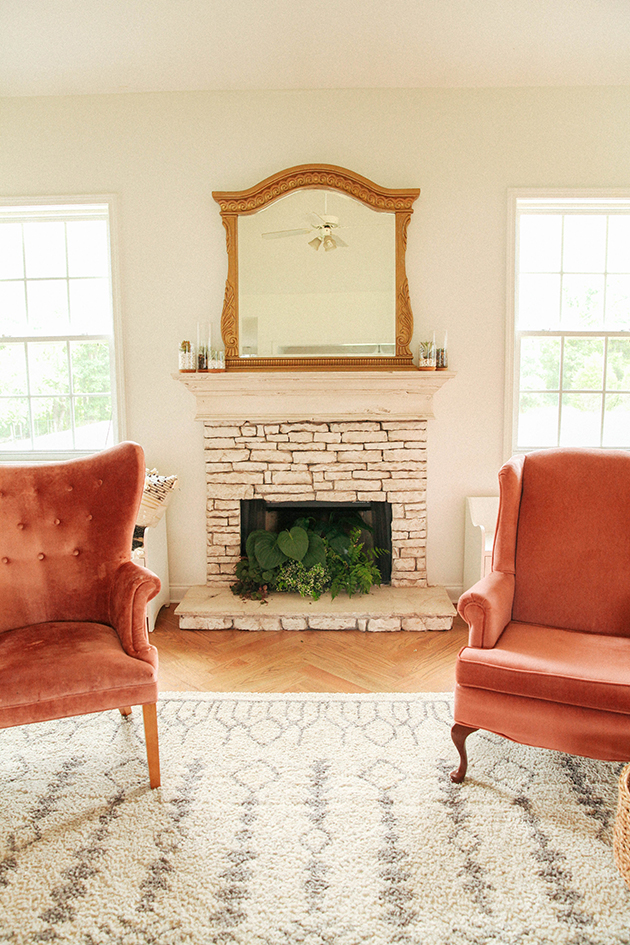 fireplace after
We started this room with the fireplace makeover, which Emily Harris finished with a stain to give it an aged stone look. We also painted the walls a clean white to get a fresh start. (More on how to choose the right white paint for your room here.)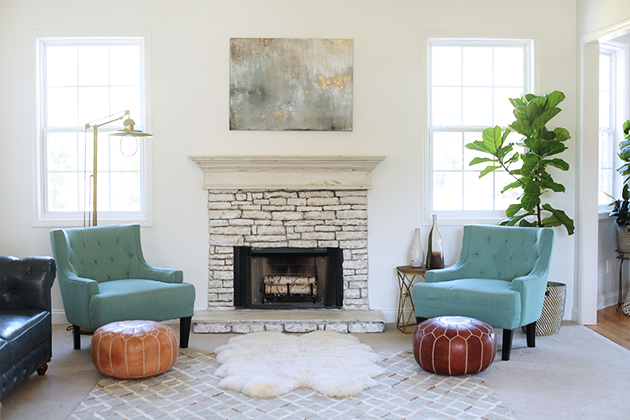 floor carpet before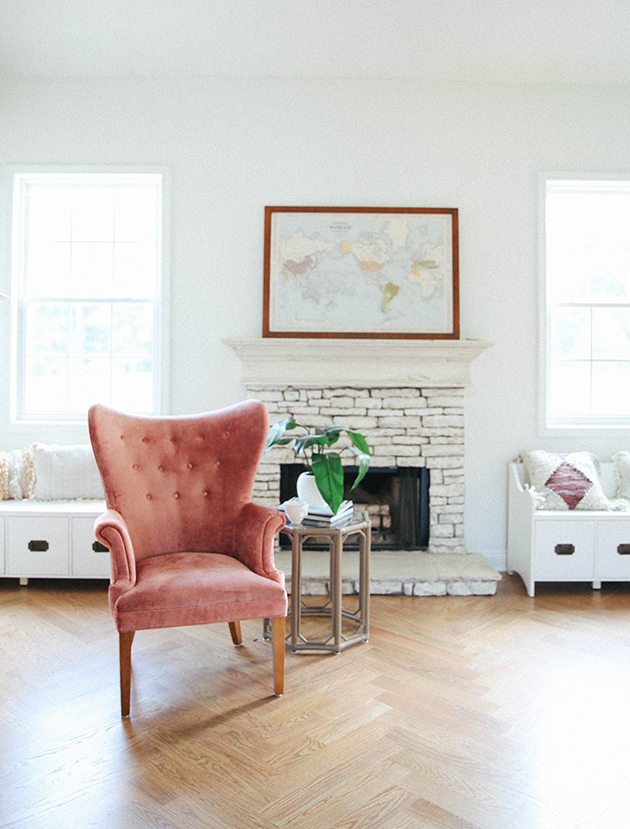 herringbone floors after
Over the summer we were able to start up the floor process. Since the rest of the first floor is hardwood, and white carpet is impossible to keep clean, we went ahead and ripped the carpet. We brought in a really good flooring remodeler who installed red oak floor boards in a herringbone technique. He sanded it down, and stained the boards in a grey hued natural wood finish. (Feel free to email me if you want his contact info!) We will eventually be staining the rest of the floor this color as well. This made the most significant visual difference in the room!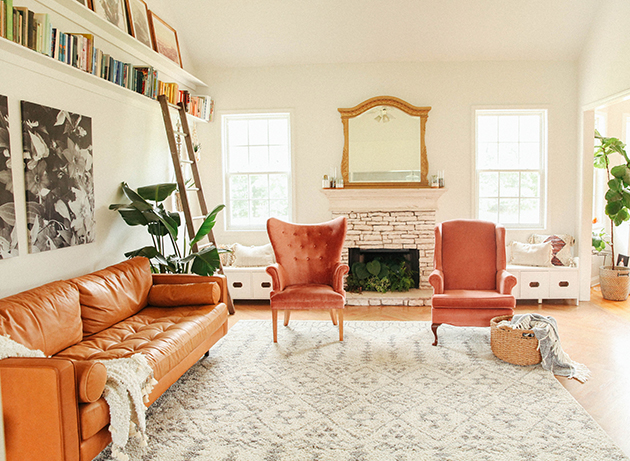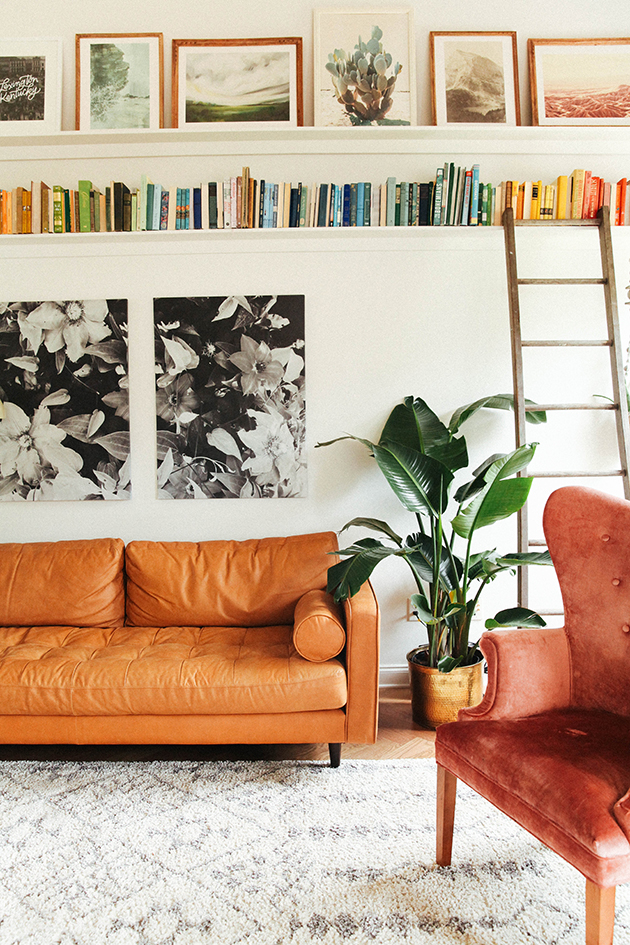 As you may remember my initial design board for the room, I chose the furniture pieces + rug as the main focal points of the space. I loved the versatility and classic color of the Sven Charme Sofa by Article, but I would say as long as you can take a good Sunday nap on it, what more could you want? Well, it's safe to say I would replace my bed with the Sven Sofa if I could. Midcentury modern style doesn't always mix with functionality and comfort, so I was really surprised to find this option! Considering our first couch was as uncomfortable and poorly made as they come, we have nothing but gratitude for a comfy one!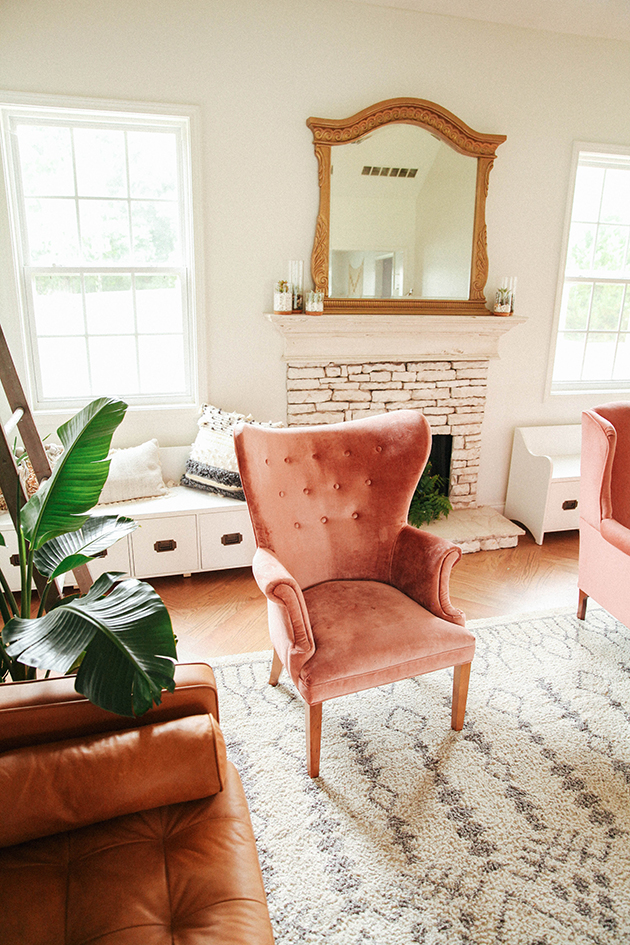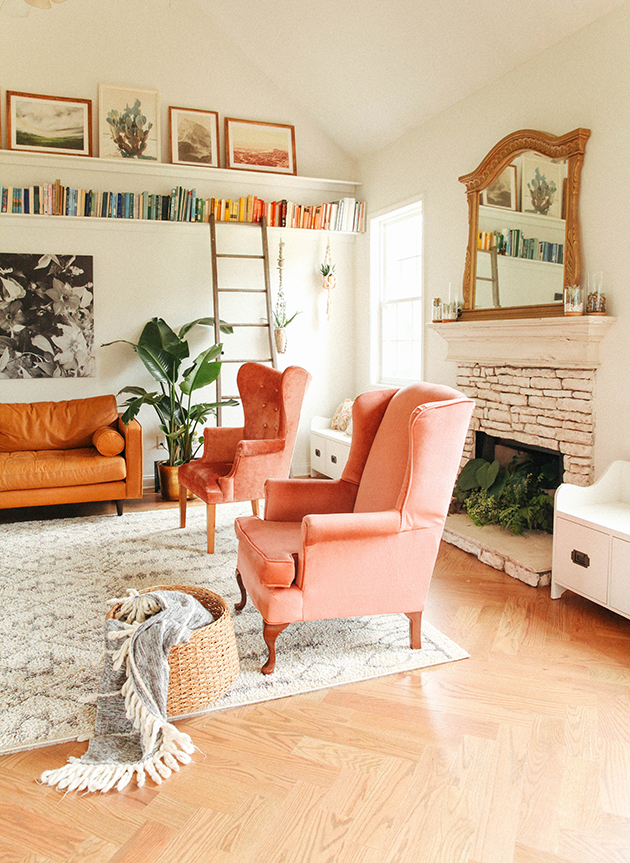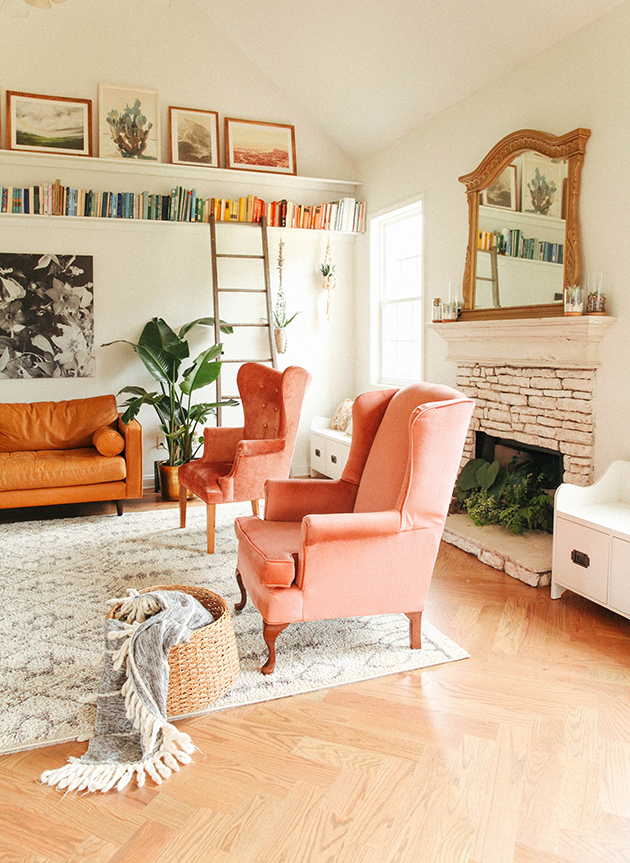 I can't seem to quit the pink velvet phase, so it was love at first sight when I saw this slub velvet wingback chair from Anthropologie. I somehow found the queen to this king chair on craigslist a few days ago, and still can't believe the height and color worked out so well! I love the color this duo brings into the room.
This rug continues to be the place everyone wants to sprawl out on because it is super plush and soft. I don't know how long we will be able to keep it clean, but after years of dark rugs, I wanted to play off the natural light this room gets as much as possible! The design is by Momeni Rugs and you can find it here. We used the 7'10 x 9'10.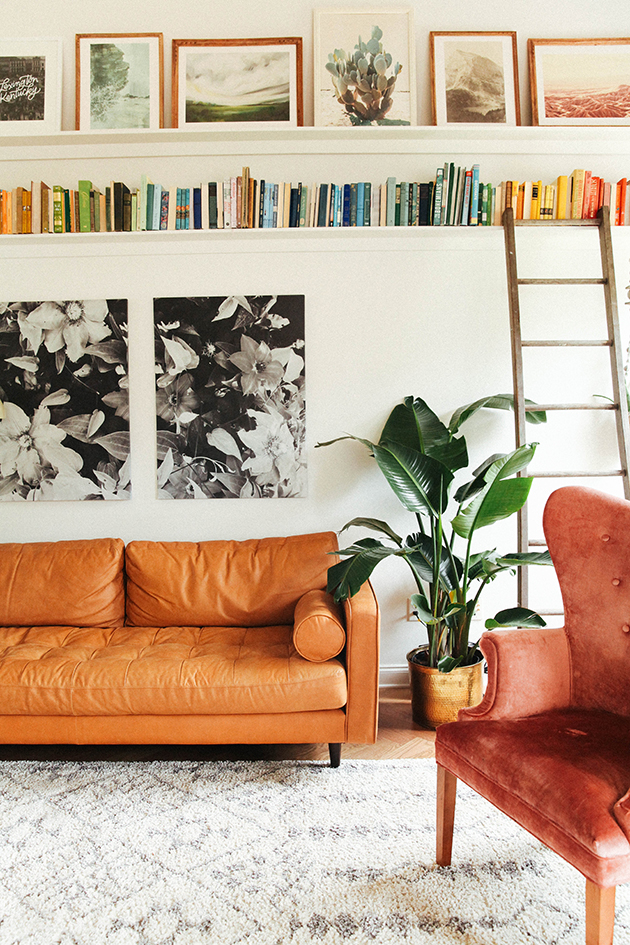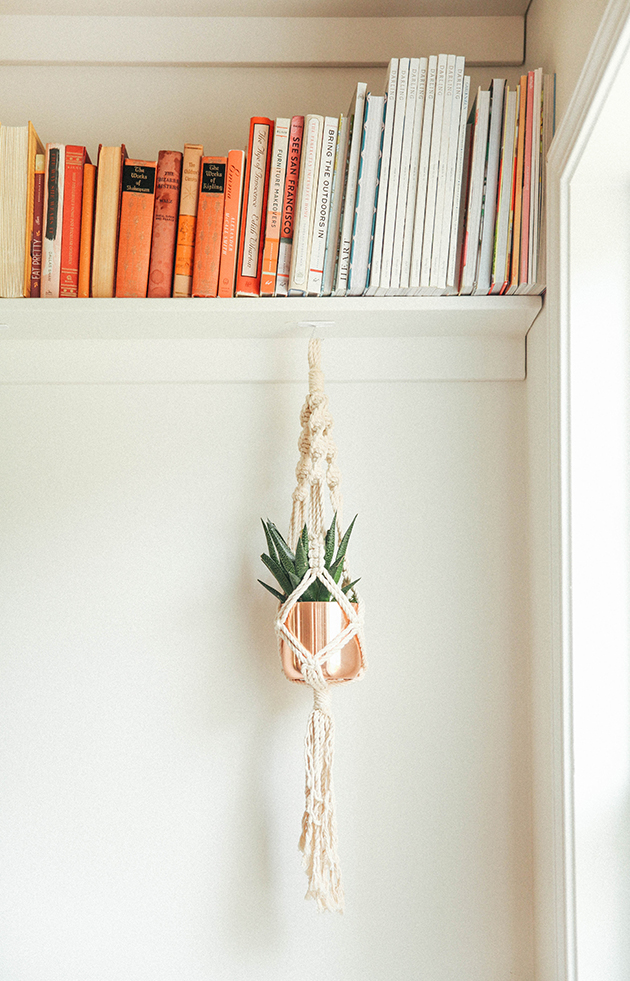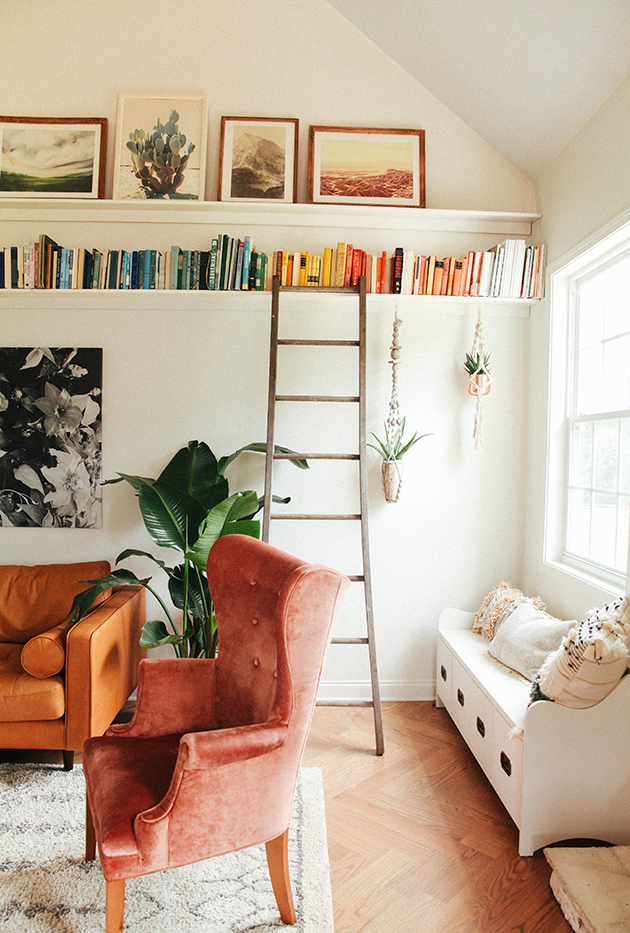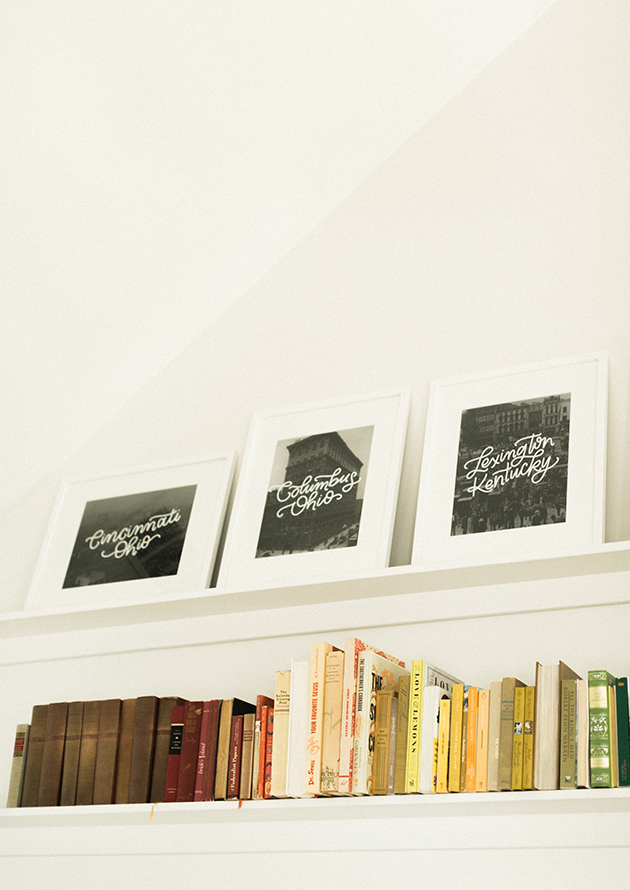 As for the bookshelf and picture ledge, this how-to will be coming soon! Gabe made a simple construction and figured out a good way to hang them to be well supported. I love old books and have slowly collected them over the years. We actually want to turn one of these walls into a full on home library one day. If our books are in sight you are much more likely to pull them to browse through, read, and reference. Books are also a great way to bring color to a room, and I color coded them mainly for the purpose of being able to find a books easier. Okay, who am I kidding. I totally color coded them because I am a visual perfectionist who loves symmetry and color schemes.
Shockingly the kids don't try to climb this ladder after one time of explaining they could fall. I mean, I thought at least Max would be hanging from the shelf by now! I lucked out and found this ladder at an antique market. It can be hard to find one over 6ft. I will probably replace some of the art on the picture ledge when I finally print photos, but how about those old city prints? Was geeking out when I saw them! They are from Brim Papery.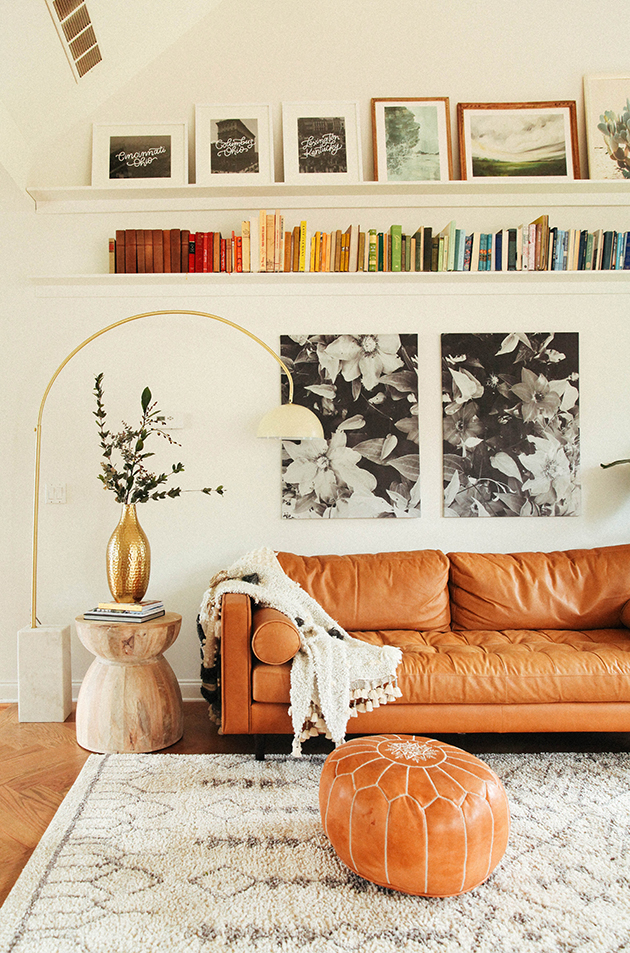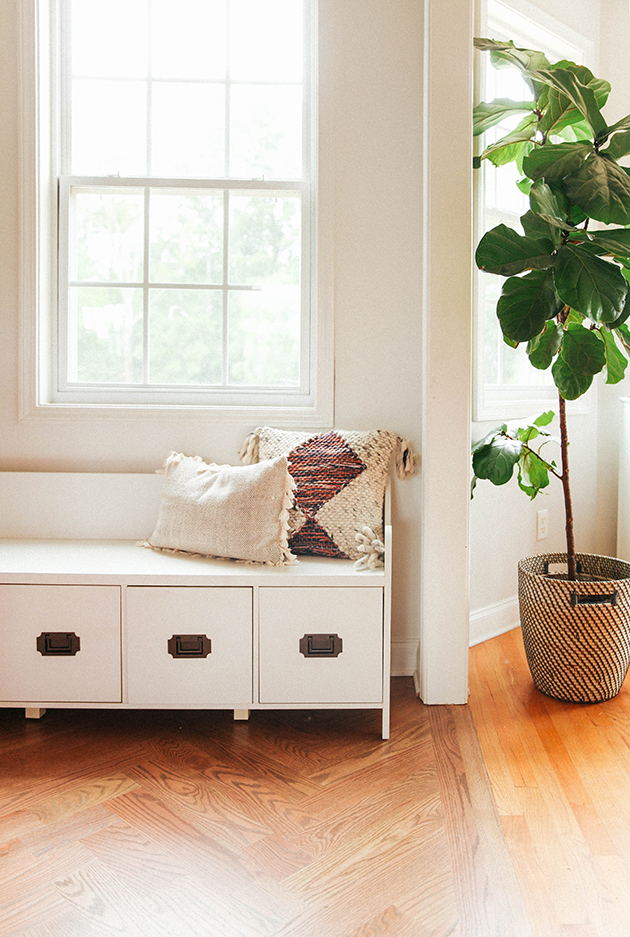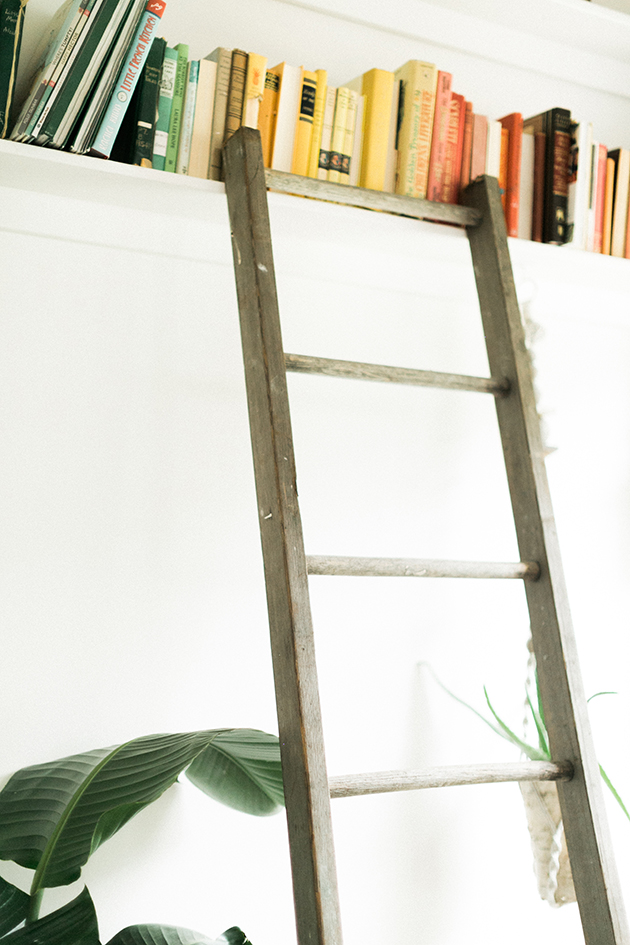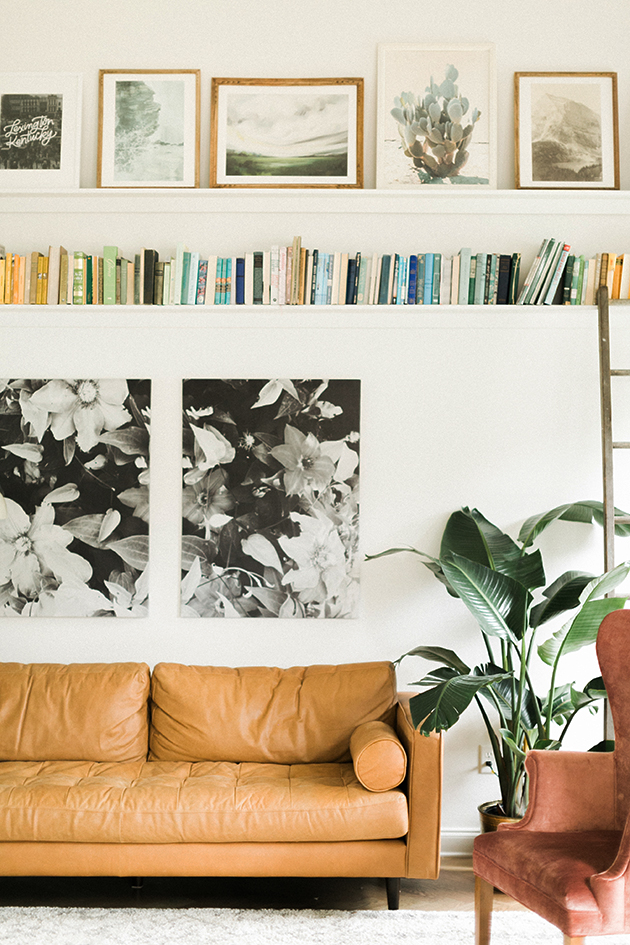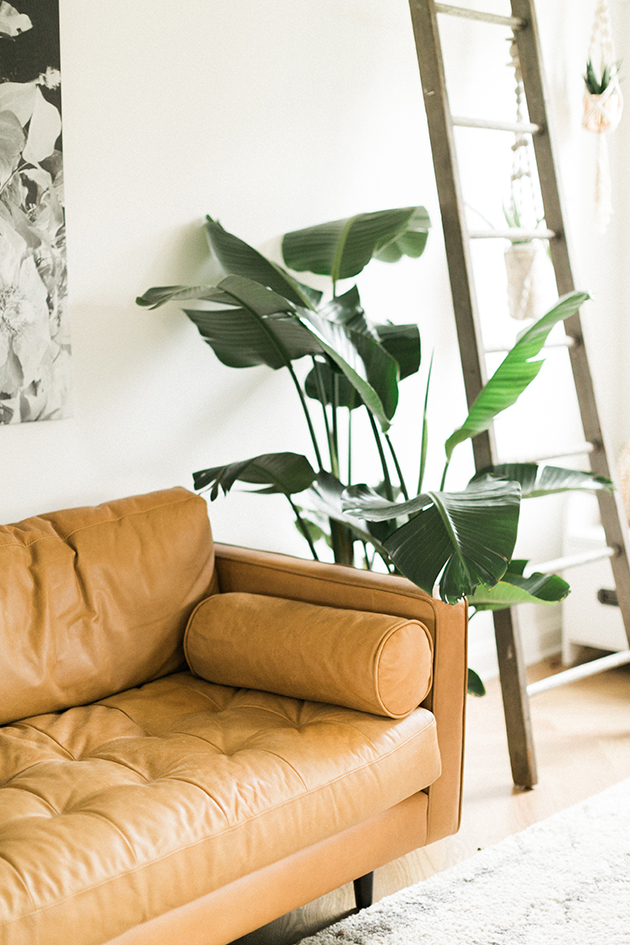 While our basement was being finished, we really needed a place to hold our little ones books, toys, and school books (for the hybrid school model we are doing this year). I searched high and low, and finally found these window benches that had all the storage I was looking for. They were everything I was looking for! I used the same color as our walls to paint one coat over the cream color they came in. These have been a sanity saver when it comes to clutter!
This seems to be the magnet room now for our family of 7. We all end up here for family game or movie night, to lounge, read, or enjoy a hot cup of coffee in the air trying to avoid spilling it as babies climb on top of you;) Since a creative mind never really stops turning, I am already onto the next room! Let me know if you have any questions about the space, and thank you for following along the progress!
A special thank you to Article, Wayfair, Momen Rugs, and Anthropologie for helping me pull this room together! Lord knows it would have taken 5 more years otherwise!
---
Sources:
Couch: Article c/o
Large Black and White Floral Canvases – IHOD Shop print downloads at Easy Canvas Prints in size 30" x 40".
Chair: Wingback in Rosewood slub velvet via Anthropologie
Rug: Momeni
Hourglass wooden side table: Anthropologie (A similar style for less here, and also love this one!)
Mirror: thrifted and antiqued
Ladder: flea market find
Window benches: Wayfair
Pillows: Anthropologie + Wayfair
Floor lamp: Anthropologie
Leather pouf: Lulu and Georgia
Gold hammered vase: Target
Hanging planters: Ikea, Loom and Linen Supply
Framed art: Minted – Landscape print, Cactus print
City Art: Brim Papery
Planter: Flea market
Plant: Peace Lily via Lowes
Throws: Anthropologie