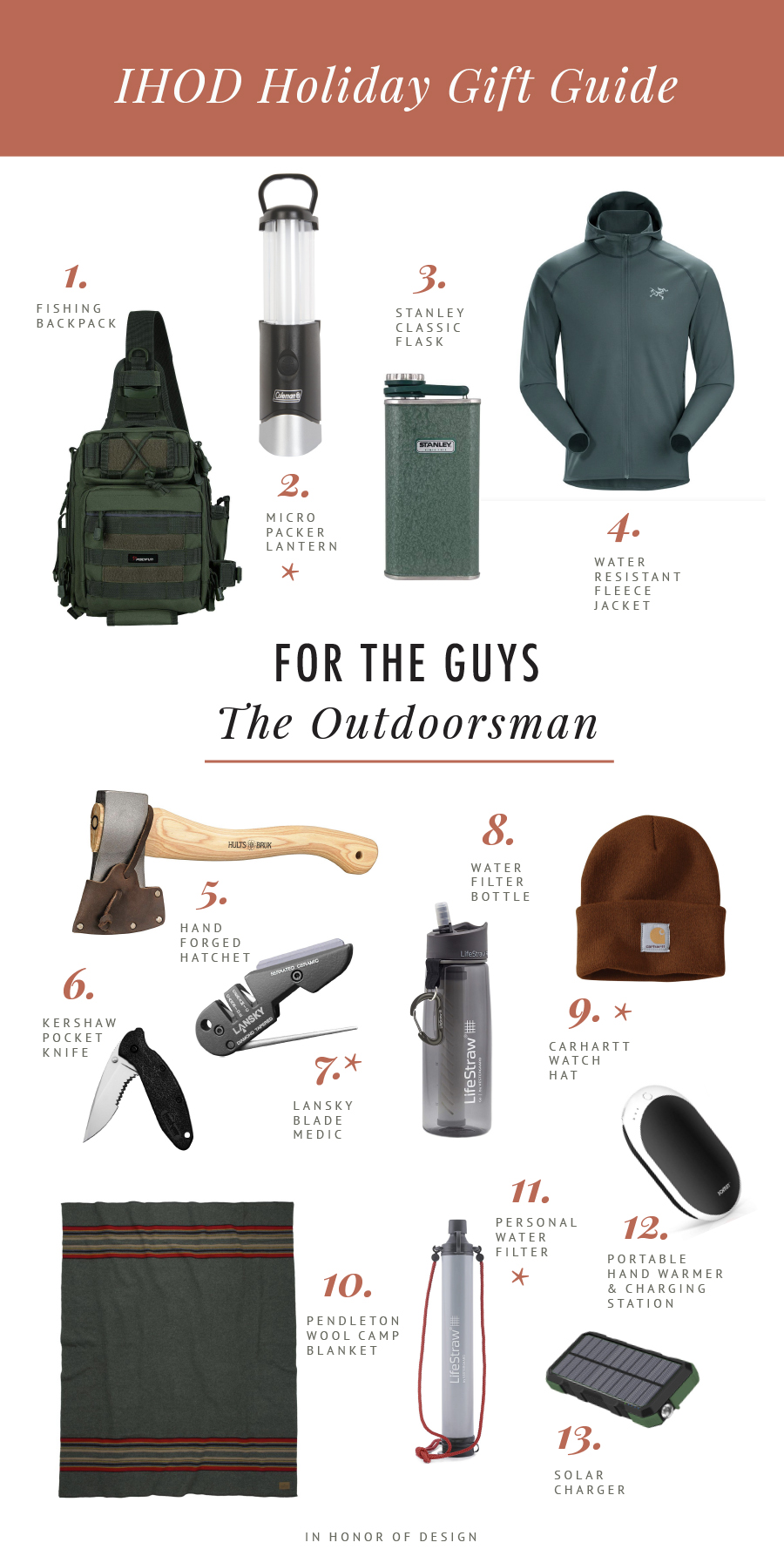 When we took a poll, by far the most requested gift guide genre was for the menfolk! The father in laws, husbands, brothers, etc. Gabe and I joined forces on this to bring you both practical and unique finds in the outdoors, travel, home, and hobby categories. So here you are! 30 gift ideas for the guys!
1. Piscifun Fishing Tackle Bag – The most versatile tackle bag I have ever come across, allowing it to be used as a handbag, chest bag, crossbody backpack, or shoulder sling bag. The extremely well thought out design has ample storage space and perfectly placed loops and fasteners for attaching tools and small gear. Available in two sizes.
2. The Coleman Micro Packer Lantern – A lightweight (roughly 7oz), compact (roughly 7in tall) backpacking and emergency lantern that is great for short camping trips and night time excursions.
3. The Stanley Classic Flask is an all stainless steel flask perfect for keeping a stiff drink on hand to warm up the insides on a cold rugged day in the great outdoors.
4. Arc'teryx Adahy Hooded Fleece Jacket – An amazing base layer jacket that provides excellent moisture wicking and flexibility when layering in cold weather, yet rugged and warm enough to wear on its own on a cool day.
5. Hults Bruk Tarnaby Hatchet – Swedish hand forged all purpose hatchet, great for packing, camping, and even light chopping. Being from Sweden, it is probably made by a descendent of the mighty Vikings!
6. The Kershaw Scallion Pocket Knife – Made in the USA with high carbon stainless steel. It holds a great edge and is very versatile. It is just about the perfect pocket knife.
7. The Lansky Blade Medic – A must have for any outdoorsman or frequent cutting tool user. Its compact well thought out design makes it easy to keep cutting edges (such as the amazing Kershaw knife above) sharp with minimal effort.
8. LifeStraw Go Water Bottle back – Uses a microbiological filter to remove the nasty stuff from water, meaning you can put river/pond/lake/stream water in the bottle and it makes it safe to drink.
9. Carhartt Acrylic Watch Hat – A rugged hat from a rugged company, and it keeps your head warm. 'Nough said!
10. The Pendleton Camp Blanket – An extra large, super soft wool/cotton blend blanket that is nothing short of divine. On top of that the quality is second to none and comes with a lifetime guarantee.
11. The LifeStraw Personal Water Filter – A brilliant little device that should be in every outdoors man's emergency kit. It allows you to drink water directly from nearly any source.
12. The Jomst Personal Charger – A dual function compact device that functions as a power bank for electronic devices as well as personal heater, providing up to 12 hours of warmth.
13. The Hiluckey waterproof battery pack and solar charger – Allows a smartphone to be charged up to 10 times before the power bank needs to be recharged! It's ability to recharge through solar power makes it a valuable item in an emergency situation.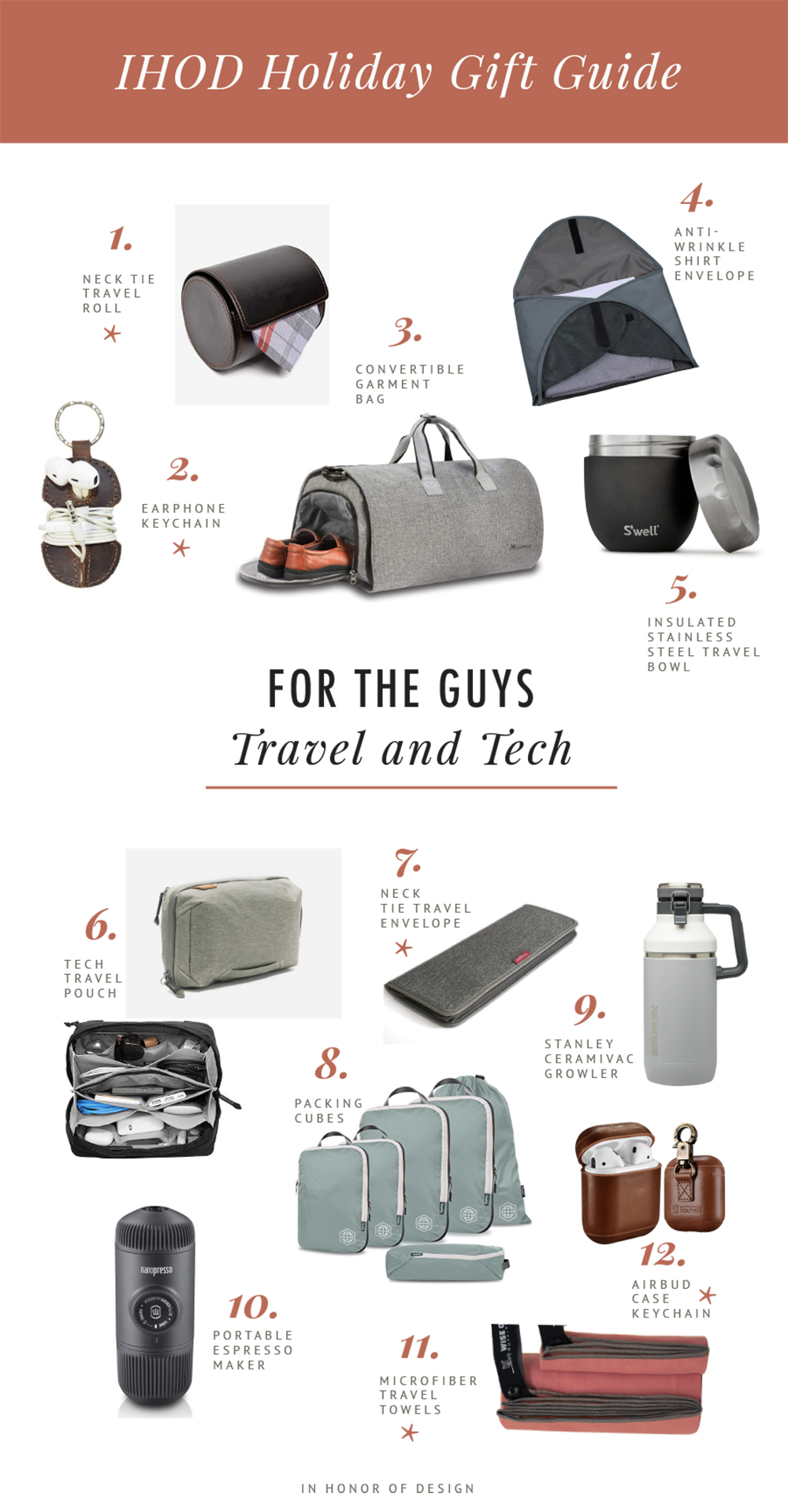 1. Tie travel Roll is a small and compact case that allows a guy to keep his sleek silk tie compact and wrinkle free no matter the train, plane, or automobile.
2. A Leather Earbud Keychain is a simple, but needed gift for anyone who owns earbuds. Keeps them from knotting up while in your pocket.
3. This Convertible Garment Bag made to keep a suit or dress wrinkle free while at the same time providing ample room for other travel gear and shoes. The size is perfect for a carryon. This leather version is another great option.
4. Anti-wrinkle Shirt Envelope is a nifty gift idea for travelers! Combats the embarrassing effects of the smashed button down look…. saving time, energy, and ironing.
5. S'well Insulated Stainless Steel Travel Bowls are a great option for the guy on the go. Keeps food warm or cold for hours!
6. Peak Design's Tech Pouch – Designed to keep all of your devices, cords, and chargers stowed safely and organized in one compact place.
7. LeanTravel Tie Case – Another brilliant way to pack four full size ties in a wrinkle free compact case. (Beats rolling them up and stuffing them in my shoes like I used to do.)
8. Compression Packing Organizers – These are fantastic for helping to save space in your bags by compressing the air from clothes to eliminate extra bulk. The various sizes also help luggage stay neat and organized.
9. Super solid and super vacuum insulated with a ceramic interior, this Growler by Stanley will keep water, soup, or beverages hot or cold longer than you will ever need.
10. Nanopresso Portable Espresso Maker – Just over 6in long and allows you to create your own espresso on the go.
11. Wise Owl Travel and Camping Towels – Compact, super soft, and super quick drying microfiber towels designed to be conveniently light and compact. Several color options.
12. Airpod Case Keychain – Airbuds are all the rage it seems! Secure those puppies with a good keychain and case so as not to misplace.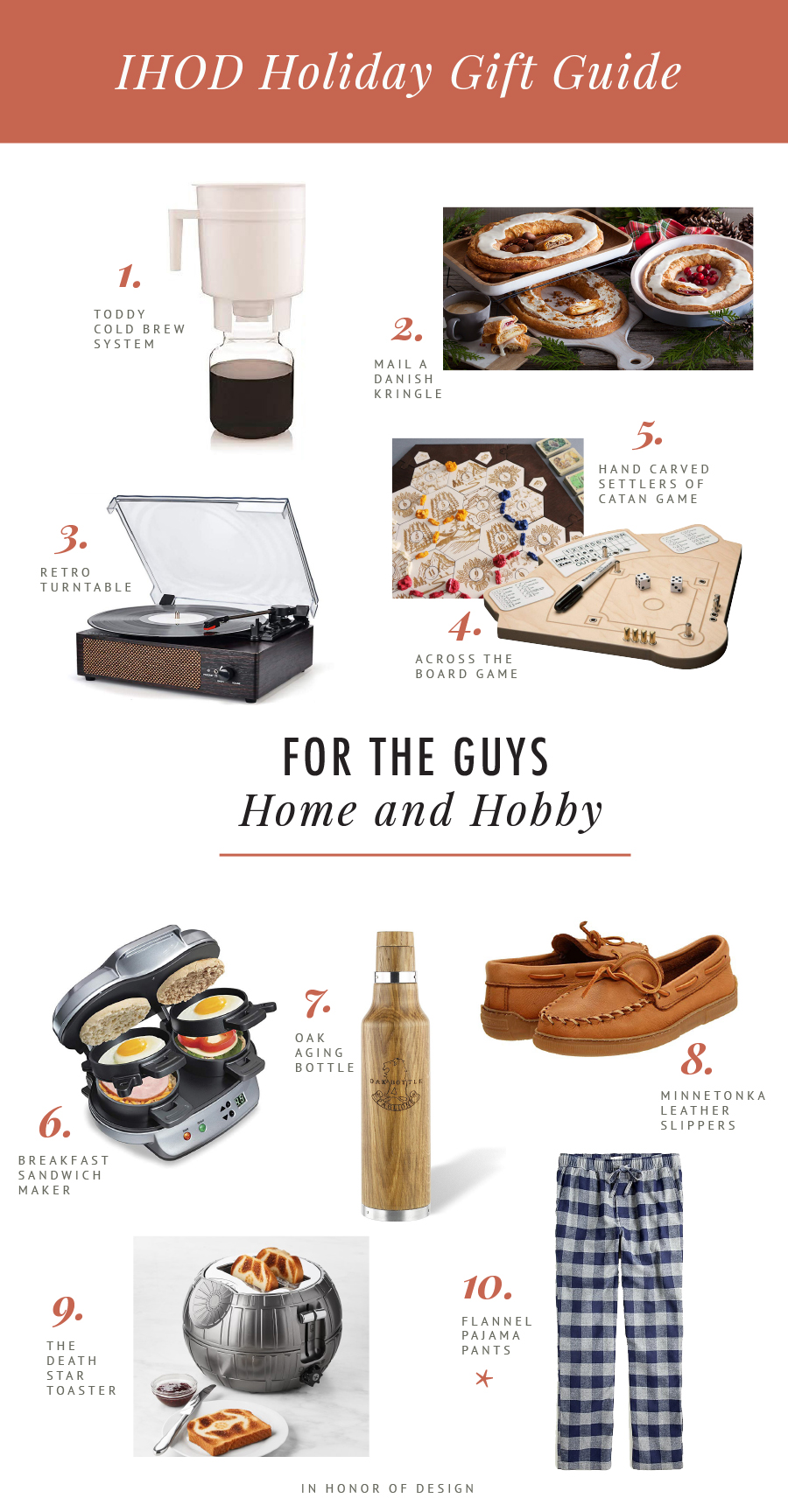 1. The Toddy Cold Brew System allows you to make amazingly smooth low acid coffee concentrate for cold brew coffee, or add a little hot water for an amazing hot morning coffee. We use this system year round.
2. The Danish Kringle from O & H Bakery is a heavenly experience for you tastebuds. I (Gabe) grew up a couple towns over from this amazing bakery, and I can guarantee you will never forget how amazing they are. They are one of my most anticipated Holiday traditions.
3. This Retro Turntable by Wockoder is a combo Bluetooth speaker and vinyl record player with three speed settings. It's portable design makes it a very versatile music player for any room.
4. Across the Board Baseball Game is handcrafted by a small family owned/operated company in St. Louis, MO. Made from solid American maple.
5. This Hand Carved Settlers of Catan Game is a beautiful customized way to enjoy one of the best board games ever developed!
6. The Breakfast Sandwich Maker is a one stop miracle contraption that makes custom breakfast sandwiches in about 5 min.
7. The Oak Aging Bottle allows you to quickly age bourbon, rum, wine, and any other desired liquid in American oak for a smoother, more full bodied experience.
8. These Minnetonka Moccasin Leather Slippers are the most comfortable/durable slipper/house shoe I have ever had the pleasure to own. They last forever and are nearly indestructible, yet delightfully soft.
9. Star Wars Death Star Toaster creates a burned image of a Tie Fighter on the bread… I don't need to say more. It is a travesty for every man's kitchen not to have this on hand.
10. Flannel Pajama Pants – Warm and comfortable after a long day. You can never go wrong with these.
*Star symbols are items under $25!*