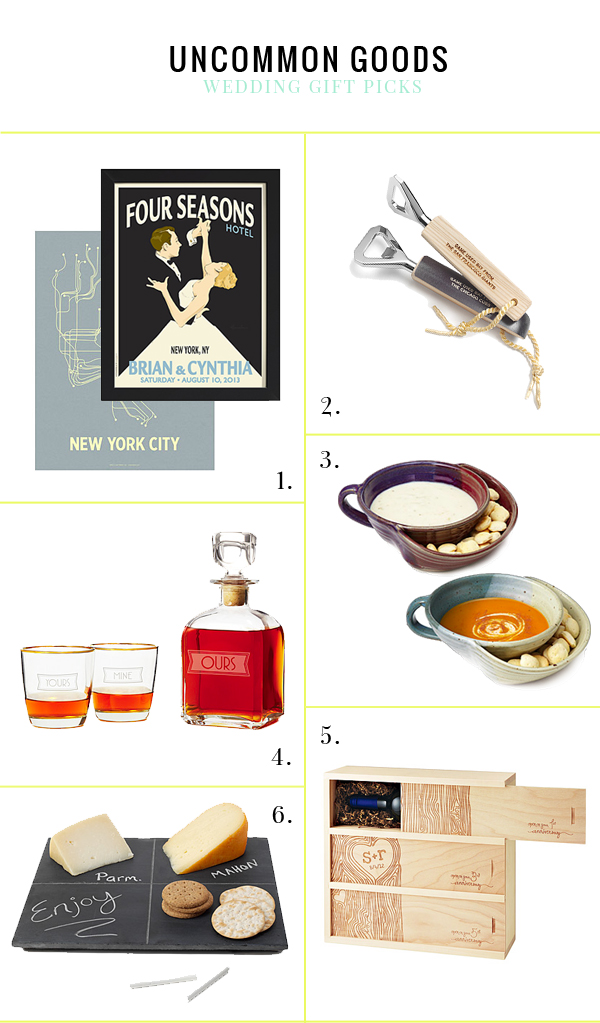 Wedding season is in full swing. I get really excited whenever we get the chance to attend one. Its kind of magical. That newlywed bliss hits everyone around the bride and groom. Not to mention the food, decor, and pretty dresses are a major perk. We won't be able to attend but one this summer due to the impending child I have in my womb;) but I do get to still buy some wedding gifts which is fun to do when it can be done from the comfort of your living room, right?
Found so many fun ideas at Uncommon Goods. Unique, fun, and affordable! Here are a few I am debating between to gift this summer! ..
1. Personalized prints – I thought it was clever how you can add the names of the bride and groom to this 20's-esque modern art print. EVERY bride and groom need art to hang in their new home also so its a win win. This would be a good joint gift from a group of friends too. Also check out the city line prints! Maybe one of them is their honeymoon spot or where they live!
2. Baseball Bat Bottle Opener – This one would be more for the groom, unless they are super cool chicks who are crazy about baseball! These bottle openers can be made from a game opener of their favorite team! My husband would die over a gift like this. (Major Brewers fan!)
3. Soup and Crackers Bowls – because how cute?! I love ceramic pieces that have extra functions like this. Would be an original gift that you can guaranty won't be gifted by someone else. (Hate it when that happens!)
4. Yours, Mine, and Ours Decanter Set – One of my favorite old movies by the way if you have never seen it – Yours, Mine, and Ours – check it out! Thought this set is a fun way to get their bar cart started and a reminder to cheers to each other and enjoy the friendship you have in a marriage.
5. Anniversary Wine Box– giving them celebratory wine three years in advance! I like it! Its a great way of wishing them many happy years together:)
6. Chalkboard Cheese Plate – This makes me want to throw another wine and cheese party. Such a cute way to display cheese and inform guests what they are tasting. A perfect wedding gift for the social couple. (And for under $50!)
You can check out the rest of Uncommon Goods wedding gift ideas here.
Are you attending any weddings this summer??
Hope you all have a fantastic June weekend ahead!
*This is a sponsored post and is %100 my own opinion!