We pause our regular scheduled programming to ask for your prayers for the south who can't seem to get themselves out of this horrible mess. Just a few of the crazy stories emerging from this great city that I love so dearly (despite its inability to cope with cold weather)…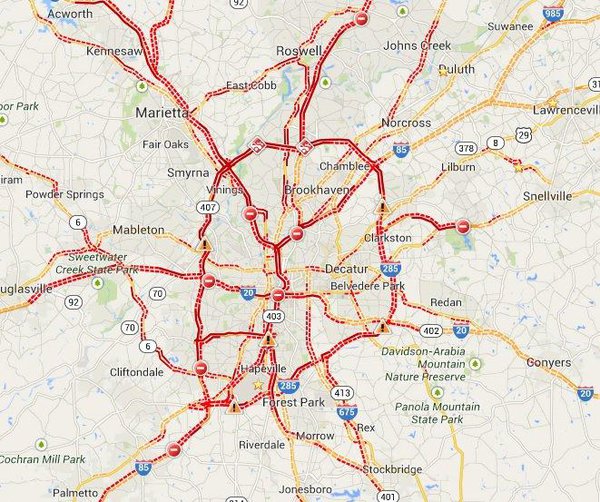 1. First problem. Every highway in Atlanta shuts down in gridlock as black ice causes accidents and pileups. Many highways are still in this same situation.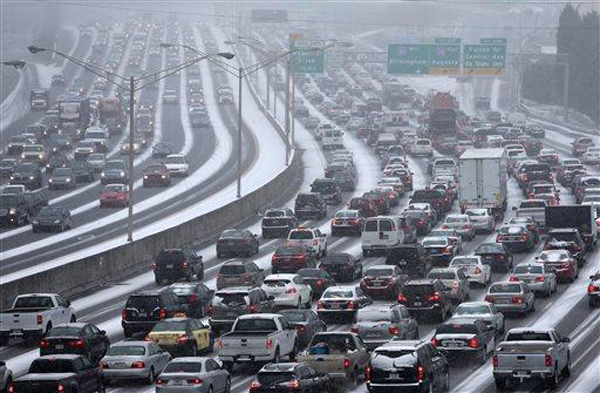 2. Stories of diabetics, newborns babies (with their moms), and elderly being trapped for hours start to spread on social media. A facebook group is created where people started to come to the rescue to those in need by providing food, water, blankets, gas, and shelter. I guess social media can be a good thing after all;) Hope in humanity restored.
3. Home Depot, Target, and Whole Foods leave stores open city wide to house those stuck in the snow jam overnight.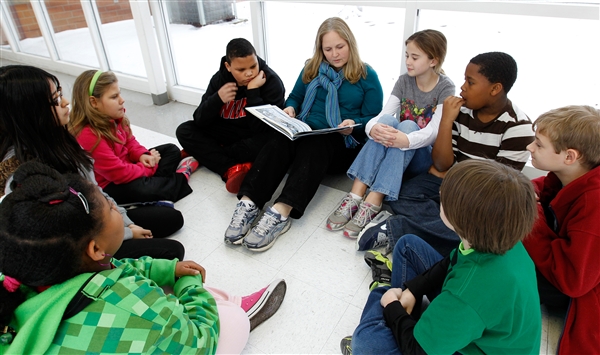 4. Hundreds of teachers and students stranded over night at local GA schools. Some children as young as 5 years old who had never stayed away from home before.
5. Buses are sent out to help hundreds of stranded motorists and deliver them to local shelters.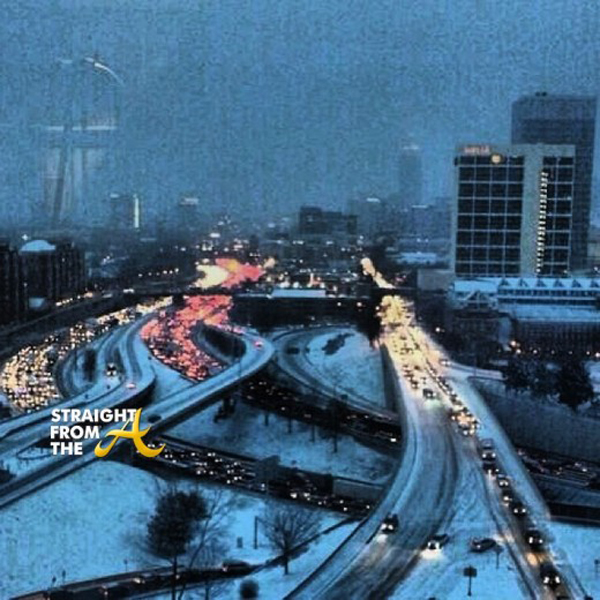 6. Woman in Sandy Springs, GA delivers her baby girl on I-285 with the help of her husband and local police officer. Luckily, an ambulance arrived shortly after to take her to a local hospital.
7. The later it gets the more cars are abandoned as people attempt to walk,(and in a friend's case crawl), and drudge miles home in hopes of avoiding the night in their car.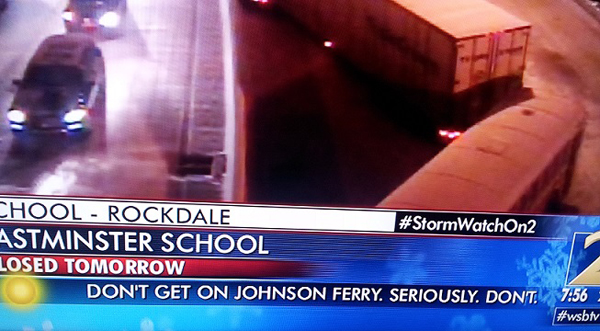 8. What started as a daily commute for many turned into a snowpile nightmare of car crashes now totaling 940 with one death and 104 injuries. As the news even tried to communicate the severity of the situation. "Don't get on Johnson Ferry. Seriously. Don't."
9. Atlanta becomes the opening scene of The Walking Dead. Our good friend and neighbor had an experience straight out of the opening scene of The Walking Dead (I am sure many of you Atlantans did!), as he had to search for his wife and two sons who were stuck out in the snow jam. Her phone had died and she had a nursing baby with her. As he starts driving on the opposite side of the empty highway to look for her, the city is eerily quiet and no one is moving. Abandoned cars everywhere. He found her going in 4-wheel drive up the grassy side around the gridlock. This tough chic comes from the midwest where these situations are commonplace. 8 hours total before they all arrived home. Some individuals are going on 18 hours+..
10. Least significant, but worthy of note…Chipper Jones of the Atlanta Braves rescues old team mate Freddie Freeman on his four wheeler. What? Smart move.
I am kind of in shock. I grew up in Ohio so really have never seen anything like this. I know you northern friends may be in awe, but this is unfortunately as real as it gets! My heart breaks for the parents who cannot get to their children. There are still so many stuck in this horrible snow jam and could use a prayer or two! Wish I had a serious four wheeler of my own right now to go out and offer transportation. You think they would have a fleet on back up for situations like this!
Atlanta. We love you, but you show your better side in the spring.