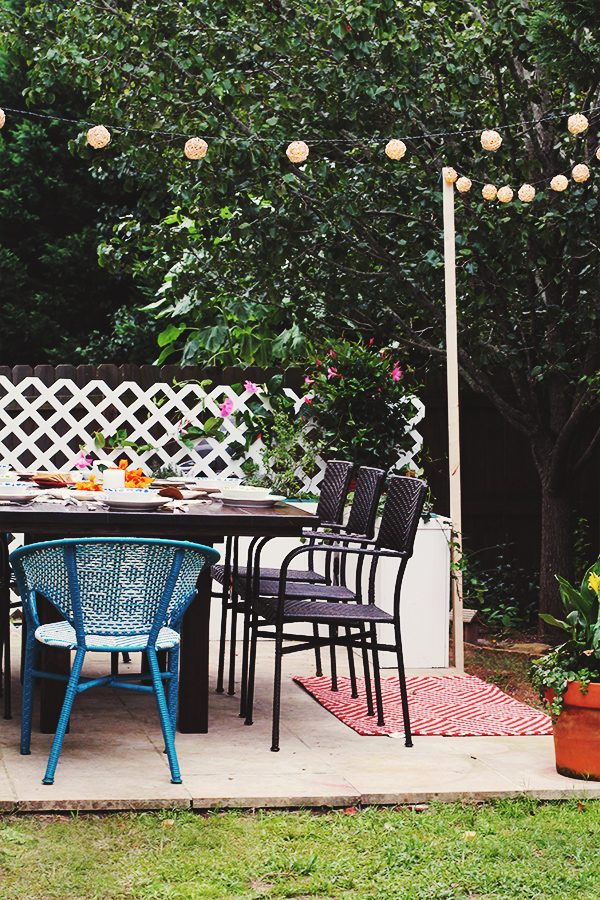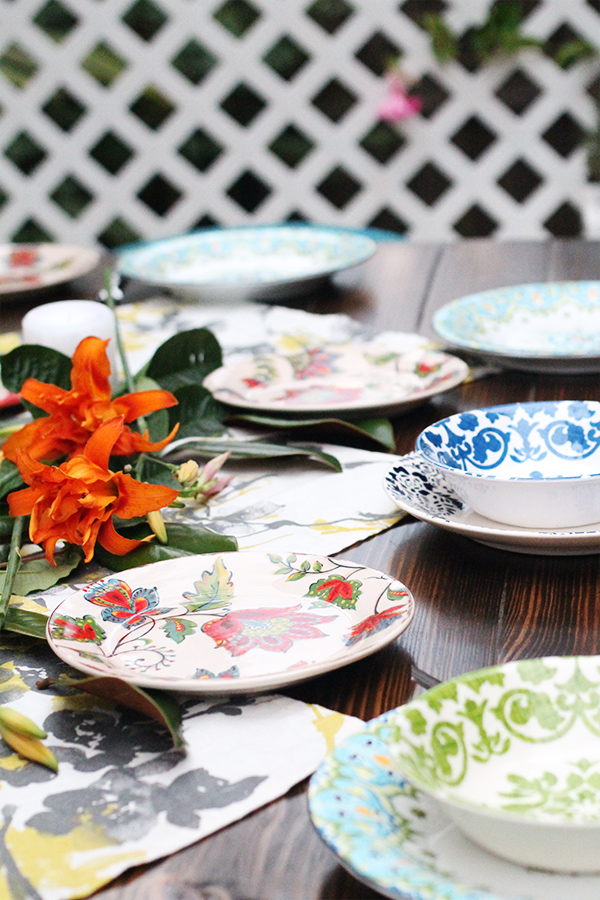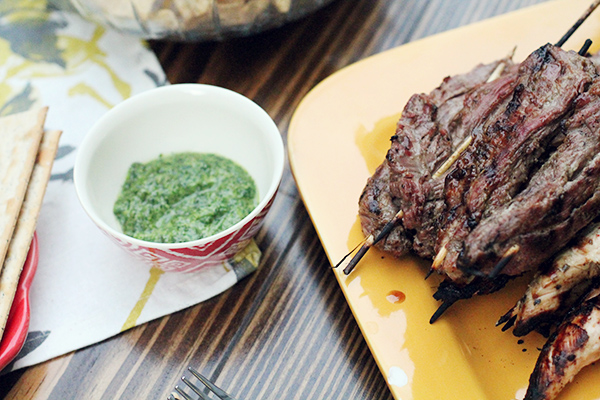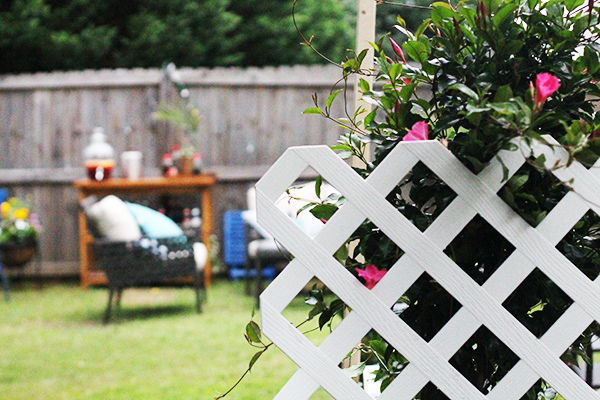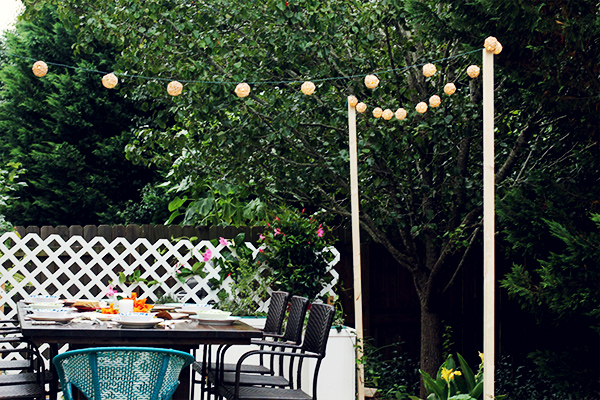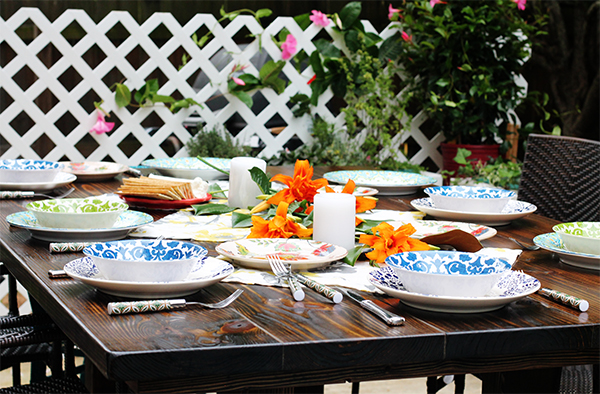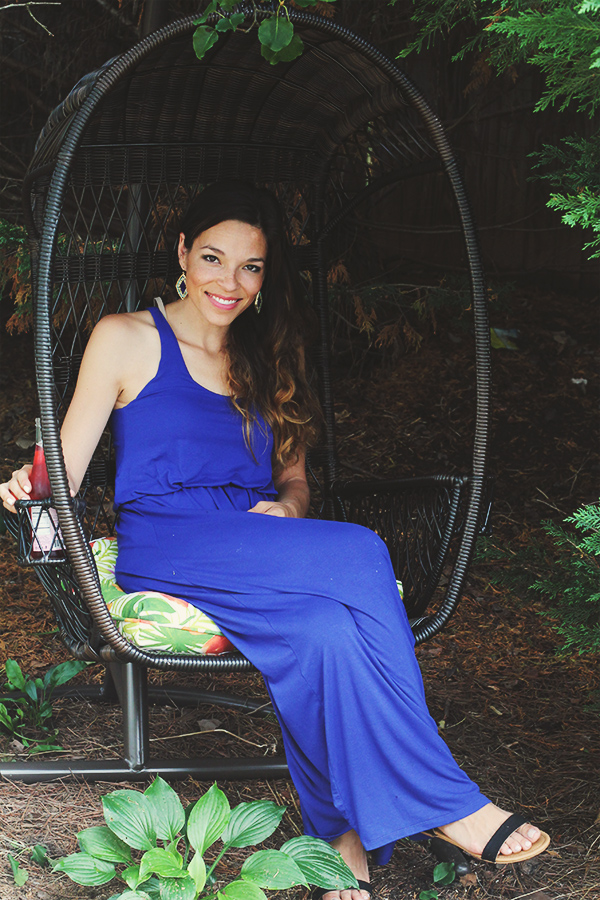 {Dress and Earrings via Deloom}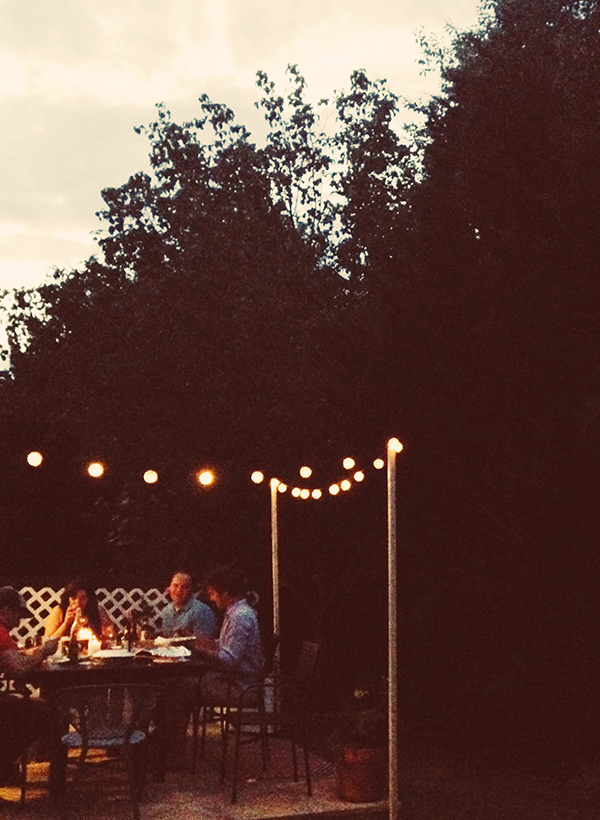 After all the party planning and treasure hunting, we finally got to enjoy the finished result of our backyard dinner party over the weekend! It was the evening before my birthday so it was so nice to spend time with friends. I may have done the scheming, but once again, it was Gabe who did all the labor….:D:D
Furniture: We have been wanting a custom table for our dining room so we decided to bite the bullet and make one. Gabe worked on this for days, and I owe him my right arm at this point, but he reassures me he loves to woodwork….hmmm. After the table was finished we set it outside on our patio and brought in the weatherproof outdoor chairs as well as the San Martin chairs for a little color.
Table Top: As you got a sneak preview already, I bought mix of floral and melamine plates to bring in an array of color and pattern. I even used retro patterned forks. Fresh florals (last minute snip from the side of our house) made for a great centerpiece and the citronella candles kept the mosquitos away:)
Ambiance: Lighting can do so much for a space so we strung up these lights across 8 foot 2×2 steaks and staple gunned to the tops. We added the lattice board on one side of the patio behind our planter boxes to really make the space feel like a comfortable outdoor dining room. When the sun set we had dessert and a little music.
Food and Drink: We threw everything on the grill. Steak and Chicken Skewers with cilantro sauce, carrot medley, and grilled corn (for grilled corn salad). Goat cheese and crackers, guacamole, etc. for apps. Coconut Mojitos and Sangria filled the glasses.
Here's the easy Sangria recipe:
1 Bottle Sparkling Peach Water
1 Bottle Sparkling White Wine (I used a bottle of peach from Trader Joe's)
1 Bottle Red Sparkling Wine
2 Oranges
2 Lemons
4 Limes
4 Peaches
Throw in the fruit and pour in the liquids to simmer for at least a few hours!
Hope we get the chance to have many more opportunities to gather around this table with family and friends over the next few months. It is that time I value more than anything else! We poured a ton of hours into this, but now you cannot pry us away from our backyard. Happy summer!

Disclosure: Compensation was provided by Pier 1 via Mode Media. The opinions expressed herein are those of the author and are not indicative of the opinions or positions of Pier 1. Find What Speaks to You.