We spend the most time as a family and with friends around this table. I knew it was one of the first rooms in our rental house I really wanted to take time to make it feel inviting, as if it were to say, come and sit a spell as we pour you a cup of coffee or a glass of wine. Here are a few of the before and after dining room makeover photos…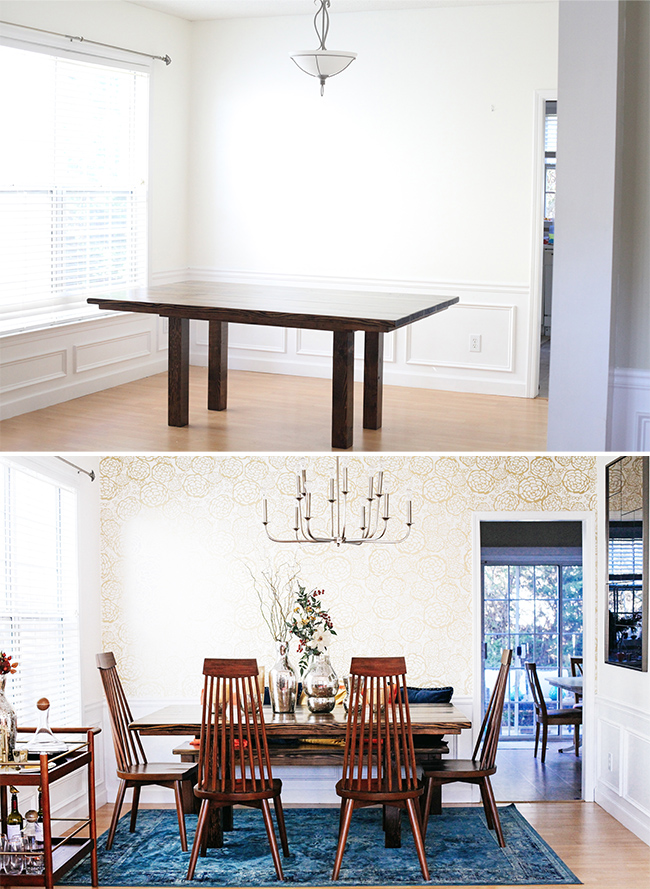 We started from scratch with nothing but this table Gabe built. (He might share the directions for this one soon!) I knew I would never be able to execute decisions to save my life, so I called in the expert Kristin Jackson of The Hunted Interior. She is my brilliant and super sweet friend here in Atlanta who does no wrong in the interior design realm. I am so thankful to her for teaming up with me on this project and completely nailing my style. We have another project we are working on we will share soon!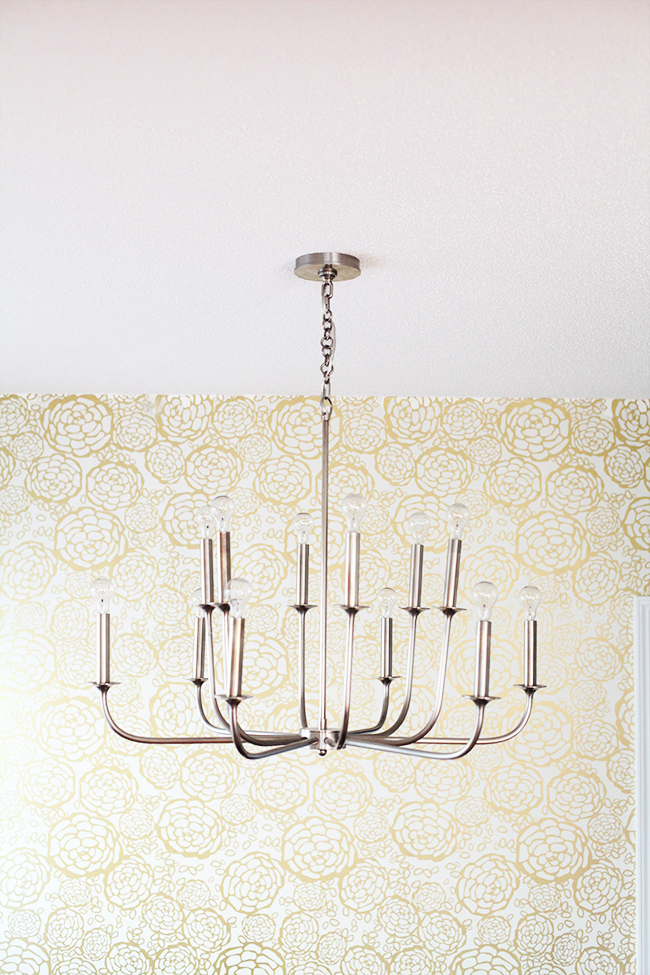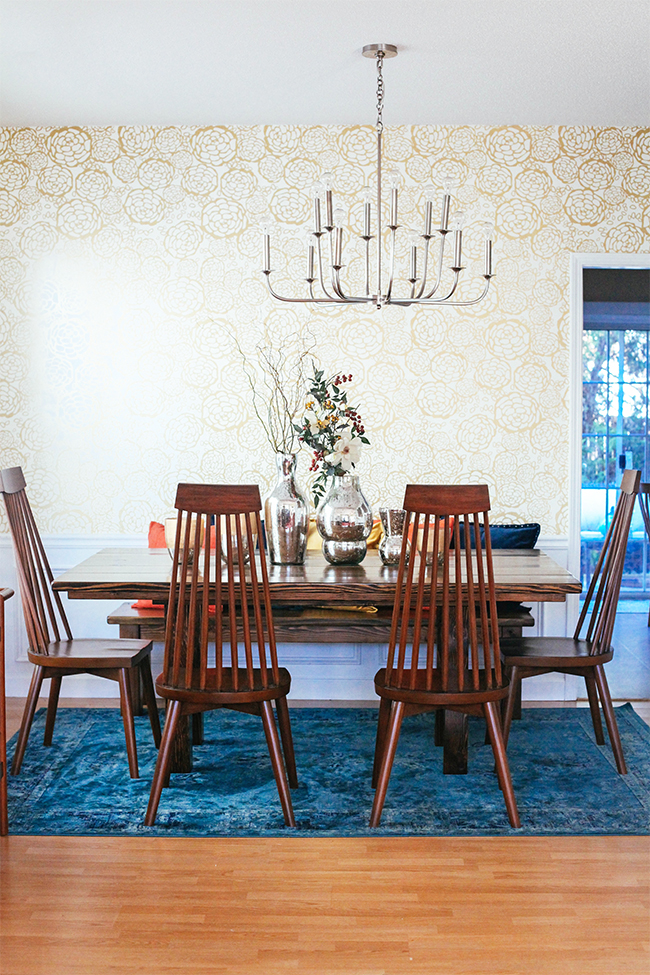 A few behind the scenes things you may want to know…
– Wallpapering was not as difficult as I had anticipated! I followed tips from Yellow Brick Home which was super helpful. Hygge and West also has some fantastic removable wallpaper options for those of you who may not want to commit to permanent.
– We only keep out glassware when we are hosting. When you have busy little ones running around, acrylic glassware is a good option! Otherwise, we keep the rest hidden:)
– Gabe built the bench (measurements and details coming soon), so that we could fit more people on one side! Leaned it up against the wall with pillows for a comfortable lounge area.
– We left the windows without curtains to maximize the natural light. I love as much natural light as possible in a room, and since it is a smaller room, I didn't really feel like it needed the extra textiles.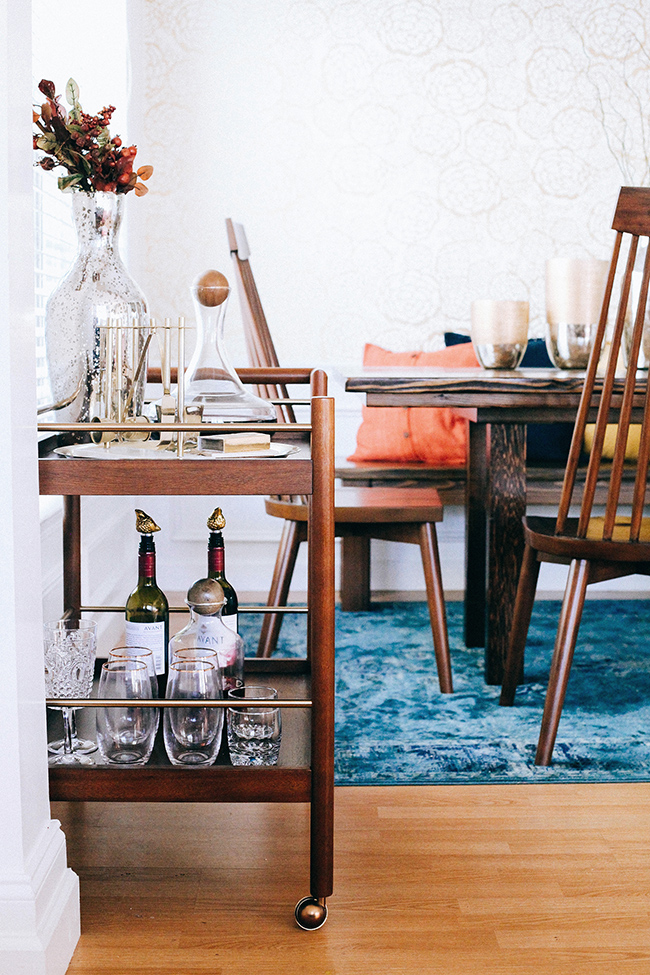 So thankful to West Elm for teaming up on this project (they have that mid century modern edge to their pieces that makes me swoon.) All Modern had the statement chandelier that was a welcome and dramatic change to the rental fixture. Plush Rugs had just the right selection of overdyed rugs, and we found the peacock blue hue I was hoping for.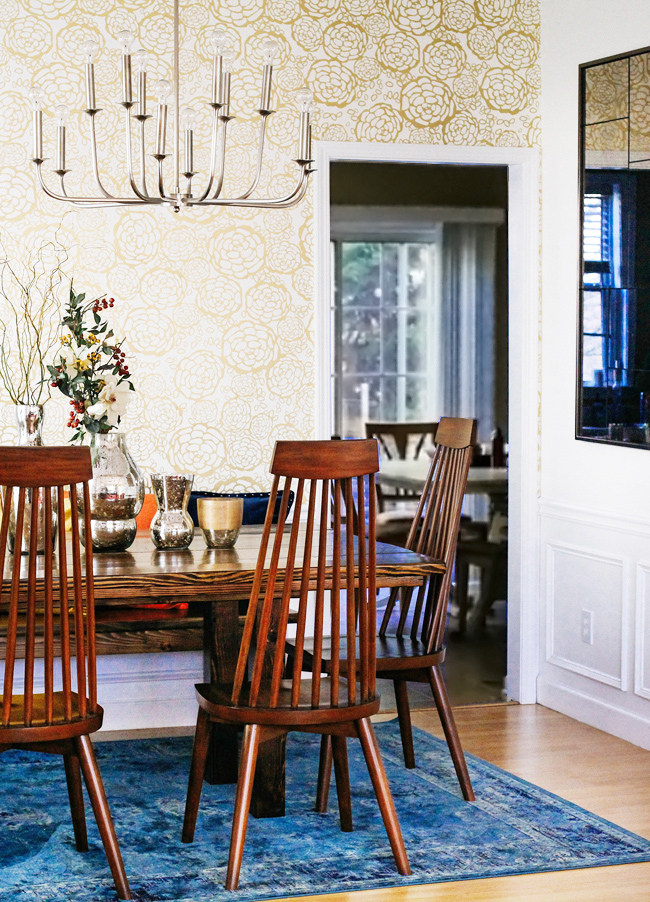 I look forward to many brunches, birthdays, and long lingering dinners around this table, and hope my little ones can have some of those memories to keep.
Head on over to Style Me Pretty Living for the full gallery of images, why we chose to makeover the dining room first, and how Kristin came up with the color palate and layering the design elements!
All the details:
Rug // Table – Handmade // Chairs // Bench – Handmade // Pillows // statement chandelier // Wallpaper // Mirrors // Bar Cart // Decanters // Mercury Vases