Both my sister and dear friend are getting married in May! The weddings are 6 days apart, and they will be the highlight of my year since they are two of my favorite people.
Two weddings at 7 mo. pregnant. You can imagine this induces a little bit of angst and anxiety over the what to wear part. I actually love wearing dresses when I am pregnant, but it's the battle of FINDING the dress and committing to it…
Here are the problems I tend to run into:
1) Dresses are so short that if you bend over you have revealed your underpants to France.
2) There is more tugging, pulling, and adjusting than its worth wearing. Easy and comfortable is what I am after!
3) Finding bold color without becoming a bold painting. (I love color, but finding prints that flatter can be tricky.)
Here are a few dresses I have found that I am contemplating for my friends Wedding and my sister's rehearsal dinner. The yellow print is my favorite, but would involve a long slip and a cami.
Your vote? Honest opinions? Picture them with a baby bump and several more pounds than these models;) Thanks in advance!
Anna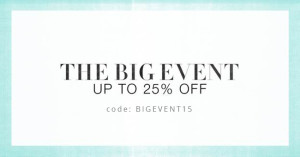 P.S. Shopbop (a sponsor of IHOD), is having their semi annual sale if you want to take adavantage! Use code: BIGEVENT15 for up to 25% off your order!