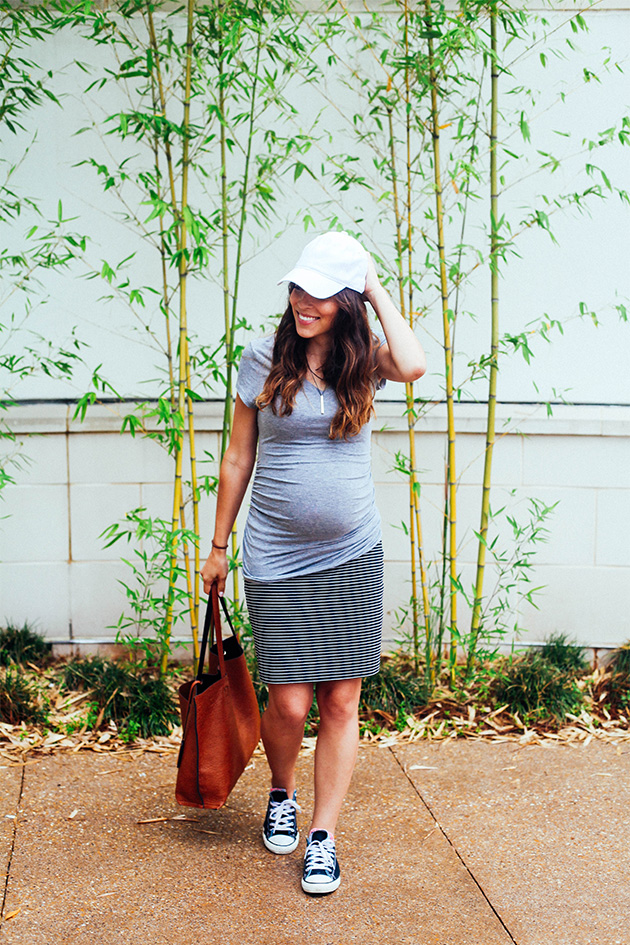 As part of this week's pregnancy style challenge with The Bump and Liz Lange for Target, I had to get creative with basic pieces. Basics allow you to mix things up multiple ways and work with what you already own. Here are a few pieces I have on frequent rotation….
Striped Skirt – This is a skirt from my conscious closet pieces that I have worn to death before and during pregnancy. It has an elastic waist and is a thick stretch material. Black and white is so versatile that it can pair with varying colors, layers, and patterns. It is from Loft, but here is a similar maternity version.
Liz Lange Grey Tee – Extra long, fitted, and stretchy. The necessary checklist for a comfortable tee during all three trimesters.
Sneakers – I am having a hard time wanting to wear anything else! The great thing about converse sneakers is that they manage to pull of a sporty casual look that doesn't allude to gym time or lazy dressing (although maybe sometimes that is totally what it is for me :D).
Ball cap – To hide the bad hair day of course.
Reversible Tote – To throw everything under the sun in, and still have room to hide a bag of popcorn for your movie date…
I wear this look just about every week lately for errands, travel, or a night out with Gabe.
What have been your favorite comfortable casual pieces?
I'll see you all tomorrow with look 3!
x, Anna