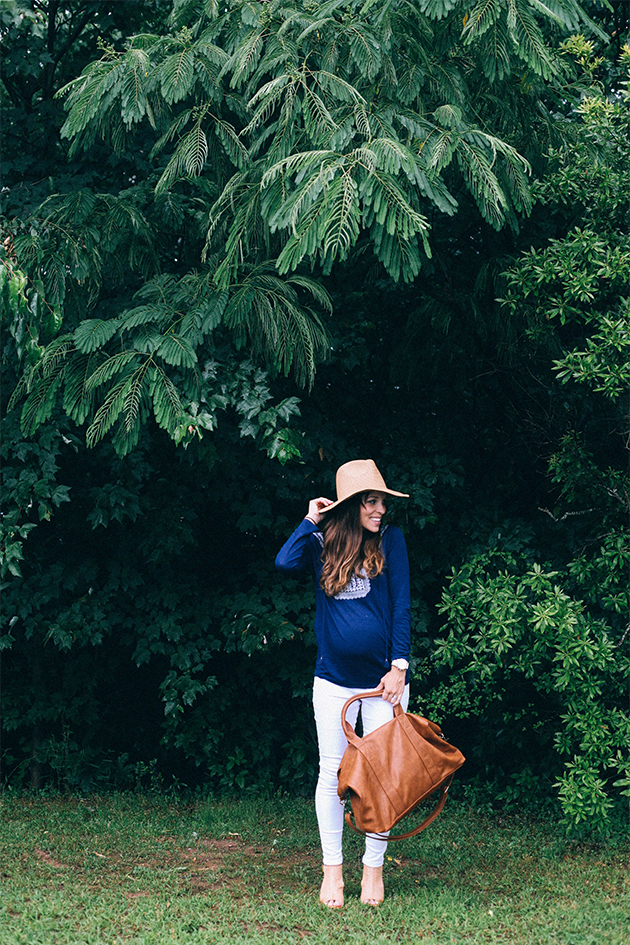 We are hitting the road again this weekend with our little crew. Packing in the summer is much easier than all the socks, coats, and layers in the winter. If it is one thing I have learned traveling while pregnant is that comfortable waistlines are a must for long hours on a plane or in the car.
This is an easy and comfortable option that you can keep on for the day and works for both travel and activities after. I will work on getting some updated packing tips soon. For now, here is today's pregnancy style challenge with The Bump and Liz Lange for Target:
Embroidered Tee – Super soft embroidered tee with a little boho edge. Have worn this more times than I can count!
Straw wide brim fedora – I love a good wide brim fedora, and it's a nice way to keep the UV rays off your face!
Liz Lange white denim skinnies – I can't quite quite white. Against my better judgement! But these stretch denim jeans were not see-through, circulation cutting, or marshmallow inducing;) I usually fold the belly panel over around the waist and wear a longer length tee over. I have to say this version is looking even more appealing.
Perforated booties – Full support of booties, but look and feel like sandals. Win.
Weekender – Just the right size for a weekend away….if you can narrow down your shoes choice and pack smart that is. This one pictured is old, but here is a similar option.
I'll be back tomorrow with a new look, but in case you missed, here is look one and look two for this week's pregnancy style challenge!
You can check out the other bloggers looks on The Bump's instagram stream, and at the end of the week you will be able to vote for your fave!