One // Two // Three // Four // Five // Six
I can't even begin to tell you how long it took me to decide on sofa colors for our living room. In fact, we went two years with just a sofa and a toy chest in the living room. How's that for indecisiveness? I worked with Home Decorators and All Modern for this space, so it helped me pull the trigger under pressure. ha! When deciding on style and tones for a room, I thought it would be helpful to share a few things to consider when choosing the right sofa for your space.
Shape – If you are aiming for a modern look, there are many versions of a boxier frame or midcentury style. You can add a little whimsy with a curved back, or stick with a standard traditional look. If there are two sofas in a room, it helps to have either the length or height similar so they create more visual balance for the room. Since sofas tend to be focal points, having them visually aligned will create more consistency throughout the room. You can always work your art around the sofa shape, and you can certainly mix and match styles.
Texture – Leather, Velvet, Tweed…there are so many fabrics and finishes to consider, and you don't have to stick with just one type. Mix leather and velvet….why not? If you are using the same color sofas this is a way to keep things uniform with a little more texture variety. However, functionality has to come into play with little ones so for me, velvet was out of the question. Faux leather is easiest to clean and pretty sturdy, so #5 has been a dream. The #3 Bobby Berk sofa is dark so it is also easier to clean than most.
Detail – Tufted sofas or bulleted trim are just a few ways to add detail to a space. Pairing two tufted sofas was a little busy so I went with a clean cut for the second option. If you have gold finishes around the room, you can choose a sofa that also has a little gold metal detail. Or maybe the feet of your sofa are a dark wood. Use the same tones for your end tables or coffee table. Consider the details when planning out the style of your space.
Tones – Consider all the colors in your palate. For instance, when determining the hues of the sofas, I knew I wanted blue tones. However, there were other surrounding colors to consider such as the dining room rug, wallpaper, and living room rug. I pulled the deep navy out of the living room rug and the teal out of the dining room rug. I went a shade darker so it would be more of a complimentary tone than an overwhelming one. If it helps, make a board of all the colors in the room so you can bring it with you when looking at sofas or a digital board if shopping online. This will help tremendously!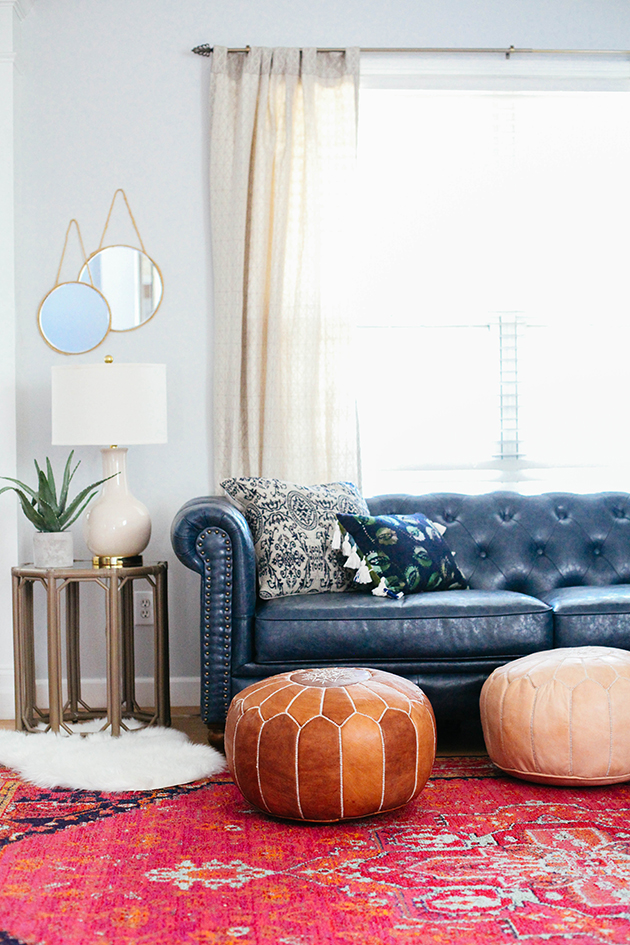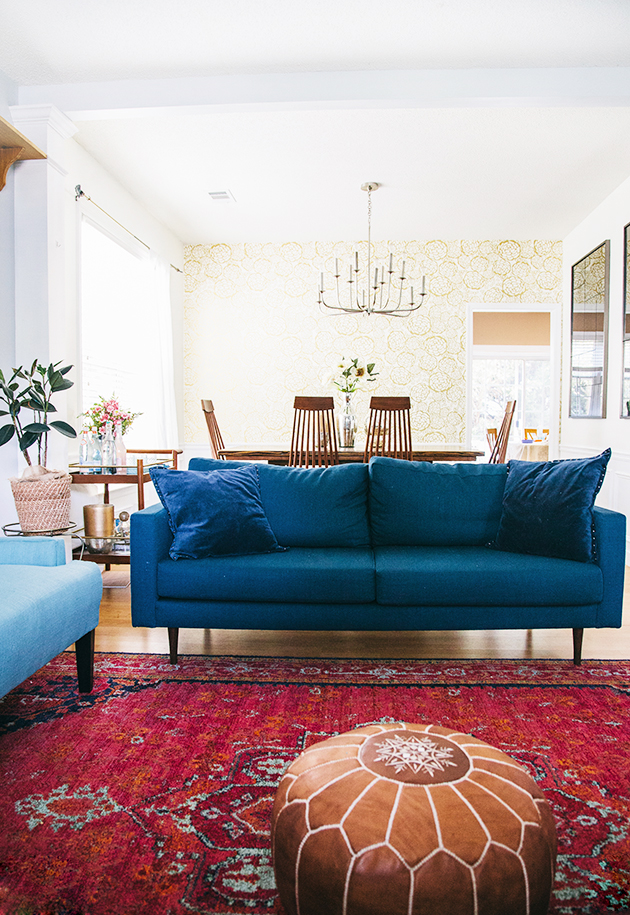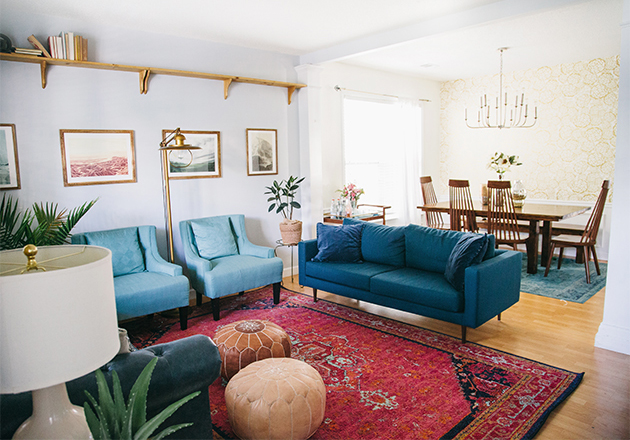 What do you look for in a sofa? I still dream about an emerald velvet one, but for now, that will have to stay put in dreamland. I love a good bold color though…