I never have a hankering for sweets more than October through December. Hold me back! Today's dessert recipe is from the talented Lauren of Love Lola Blog.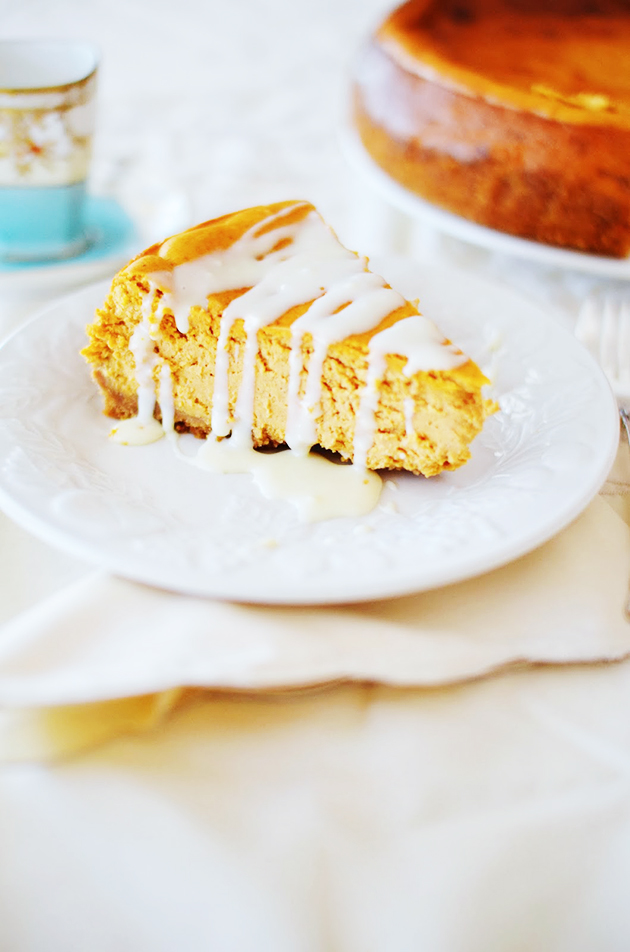 One of my favorite fall activities involves getting in the kitchen and baking. There's nothing like playing some soothing music, lighting a fall candle, and filling the house with the smell of pumpkin baked goods. I'm feeling happy just thinking about it! 😉
As much I love pumpkin muffins and pumpkin bread, I thought it would be fun to experiment with some other ways to incorporate that blessed pumpkin flavor. Cheesecake is surprisingly simple to make, yet feels very decadent and extravagant. If you're planning your menu for Thanksgiving, this is a must-make dessert! Read on for the full recipe!
White Chocolate Pumpkin Cheesecake
Ingredients:
4 8-oz. packages light cream cheese, softened
1 15-oz. can pumpkin
4 eggs
1/2 cup granulated sugar
1/2 cup brown sugar
1/4 cup bourbon
1 tbsp. vanilla extract
1/2 cup white chocolate chips, melted
1 tsp. cinnamon
1/2 tsp. ginger
1/2 tsp. nutmeg
pinch of cloves
pinch of cardamom
1/4 tsp. salt
2 tbsp. flour
Graham Cracker Crust:
2 cups graham cracker crumbs
1 1/2 sticks butter, melted
1/2 cup granulated sugar
Directions:
1. Preheat oven to 350 F and prepare spring form pan by spraying with cooking spray.
2. Start by preparing the crust. In a small bowl, mix the graham cracker, melted butter, and sugar.
3. Once combined, transfer to the springform pan and form into a crust by smoothing it out on the bottom with your hands. Press the crust about one inch up the side of the pan. bake in the oven for 12 minutes, until golden brown. Remove from heat and let cool.
4. While the crust is cooling, beat together the cream cheese and sugar with a hand mixer. 5. Once creamy, add the pumpkin and continue to beat until smooth.
6. Next, add the eggs one at a time, mixing well with each egg. Add the bourbon, vanilla extract, and melted white chocolate. Fully mix.
7. Finish by mixing in all the spices, salt, and flour.
8. Pour the batter slowly on top of the prepared crust and bake in the oven at 350 F for 1 hour and 20 minutes.
9. When you take it out of the oven, it should still be a little jiggly in the middle. let cool for one hour and then transfer to the refrigerator to chill overnight, or for about 8 hours.
10. To add the white chocolate glaze, melt 1 cup of white chocolate chips with 2 tbsp. of cream by microwaving in 20 second increments, and mixing between each.
11. Once melted, pour over the whole cheesecake, or each individual piece as pictured.
Happy Fall!
Keep up with Lauren here: Blog | Instagram | Pinterest | Facebook