Today's post is written by my sister Maria.
Over Christmas I spent a lot of time in the Kitchen. My family's best moments are all around the dinner table over a good meal, and I find that the time and effort I put into the food we prepare is well worth the happy moments they contribute to. This is the pie we had for Christmas dinner, and can be made throughout the the season as a winter warmer:)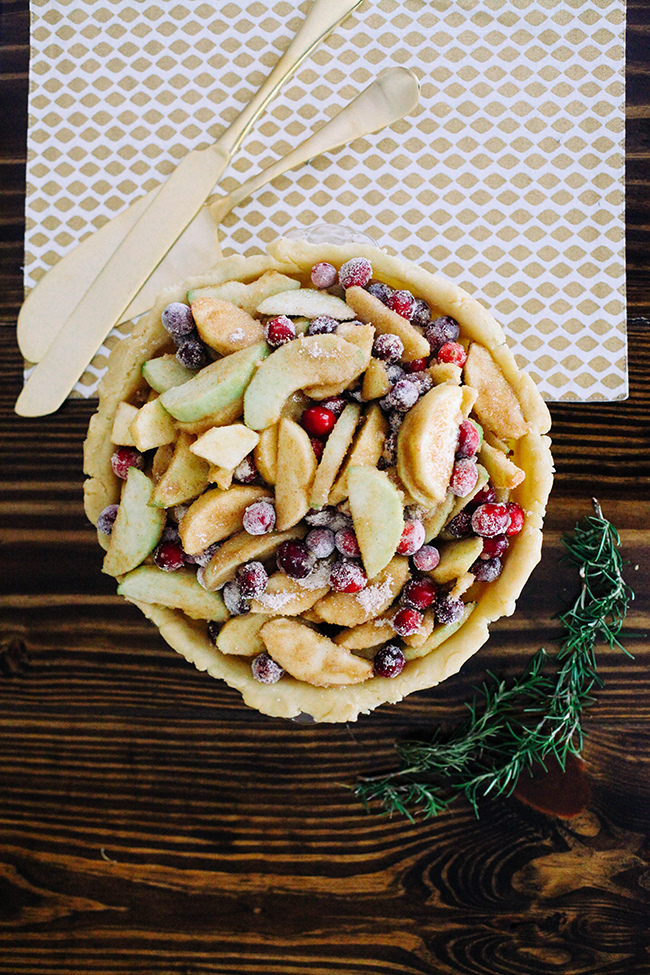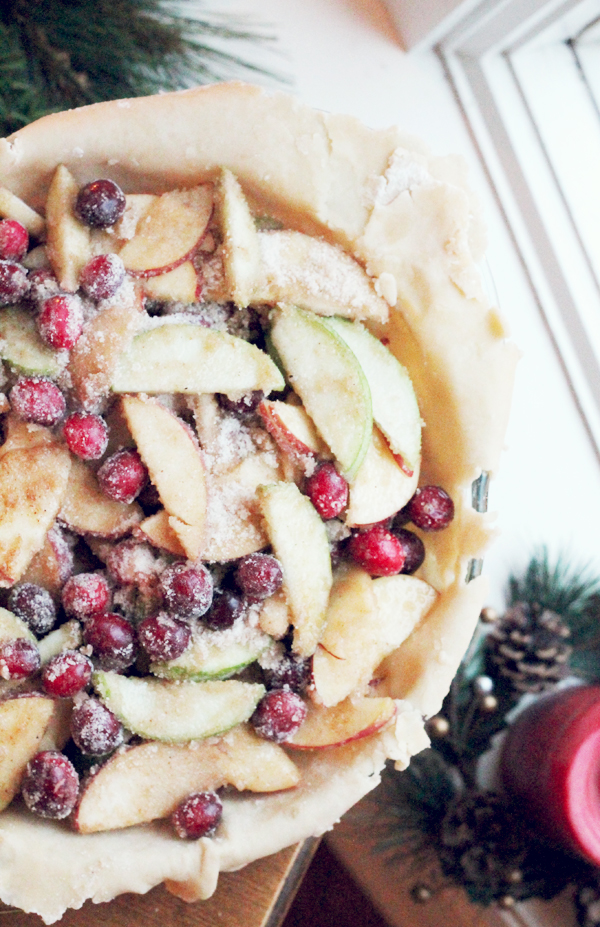 Winter Berry Pie
9 inch two crust pie OR 1 box of ready made pie crust
Filling:
4 cups of thinly sliced and peeled cooking apples
2 cups fresh or frozen cranberries.
1 cup sugar
1/2 cup brown sugar
1/4 cup flour
1/2 tsp. cinnamon
1/4 tsp. nutmeg
2 Tbs. cold butter
Top Crust:
1 egg
1/2 Cup cream or milk
Sugar
Heat oven to 425. Line pie dish with pastry. I usually take a fork and poke a few holes in the bottom of the crust. I don't know why – I just learned that way…
For the Filling:
In a large bowl, whisk sugars, flour and spices together. Add apples and cranberries and stir together to coat them well. Pour into pie crust. You can arrange fruit so it forms a higher mound at top. Cut 2 Tbs. of butter into small squares and dot over fruit filling.
Place top crust over pie (see perfect pie crust in 10 steps if using homemade crust).
For a pretty top crust, beat an egg with the milk and brush over the top of the pie crust. Sprinkle top with sugar. Make sure to cover edges of crust with foil or pie crust protector so the edges don't over brown. You can remove the last 15 minutes of baking.
Bake in oven for 50-55 minutes or until juices are bubbling out top. (always a good sign).
Baking a fresh homemade pie is a lost art, takes time ,and isn't something you do on a regular basis, but it will make any dinner or gathering extra special and memorable when you do! ~Maria