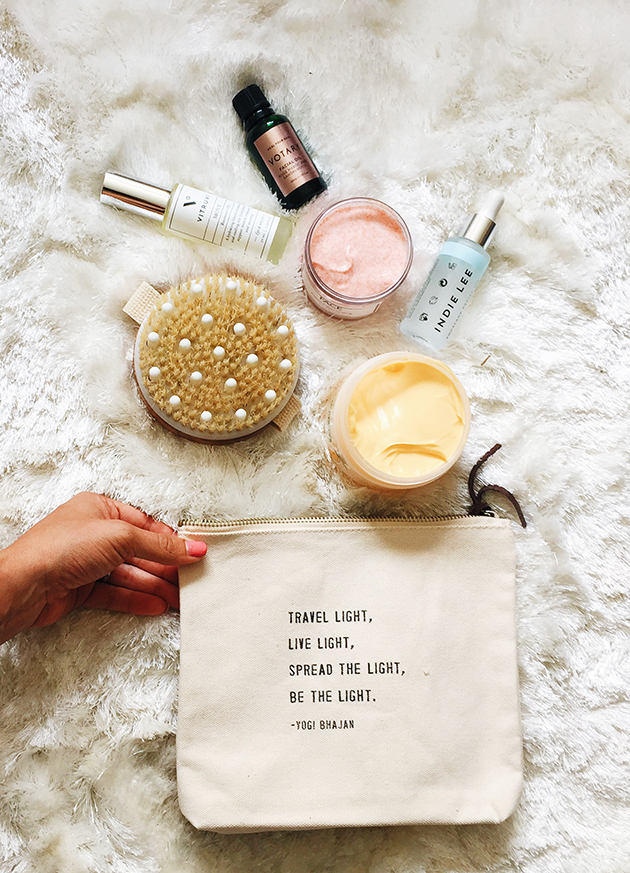 Our family is headed to the beach next weekend to celebrate Gabriel's birthday + Mother's Day. My little ones have never been! I am counting down the minutes to see their faces as they see the endless miles of open sky and water.
I am super stingy about sticking to one suitcase per person these days (well, you kind of have to be conservative with space when you are traveling with four kiddos!). I have got my every day skin and hair care favorites down to a science but when it comes to warm and salty air, I swap out the regulars. These are a few products that are currently wooing me:
Vitruvi Recovery Oil – Okay this is more for muscle care than hair or skin, but had to include it in the round up, because it has provided lots of sore muscle relief in the last few weeks as I attempt to take a hiatus from the world of avoiding exercise. Packing it for post bike rides hauling two little ones behind me.

Votary Facial Oil – I think I will cry when this runs out. It has left me a baby butt in exchange for a face. I consider it more intensive repair for dry skin (which is basically me all the time now), so this is all I will be using at the end of a day in the sun.
Indie Lee Facial Oil – A more affordable daily facial oil that offers intense moisturizer, and you only need a few drops. I have a few facial oil regulars, and this is one of them. They just provide better results for me versus lotions, and especially in the summer when my skin is outdoors most of the time.
Klorane Mask with Mango Butter – As soon as I step a toe within a mile of the coast my hair assumes a different identity, and attempts to frizz its way up to heaven. Cue the leave in conditioner. You can leave this in for three minutes or for a few hours for a deep conditioning treatment. Once you rinse out, not only will you smell like a mango tree (which I am all about), your hair feels like it's in a protective cocoon of soft and smooth goodness. I will probably use this up by the end of the weekend.
Mio Body Brush – Almost as good as those pedicure massage chairs. Almost. I have poor circulation so this is what I use not only for tension release in the shower, but as a good skin buffer. The little rubber massage nodules do the trick.
FACE Stockholm Jojoba Facial Scrub – Smells divine and buffs your skin new without leaving you red as a new chevy. I am packing this one to prevent the usual dry skin peel that results from the beach!
Travel Light Canvas Bag – I love a good quote. Especially stamped on a quality makeup tote. Found this one at Sugarboo and Co.
I'd love to hear your skin and hair care faves for beach weather.
P.S. Two easy beach braid tutorials.

*Disclosure: Not a sponsored post. Some of these items were a Mother's Day gift from Anthropologie, but only sharing which ones I'm really impressed with;)