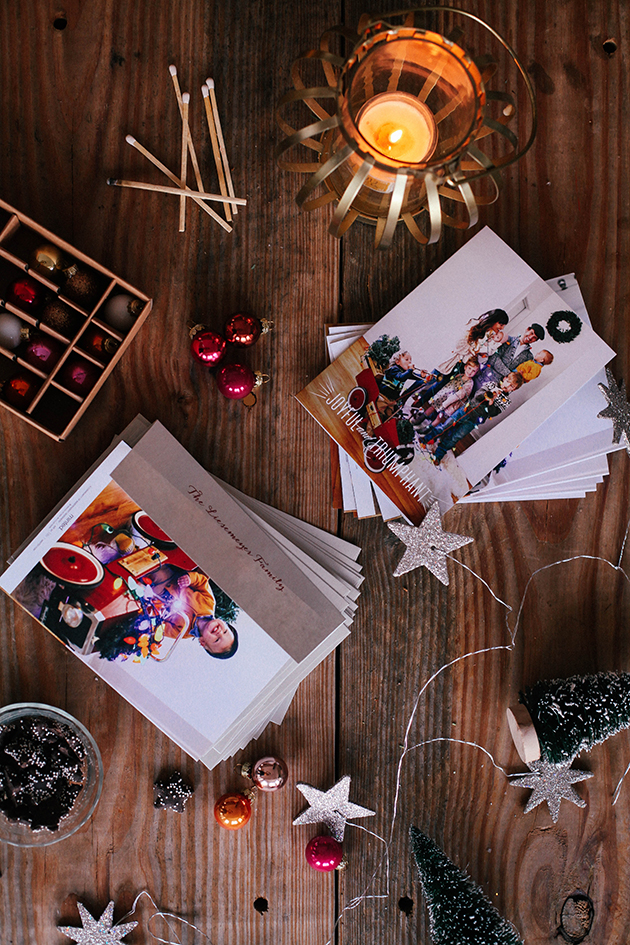 If Minted hadn't offered to give you readers some gift cards, I don't think I would have kicked myself in the pants to get these Christmas cards done! Now it will probably take me an entire month to write one hundred addresses and notes, but maybe with the help of a few old christmas movies and a few boxes of Trader Joe's dark chocolate stars…
I'll share our Christmas pics soon! Since we hadn't yet done a birth announcement for Azelie (you know it's your 5th baby when…), we did the folded card design with recycled paper and put her pic on the inside. Couldn't resist sticking chub face on the back of the card either. It might be my favorite pic of Rocco to date.
There were so many designs to choose from. I had a tough time narrowing it down. Almost went with this one, and I loved their gold foil options. Also, if you all are more organized than I am and have your addresses on the computer, you can now have them added to your envelopes when you order your cards. Glory halleloo! I at least got to take advantage of adding return addresses.
As our second gratitude giveaway for you readers, we are giving away TWO $125 gift cards to minted!
1. ENTER THE GIVEAWAY HERE
+
2. Leave a comment with your favorite holiday tradition.
Winners will be notified via email on Dec. 6th.
Best of luck! Thank you for visiting IHOD each day!
(Announced the winner of the weekender bag in this post.)
P.S. If you are local to the Atlanta area, Chelsey Heidorn is your girl for Christmas photos!