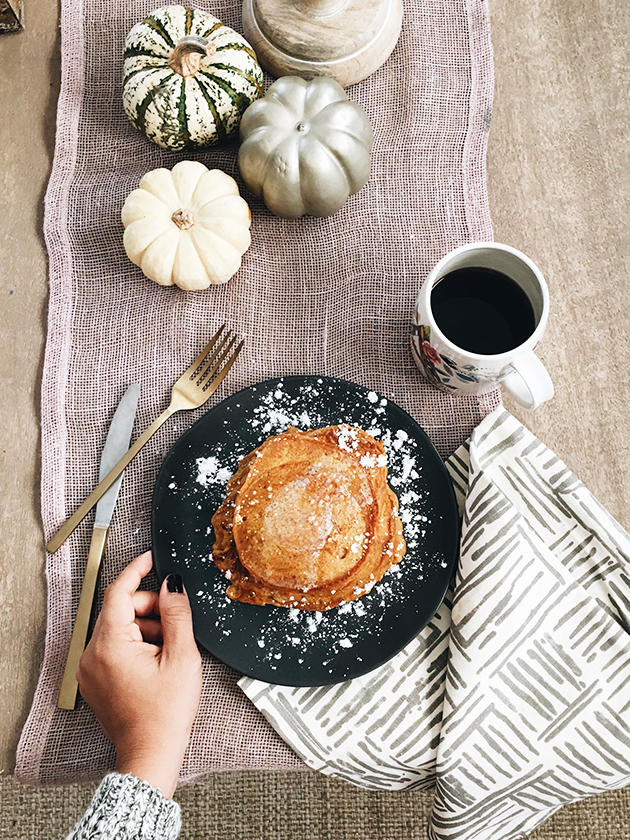 Gabe likes to experiment in the kitchen as a form of stress relief, and I happily oblige in being the taste tester. These Pumpkin Pie Pancakes were a result of a long week, and subsequently I couldn't keep this goodness to myself. It was a big hit at our house.

Pumpkin Pie Pancake Recipe
3 cups Krusteaz Light and Fluffy Honey Wheat Pancake Mix
¼ teaspoon of vanilla extract
½ to 3/4 teaspoon of nutmeg (depending on taste)
1 teaspoon of pumpkin pie spice (I prefer Trader Joe's blending)
1 ¾ cups of water
½ cup of honey
¾ can of canned pumpkin (I prefer Libby's)
Gently mix the first five ingredients until contents are moist, but not fully mixed. Add in the pumpkin and honey and gently mix (or fold) until fully blended together.
For an extra delectable version top with whipped cream and crumbled Biscoff cookies.
Pairs great with a steaming hot cup of coffee.
Giving November it's fair nod, and enjoying pumpkin pie everything before the nog comes out. Enjoy!
Featured Items: