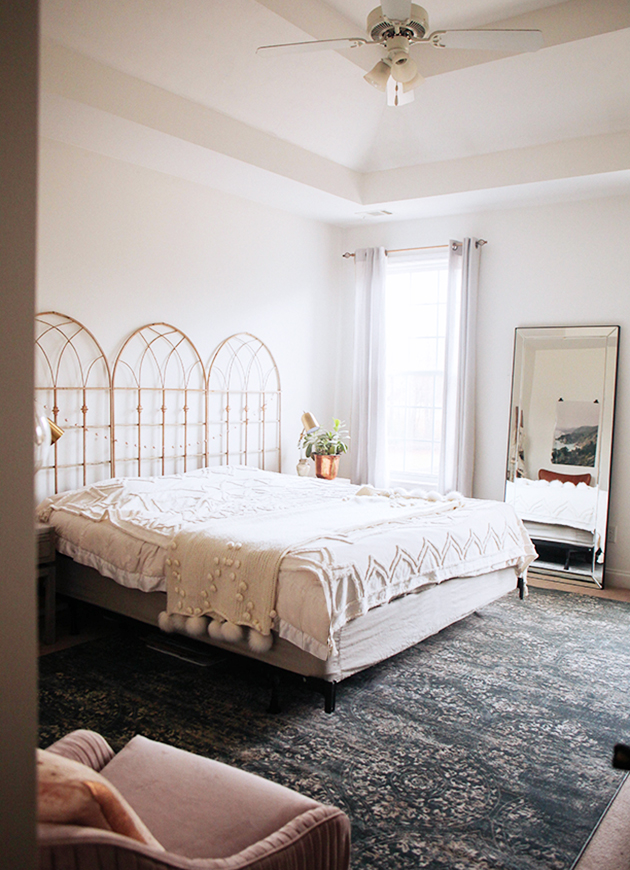 The master bedroom…..a place we spend little time, but the time we do spend there is valued. It is the place we unwind from the day, and re-charge for the next. In recent months it has been filled with boxes from our move back in May due to our downsize in closet space. It was actually a welcome change considering it forced us to get rid of anything we didn't use or need. Our bedroom wasn't a priority when we first moved in, but we soon realized the disheveled clutter that was consuming it was not contributing to a peaceful day's end. It was doing quite the opposite. Every time we walked into our room our anxiety levels rose from the clutter. So we decided to bite the bullet and make it a focus.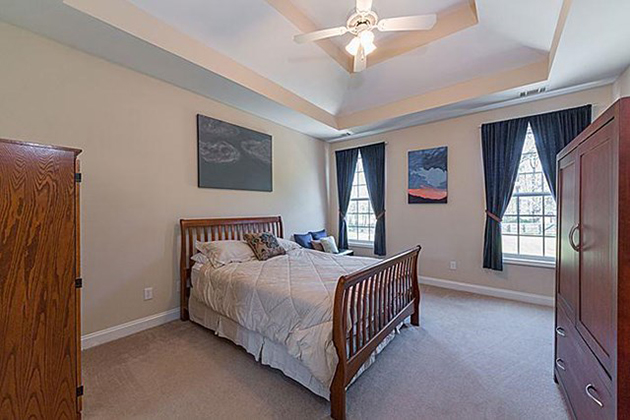 (Before pic. The room before we bought our home.)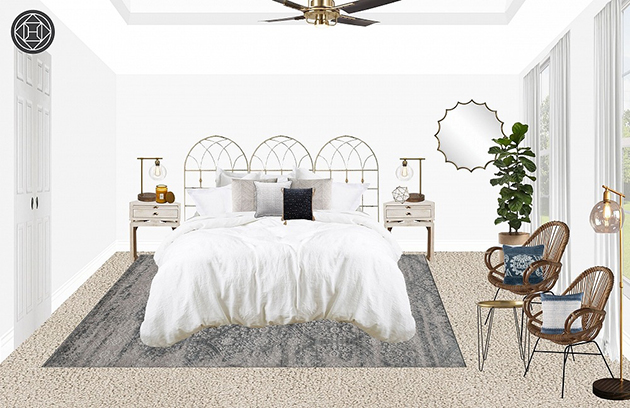 (the original design board Havenly assembled)
Design process
In the fall we started working with Havenly to design our master bedroom from scratch. I found a designer that matched my style well, and Kyler did not disappoint! She was so good at finding items from varying sources that both Gabe and I loved, and layered the room in a clean and appealing way. She created some layout options on visual boards that allowed me to get a grasp at what things would look like. From there we narrowed down pieces and style direction.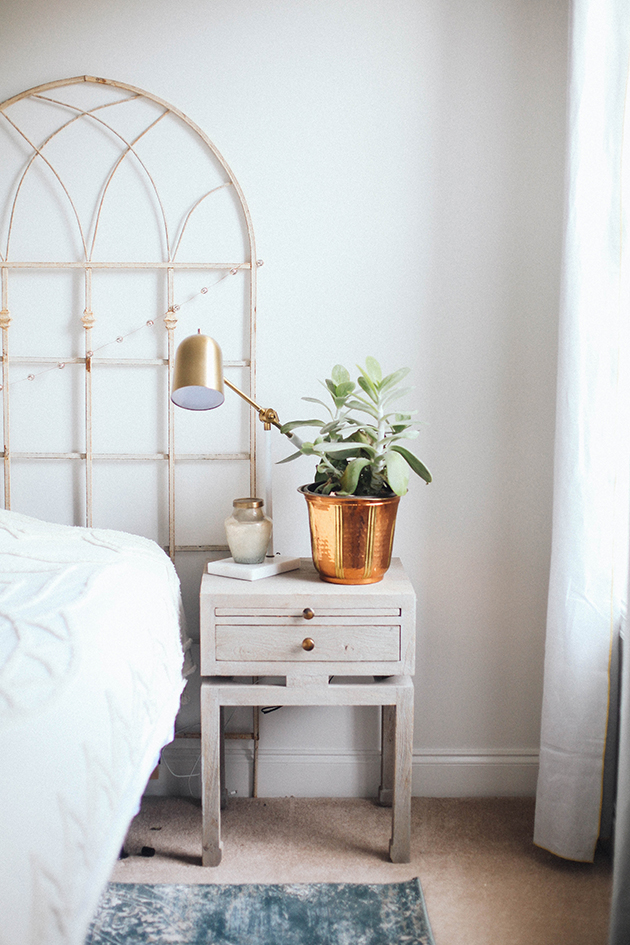 Style direction
I knew I wanted to continue a more European feel to the room, and use a few mid-century modern pieces as well to compliment Gabe's more traditional preference. I searched high and low for large arched pieces to use as a headboard, and was willing to sacrifice my left arm to find them (maybe kidding). I was about to give up when I spotted this set at a local flea market. Pure luck. They are easily my favorite part of the room. More on how we made them into a headboard below!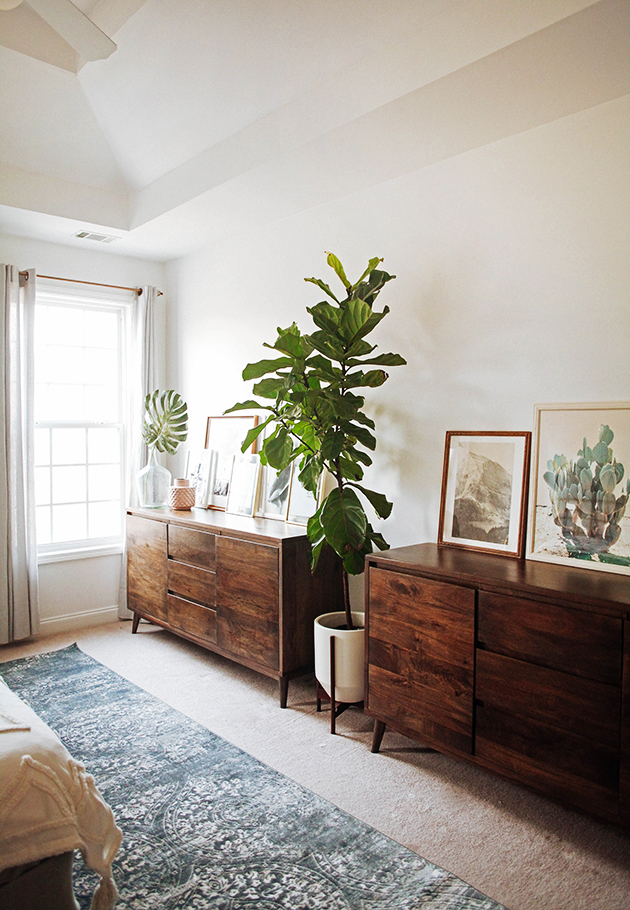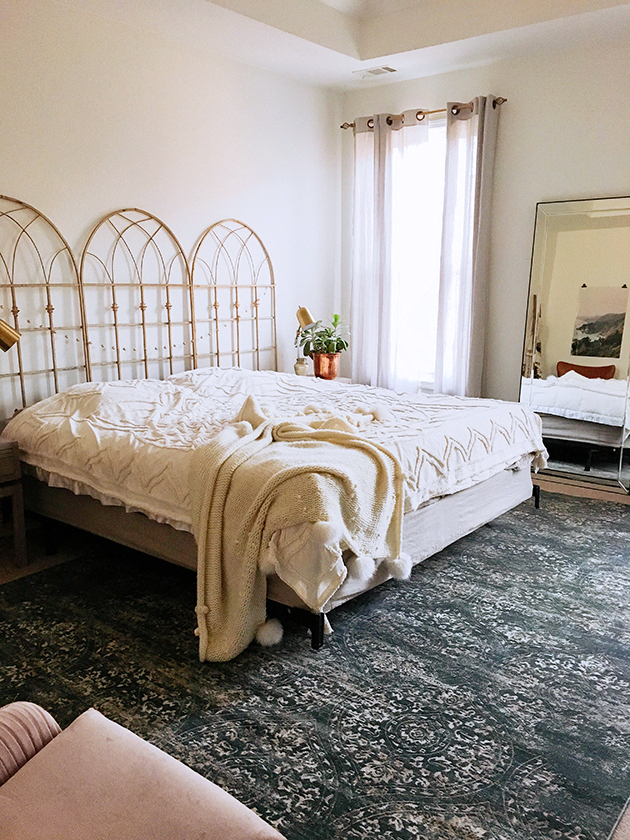 Paint color + Rug
We painted the walls Pure White by Sherwin Williams (Benjamin Moore Chantilly Lace is another good alternative) white to maximize the light in the room since I was not quite ready to commit to color, which set the blank canvas for the design. I love to choose the rug and wall color first as the start of the room to establish the look and feel. Kyler and I went for this Juliet Rug by Momeni that had a beautiful blue green hue with distressed details in the design. Rugs are a fun way to work in color when you know your furniture pieces will be neutral tones. It also broadens the visual perception of the space and makes the room feel instantly cozier. We would love to add hardwoods at some point this year to the rooms, so for now, a rug adds the warmth we were looking for.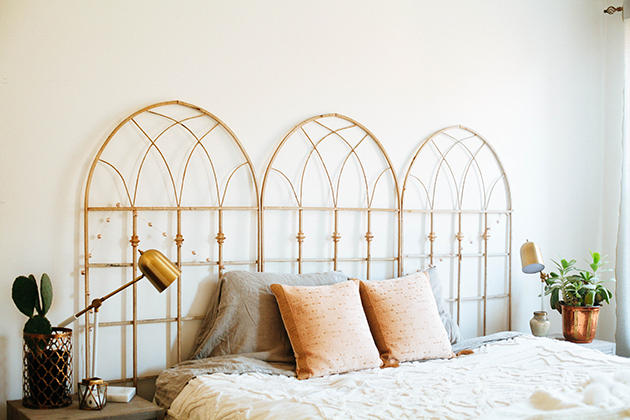 DIY Headboard
There are several types of arched pieces such as doors, windows, or garden trellis that you can find on etsy, local flea markets, or craigslist. Mine had some rust beginning to show so I covered it in a rustoleum protective coating. Gabe secured the pieces to the wooden slat of our bed frame so they are pretty sturdy! Alternative headboards are a great way to break out of trends and confined color schemes too! This ended up being a $100 headboard so it is a really affordable alternative to upholstered ones.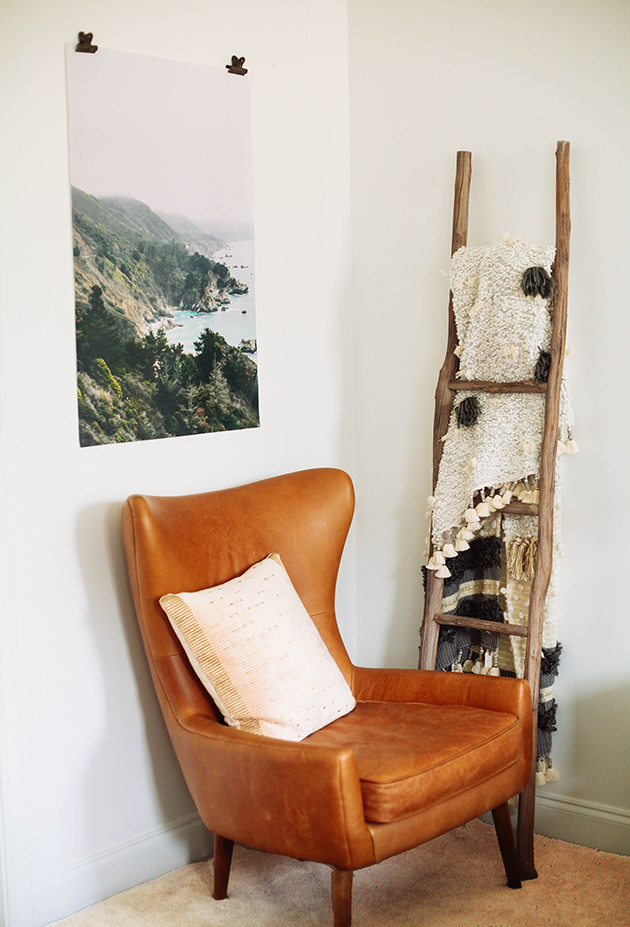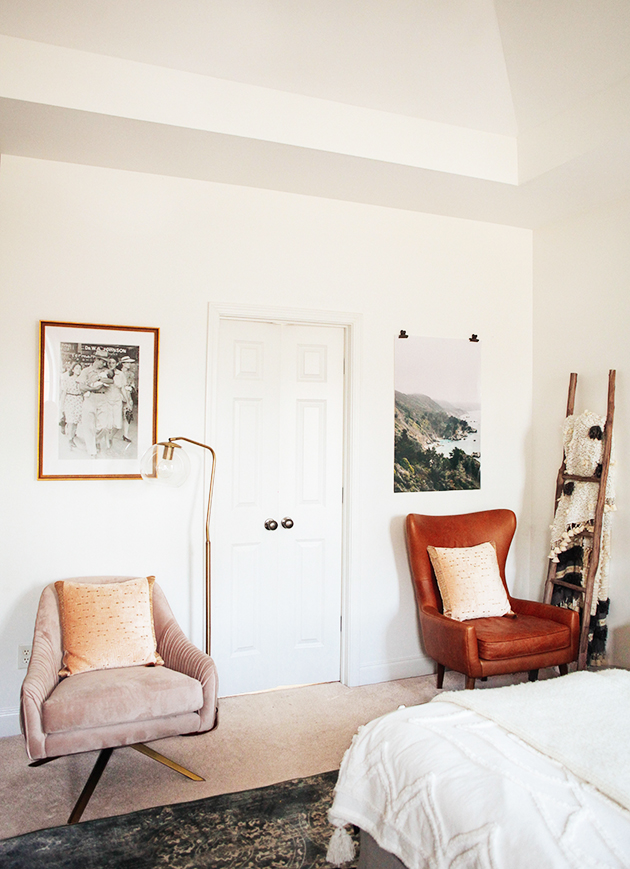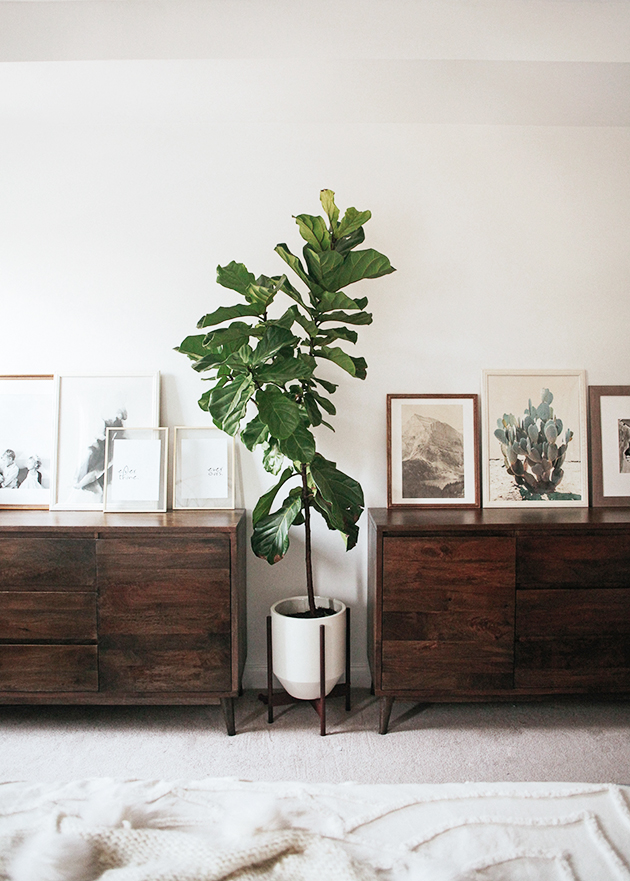 Furniture
Since our closet size is very small, we decided to go for two midcentury console tables from Home Decorators Collection to use as dressers. I loved the spacious functionality aspect as well as the deep walnut tones. I am currently storing Azelie's items as well as mine in one dresser! They also gave way for table top space for art pieces and decor.
We knew we wanted some comfortable chairs for reading or working so Kyler helped us find two winners. I don't think you have to guess whose chair is whose. I can't quite quit my pink addiction (an entire post dedicated to pink chairs ring a bell?), so we decided on this velvet beauty from West Elm. Gabe is an old soul/big kid in a 6'3" frame, if you can imagine that type of combination, and I would say this leather wingback sums up his personality in the form of a chair.
The side tables are a beautiful dusty grey wood with brass finishes. I love how the color can work as a neutral when you are working with stronger colors elsewhere. We found these on sale at Anthropologie.
For visual dimension there are a few pieces that added the height we needed to the room. For instance,the floor length mirror from Pottery Barn added extra natural light and height between the curtains. And you all know I can't resist greenery in a room, so we moved our fast growing fiddle leaf fig in between the dressers and into this modern ceramic planter by modernica.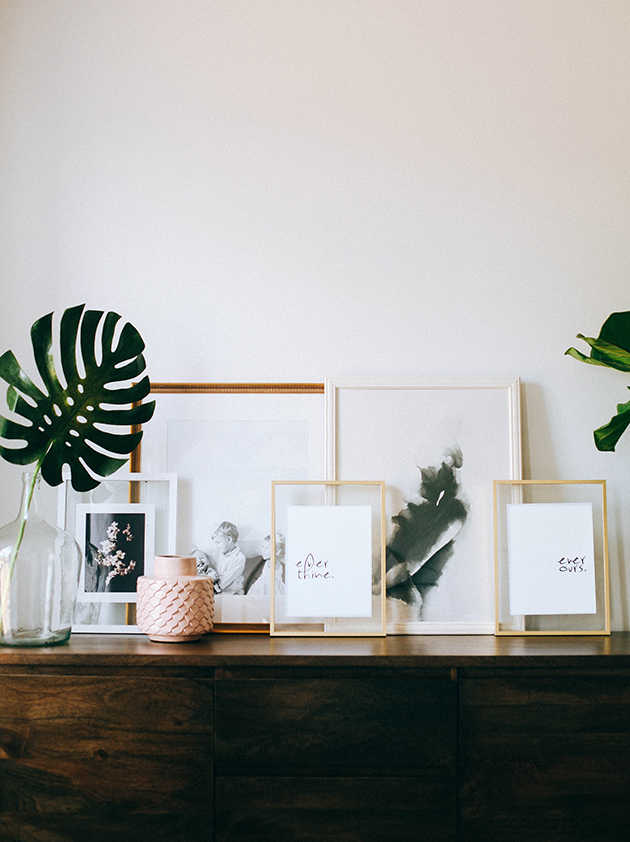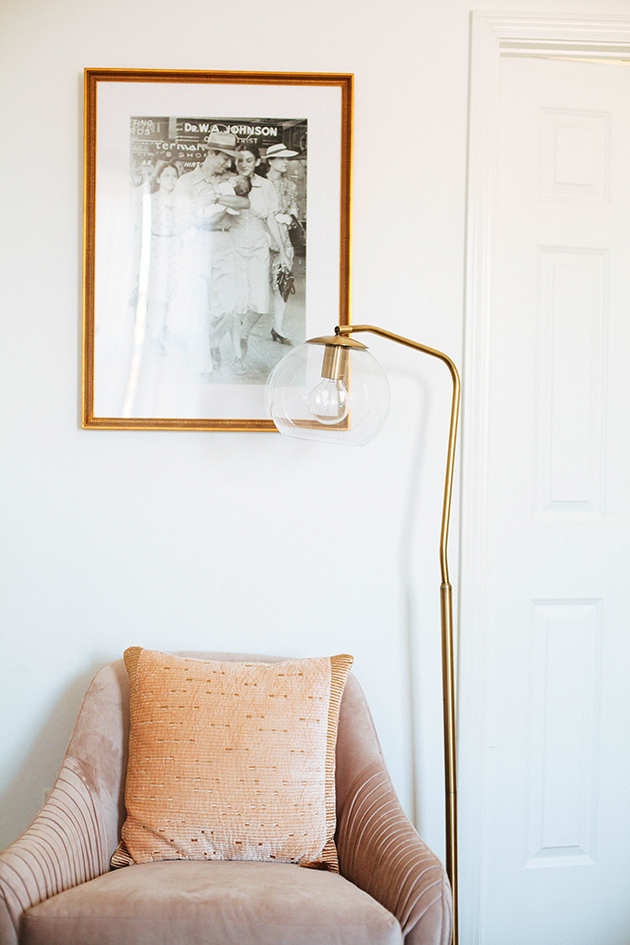 Artwork
Something I have probably already changed out ten times since typing this. I can't commit to artwork, so I love the lean with it rock with it option. It's a great option for non-committal folks like me. Currently, we have a mix of personal family photos, photography, and word art. Minted has a fantastic selection, and I may have forced this cactus print on Gabe. I think he likes it;)
Artwork and decor from left to right: Glass jug from Home Decorators Collection + monstera leaf, blush pink vase, Ashley Woodson Bailey floral print c/o Establishment home + float frame, gold frame, Mother embrace print + white wood frame from Minted, Ever thine + Ever ours (made) + float frames from Amazon, glacier print + frame from Minted, blue cactus print from Minted + white wood frame c/o, gold frame, big sur print by Moe Blake, Pottery Barn floor length mirror.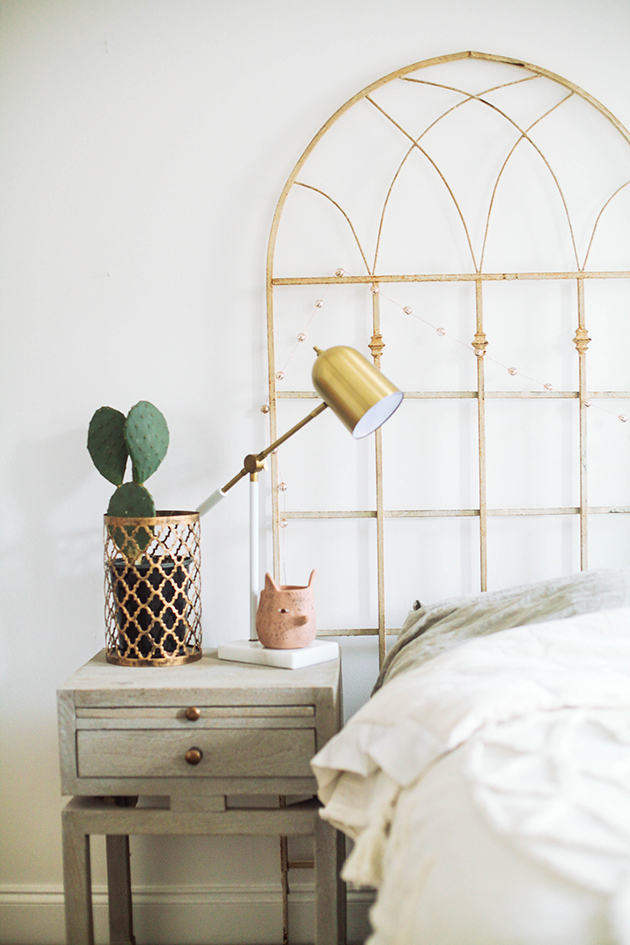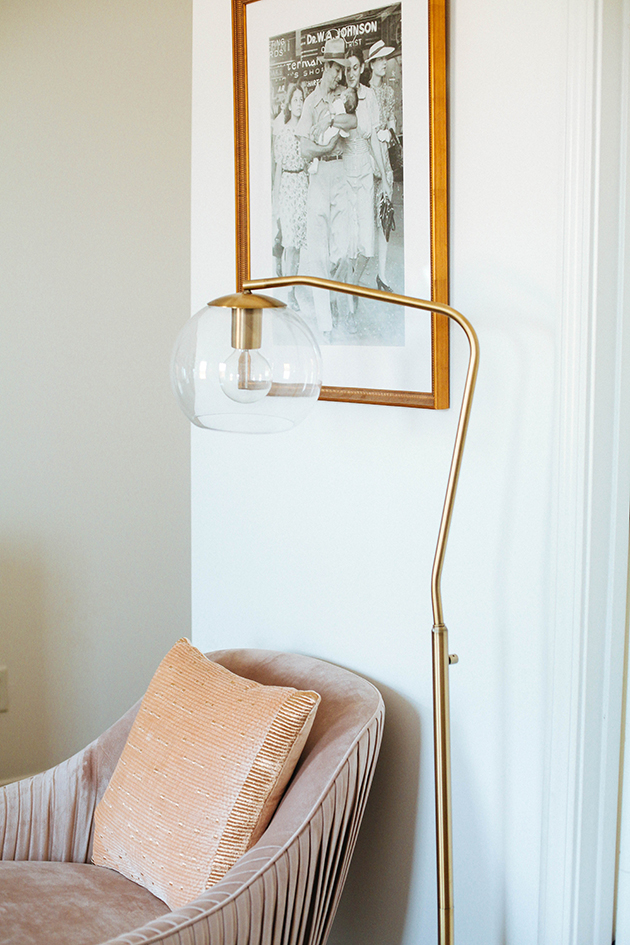 Lighting
I'm not afraid to mix metal tones so used a little gold, copper, and brass throughout the room. For the desk lamps, we found these gold and marble led lamps at Target, as well as this floor lamp. They both have dim-able effect options. Lighting can be a pretty underestimated option for adding contrast and visual appeal to a space, and it's actually one of my favorite things to look for. I am a geek I know. Let's move on….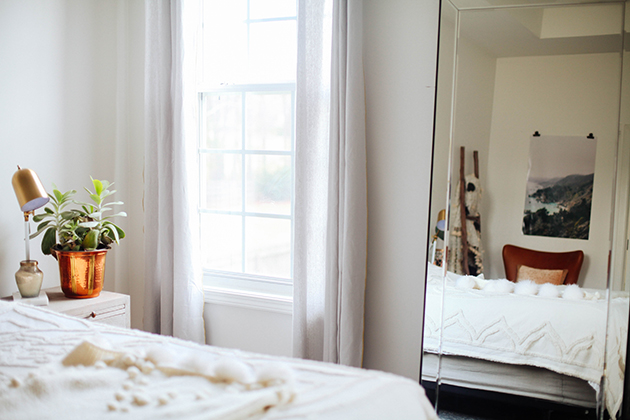 Textiles
This is the fun part. I could talk textiles all day, but I'll keep it simple. We found the textured coverlet at Urban outfitters which was an inexpensive way to change up the bedding. Our comforter had some wear and tear and throwing a coverlet over it is a good way to renew the life span. We added a plush throw from Anthro and used a wooden ladder for the dual purpose of decor/organization. The light grey linen curtains have brass rings that make it very easy to slide back and forth as needed over the brass curtain rods from Home Decorators Collection. We keep curtains open as much as possible to let the light pour in. Pillows in our house get thrown around and abused too often, so kept it minimal with these super comfortable and soft peach velvet pillows for a little more color. Oh my gosh I never thought the words peach and velvet could co-exist in an attractive manor.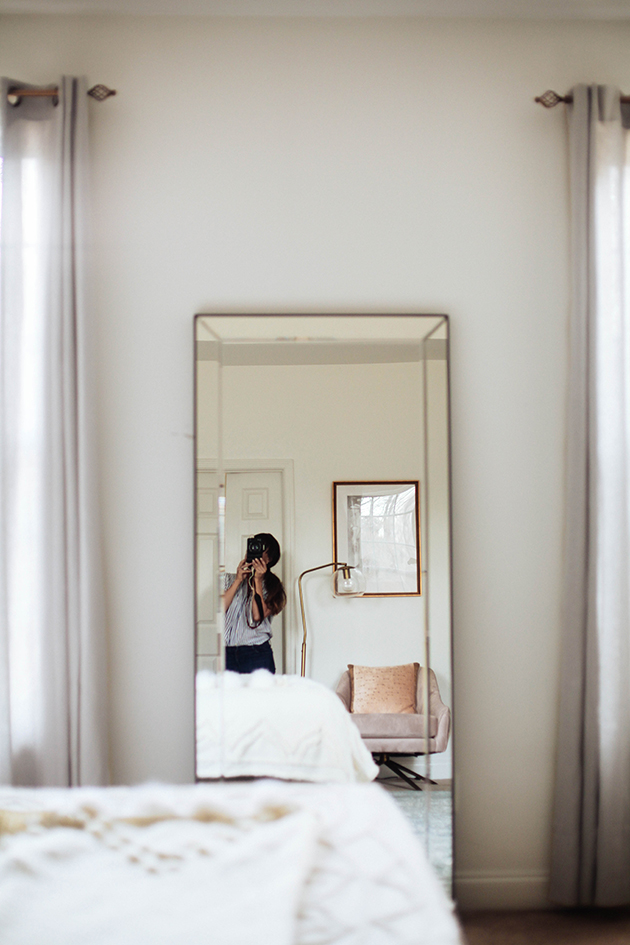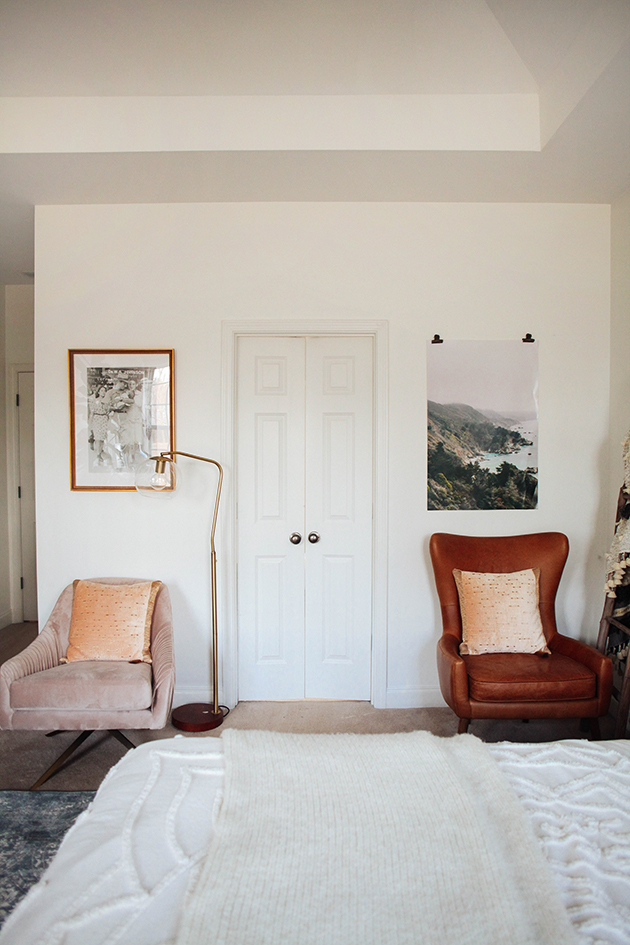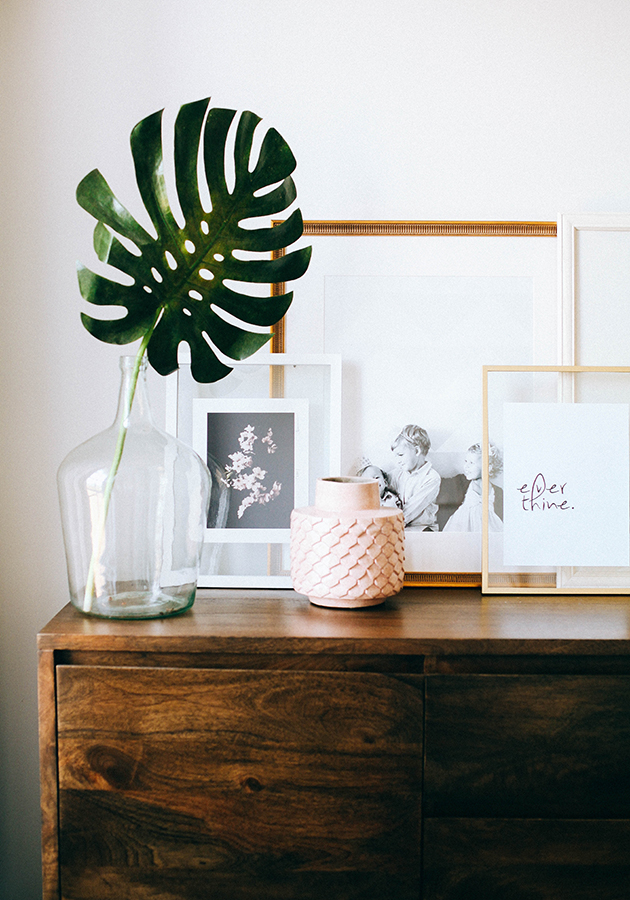 Creating a space that both husband and wife can enjoy can be a humorous challenge, but the result is worth all the back and forth decisions. We had the same furniture since we got married, and changing up the scene felt so refreshing. However, you can easily work with what you already have by changing up the textiles or artwork in a room. That alone can make a big difference and is more cost effective. So grateful for the extra pair of eyes, and help from Havenly. It's been a race to bed each night since we finished;)
Featured Items: