I tend to stuff my babies in sweaters and knitwear for my own viewing pleasure. I myself have been living in the same stack of sweaters all season, and I thought I would share with you all some of the best shops for knitwear for ladies + little ones.
(Wearing: Sweater, sneakers, denim from AE)

I wait till January to pick up sweaters since that is when they all go on sale. I will just get an item or two that I know I will wear to death, and that will last over the years. Here are the places I always look first…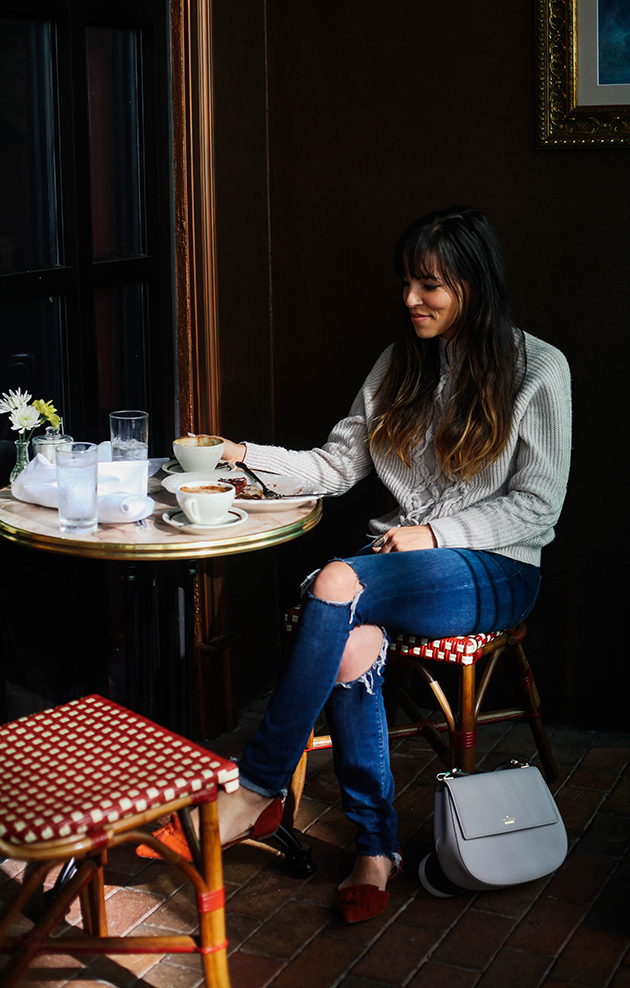 (Cableknit sweater, denim, flats – 50% off)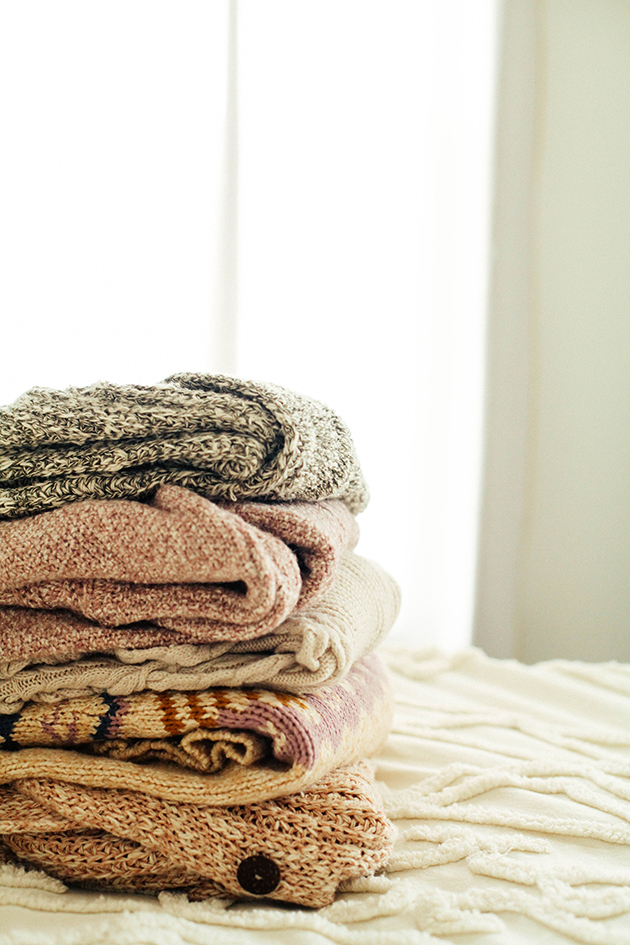 Nordstrom – Their half yearly sales are tough to beat, and they carry a variety of brands and price points. I recently picked up this Leith cableknit sweater (40% off) as well as this number in pink just in case I wanted to go ultra girly for valentine's day. (Watch me wear sweats…oh well.)
ASOS – Also known for their super sales and wide variety, I'll circle their site every so often and find sweaters for under $35 quite frequently!
Anthropologie – Wait for their tag sales. The additional %40 off sale is bonkers. I found a few chunky knit cardigans that I have worn every other day of winter thus far, as well as the sweater pictured above for such a steal for the quality.
Etsy – Occasionally I will find a grand vintage piece on etsy. Fuel for my fascination with vintage ski sweaters. I blame White Christmas for the obsession. You also can't beat some of the prices. Case in point.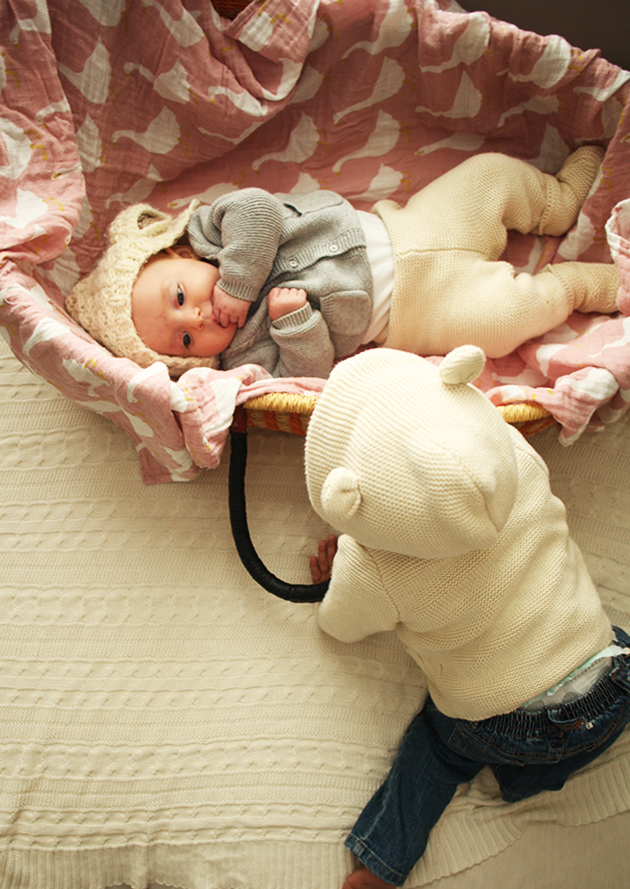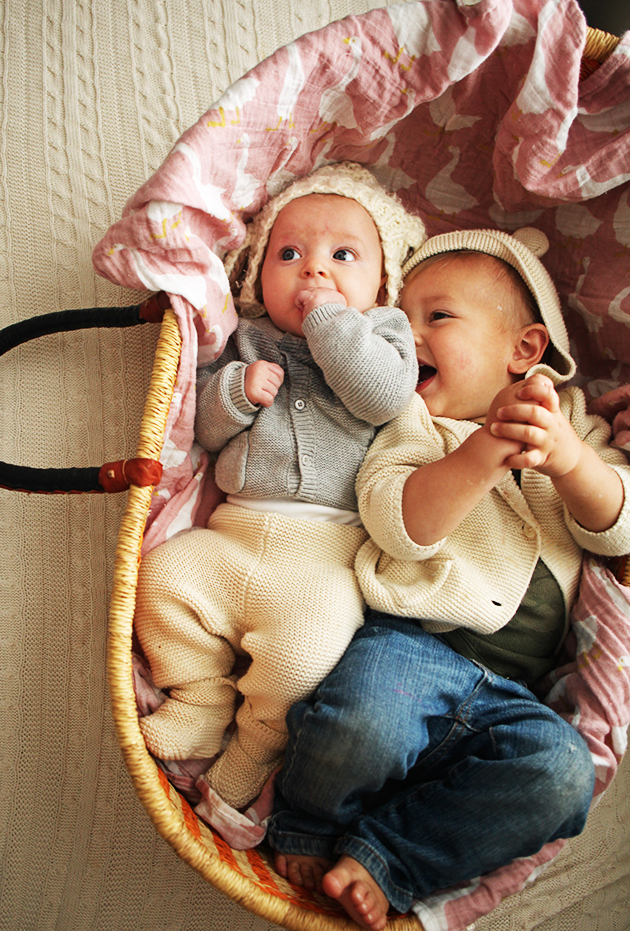 (Rocco just couldn't resist. Always has to be smooshed against Zelie.)

I buy a good deal of my kids clothes on Kidizen app, Thred Up, or consignment stores. I also love to support small businesses, so I will spend a little more if I know the piece will last for more than one babe. I've noticed buying cheap knitwear balls up or gets holes, and thus ends up being a waste of money. So here are some places I have found some good quality knitwear:
Etsy – There are a myriad of shops to choose from on etsy, but this is a great place to support small business owners as well as find some handmade goods such as these knitted lambswool sweaters, little alpaca coats, or vintage knit overalls. Prepared to get lost in the world of edible sweatery things.
Misha and Puff– You might swoon over just about everything. It's hard to find good quality tights for babies as well as knitted caps that stay on their heads! I would have no qualms if Rocco lived in these sweater overalls for the rest of his life.
Windy Knits C0 – If you a sucker for chunky baby blankets look no further. My favorite baby gifts I have received over the years were handmade blankets. They are such a good keepsake item to have. I should probably just learn to knit…
Baby Gap – I have used these knitted bear cap hoodies to death as well as these thick knitted pants and booties for the baby age. It's hit or miss with quality but these items have stood the test of time for us. I would put any of my children in a knitted bear cap sweater if I could, but I guess that wouldn't go over well with my 7 yr old. However, I have found some great pieces for Gabriel and Veronica here as well.
Shop Minikin – This shop carries a good variety of small shops and sizes. My friend Kelli Murray's line Rylee and Cru can also be found here.
I hope this list is helpful for you! Leave any other favorite shops in the comment section. Happy almost weekend~