This felt like the longest week ever. I am pretty sure it had to do with all of the end of the school year events, an urgent care visit, rainy days, and a baby who won't sleep;) I am so happy to see the long weekend! We kicked it off with some lake time as soon as the sun came out.
I am very cautious of suncare these days, so thought it would be helpful to share some of my favorite beachy finds safe sunscreens (or "sunscreem" as my son Max calls it), and swimsuits. Read on for the down low!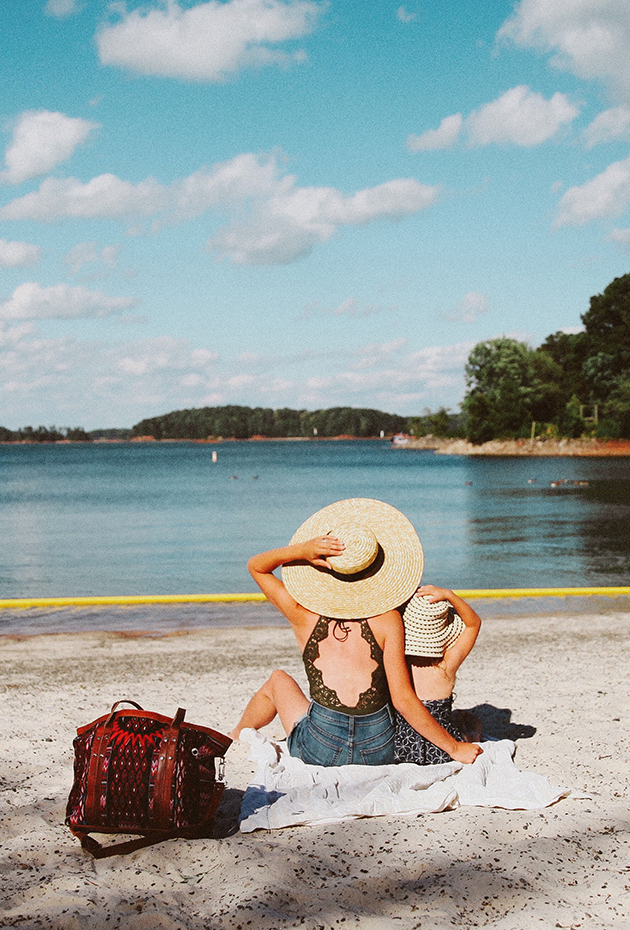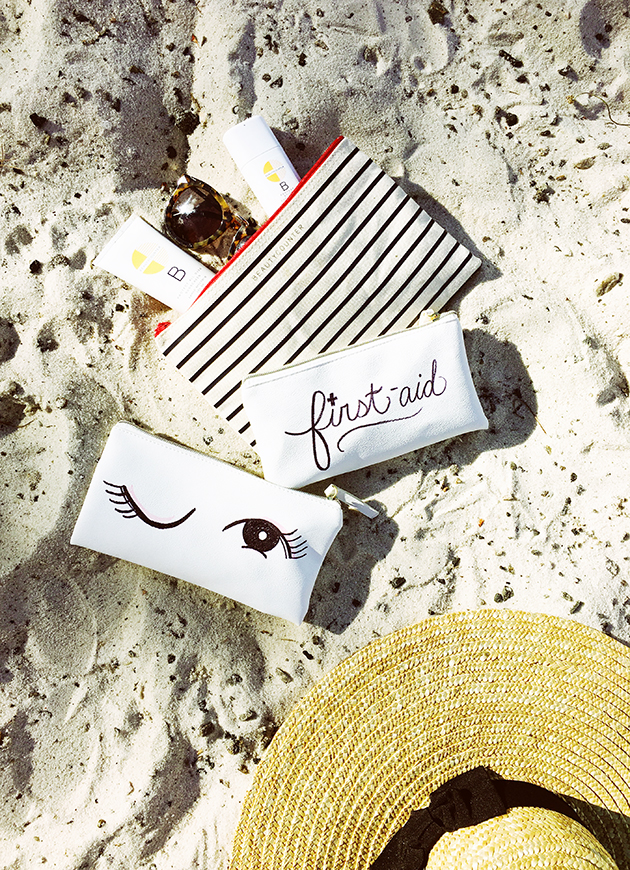 (I found these leather zip pouches for cheap, so I decided to use them for beach bag inserts. I used a sharpie to mark them up and use for first aid, suncare, and accessories.)
Sunscreens – I've tried so. many. sunscreens. I wanted to find one with safe ingredients, but many of them were like a thick paste that wouldn't rub in well. I finally tried out BeautyCounter's sunscreens and we have a winner! It rubs in well, it is lightweight, water-resistant and contains a non-nano zinc oxide which protects you against both UVA and UVB rays. It also contains aloe which is known to help hydrate skin. I use the face stick, body stick, and sunscreen for both myself and the kids.
Tinted moisturizers – I don't like wearing much makeup in the summer so it's usually a tinted moisturizer with an SPF and mascara. I have used Clinique's tinted moisturizer for the past few years, but I have been loving Beauty Counter' dew skin moisturizer since it is lightweight with clean ingredients and an spf. Any favorites you have?
Hair care – I like to spray in a leave in conditioner if I am going to be in the sun all day followed by a braid to keep it out of the way! A few favorite hair care products for summer: Smooth & Control Hair Oil, Kevin Murphy Un. tangled, and Kerastase hair masque (for after sun care).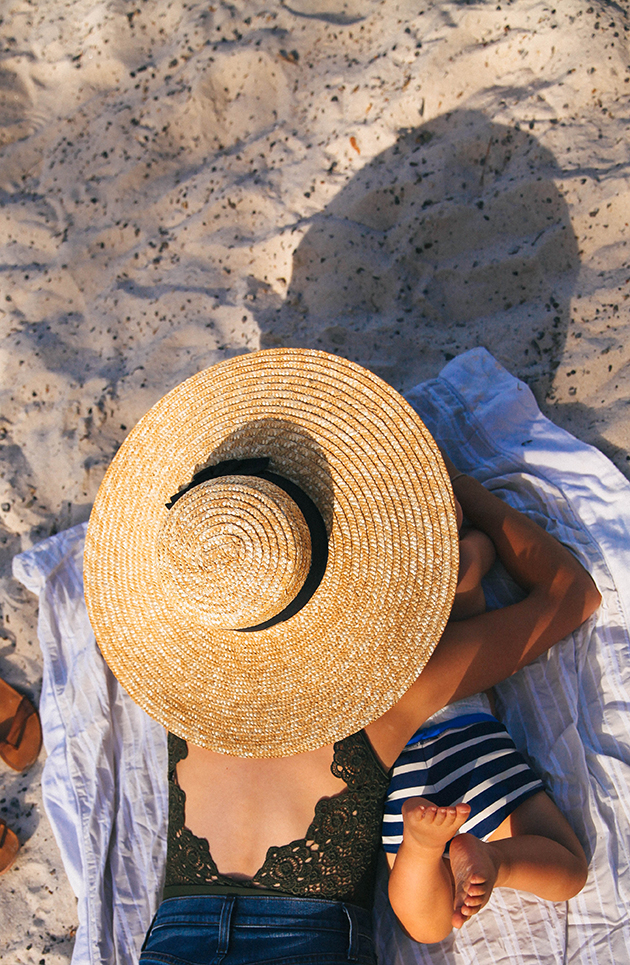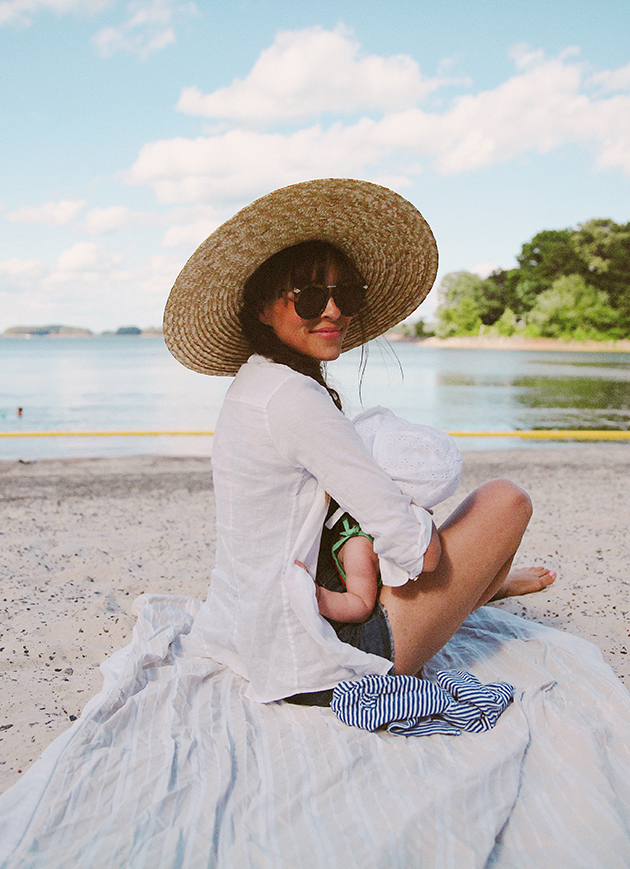 Beach accessories – I rarely sit in the sun without good spf or a hat these days. Acutely aware of all of my sun spot freckles! I get worried about skin cancer possibilities so I am all about a good hat. My very favorites are from Gigi Pip. This particular hat pictured is an older version of the Faye. Nice and wide to cover the shoulders, and maybe even leave room for another babe to take shelter underneath;) Sole Society has some great hats (can't beat the price!) like this rustic stripe hat and ultra wide. J. Crew also has all of their hats on sale this weekend, and cannot get over the pom hat! For a good carryall tote I always use my Nena and Co. bag, but I linked some other good options below.
Scroll right to view all: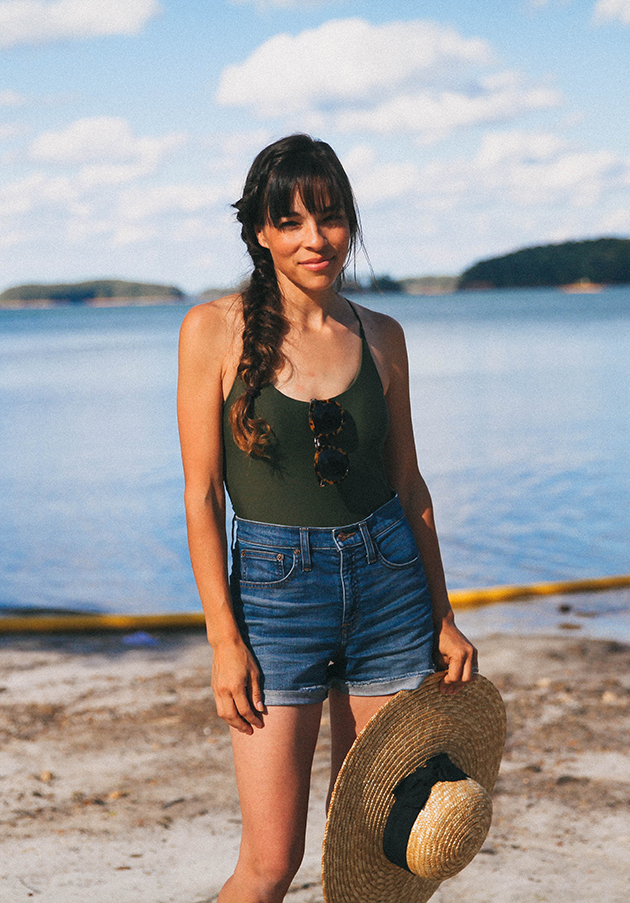 (Swimsuit, denim shorts, Straw hat)
Swimsuits – Since my last swimwear round up I noticed many of them sold out, so rounded up a few more below that I love (and are on sale this weekend!). I snatched up this Aerie one piece on sale because I loved the fit and detailing. It sold out quick, but here is a similar one on sale for $35. A few other favorites linked below from Nordstrom and J.Crew that are on sale this weekend.
Scroll right to view all:


Have a wonderful long weekend. Thank you so much to those of you who currently serving our country. I am remembering all of you who have lost loved ones in service especially. You are in my thoughts and prayers. So grateful for those who fight for our country, and risk everything in order that we can continue to enjoy the freedoms we have. I do not take it for granted.