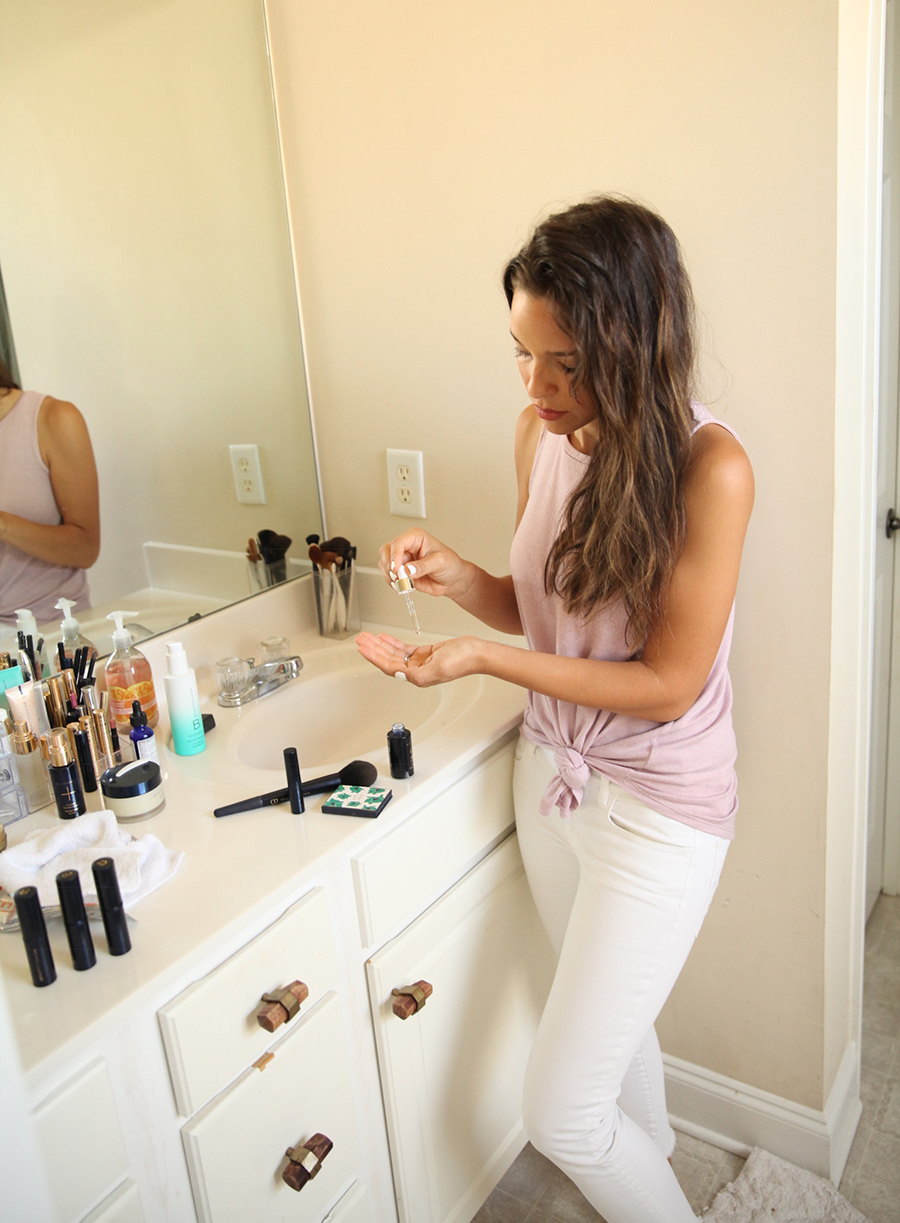 As you know, I started "going clean" on everything in our house when Rocco was a baby after doing more research on the affects of chemicals in our products on our bodies. This is how I stumbled into Beautycounter. I wasn't expecting to use clean ingredient products that I actually liked as much as my old favorites, but they ended up doing a much better job than any previous bottle of moisturizer I've ever tried (I have tried soooo. manyyyy.) More than anything I love their initiatives to fight for safer FDA regulations (see the recent Today Show segment), and the change they are advocating for in the beauty industry. I hope other brands follow suit! This week, Beautycounter is offering a FREE overnight resurfacing peel, cleansing balm, or charcoal mask with the purchase of a 4 pc skin care line! In addition to 10% off any skin care line. Quite a deal! So here's a breakdown of my current skin routine + a free product offer!
Morning:
1. Countermatch Pure Milk Cleanser or Charcoal Bar – The charcoal bar has really helped remove blackheads around the t-zone area, so it continues to be a favorite but I like to only use it a few times a week since I tend to have dry skin. The PureMilk Cleanser is super gentle and hydrating. This cleanser lasts me at least 6 months. (Charcoal bar is FREE with a Band of Beauty membership this month!)
2. Countermatch Intense Moisture Serum – This is an intense moisturizing age-preventing serum which is loaded with vitamin C and E to improve skin radiance. This is a much safer alternative to retinol and retinoids!
3. Countermatch Adaptive Moisturizer – This is a new release that has bio mimic technology to adapt to your skin's moisture level throughout the day! Crazy. So whether you are oily or dry, in a humid climate or walking in cold weather, the moisturizer adapts to what your skin needs. Most moisturizers still had me feeling dry (which I later realized because they contained petroleum!), so this has been a welcome relief.
4. Eye Rescue Cream – 5 little ones has showed up in the form of eye bags, which I am sure many of you can relate. It feels instantly soothing to apply just a little bit under the eyes and on the brows in the mornings. I notice an a difference after a few minutes.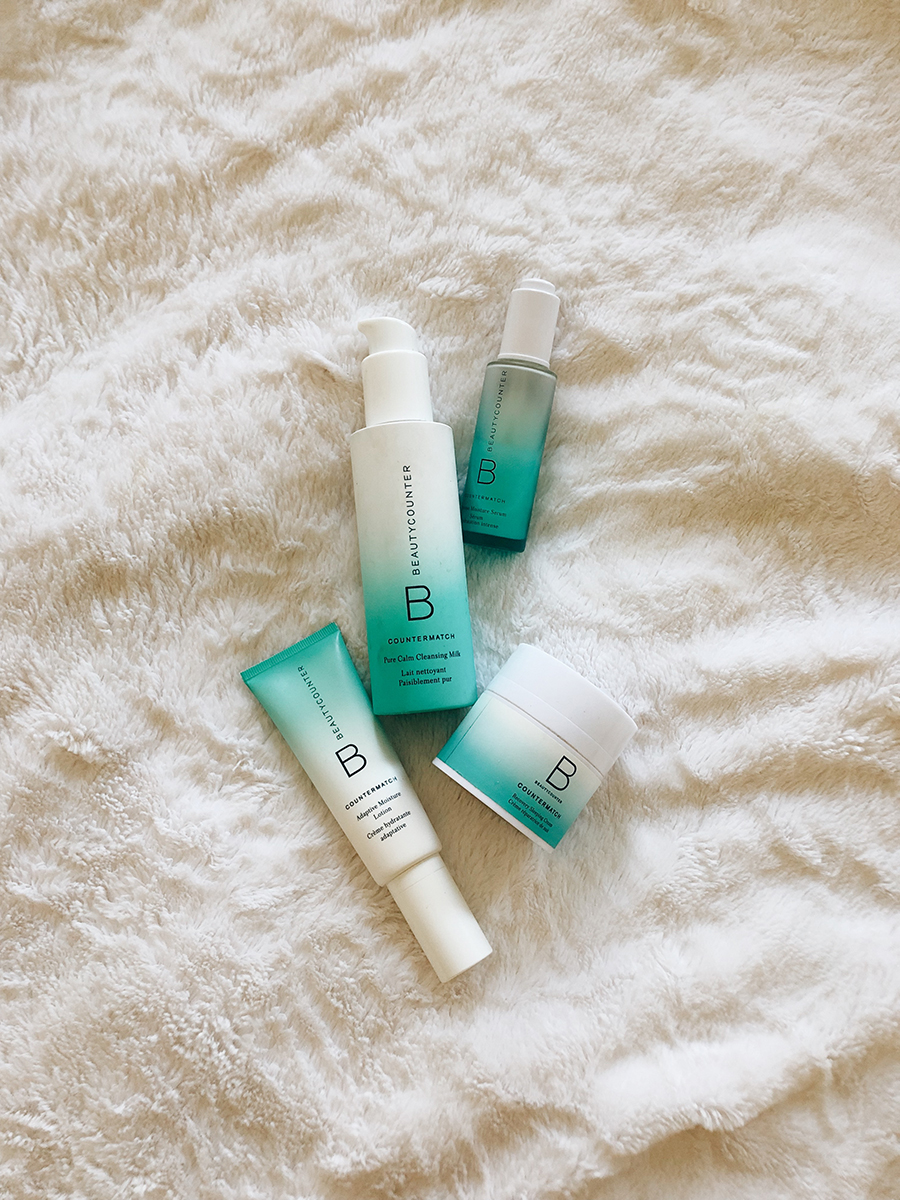 Night:
1. Cleansing Balm – I was really hesitant to pay the price tag on this until I read the reviews. After trying it I became a believer! It removes your makeup by rubbing in a very small amount into your face. It melts as you apply and you wipe off with a warm washcloth. It feels like a hydra facial. I will also put a little more back on after removing makeup at night in the winter as an overnight intense moisture mask. If I am feeling super lazy about night routine (which is more often than not), this is all I use and I still go to bed feeling clean!
2. Overnight Resurfacing Peel (2-3 times a week) – This has hands down the biggest game changer in my skin. I have struggled with uneven texture and dull patches for a while, and applying this serum at night a few times a week has left my skin looking so much healthier. I wash it off in the morning! It can help with scars, dark spots, and sun damage as well. It doesn't smell the greatest, but it is made of a combination of fruit acids that do the work! This is a much safer alternative the wildly popular retin-a and retinoid creams.
3. Countermatch Recovery Sleeping Cream – After the resurfacing peel absorbs, I apply this night cream. It's thicker than your daily moisturizer and does the hydrating work while you sleep!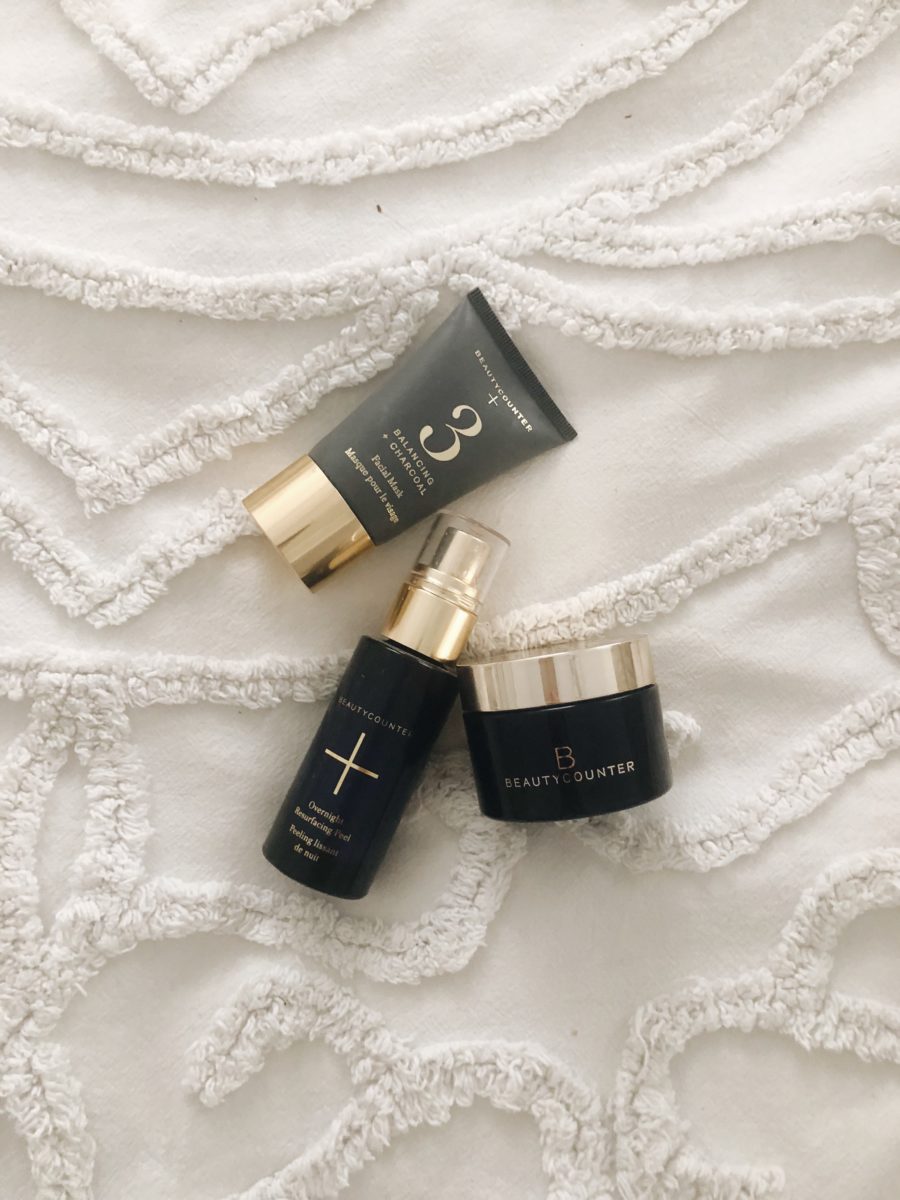 This week, Beautycounter is offering a free overnight resurfacing peel, cleansing balm, or charcoal mask with the purchase of a 4 pc skin care line! In addition to 10% off any skin care line. If you have break out prone skin, I would try the Countercontrol line, and if you want more anti-aging benefits, look into the Rejuvenating line.
If you have thought about going clean in your household, you can start with one thing at a time. It took me about a year to switch everything over including detergents, cleaning products, deodorant, etc. Since the ingredients are super concentrated in this skin care line, a little goes a long way, and I try to make them stretch as long as possible. (They usually last me 4-6 months!) I look at going clean as preventative health care, knowing I'd rather not deal with the much heavier health problems arising in both men and women today as a result of the toxins we are using.
Of course, we could all try the Sofia Loren method and just slap some olive oil on our faces! Worked for her:)