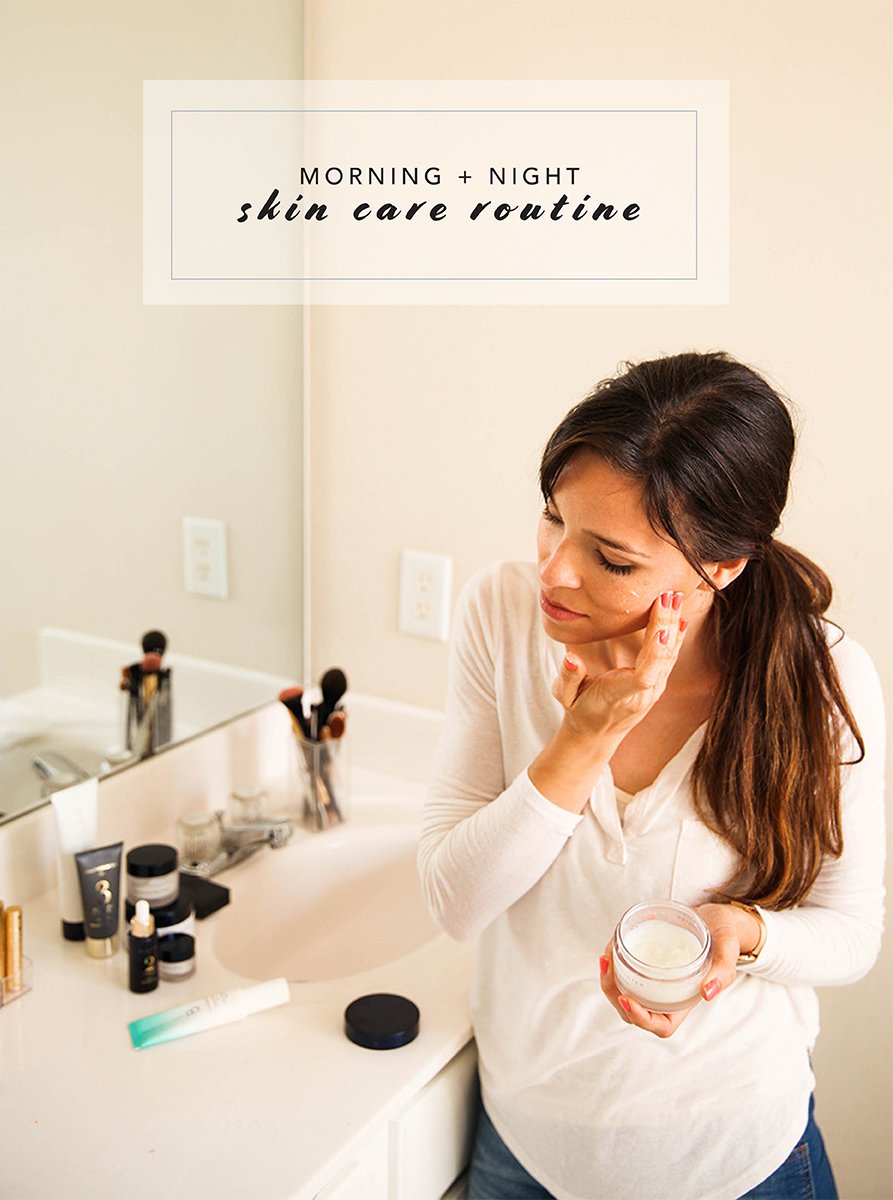 I wrote a little bit about my skin detox at the beginning of the year, but here is an update on the skin care line up for morning + night that is working some good magic for me.
As you know, I started "going clean" on everything in our house when Rocco was a baby after doing more research on the affects of chemicals in our products on our bodies. This is how I stumbled into Beautycounter. I wasn't expecting to use clean ingredient products that I actually liked as much as my old favorites, but they ended up doing a much better job than any previous bottle of moisturizer I've ever tried (I have tried soooo. manyyyy.) More than anything I love their initiatives to fight for safer FDA regulations (see the recent Today Show segment), and the change they are advocating for in the beauty industry. I hope other brands follow suit! So here's a breakdown of my current skin routine, and read to the bottom for some discounts!…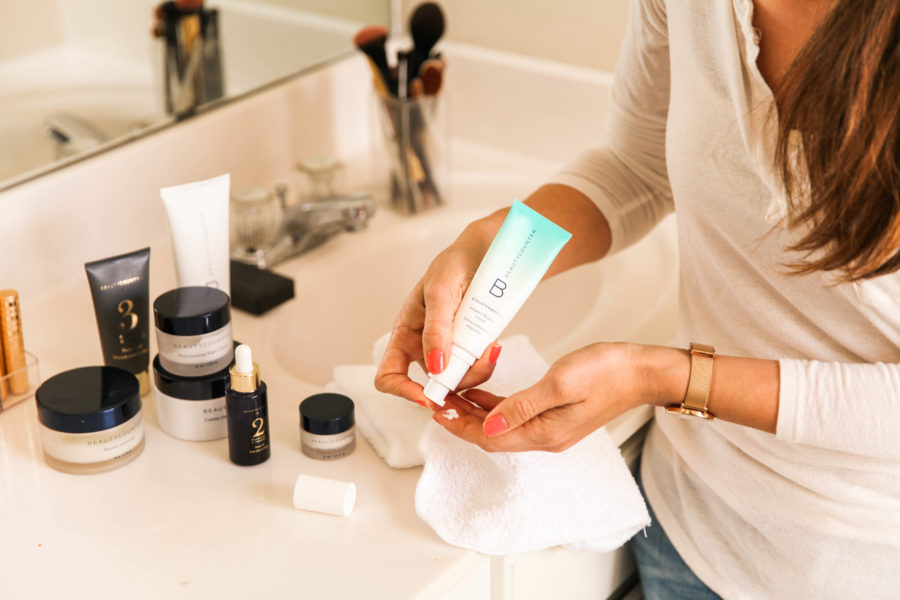 Morning:
1. Nourishing Cleanser or Charcoal Bar – The charcoal bar has really helped remove blackheads around the t-zone area, so it continues to be a favorite but I like to only use it a few times a week since I tend to have dry skin. The Nourishing Cleanser is super creamy and hydrating.
2. Countermatch Adaptive Moisturizer – This is a new release that has bio mimic technology to adapt to your skin's moisture level throughout the day! Crazy. So whether you are oily or dry, in a humid climate or walking in cold weather, the moisturizer adapts to what your skin needs. Most moisturizers still had me feeling dry (which I later realized because they contained petroleum!), so this has been a welcome relief.
3. Rejuvenating eye cream – 5 little ones has showed up in the form of eye bags, which I am sure many of you can relate. It feels instantly soothing to apply just a little bit under the eyes and on the brows in the mornings. I notice an a difference after a few minutes. The Countermatch eye rescue cream is a lower price point and also really good for helping you look more awake;)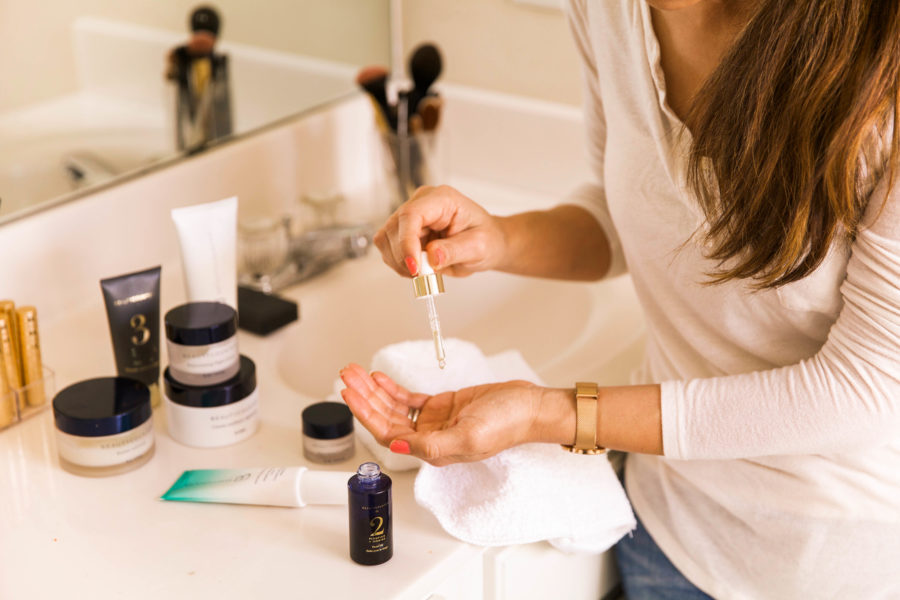 Night:
1. Cleansing Balm – I was really hesitant to pay the price tag on this until I read the reviews. My sister texted me that it made an overnight difference on her skin. It is definitely now an all time favorite. It removes your makeup by rubbing in a very small amount into your face. It melts as you apply and you wipe off with a muslin cloth that it comes with. It feels like your face just received a hydra facial. I will also put a little more back on after removing makeup at night in the winter as an overnight intensive mask. If I am feeling super lazy about night routine (which is more often than not), this is all I use and I still go to bed feeling clean!
–Charcoal Face Mask – (Only once a week) – Friday night seems to be the only night of the week I find ten minutes to do a mask before my shower or a bath + podcast. It's the wild and crazy plans I look forward to;) This is a nutrient rich kaolin clay mask that absorbs excess oils and draws out impurities. Basically a good pore plunger. (It's FREE with a Band of Beauty membership this month!)
2. No. 2 Plumping Oil – So what's the all the buzz about facial oils these days? Well, if you get a good one it can absorb excess oil, balance your skin tone, and leave it with a healthy glow. This omega rich No. 2 Plumping Oil would battles the cleansing balm for the favorite in my beauty arsenal. I use a few drops at night, and I salute it for somehow lifting my tired skin. If you have break out prone or oily skin, the No. 3 oil is for you.
3. Rejuvenating Night Cream – Once I hit 30 I started to see all the fine lines show up, which is fine, because that is part of life! My kids gave me these wonderful smile crinkles around my eyes, and I proudly own them. 😉 However, I am all about a good night cream if it makes me look a little less tired. This is incredibly soothing and hydrating + I did notice an improvement in skin elasticity which has me as a faithful night creamer! I try to make it last as possible so if I am doing Cleansing Balm as an overnight mask I won't apply this.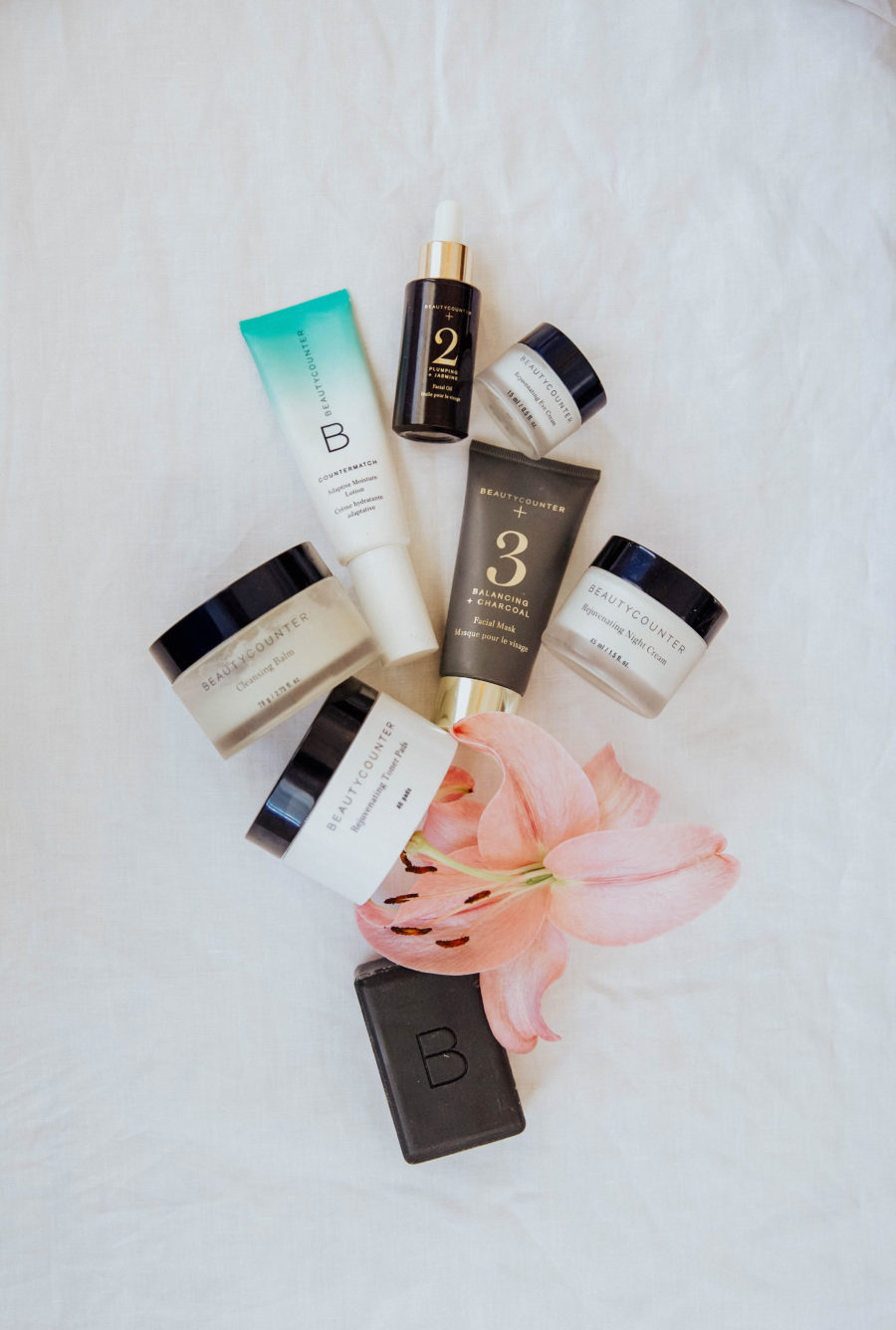 Breaking down the price point:
If you have thought about going clean in your household, you can start with one thing at a time. It took me about a year to switch everything over including detergents, cleaning products, deodorant, etc. Since I have a discount as a Beautycounter consultant, it was easier for me to try out these products to share with you! The price points are premium due to the extensive manufacturing process in making sure every single ingredient is safe for use as well as the high quality grade of ingredients. They still aren't as high as many luxury brands that are using fillers in their products. However, I realize that it isn't doable for everyone! (Burts Bees is another great brand making the same efforts to be completely clean! I am hoping more beauty companies start shifting their ingredients as well.) Since the ingredients are super concentrated a little goes a long way, and I try to make them stretch as long as possible. (They usually last me 4-6 months!) I look at going clean as preventative health care, knowing I'd rather not deal with the much heavier health problems arising in both men and women today as a result of the toxins we are using.
Making the clean swap + a GIVEAWAY:
You can read about these 6 top offenders in the beauty industry, and the clean swap deal going on, and how you can get some free luxury sized products. We are also giving away a product of choice from this clean swap campaign over on the IHOD wellness instagram page today.
Of course, we could all try the Sofia Loren method and just slap some olive oil on our faces! Worked for her:)
P.S. If you've been wanting to try Beautycounter, email me for $10 off your first order!