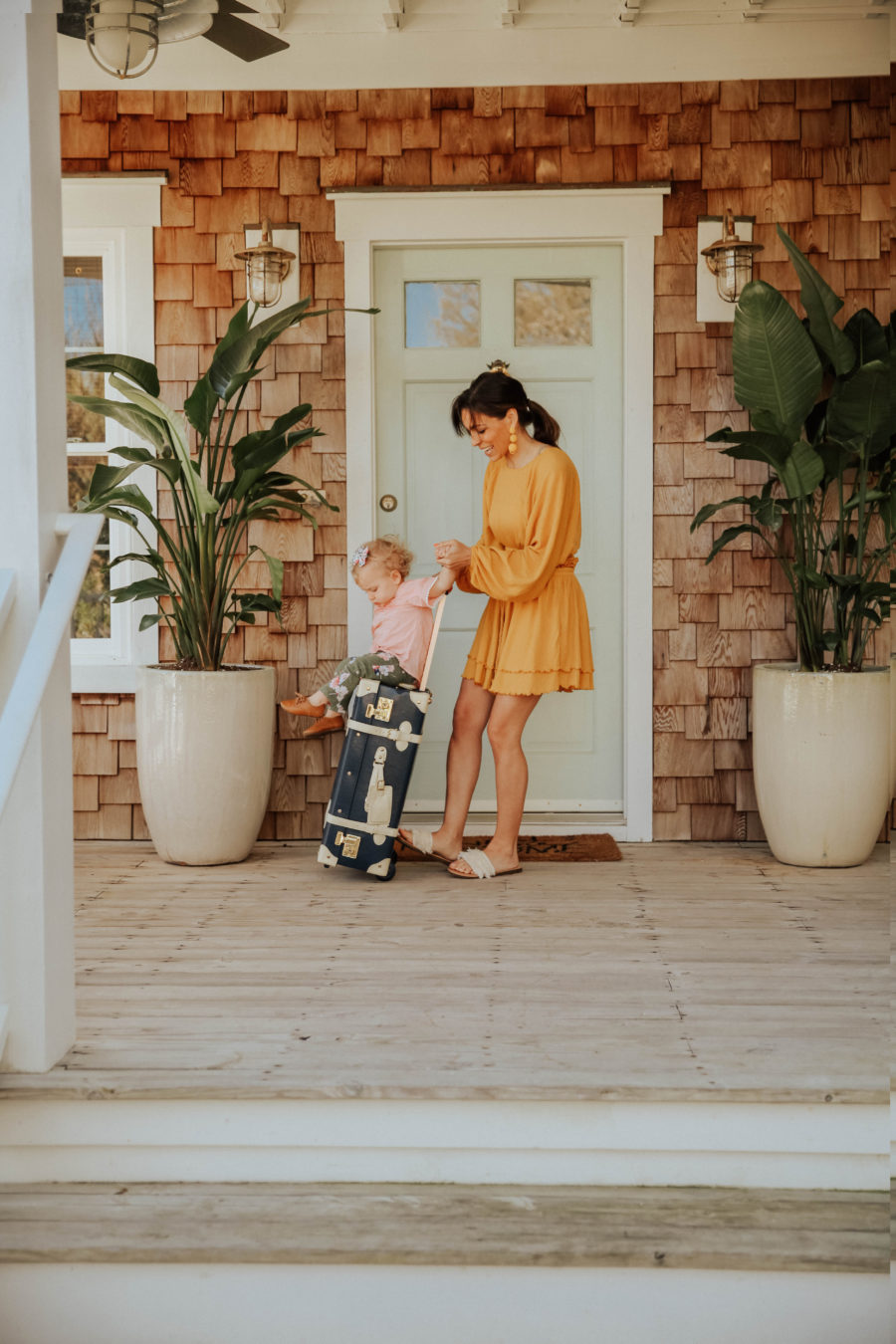 Last summer, I tried my first capsule wardrobe, and what I came to conclude is that it was freeing! It saved me so much money, and really helped me become more intentional about adding pieces I really loved and could get good use out of to my wardrobe. Ultimately it gave me more peace stepping away from the culture of buy more, have more.
I wanted to share some items I am pulling back out of storage as the warmer temps arrive here in the south, as well as a few pieces I am adding to a spring capsule. I hope this can help stir up some ideas for your own capsule. 22 pieces seemed like a small amount to me last summer, and it turned out I could have gotten by with even less! Ten pieces is a great number to start with, and you can add in more as you see what you may need more of. This doesn't include accessories, but I stay pretty minimal with those as well. Going to try really hard to show you all the complete capsule soon, but hopefully this can be a good starting point for you!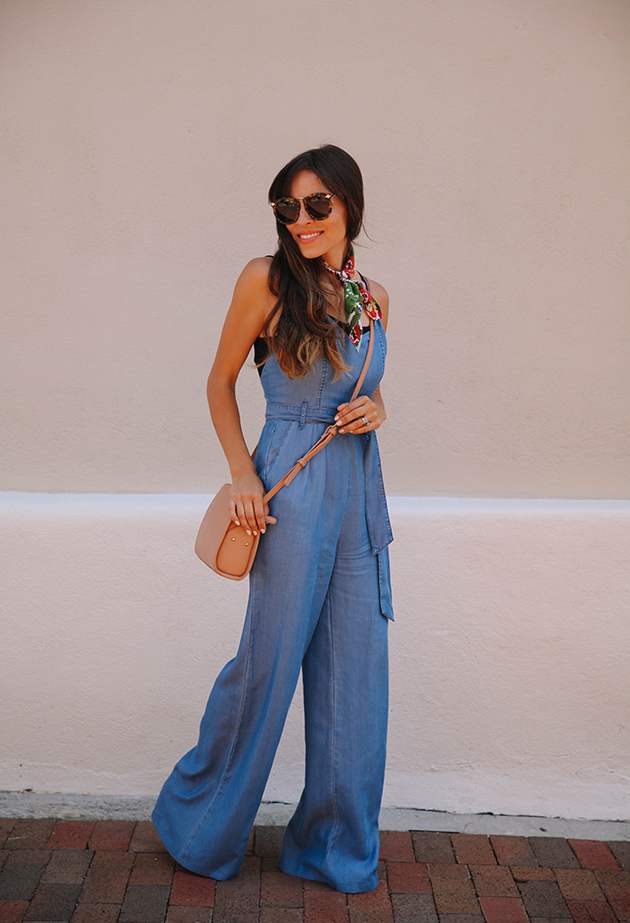 1. Chambray jumpsuit – I wore this a fair amount because it's easy to dress up or down, so I'm keeping it around for spring this year.
2. Lettuce edge white tee – goes with everything. Wore it with skirts, pants, and under a jumpsuit.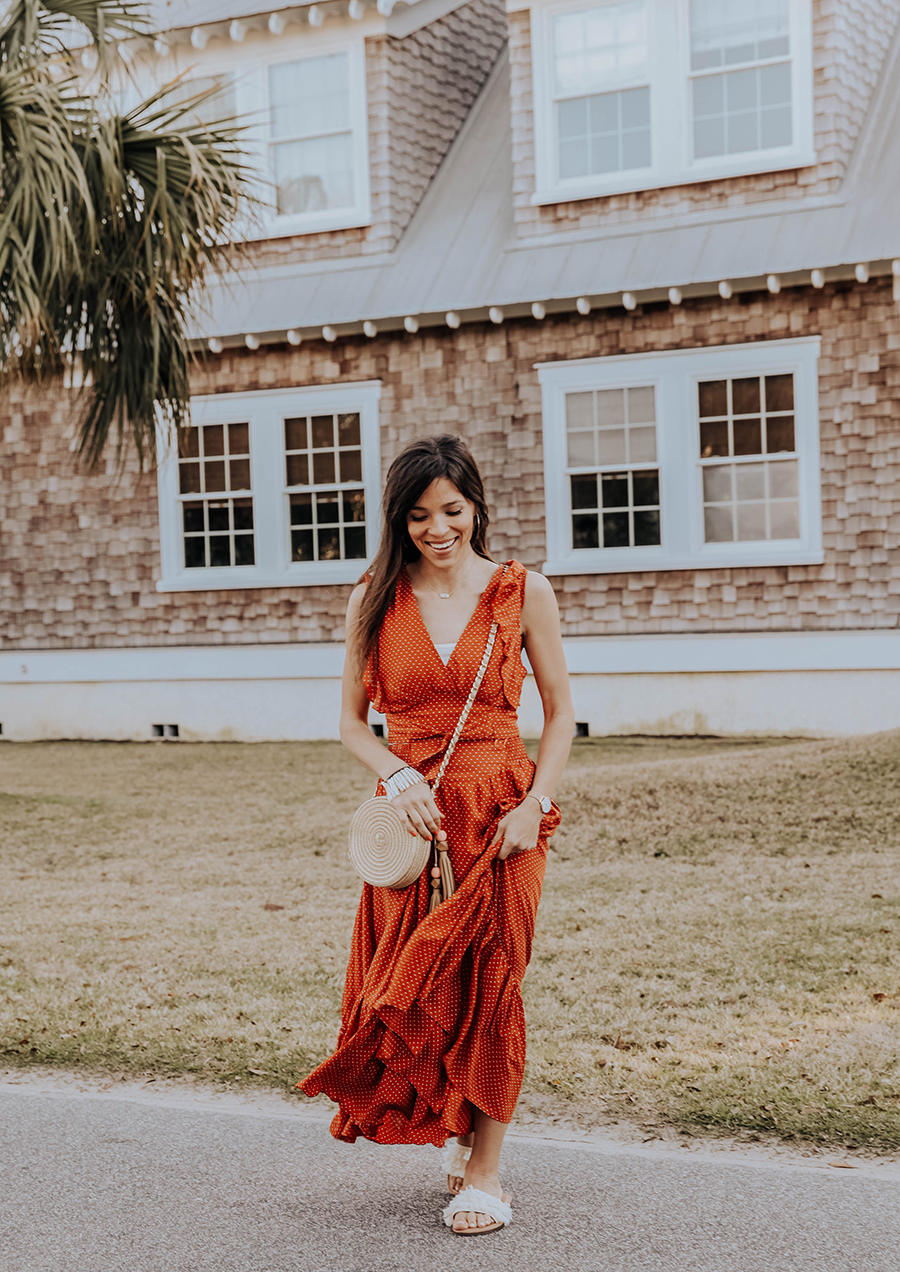 3. Flowy skirt and top set – I think I'll be wearing this skirt often because it can be worn with flats and a tee or with the top and heels to dress it up. I ordered true to size.
4. Short sleeved striped button down – I got a similar one a few years ago and have worn it to death. I love that you can cuff the sleeves on this style and it comes in pink or blue. (Wait till their 40% off sales!)

5. Black and White striped bodysuit – Probably one of my most worn items, but if you prefer a tee this is a good alternative.
6. A good pair of jeans! – We all come in different shapes and sizes, so you will know your best place to shop for denim. I love the Old Navy rockstars as the most affordable option, as well as J.Crew's toothpick.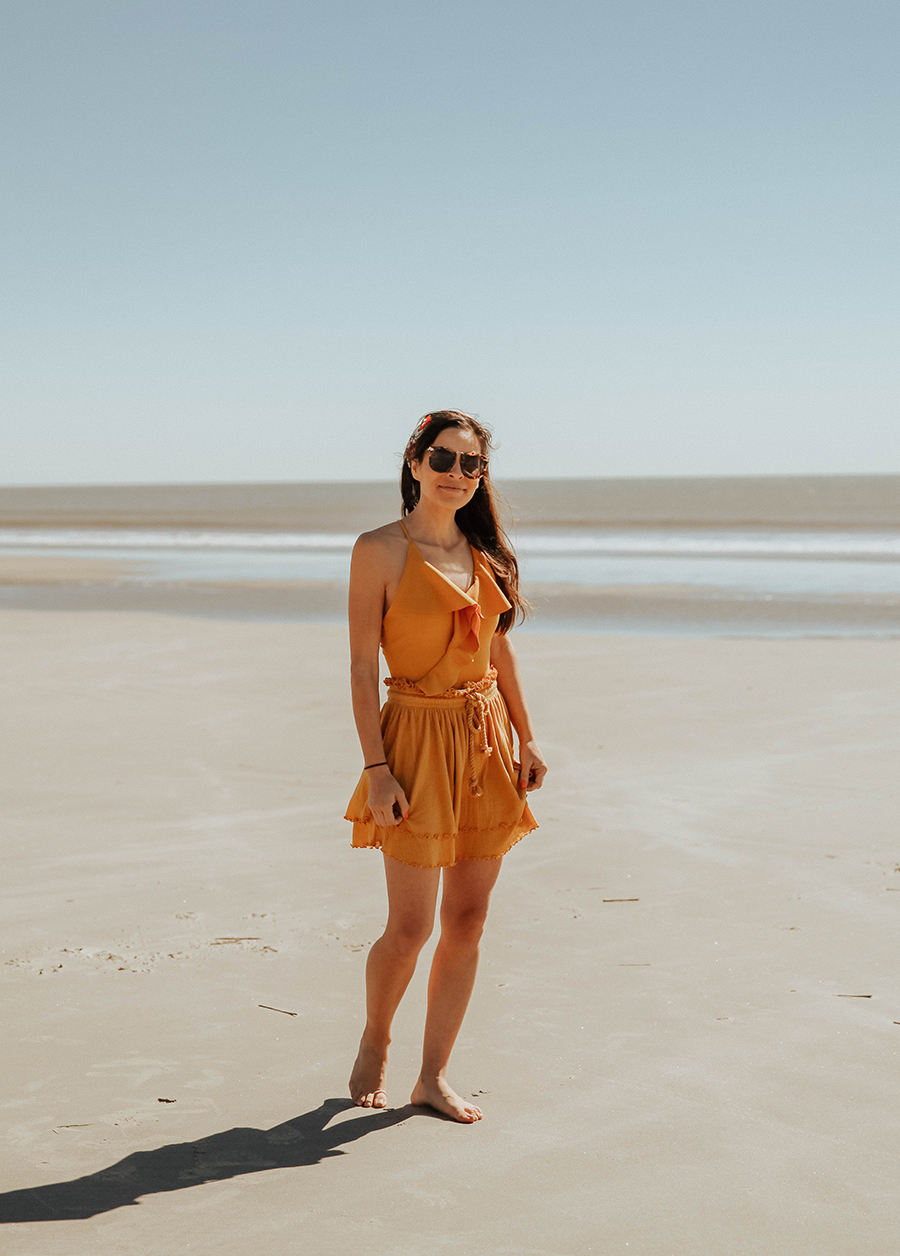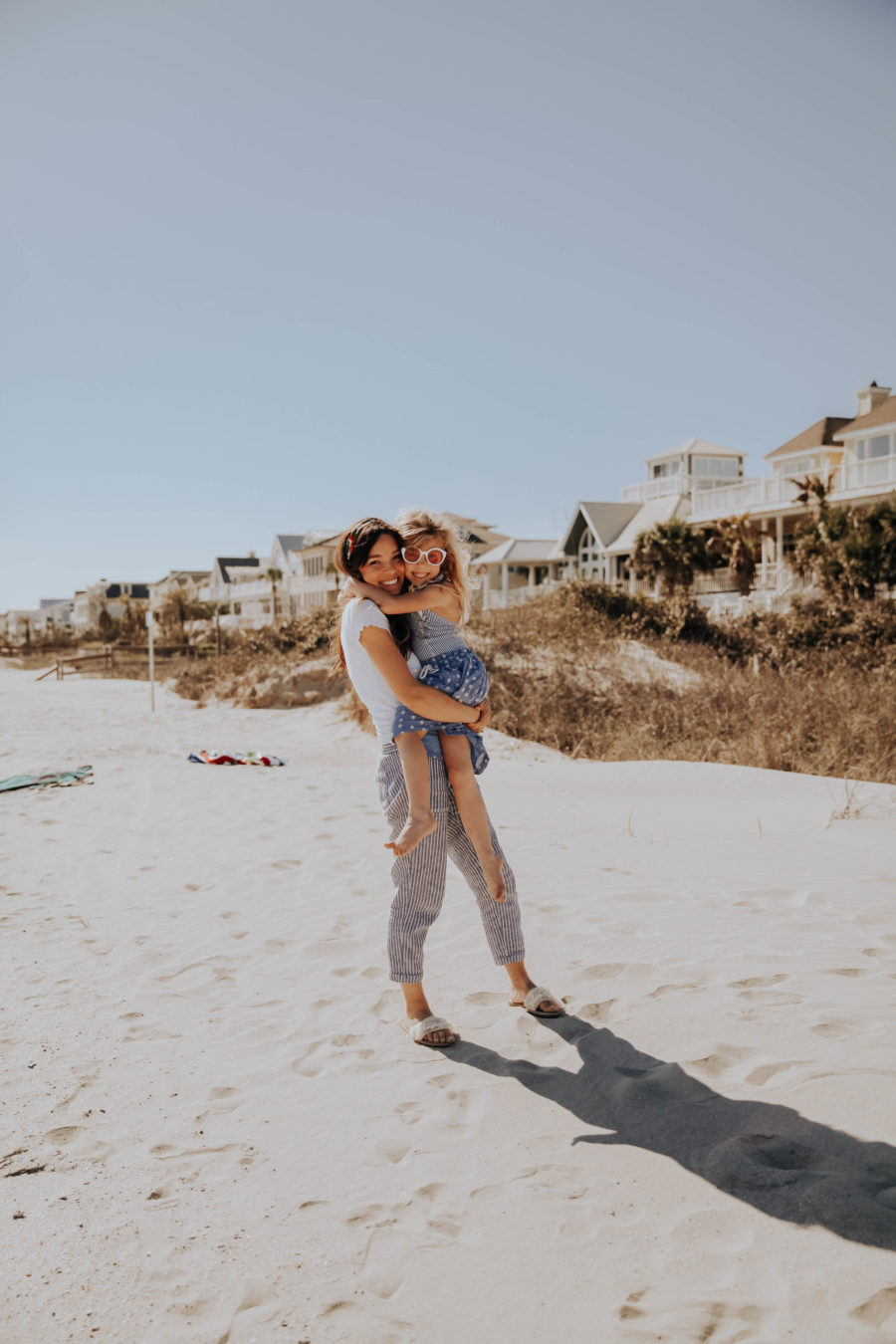 7. Golden flowy top and skirt set – This is a decent price considering you can use the skirt and top solo or combine together. I wore this skirt over a golden yellow suit at the beach as a coverup, and also paired with the top on our trip. This will always be one of my favorite colors to wear!
8. Striped linen pants – I was shopping for Azelie, and stumble on these pants. They fit really well and are so comfortable. I love the blue and white stripes for spring and summer.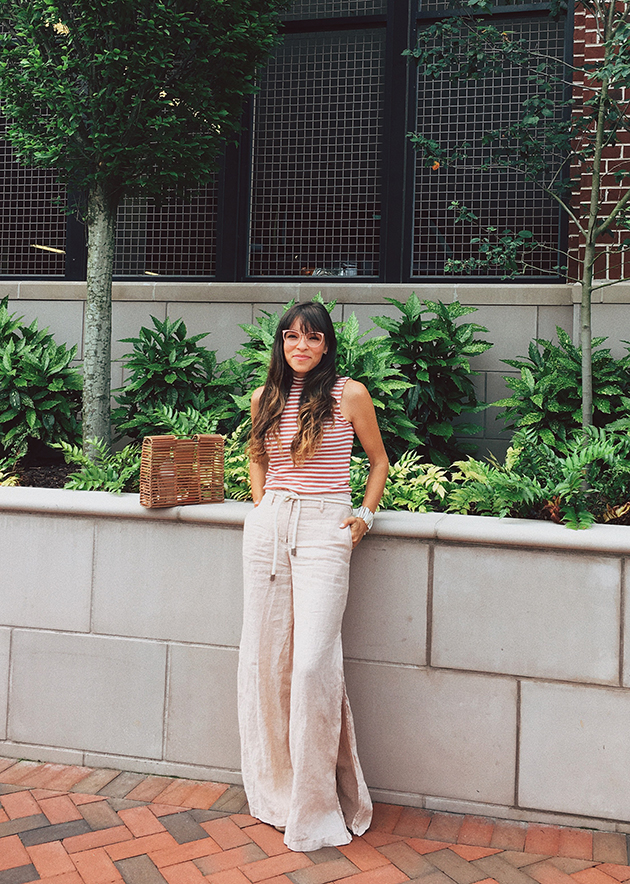 9. Wide leg linen pants – I don't think linen has to be restricted to summer. It works for spring too. These slit leg linen pants from last summer are out of stock, but found these similar ones that I like even better. It's a good pair to transition seasons that can be work with any of your capsule tops.
10. Floral Dress – The only time I feel restricted with a capsule is for special occasions so I think it helps to have a few good options on hand for those! I got this floral dress because it's a color and style I know I will wear throughout spring and summer. Wearing it to my best friend's wedding next weekend. ASOS is a great place to find affordable options as well.
Shoes and accessories – I will be using the same purses from last season, as well as most of the same shoes. I am eyeing these espadrilles to add to the mix!
If you have never done a capsule, they can be intimidating at first. It does take time to assemble, but it saves so much time and money in the long run! Cladwell might be a good place to start. I also loved Un-Fancy's guide.
Sites I visit frequently:
Poshmark – A site (+ app) where you can find gently used items in all brands, so you can find some great quality pieces. I will selling many items from my closet as well on there.
ASOS– Free Shipping and returns. I find most of the items I try are good quality and fit true to size. I have had some arrive that are cheap and poorly made, but that usually isn't the case. Easy to ship back with free return labels. They have great prices as well.
J.Crew- I always manage to find a good staple or two here, and they have good sales!
Nordstrom – They have such a wide variety of brands, sizes, and styles and I really appreciate the free shipping and returns here as well!
Etsy – This is where I usually find fun bags and accessories for good prices, like this handbag shop or this earring shop.
Sezane – I love that these are well made items. Higher price tag, but a timeless style that usually has pieces I know I will wear forever.
Free People – This is the place I always find at least one thing that makes me swoon. You have to sort through the site, but I like how they have sets that you can mix and match so you get longer use out of your purchase. I often make something work differently then they have the model styling it;)
I hope this can be a helpful start for you, and please let me know if you have any questions! I'll be sharing more capsule looks on instagram in the coming weeks.
Happy weekend to you all!