As the mornings get cooler here in Atlanta, I am starting to slowly swap out my wardrobe for more transitional pieces I can mix and match. The afternoons are still really warm so it is the trickiest time of year to figure out what to wear! I asked my stylist Amanda from Trunk Club to help find some good options for the fall season, and she hit the nail on the head! These are 8 looks I created with 8 pieces of clothing (and two pairs of boots!)

I love that you can use Trunk Club as few or many times as you like in a year. It isn't a monthly service. It is only $25 for the expert stylist fee, and if you have a Nordstrom card (which I do since I love their free shipping!), there is NO FEE. It has been such a lifesaver for me during this busy season of life when there is zero time to shop for myself. I made a little video sharing items from this month's Trunk. Which look is your fave?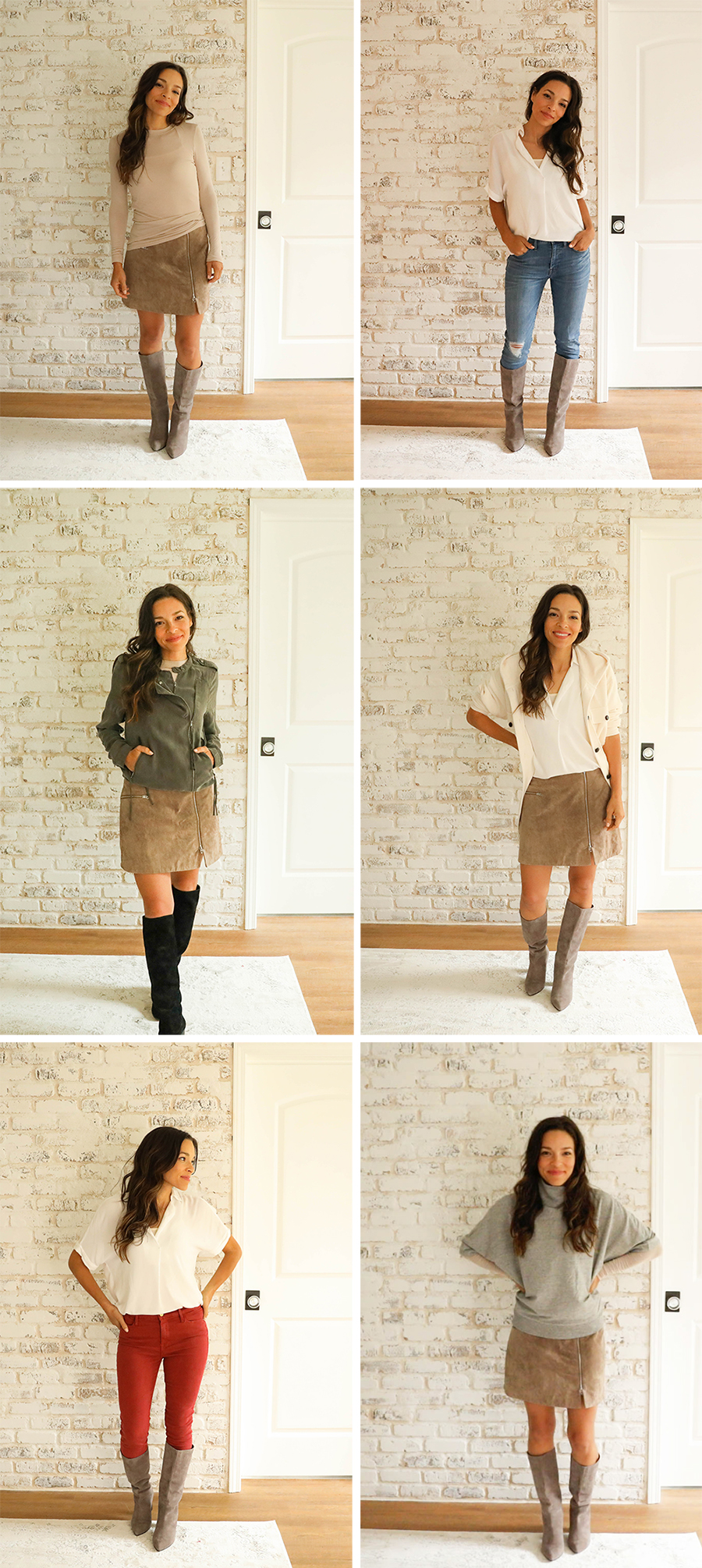 I am having the hardest time deciding which pieces to keep because of course I would love to keep it all! Amanda is really good about selecting a range of styles and price points, and every piece was really good quality. You can send your stylist any notes or inspiration for what you are looking for, and approve selects before the box is even sent right to your door. If you are in one of the six Trunk Club locations (Boston, Chicago, Dallas, DC, New York, or LA) you can go in to meet with your stylist in person and try on items.
I am working on building a fall capsule, so especially loved that these items in my Trunk were easy to layer and versatile. Feel free to send this post to you stylist if you are trying Trunk Club Women, and they can send you the same or similar items. I think I am going to try Trunk Club Men next for Gabe! He loathes shopping so this would be the easiest way to coax him out of his college t-shirt collection. Interested in trying Trunk Club for yourself? Sign up here to get started with your own personal stylist.
Alright time for a vote! Which looks do you like best? Help a gal out!
* A big thank you to Trunk Club for sponsoring this post. All opinions are my own.