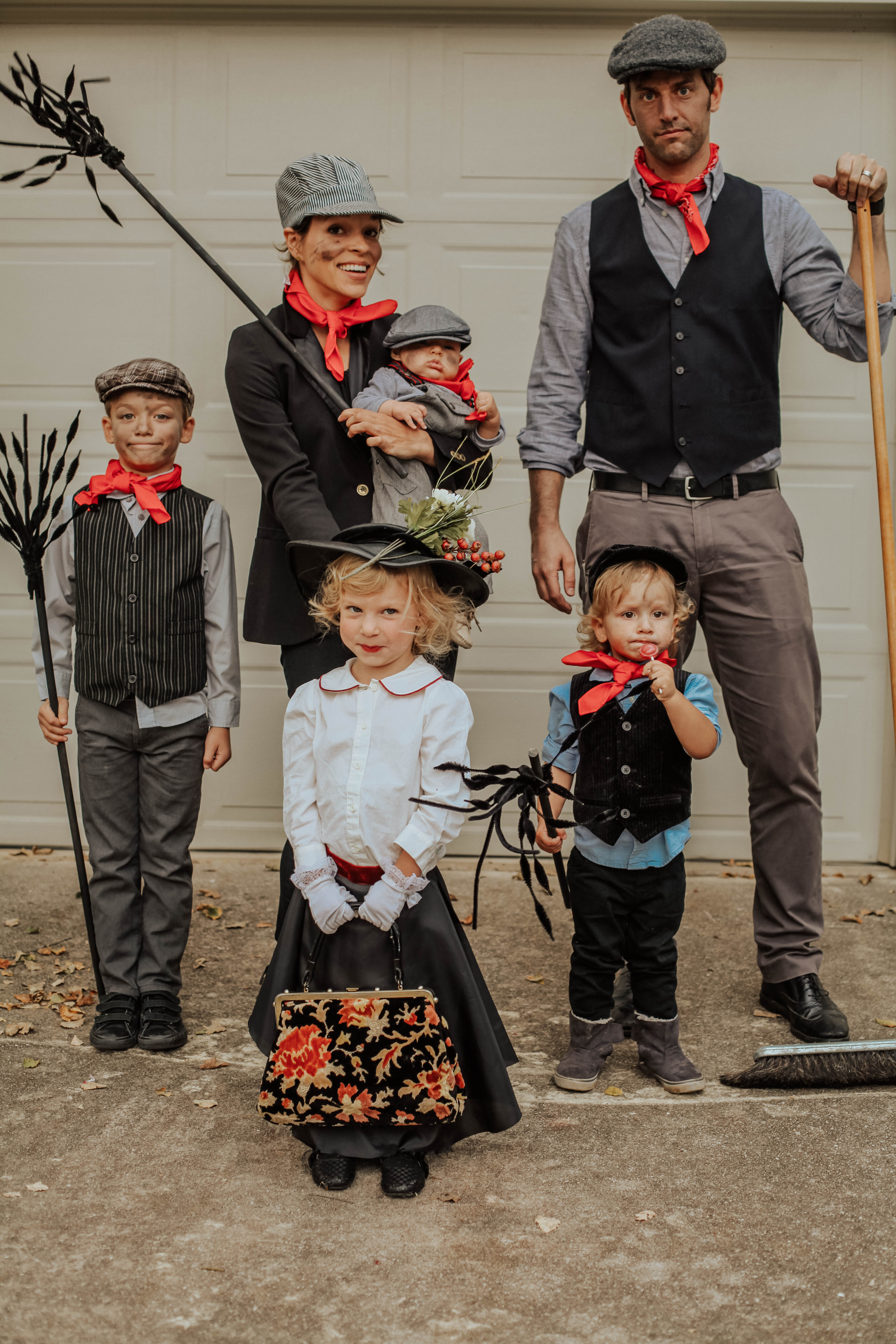 We know many of our readers don't have facebook or instagram, so here is a compilation of all of our past family costumes, and a plea to help us figure out this year's! Any votes?? My mom and dad always made every holiday come alive for us, and I hope to continue this with my own family. I don't know how long they will be on board for family costumes, but so far they have loved it…..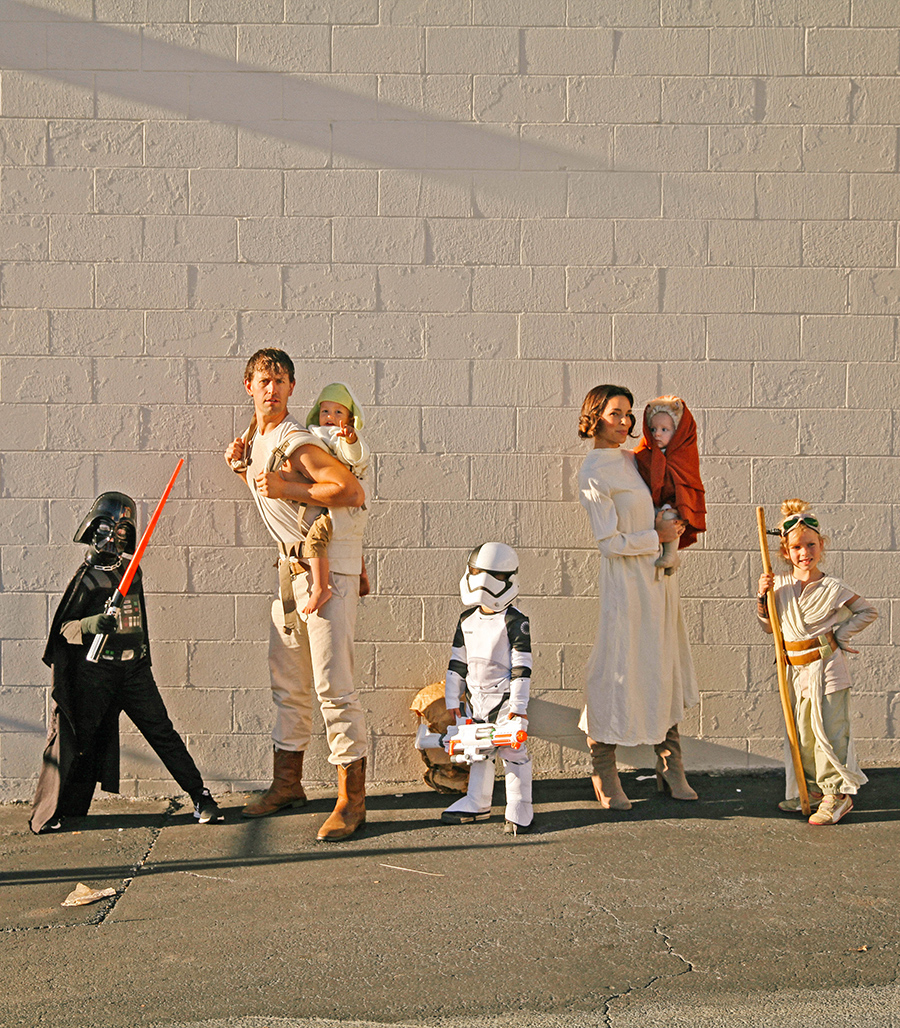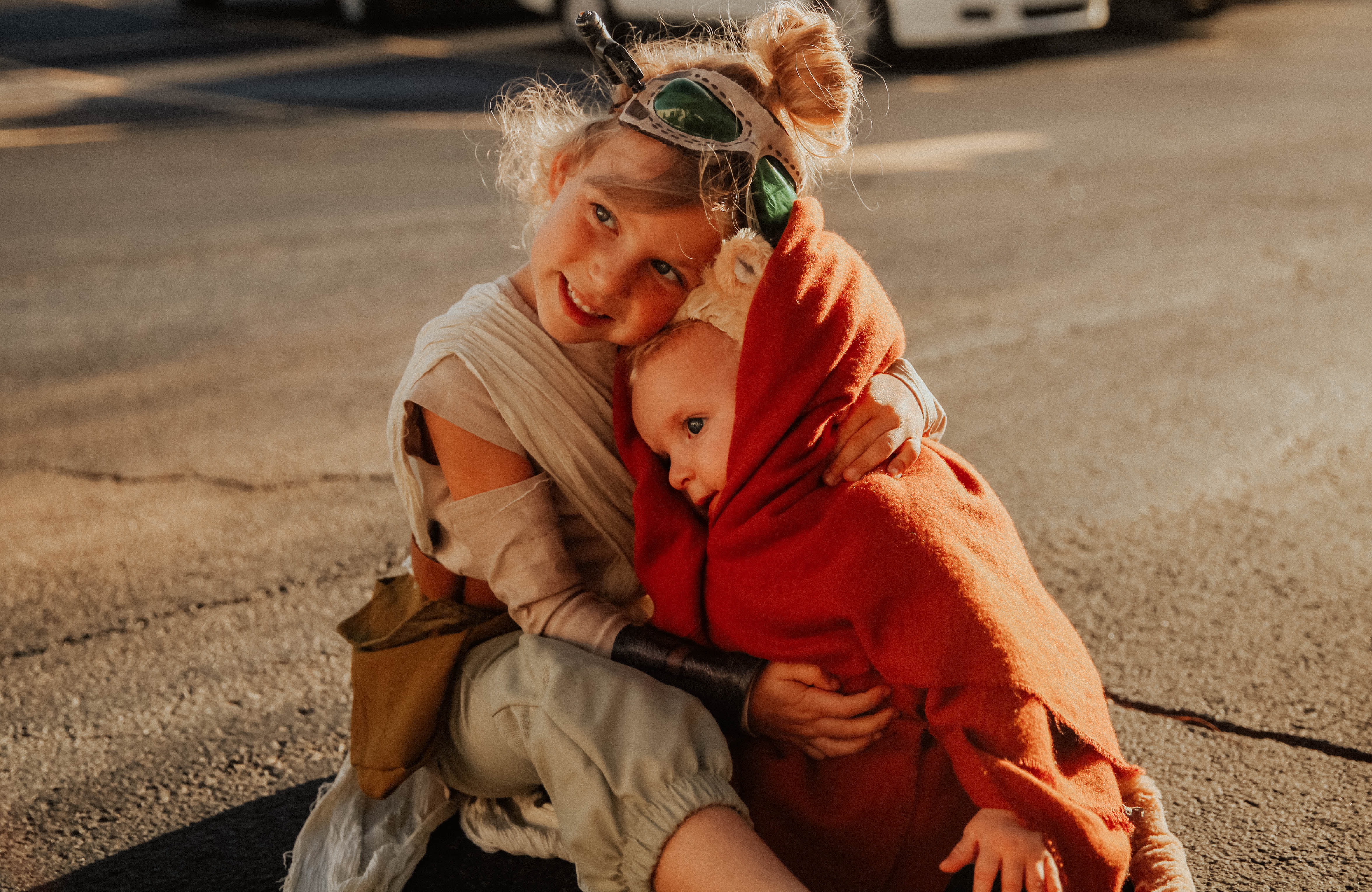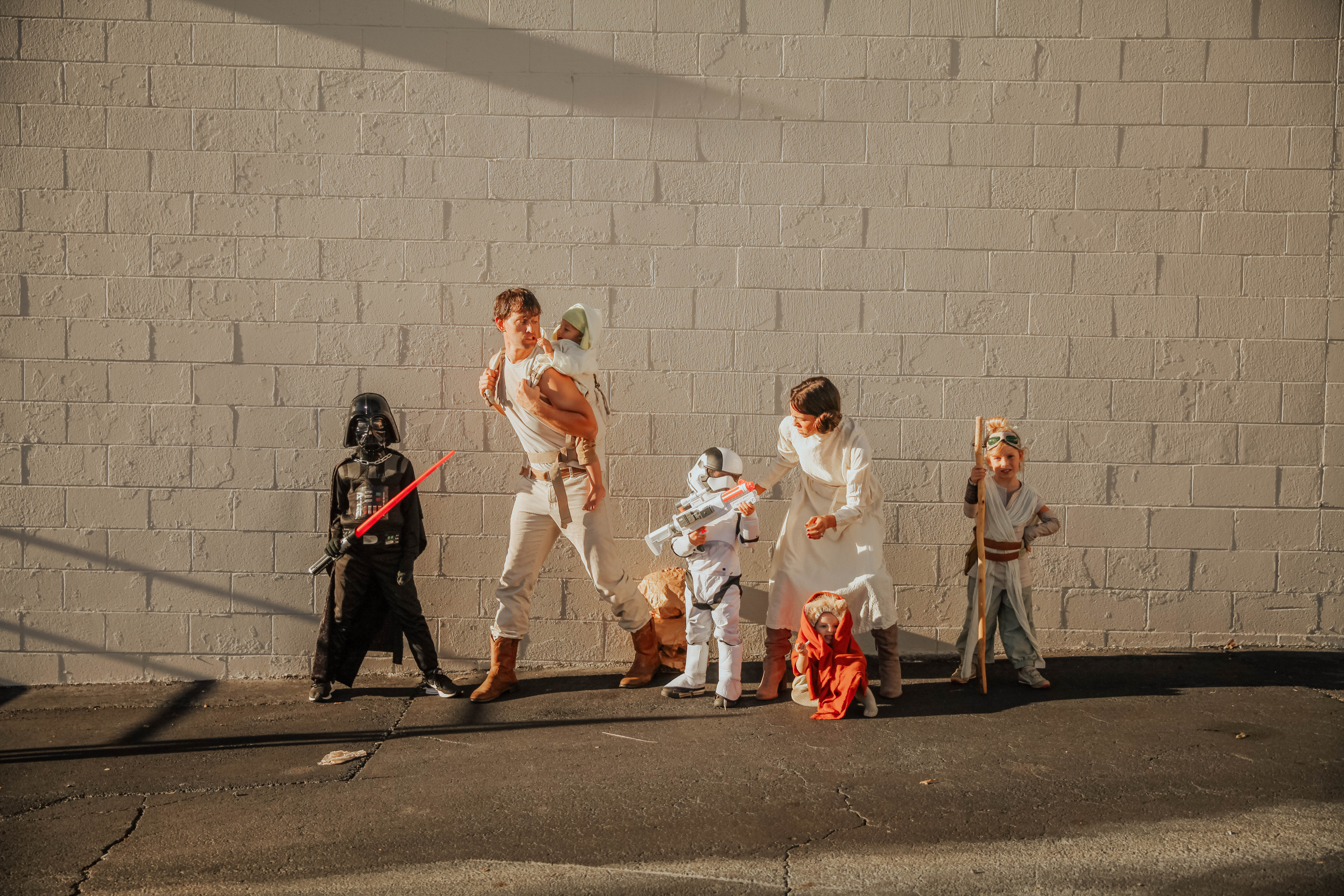 Star Wars – The Force
I found most of their costumes at a consignment store, but they are usually available at Target.
Azelie – Ewok – Re-purposed the lion costume from our circus crew, and wrapped a scarf around her.
Rocco – Yoda
Max – Stormtrooper
Veronica – Rey
Gabriel – Darth Vader
Anna – Leia: Backwards robe, tall boots
Gabe – Luke Skywalker in training: Khakis, boots, fake sweat stains, ergo carrier for Yoda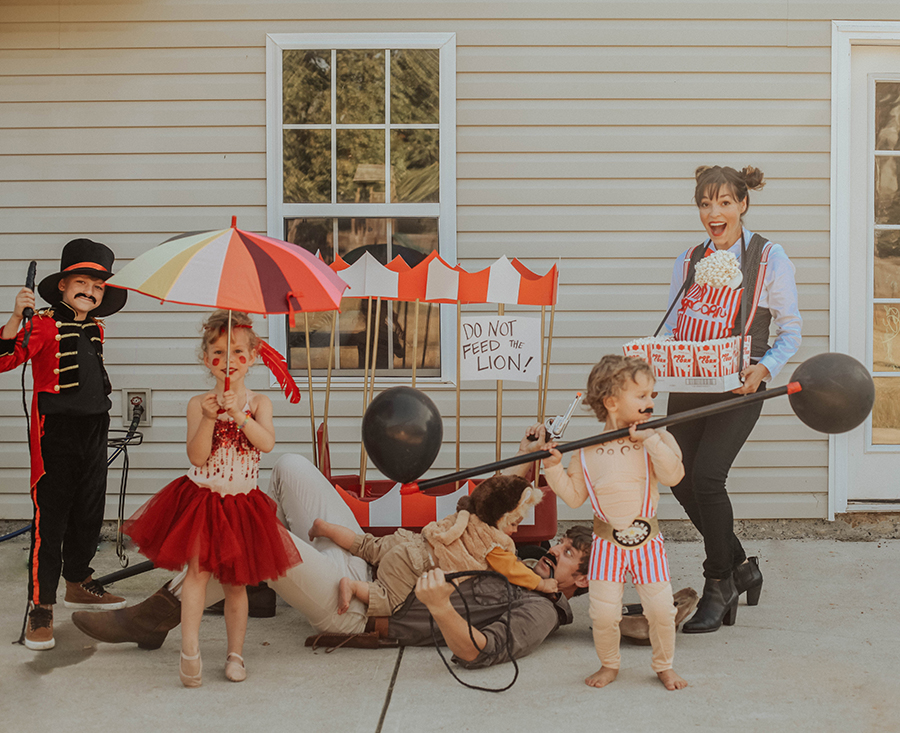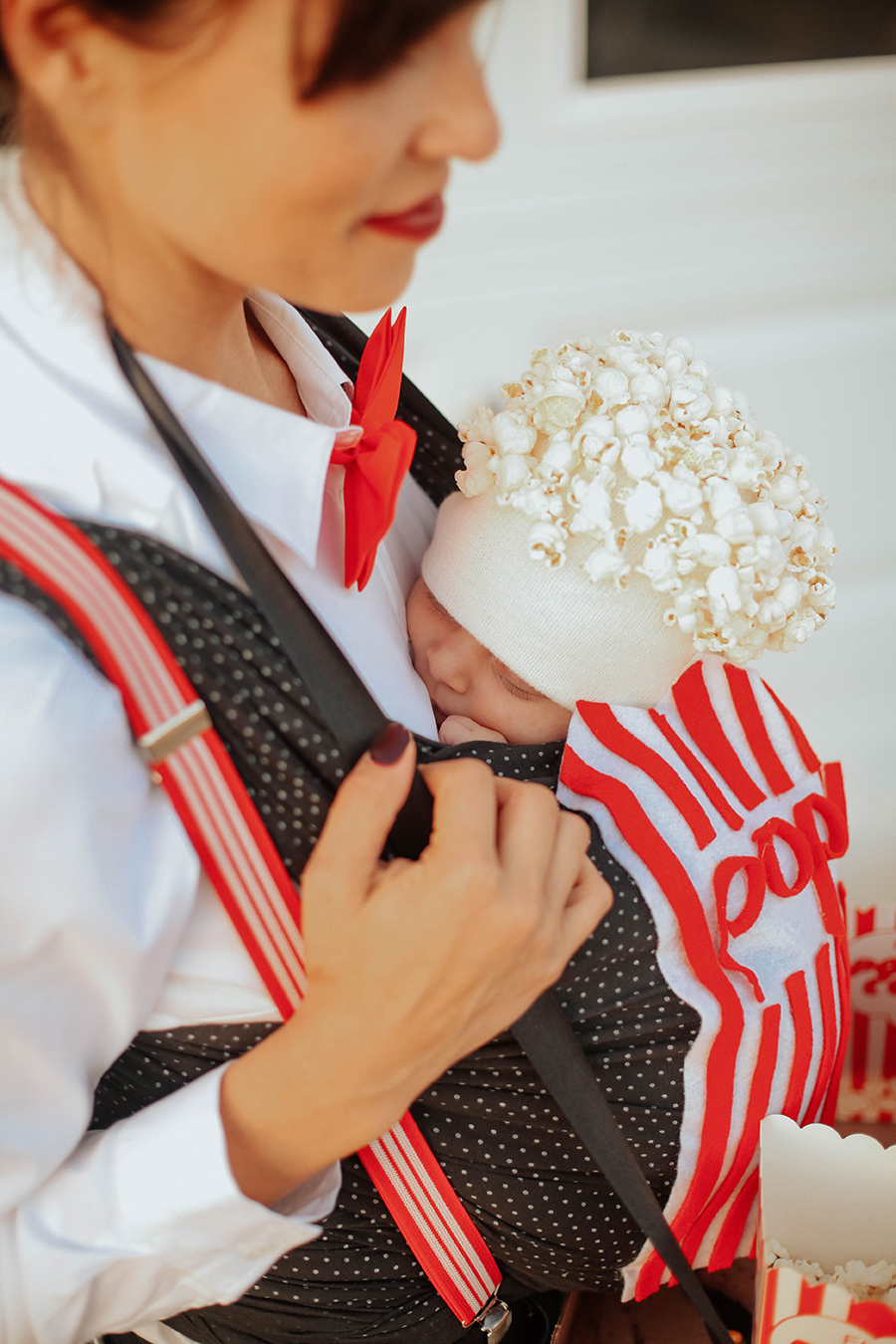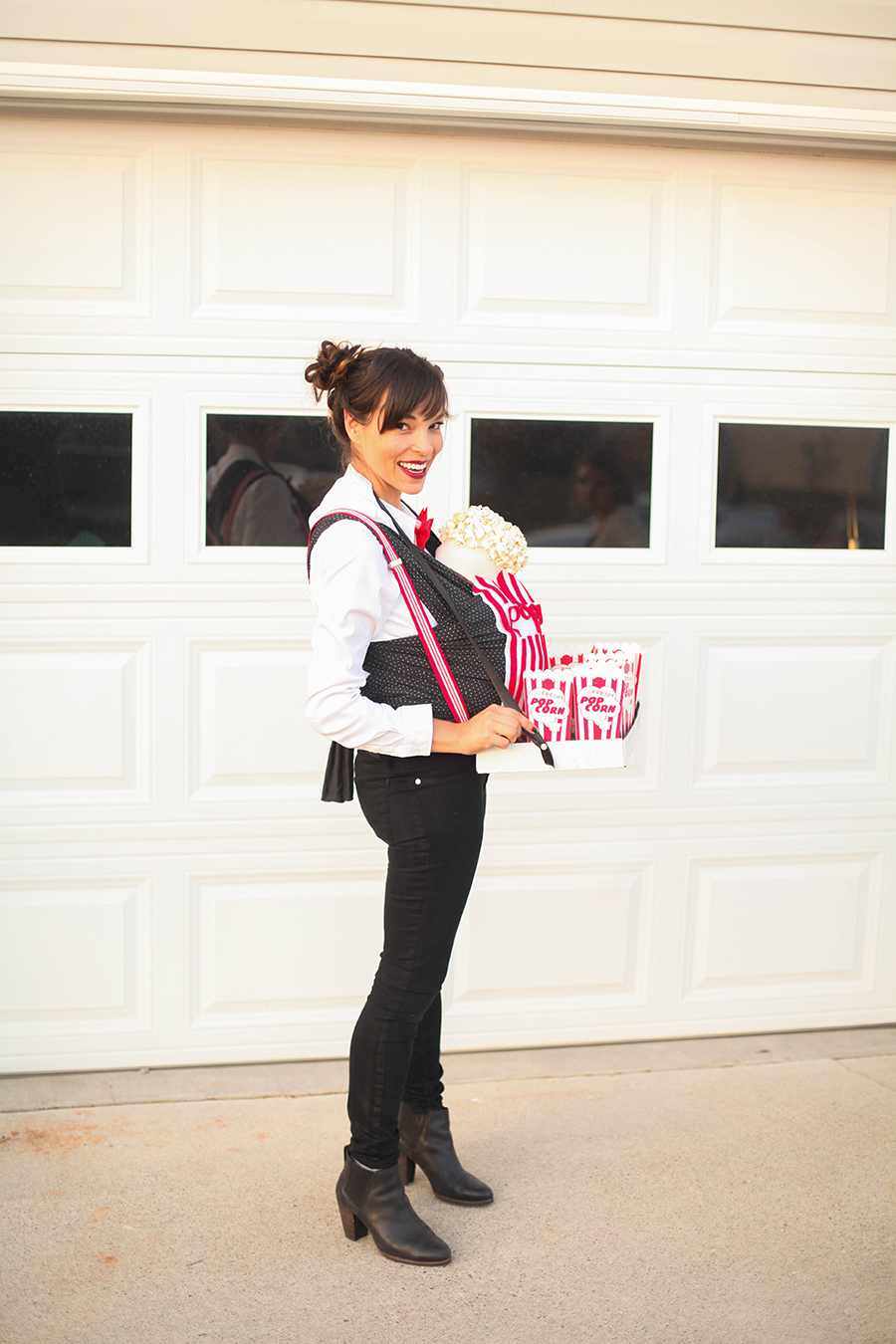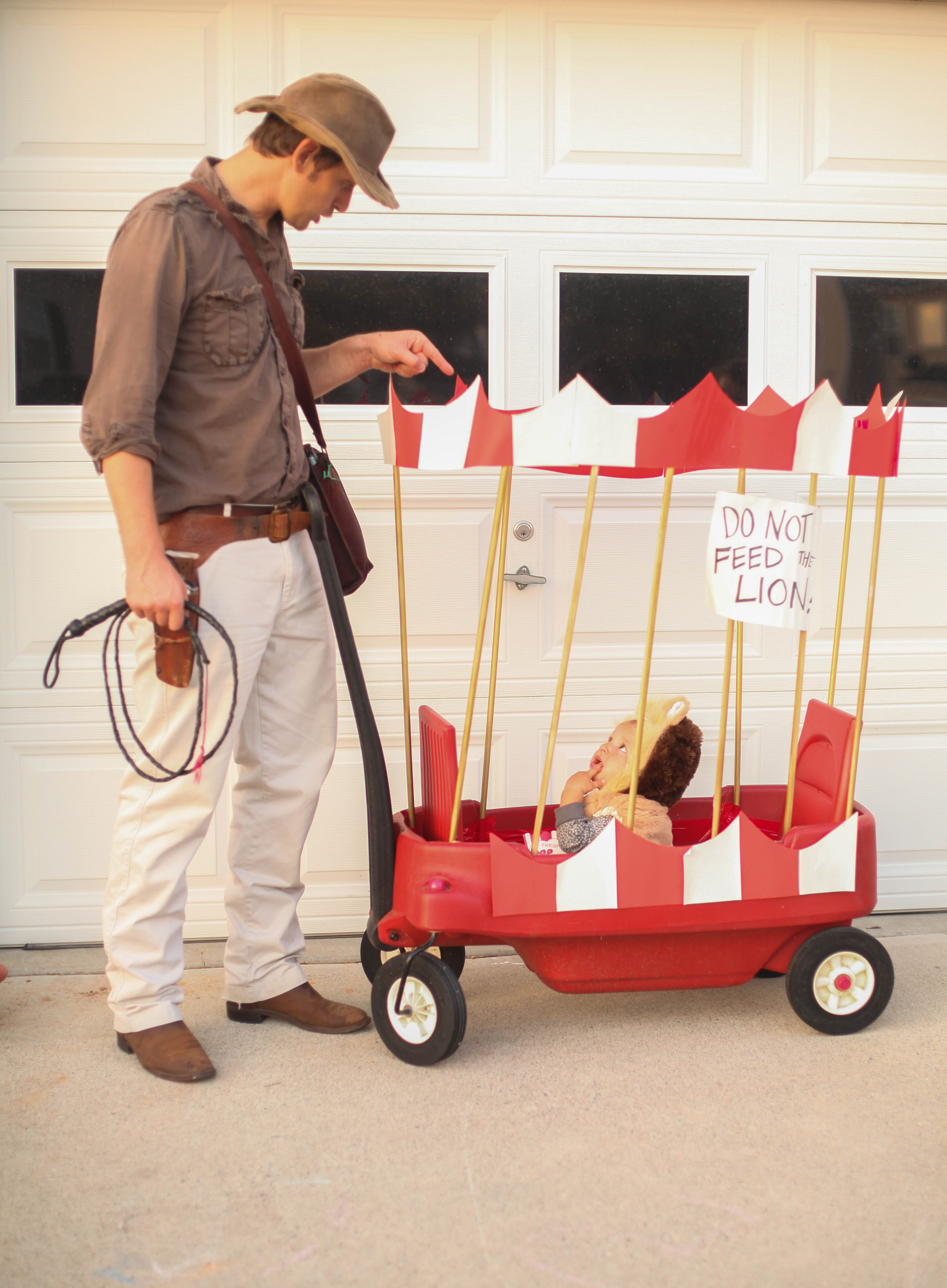 Family Circus Costumes:
Tight rope walker (Veronica) – dress courtesy of Tutu de Monde + rainbow umbrella
Lion Cage (Radio Flyer, Wooden Rods, and poster board)
Lion (Rocco) – found at a consignment shop (similar)
Lion Tamer (Gabe) – Fake mustache, cowboy hat, safari shirt, whip
Popcorn costume (Azelie): Beanie with hot glued real popcorn + red and white felt for sign pinned to a Sollybaby wrap
Popcorn seller (Anna): Suspenders and Bowtie, White Blouse, black pants, canned goods box, paper popcorn boxes, and real popcorn
Ringmaster (Gabriel) – Costume + Whip
Strong Man Costume (Max) – Sold out from Chasing Fireflies (similar here + wrestling unitard would work!), Barbell – made from two black balloons and an iron pipe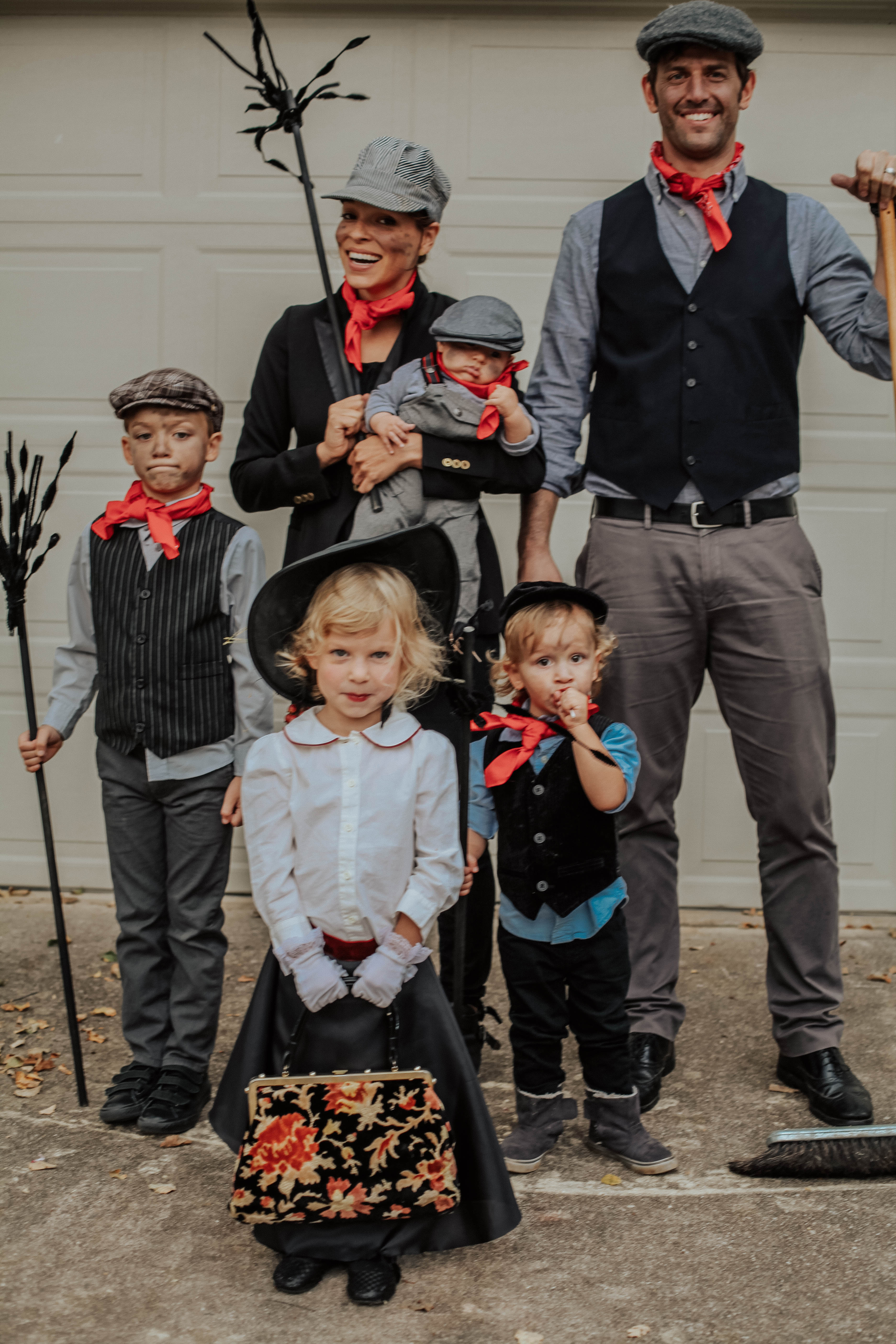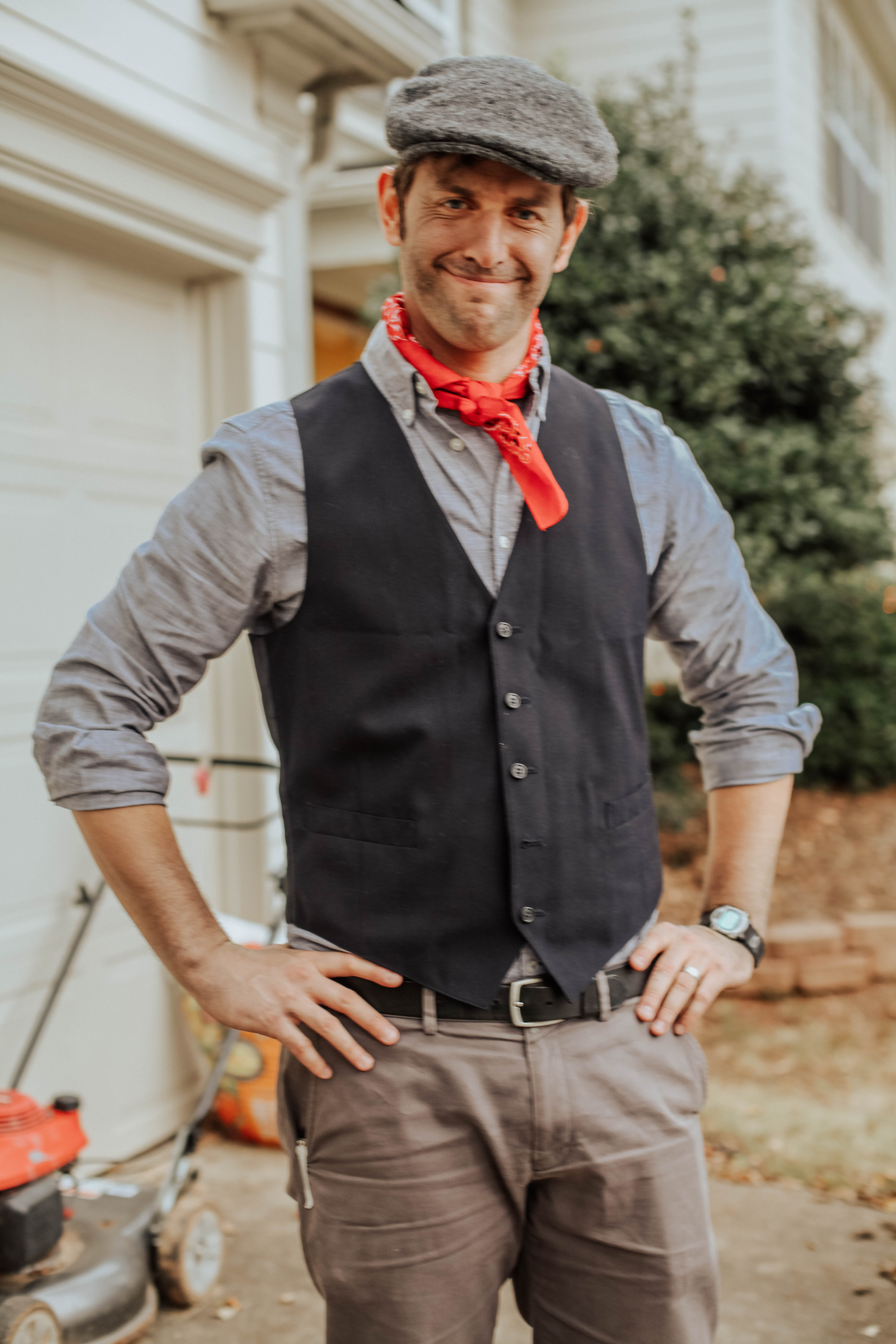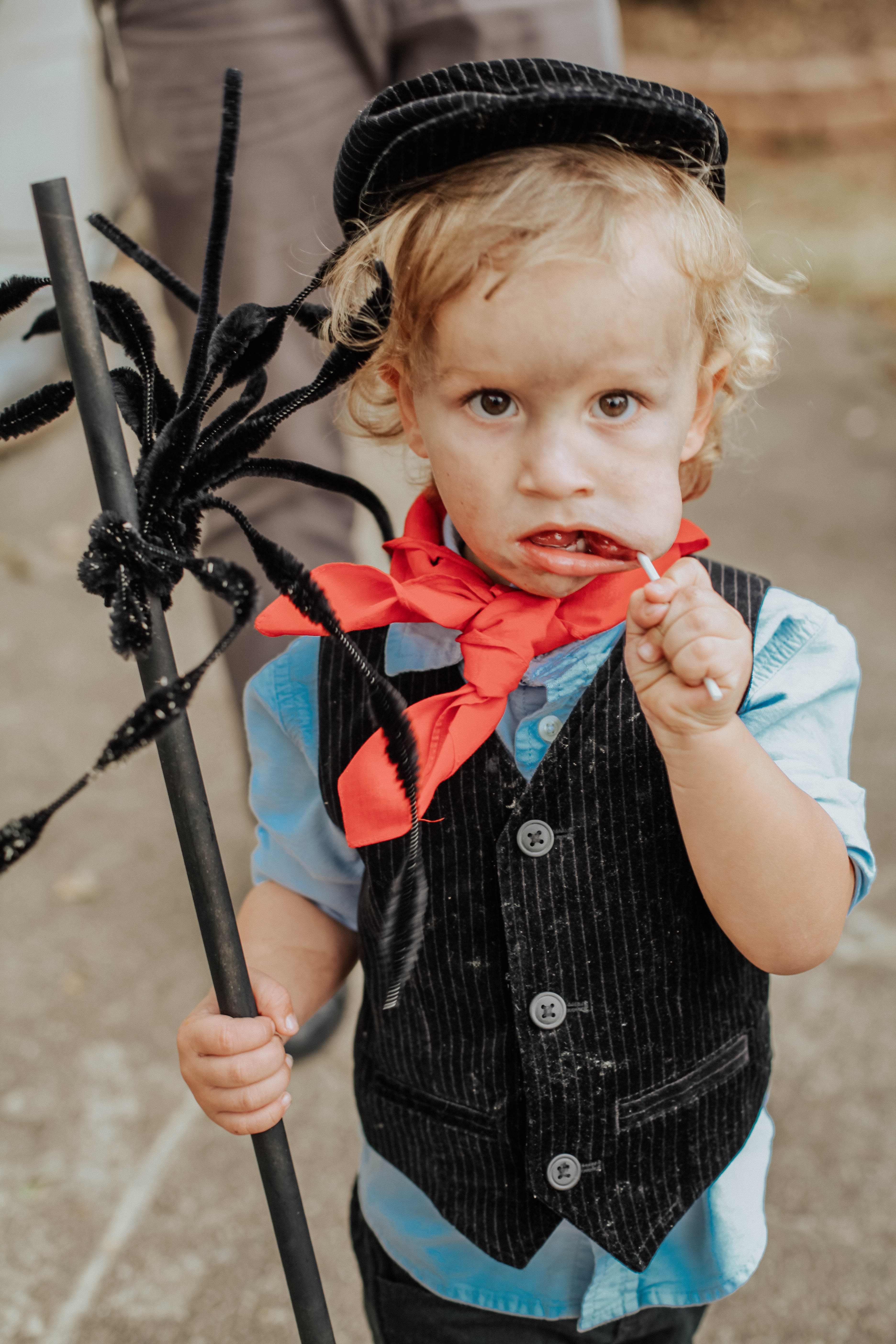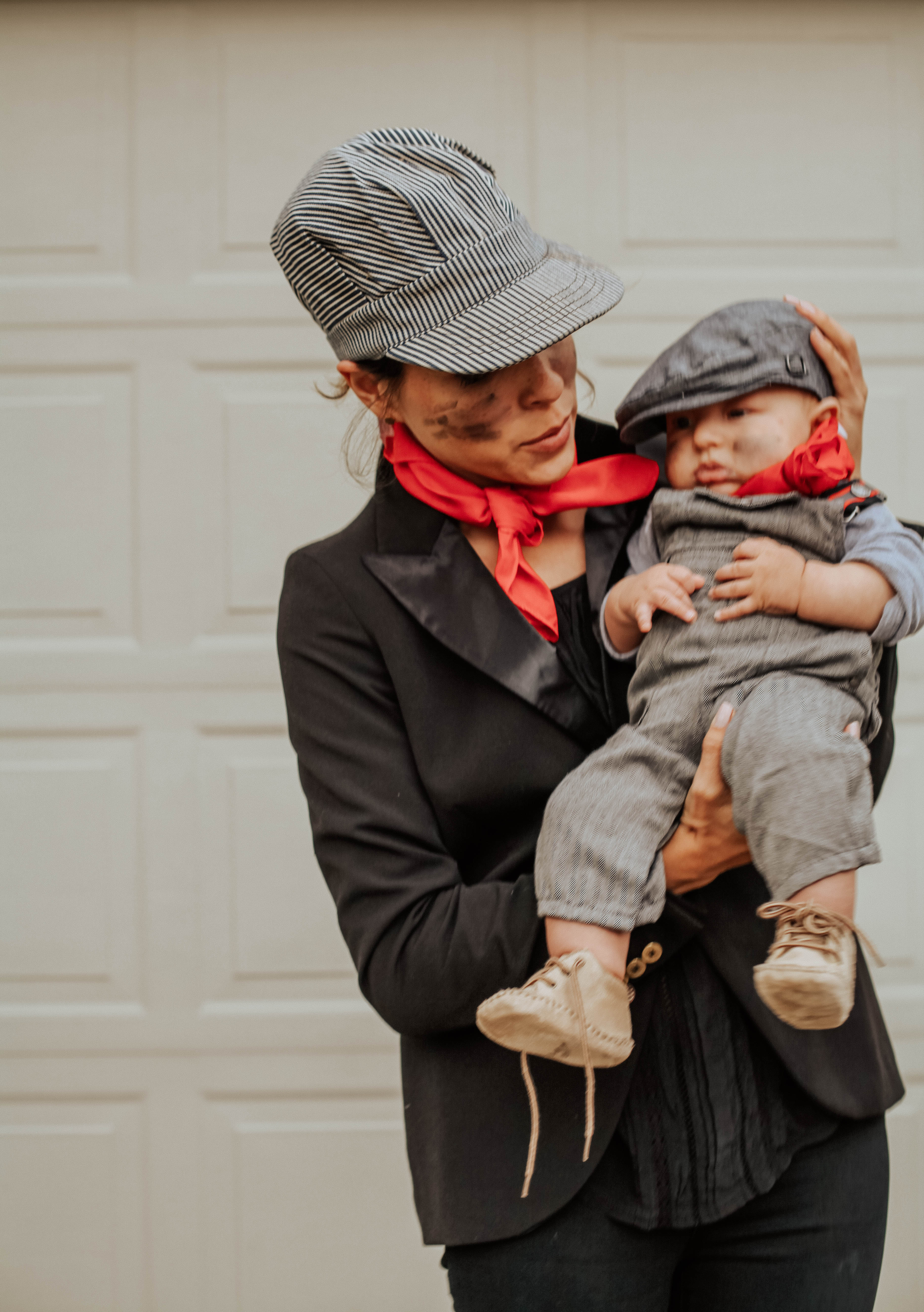 Mary Poppins and the Chimney Sweeps
Chimney Sweeps – Wooden Rods + Black Pipe Cleaners, red kerchiefs, black face paint, black vests + pants, newsie caps
Mary Poppins – DIY silk fabric skirt with red velvet trim, collared blouse, vintage hat and back, faux floral stem.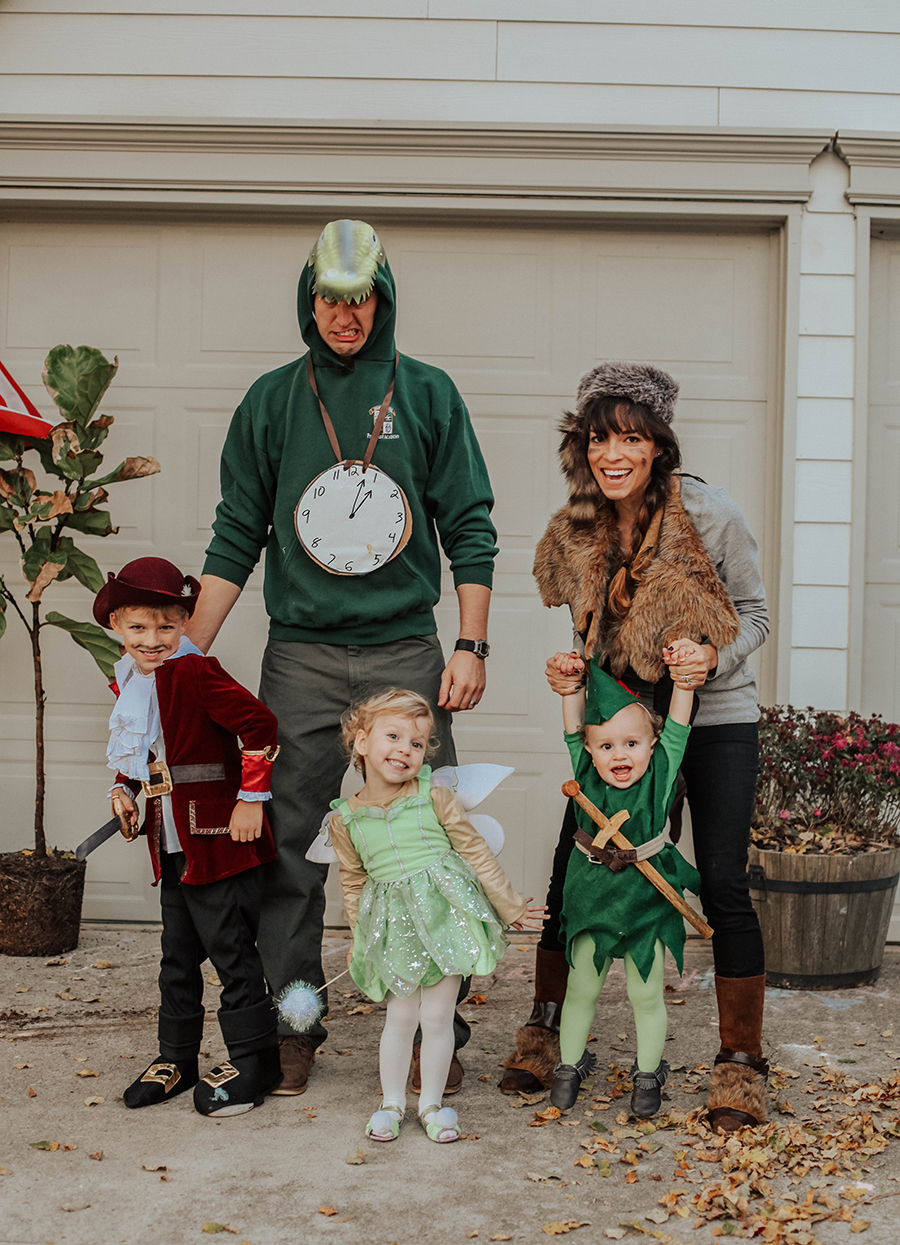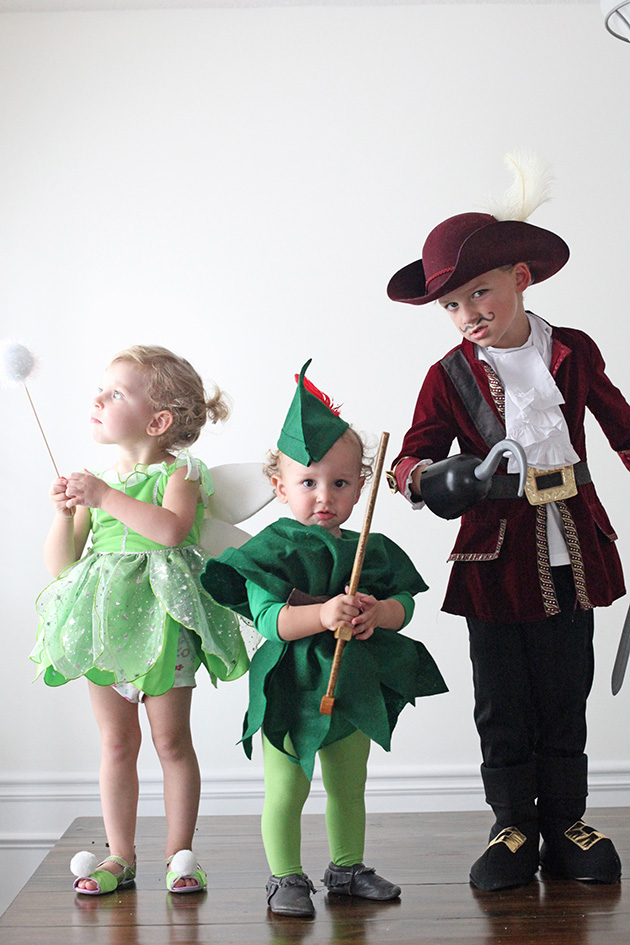 Peter Pan:
– I bought a piece of green felt and cut a jagged edge piece with a hole in the middle. Tied with a belt.
– Green tights from Amazon
– Moccasins from Freshly Picked
– Green hat made using a piece of felt and pattern, and hot glued ribbon.
Tinkerbell:
– Tinkerbell costume was the Disney line, but here are some options on Amazon
– The wand was made from a white puff ball + wooden rod. I found these at a craft store.
– Shoes found on ebay. Similar ones.
-White tights
Captain Hook
– Costume found on Amazon
– Hat made from my old fedora + a feather I found at a craft store.
– Black mustache / go – T was hand painted on
Tick Tock Clock Alligator:
– Alligator mask found at a dollar store
– Green Sweatshirt
– Handmade cardboard clock
– Green pants
Lost Boy
– Most of the faux fur pieces I repurposed from the kids dress up box
I taped pieces around my boots for the shoes.
– Grey tee
– Black pants
– Coon hat
– Black face paint
I hope these can help with some ideas for your own crew! Seeing these pictures makes me miss the baby phases of my kids in the worst way! I've got a little over two weeks to pull together 7 costumes for this year….I can do this right??!
Happy weekend!