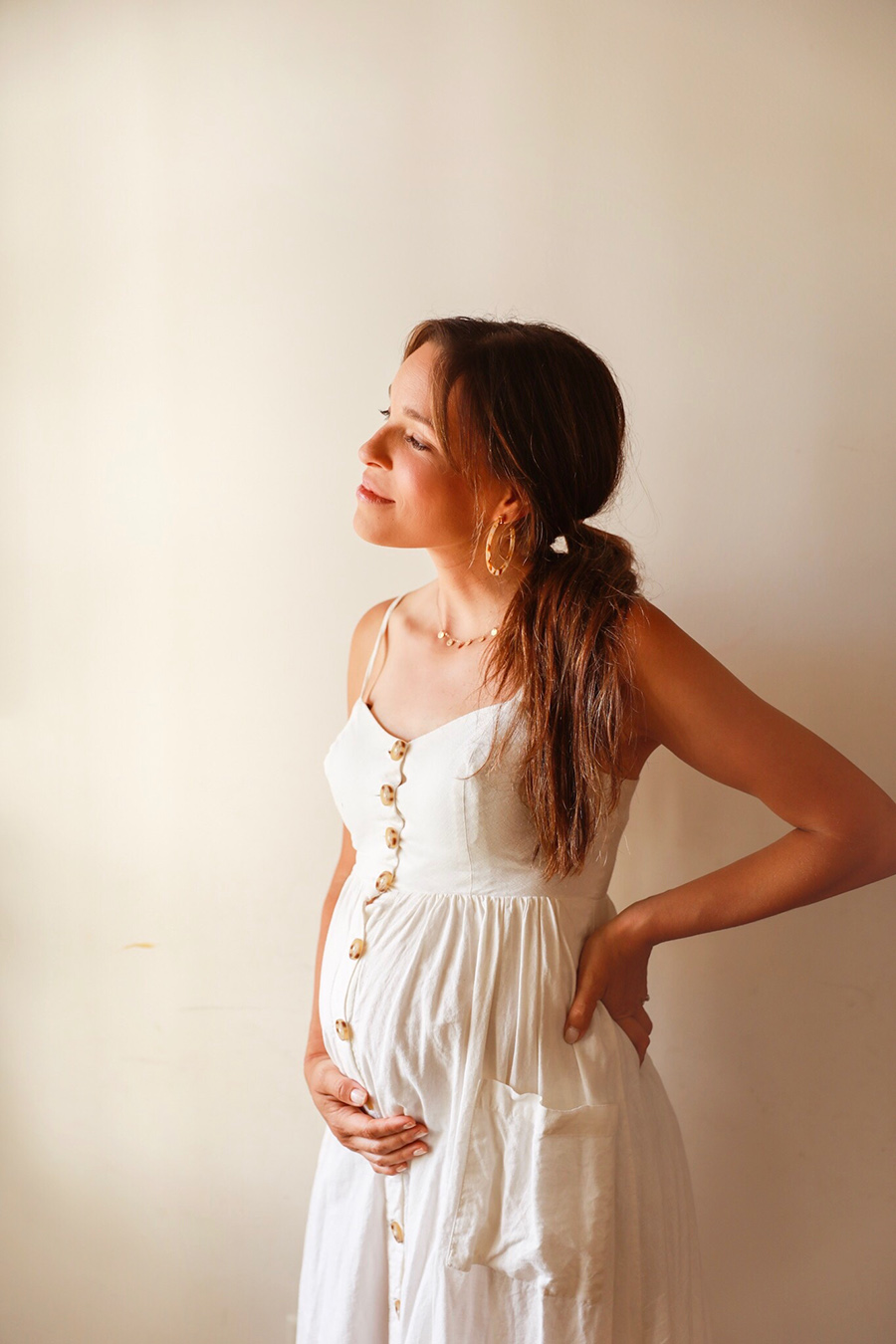 I hope this list is helpful with finding pregnancy safe beauty products that work well! It's cool to see that the information surrounding our under regulated personal care industry is actually becoming more mainstream news, which will hopefully encourage more companies to clean up their ingredient list. Here is a helpful break down of WHY it is so important to understand what we are putting on our bodies every day.
Helpful Tool: It can get overwhelming reading labels, right? I don't have time for that, let alone understanding what is a safe ingredient and what can be harmful. I use EWG's skin deep database app to see what a product's health rating is.
Clean (and pregnancy safe) Personal Care
Deodorant – Primally Pure Geranium Deodorant. I've tried so many. Native and Schmidts didn't quite last more than a few hours for me. Primally Pure has some really good scents, and also lasts allll day. I found a cyst near my armpit glands in college, which ended up being a fibroadenoma. I have no doubt it was linked to the aluminum in the deodorant I had used for years. Really grateful there are better options now! I have a discount code for you too! Use code IHOD10 for 10% off sitewide. Gabe uses the charcoal one. Side note – if you haven't switched to a cleaner deodorant yet, try an armpit detox first!
Body wash – Beautycounter Citrus Mimosa Body Wash (No phthalates, parabens, or synthetic fragrances and I love this scent!)
Body Lotion – Beautycounter Citrus Mimosa Body LotionStretch mark prevention – Citrus Mimosa body butter and Jojoba oil believe it or not! Smells heavenly without synthetic fragrance and leaves your skin buttery soft. I start using this combo in the second trimester.
Nail polish – Cote is a newer and non-toxic nail polish I really like!
Sunscreen – I am obsessed with the Beautycounter Spray Sunscreen since it rubs into my skin so well. I use it for Gabe and I. They are having a free sunscreen promo too if you want to check that out. Last day for it though! I use Aveeno for my kids since it is more affordable and has fantastic coverage. (Also doesn't leave thick white film on them!)
Sunless tanner – Suntegrity. I didn't think there could be a clean sunless tanner! This option works great though. Highly recommend using a mitt if you are going to try a sunless tanner.
Belly Butter – My belly gets so itchy towards the end! I was using this Baby Balm (which is super hydrating), but fell in love with the monoi scent of this Melting Body Balm. A little goes a long way, and I noticed when I rubbed this on at night it still felt super smooth and hydrated 10 hours later. I don't wear perfumes so I really like when body products have a good scent!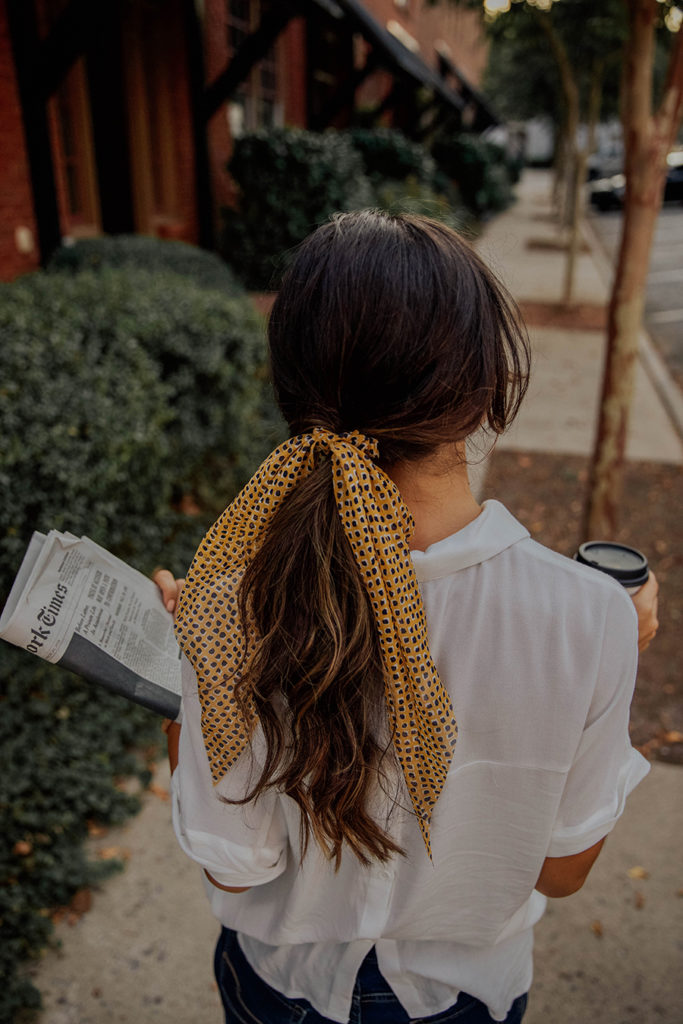 Clean (and pregnancy safe) Hair Care
Shampoo & Conditioner – I use Beautycounter's Daily Shampoo and Conditioner, and Dae Hair Deep conditioner once a week.

Hairspray – Josh Rosebrook has a pretty good firm hold hairspray. It isn't as good as my Tresemme used to be, but for now it works! I would like to try this one next.

Dry shampoo – Klorane is paraben and sulfate free!

Clean (and pregnancy safe) Makeup
I am pretty loyal to my favorites once I find them! If I know a product works, and is going to last me a while.
Foundation – Beautycounter's Tint Skin Hydrating Foundation is really lightweight, blends well, and evens out my skin tone. I love that it doesn't feel like I am wearing foundation. Since it doesn't have any fillers, one tube will last me for 5 months! (If you need a heavier coverage, try RMS beauty which you can also find on Thrive Market.)

Tinted Moisturizer with SPF 20 – I put a layer of Dew Skin Tinted Moisturizer on top of my foundation in the summer for the spf and the dewy hydrating finish. It is still one of my favorite makeup products to date and I can usually get a tube to last at least 6 months with daily use.

Concealer – I really like the consistency of Vapor Beauty's Illusionist Concealer stick. Blends well and covers well.

Blush – I love the subtle shimmer in the Rose Glow Highlighting Stick. I apply a swipe on my cheeks and blend with a brush. This is a great option for normal or dry skin. The powder color equivalent is Satin Blush in Nectar which is a beautiful coral with a shimmer hint.

Mascara – Still looking for a clean mascara that doesn't have carbon black, doesn't smudge or leave residue, and doesn't dry out in two months (which I realize is a tall order when you aren't using bad preservatives). I really like the BC Volumizing Mascara, but just ordered Honest Beauty's because I love a primer combo.

Brow pencil – I fill in my brows with the Color Define Brow Pencil in Dark. The other side of the pencil has a brow brush which I love!

Brow gel – I used to use Glossier's Boy Brow Gel, but I like how this Brilliant Brow Gel applies thicker and you really only need one coat. It's like a mascara for the brows so it fills them in nicely.

Lip balm – Primally Pure or Burts Bees. I get such dry lips and hands when I am pregnant so I have these in every drawer;)

Lipstick – Favorite everyday colors are the Color Intense Lipstick in Brunch and the Nourishing Lip Sheers in Lily or Terra.

Liquid Eyeliner – I love using a black liquid liner for nicer occasions or a good wing tip look. This Precision Liquid Eyeliner makes it easy to apply evenly and it doesn't smudge which is really nice.

Eyeliner – I don't wear eyeliner much, but when I do, I use the Color Define Pencil in Violet. I love the color, and that it doesn't smudge. The other side of the pencil has a blender for a smokey eye look.

Bronzer – My favorite makeup product to get a summer glow is the Luminous Powder in Topaz- hands down. It has a bronze shimmer in it, and I love the light it reflects! I apply all over, but if you have darker skin you can use just as a highlighter! The Radiant All Over Bronzer is another great option.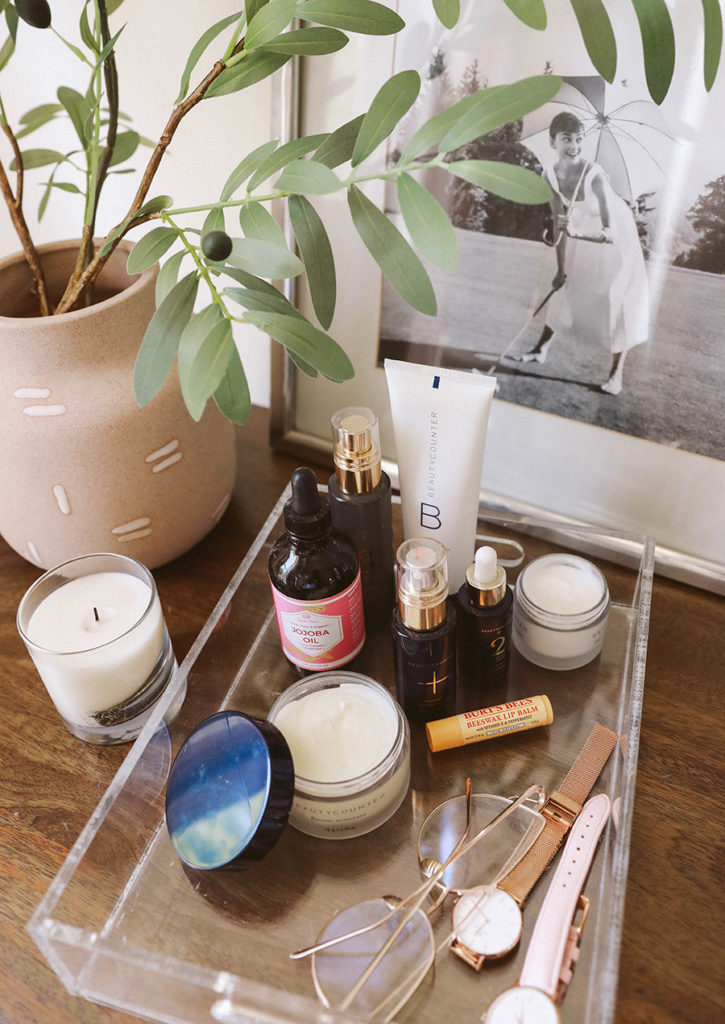 Clean (and pregnancy safe) Skin Care
Keep in mind I never spent more than $10 on face soap my whole life and am just now able to set aside some budget for personal care that I really love! If you are in a tight spot, try switching over the products you use most to cleaner options. More drugstores are offering safer alternatives now as well!
Facial Cleanser – I love this Nourishing cream cleanser if I am not using a cleansing balm. This one is super gentle for all skin types and still foams well. I use the cleansing balm at night to remove makeup and hydrate skin. This balm is incredibly hydrating and helpful for brightening skin as well thanks to the vitamin C.

Face Toner – Thayer's Lavender Witch Hazel ( I get mine at Thrive Market, but it's also available at Target and amazon.)

Face mask – Indian Clay Healing Mask. Super affordable and deep cleanses pores.

Moisturizer – I really am crazy about this new safer alternative to retinol called Countertime Supreme Cream. It's pricey for me, but I usually just use a small amount morning and night. I honestly can't believe the visible benefits already. ​​​​​​​It uses ingredients much safer than retional but if you look at the reviews, it is just as affective! Nothing wrong with aging with grace of course, but I think we all can agree it certainly doesn't hurt to want to look refreshed;) This Adaptive Moisturizer is also a great option. If you like a moisturizer to have SPF in it, try Kiehls!
Facial oils – A more affordable but hydrating facial oil option is Jojoba oil with a few drops of lavender essential oil!
Sunspots / Melasma "Pregnancy Mask" – I use this overnight resurfacing peel 2-3 times a week at night. It doesn't smell the greatest because of the fruit based fermented acids, but WOW is it effective. It completely got rid of the dull patches on my face and leaves a healthier glow by morning. It also helps with pregnancy mask melasma. After it absorbs I use a Vitamin C packed No. 1 facial oil which smells really really good. It also helps brighten skin, lighten spots, and hydrate.

Breakout control – I always breakout in my first trimester of pregnancy. In fact, that was the first sign that made me realize I might be pregnant with my son Rocco. The charcoal bar has always kept breakouts under control for me, and if I have random spots, this acne spot treatment does the trick.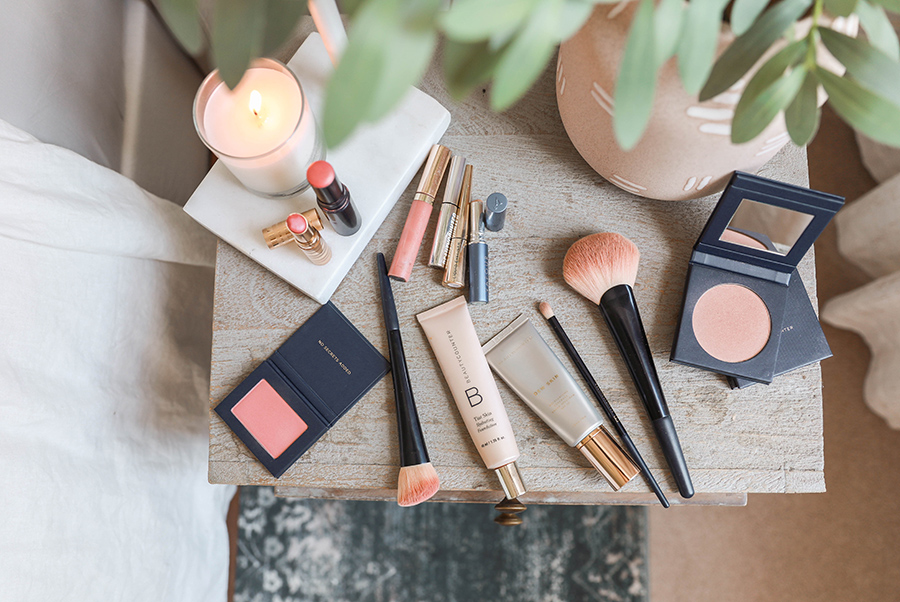 There are more companies in the beauty industry now making efforts to clean up their ingredient list, so if you are questioning whether you can find clean options in your price range, good news is you most likely can now! Purer ingredients that are high performing are going to cost more of course, but there are more options becoming available now even more than a year ago. (ie: Target just started a whole aisle dedicated to cleaner beauty products.) I am willing to pay a little more for products with no fillers that last longer, do a better job, and that aren't linked with so many health issues knowing it will save me money in the long run. If you just want to start with a few things to switch to clean, just take it from there!
*All products shared are products I have personally used and loved. I do receive a small portion of profit from purchases through links, but only share companies and products I trust and use with confidence. I hope this guide is helpful for you!