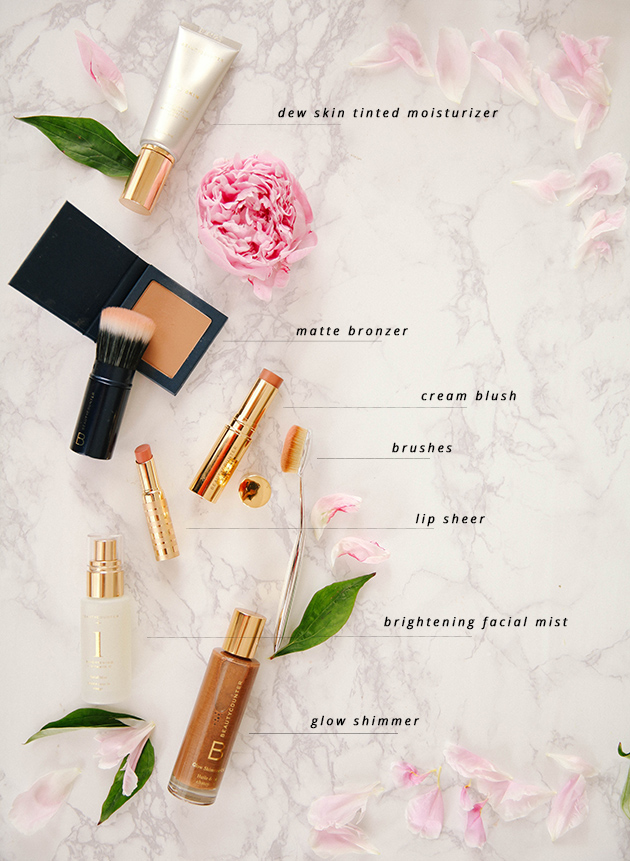 I confess I used to use tanning oil in high school to chase that summer tan. (And dare I say baby oil anyone? I know. What in the actual heck was I thinking??) After losing a loved one to skin cancer, I had a sobering wake up call to take better care of protecting my skin. I usually wear hats and sunscreen, but doesn't mean I don't still love a good summer tan.
I'm probably most excited to share this post with you today, because these are some of my favorite products in my makeup bag. Here is my step by step makeup routine for a sunless summer glow!
As you know, I joined BeautyCounter after seeing the effects their products had on my skin. Just about all of these items below can be found on my BeautyCounter website, so happy to help if you have any questions about the products. Feel free to email me anytime.
Step 1 – Dew Skin Tinted Moisturizer – Hands down my favorite makeup product next to my mascara! It really does make your skin look and feel dewy. I love how it has an SPF 20 as well without feeling greasy. It contains black currant, peony flower root extract, and vitamin C which are a few ingredients that contribute to overall hydration, skin brightening, and smoother skin! I apply this after my daily moisturizer as a first step in my makeup routine. (You can determine best color on the "find your shade" page. Or just email me, and I can help.)
Step 2 – Matte Bronzer – The BeautyCounter matte bronzers are shimmer free, and it offers a really natural-looking glow. (I don't contour, but if you are into that it can double as a contour powder.) I brush this all over my face starting around the outside and working around my cheeks. This bronzer is rooted with porcelain flower extract known for its antioxidant benefits to help moisturize the skin while you are wearing it!
Step 3 – Color Pinch Cream Blusher – In the summer, I'd rather go sun kissed than wear blush, but this cream blusher does the trick! Its very soft and smooth (without being sticky!) so I apply it on the apples of my cheeks and blend in with a brush. brightens cheeks with natural, dewy color. It's in a tube so I use it on the go as both a cream blush and lip tint! Since it contains jojoba oils it is also very beneficial for the skin and gives you a really dewy finish.
Artis Brushes – I have never really had good makeup brushes, so I guess I didn't know what I was missing out on. ha! I tried out some Artis brushes and it felt hypnotizingly soft to the skin, and it blends my bronzer and blush so well. Maybe a good birthday item to put on your list!
Step 4 – Lip Sheer – I think bold lipstick is fun, but in the summer I just want a lipgloss or a lightweight lip tint. I LOVE the look and feel of BeautyCounter's lip sheers. It applies silky-smooth and it is layer-able depending how much color you want. I feel like most of my lipsticks only last a short amount of time unless they are a heavy matte (which is usually heavy on the toxic ingredient list). After realizing that I was getting lip products all over my kids faces, I started looking for a good clean ingredient option. There aren't many, but this one is actually a really good lightweight long lasting formula that is ultra-moisturizing for your lips. Can I give this 10 stars? 😉
Step 5 – Facial Mist – I use this to set my makeup since it is alcohol-free. It's another antioxidant-rich product loaded with vitamin C. Some of the benefits being skin brightening and and evening your skin tone. I usually use this as a midday refresh in my purse.
Glow Shimmer Oil – This is a bonus item for me that I use this for special occasions or date nights. This also contains jojoba, grape-seed, and sesame oils, which absorb immediately into your skin for that radiant, sun-kissed glow. You can use it from head to toe for a summery bronzed effect with just a hint of shimmer.
Even though I am a consultant with Beautycounter, I promise to be honest and only share what I use and love. If a product lasts a long time and positively changes my skin, then I am all about it. I hope this is helpful, and that you enjoyed these beauty topics this week! Let me know if there were any questions I didn't cover. HAPPY FREAKIN' WEEKEND!
*In case you missed, lashes and brow routine, long hair care, and skin and body care faves.